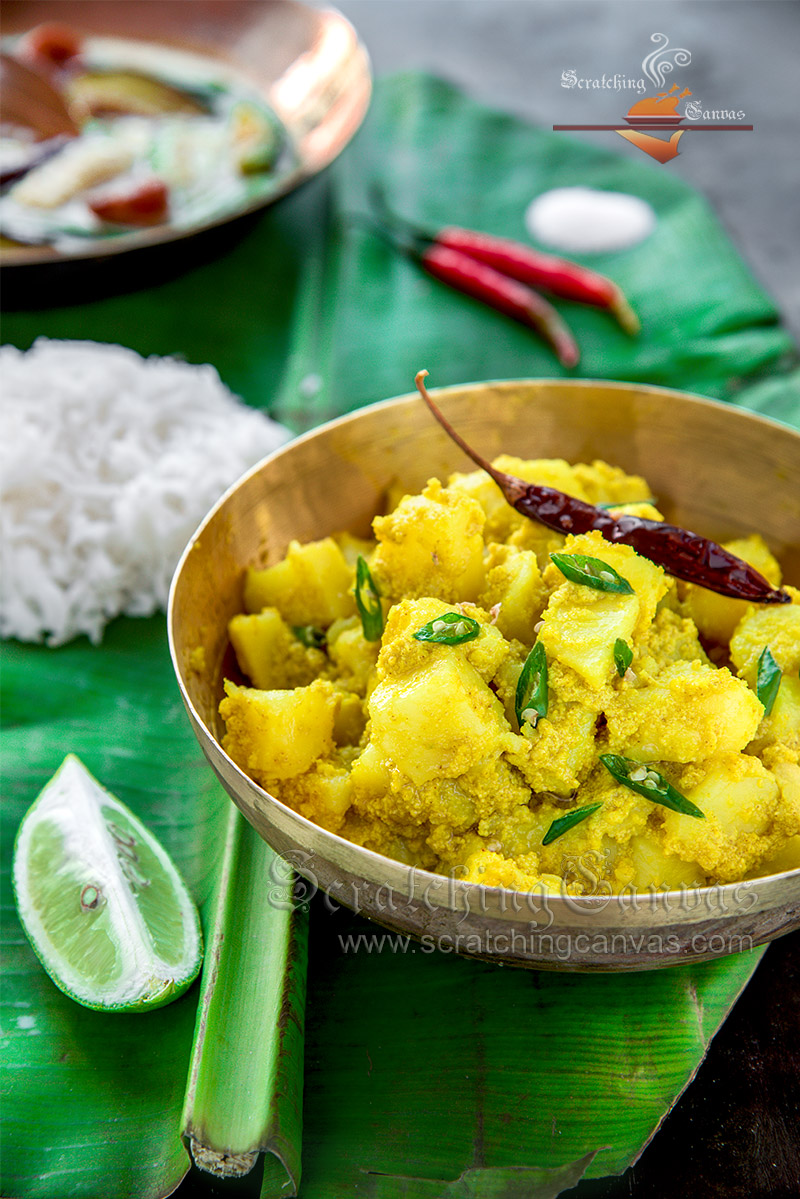 Aloo Posto, the name itself is good enough to bring sunshine on any dull (pun intended) day. A typical Bengali thali (be it veg or non-veg) will always include bhat, dal and alu posto. A slim wedge of gondhoraj lebu (king of lime) and kancha lonka (fresh green chilli) lying on side will only increase the glamour quotient of the thali.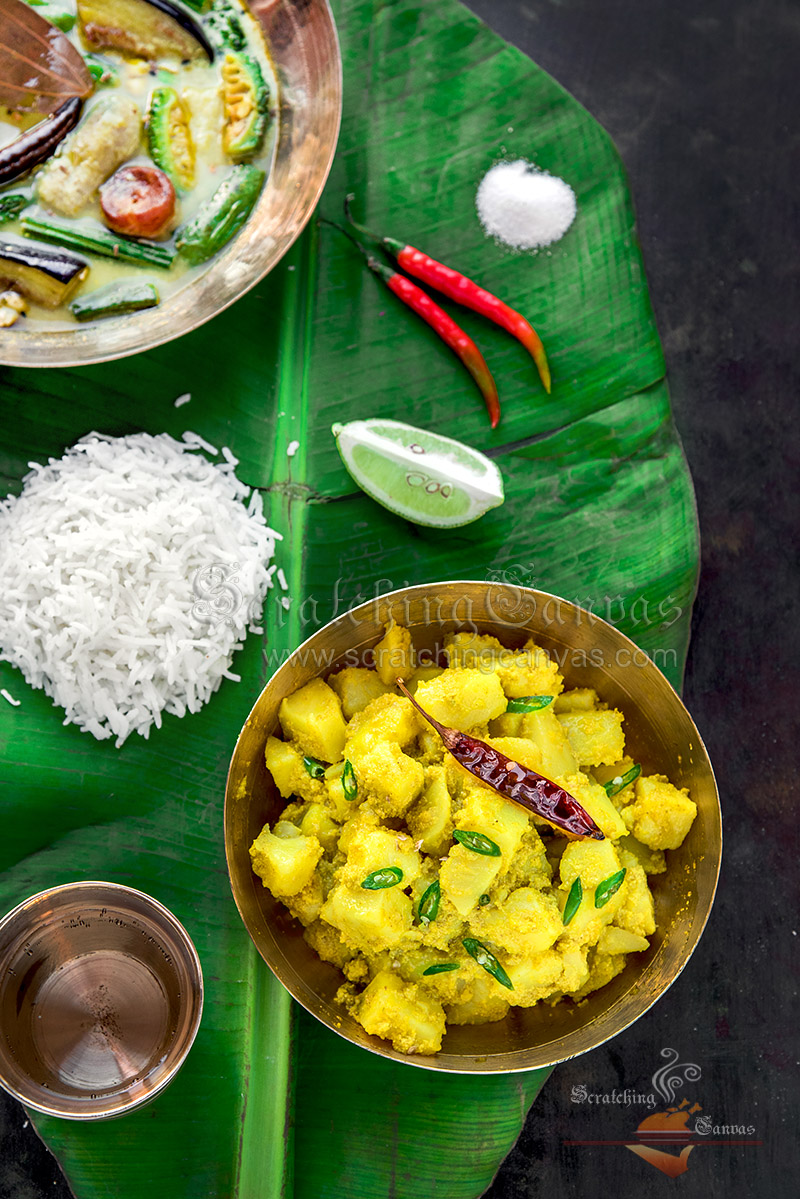 Aloo Posto is that quintessential Bengali side dish which can elevate your weekly veg day (force imposed by family) just by its presence.  It's a pure vegetarian preparation and requires no onion no garlic at all. Alu Posto takes less than 30 min. to cook without any prep work. So what more one can ask for on hearty meal?
P.S. Did you know posto/poppy seed is actually good for a healthy heart? Google it if you don't 🙂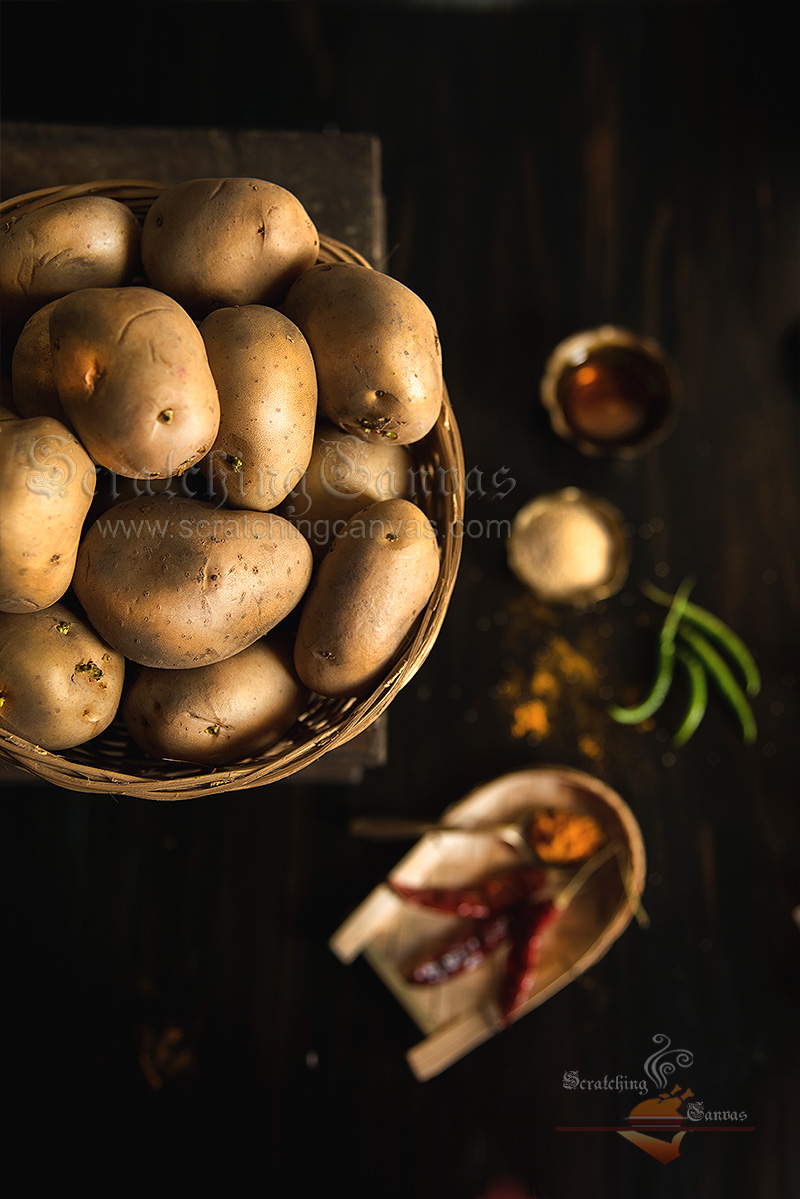 Aloo Posto needs only FIVE basic ingredients and roughly 30 mins of your life and in return you will receive lifelong friendship, a happy tummy (multiple with number of your family members) and all those good words for which we keep our ears open after every meal. Because each of us deserves little praise in every now and then and we all seek for it. And of course we all LOVE posto.
The Ultimate Bong Equation: Posto == ❤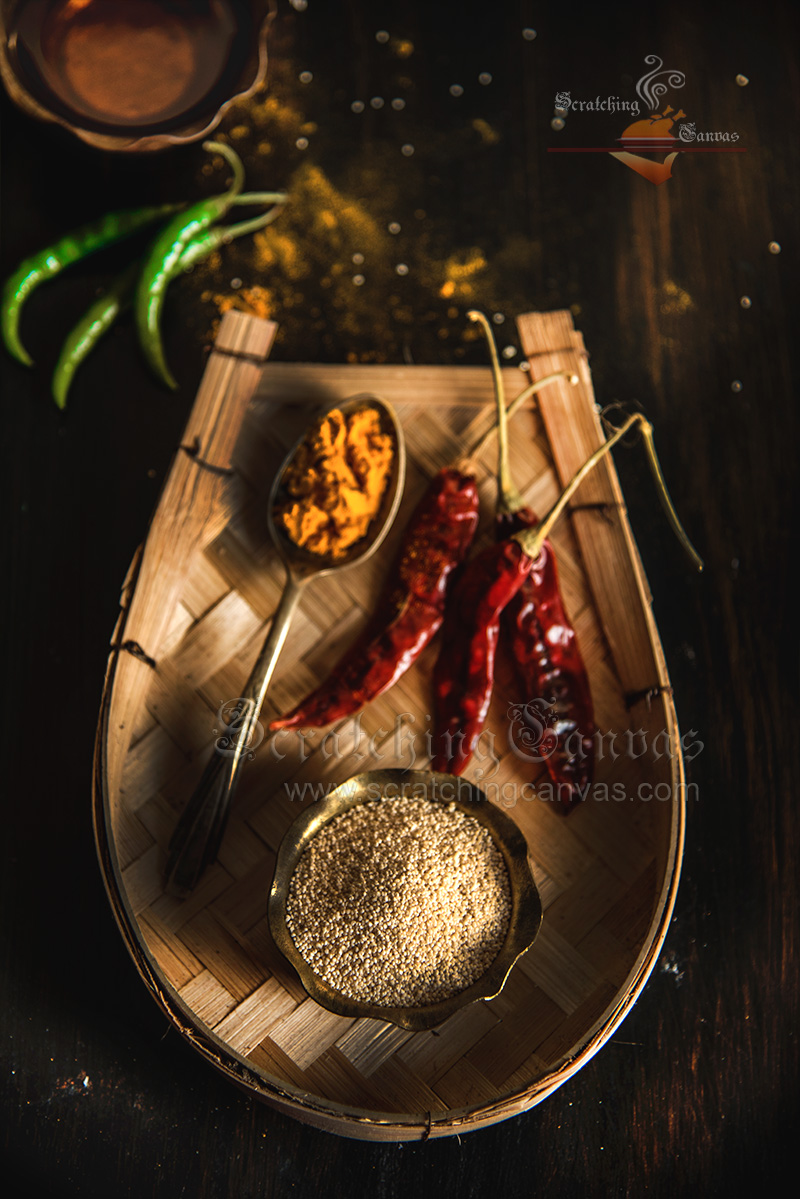 Watch detailed Video of  Aloo Posto Recipe.
Read the entire recipe and Notes carefully before you start cooking. Do make sure all ingredients are at room temperature (unless mentioned) and weighed or measured correctly in appropriate weighing scale or measuring instruments such as cups or spoons. Remember these are not regular cups or spoons which is used in daily life.
SERVING & STORAGE:
Aloo Posto tastes best with bhaat, dal with a lemon wedge on side and Macher Jhol (steamed rice, lentil and Fish Curry). Keep Alu Posto on standby for 15-30 mins before serving. This will allow freshly added virgin mustard oil release flavours into the dish and the posto will taste best.
Store excess Alu posto in an airtight container, cover with tightly fitted lid and refrigerate. Consume within two days. Heat Aloo Posto thoroughly when ready to eat.
Aloo Posto | Authentic Bengali Alu Posto
Ingredients
Aloo, potato: 2, large
Posto, poppy seeds: 4 tbsp
Kancha lonka, green chilli: 2-3
Shukno lonka, dry red chili: 1
Turmeric powder: 1 tsp
Salt: 1 tsp
Sugar: ½ tsp
Mustard oil: 3 tbsp + 1 tbsp
Warm water: ½ cup
Instructions
Soak poppy seeds and 1 fresh green chilli in 5 tbsp of warm water for 10 mins and grind into fine paste. Watch the VIDEO for detailed procedure.
Peel potatoes and cut into small cubes. Soak them in cold water for 10 mins. Drain water and wash potatoes.
Heat 3 tbsp mustard oil to smoking point.
Add dry red chilli and fry for 10 sec.
Add potatoes and fry on high flame for 3 mins or until potatoes turn golden brown in colour.
Add turmeric, sugar and salt and mix together.
Add posto bata or poppy seed paste and mix well. Fry for 1-2 min to potatoes are nicely coated with paste.
Add ½ cup of warm water, mix and cover the pan. Cook for another 5-8 mins on medium flame or until potatoes are cooked thoroughly.
Uncover the pan. Drizzle little mustard oil with some green chilli and serve hot with rice and dal.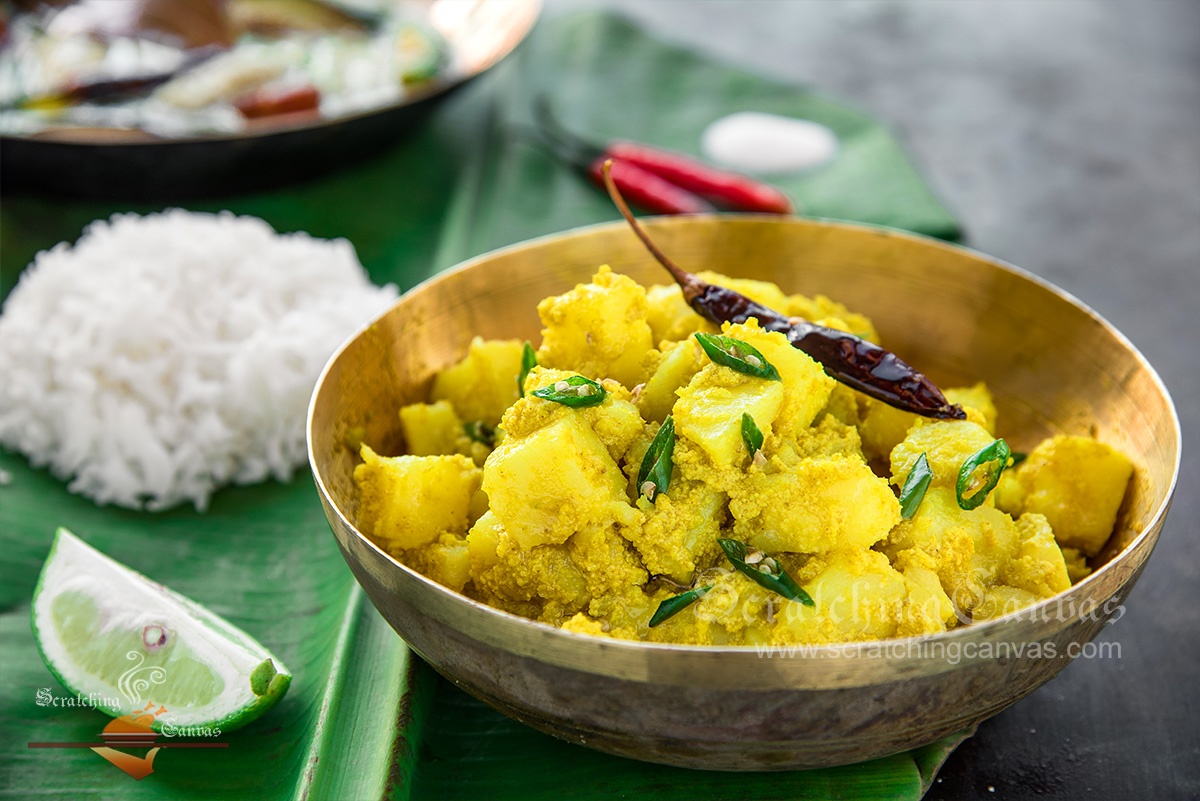 Have you tried/cooked any of the recipes from my blog Scratching Canvas?
If yes I would love to know your feedback and opinion. Take a picture of your food and share on Instagram with the hashtag #scratchingcanvas. I will share your picture and opinion as well. See you there 🙂
EAT, LOVE & ENJOY! REPEAT!!!
You may also like these Bengali Classic Vegetarian (No Onion No Garlic) Preparations