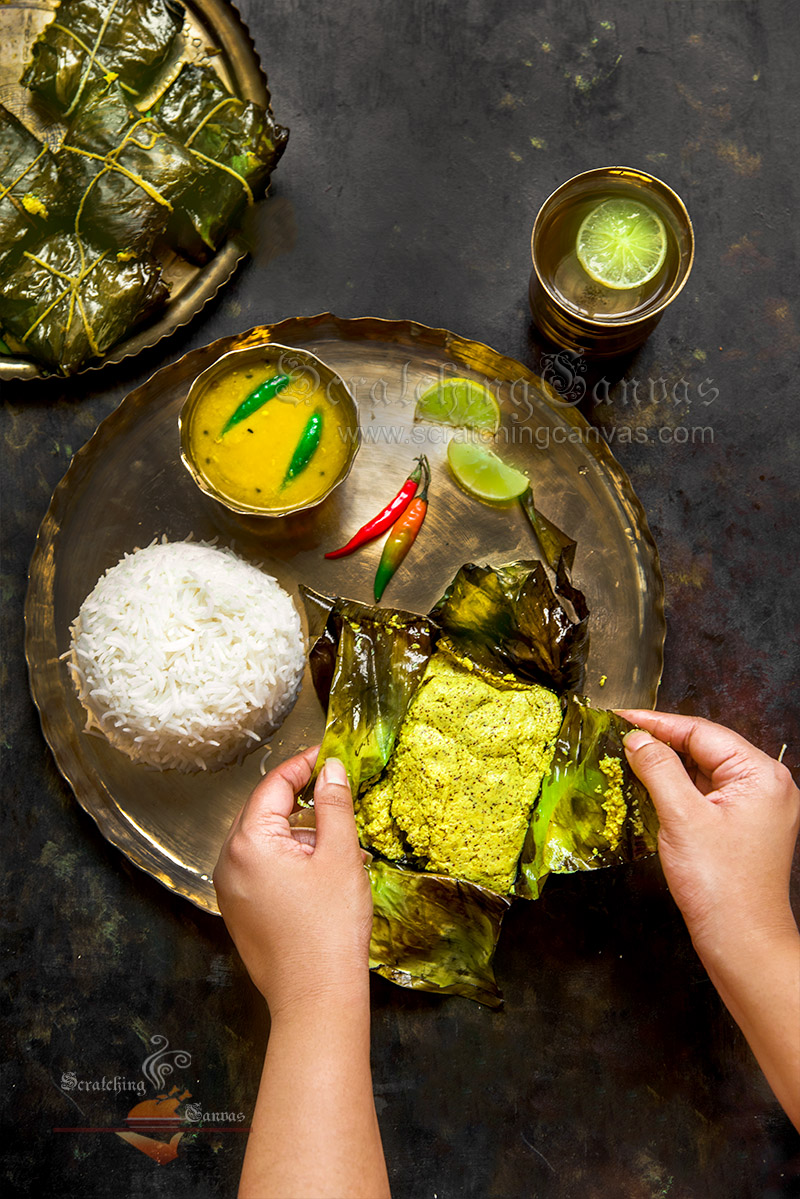 Bhetki Macher Paturi is a traditional Bengali Fish preparation which is being enjoyed beyond age and time. Bhetki Paturi always call for good quality freshest possible barramundi fillet which is marinated in mustard based mixture and wrapped in banana leaves. Fish is cooked either by steaming or grilling on pan and enjoyed with steamed rice, always.
Cooking the perfect Bhetki Paturi is an art which requires lot of practise and experience to master. When every bite of bhetki will melt in your mouth while your tongue will dance in the symphony of pungent mustard seed paste, sweet coconut paste and green chilli paste and your eyes will shed teardrops cause of sharp virgin mustard oil  you will know you had the BEST BHETKI MACHER PATURI of your life.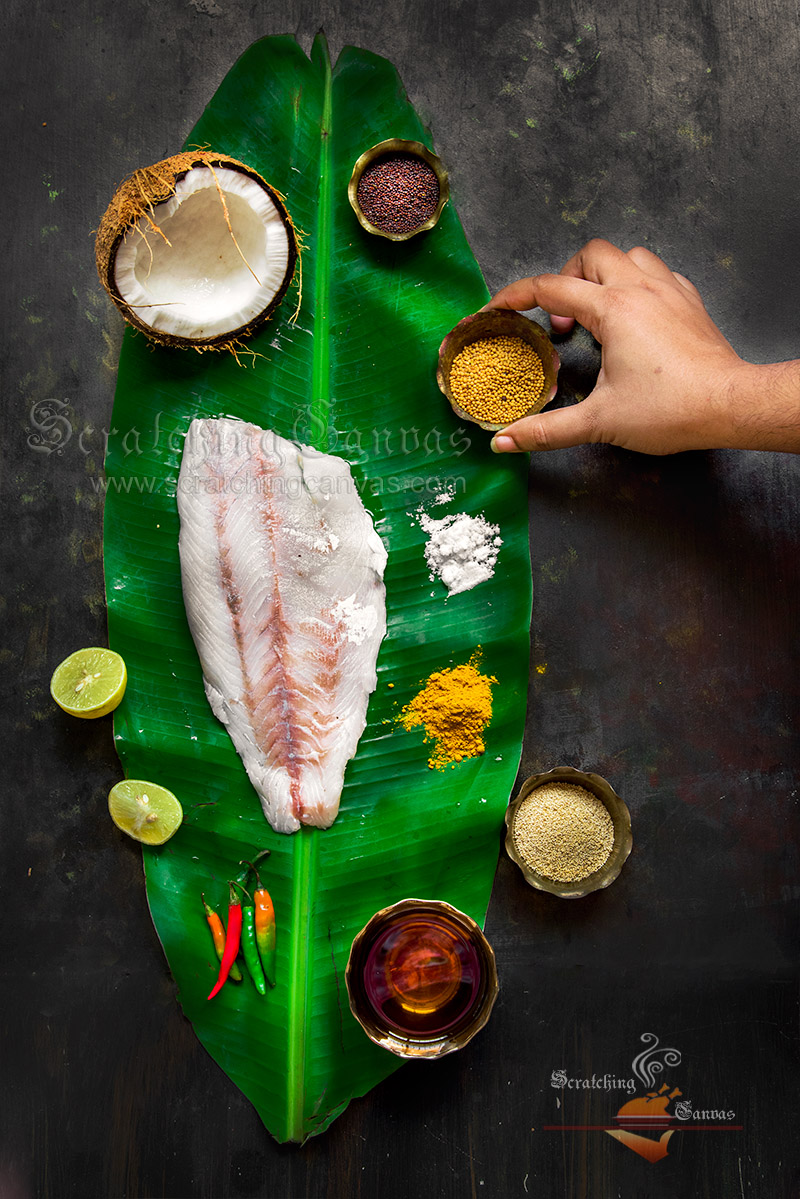 The word Paturi literally means wrapped in leaves. Any edible leaves can be used to making paturi though the leaf is not consumed in most cases. The popular choice of leaf is kolapata or banana leaves. Soft under matured banana leaves are perfect to use for paturi as they are moldable easily. Other off-bit choices are pumpkin leaves, colocasia leaves and gourd leaves. These various leaves enhance the original flavour of paturi by including their own. Thus each time paturi gets unique taste.
Bhetki Paturi recipe have few variations based on different geographical regions but the basic things are kept unchanged, good quality bhatki mach (baramundi fish) and generous amount of shorshe (mustard). Traditionally black mustard seeds are grinded with fresh green chilli, turmeric and virgin mustard oil using Shil Nora (grinding stone). Gradually little amount of sada shorshe bata (yellow mustard seeds), posto bata (poppy seeds), narkel bata (coconut) are introduced to create variations and family secrets.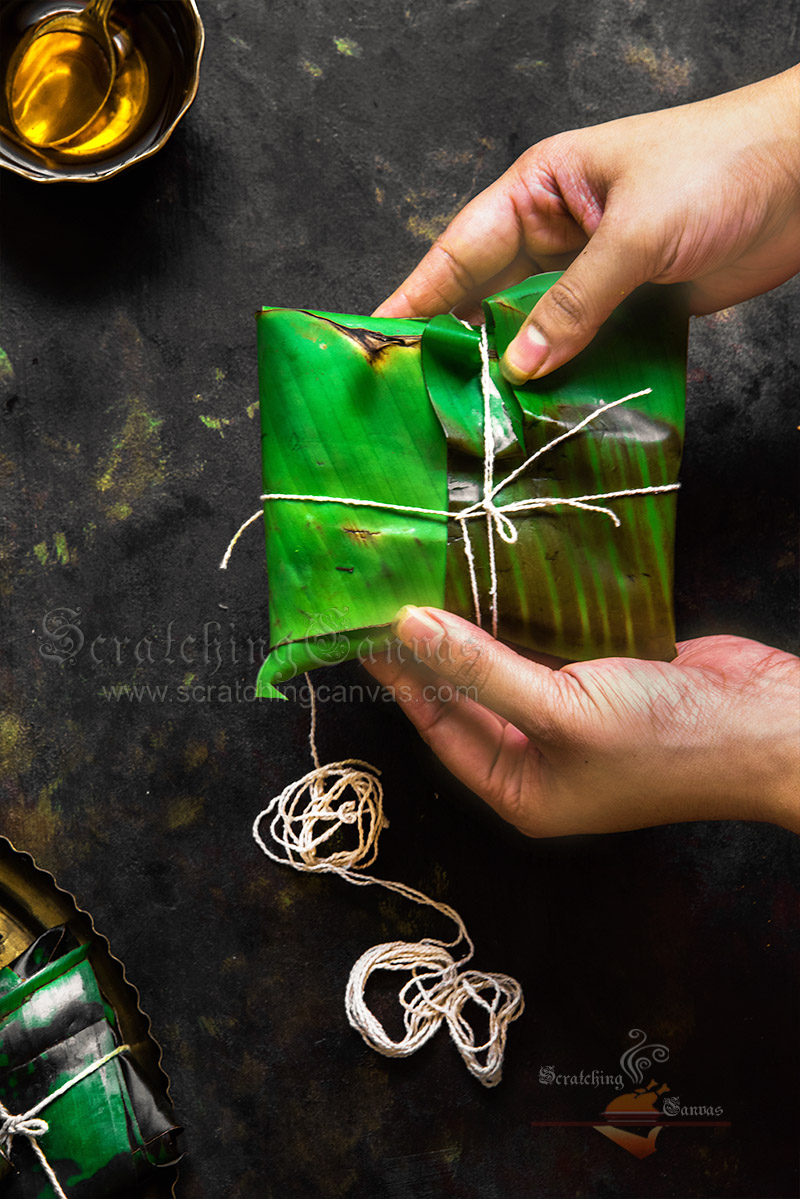 The key of the well cooked yet melt-in-mouth kind of fish is double marination. First marinade would be mixture of turmeric powder, salt and Gondhoraj Lebur Ros, juice from king of lime which will not only softed the fish but also adds the aroma to the fish. Then marinate the same fish in paturi mix and keep for 30 mins to 4 hours. This will bind the paturi flavour to the fish while the juice from mixture will keep the fish soft and delicate. Substitute Gondho lebu with regular lime or lemon if they are not available.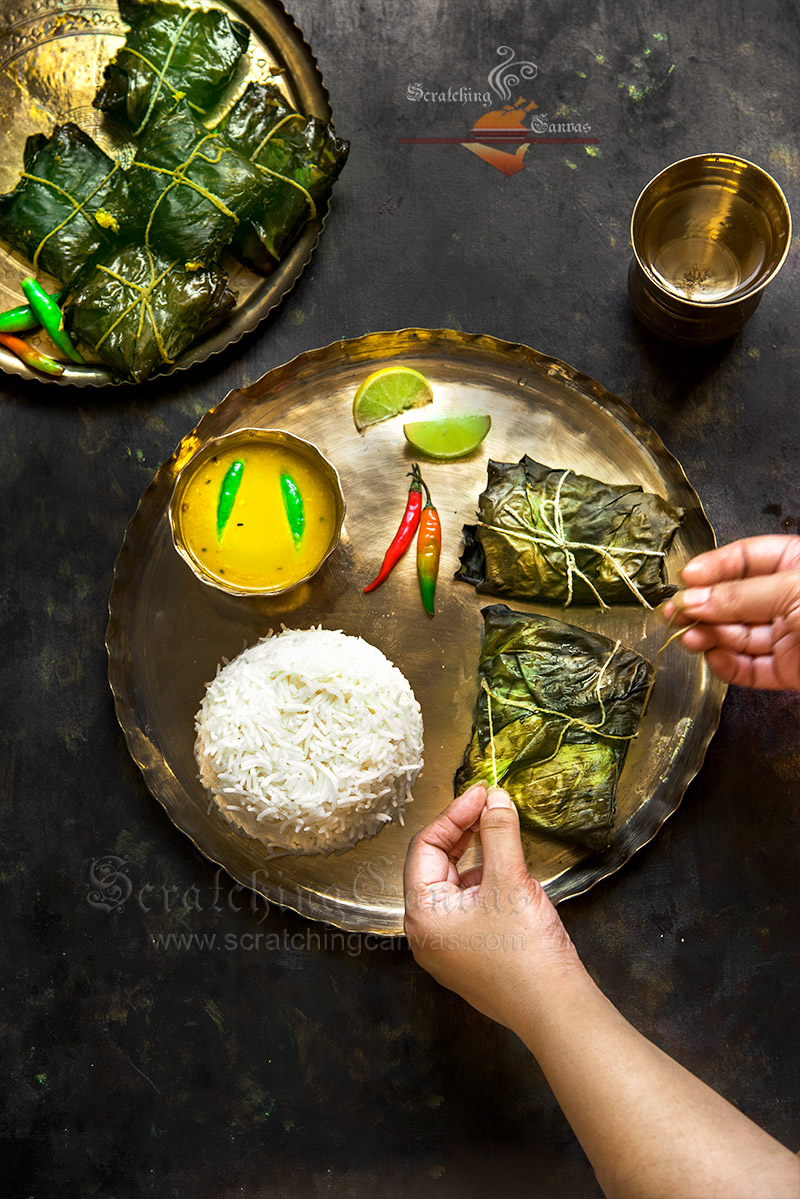 Watch detailed Video of  Bhetki Macher Paturi Recipe.
Read the entire recipe and Notes carefully before you start cooking. Do make sure all ingredients are at room temperature (unless mentioned) and weighed or measured correctly in appropriate weighing scale or measuring instruments such as cups or spoons. Remember these are not regular cups or spoons which is used in daily life.
SERVING & STORAGE:
Bhetki Macher Paturi tastes best with bhaat, dal and Jhiri Jhiri Aloo Bhaja (steamed rice, lentil and smashed potatoes).
Enjoy Bhetki Paturi hot, right after cooking. To store excess paturi bring them to room temperature first inside the banana leaf wrap. Arrange the pieces in a single layer in any airtight container and refrigerate. Consume within two days. Do Not open the leaf wrap until ready to eat.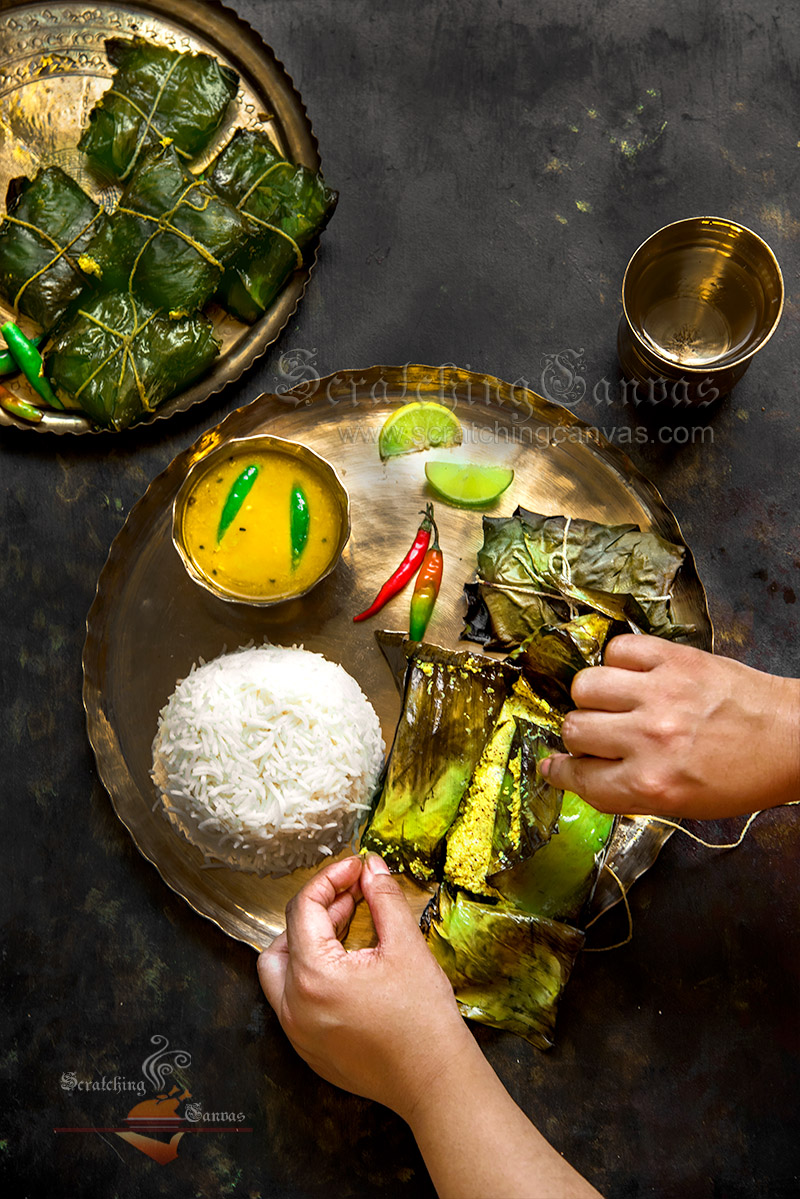 Bhetki Macher Paturi Recipe | Kolapata e Vekti Paturi | Partani Macchi
Ingredients
Bhetki fillet, 2
Turmeric powder: 1 tsp
Salt: 1 tsp
Lime juice: 1 tsp, I used gondhoraj lebu
Mustard oil: 4 tbsp
Fresh banana leaves: 4, 16" long or increase the number
Thread or toothpick to seal leave parcels
For Paturi Mix:
Black mustard seeds: 4 tbsp
White mustard seeds: 4 tbsp
Poppy seed: 4 tbsp
Coconut, freshly grated: ½ cup
Green chili: 3-5, adjust depending on your heat quotient
Turmeric powder: 1 tsp
Salt: 1 tsp
Sugar: ½ tsp, optional
Mustard oil: 3 tsp
Instructions
Clean bhetki fish pieces carefully but don't wash under running water; it will wash away the flavours from fresh fish. Marinate with lime juice, salt and turmeric powder and keep aside for 10 mins.
Take a small bowl and soak poppy seeds with both mustard seeds in ½ cup warm water for 10-15 mins. I like to add few green chilies with it. Once seeds are softened strain seeds (discard the water) and grind into a coarse paste without any additional water.
Add coconut, turmeric, salt, sugar (if using any) rest of green chilies and make a smooth paste. Mustard tends to get bitter while grinding too much so it's better use pulse (or grind) only 2-3 times all together.
Now take half of this paturi mix and marinate (second time) fish pieces with it. Use a lightly fitted lead to cover it and keep aside for 30 mins to 4 hours.
Wash banana leaves and heat it for 5-6 secs on gas flame. This will help to soften raw leaves to fold easily. Otherwise hard leaves will get cracks while folding and filling will be exposed. Now cut the large banana leaves into 4-5 pieces depending on the original leaves.
Lay two pieces of leaves in crisscross pattern (watch the video for full demonstration). Place 2 tsp paturi-mix in the middle, one marinated bhetki piece above that and top with another teaspoon of mixture. Drizzle mustard oil all over and seal it like an envelope with thread or toothpicks. Make sure parcel is sealed neatly from all the sides. Follow same procedure for rest of the fish pieces.
Now comes to cooking part which can be done in two different ways; one is seaming the envelopes and second is cooking in pan. I'm explaining the second process in this recipe.
Heat a flat based pan/tava on medium flame and drizzle few drops of mustard oil. Arrange fish stuffed banana envelopes into the pan in a single layer so that the base of each parcel is set on base of the pan. Cover and cook for 10-12 mins. on medium low flame.
Flip the envelopes once and cook for another 8-10 mins with lid on.
Remove Bhetki Macher Paturi from pan and serve immediately with steamed rice. Don't forget to serve additional green chili. Enjoy!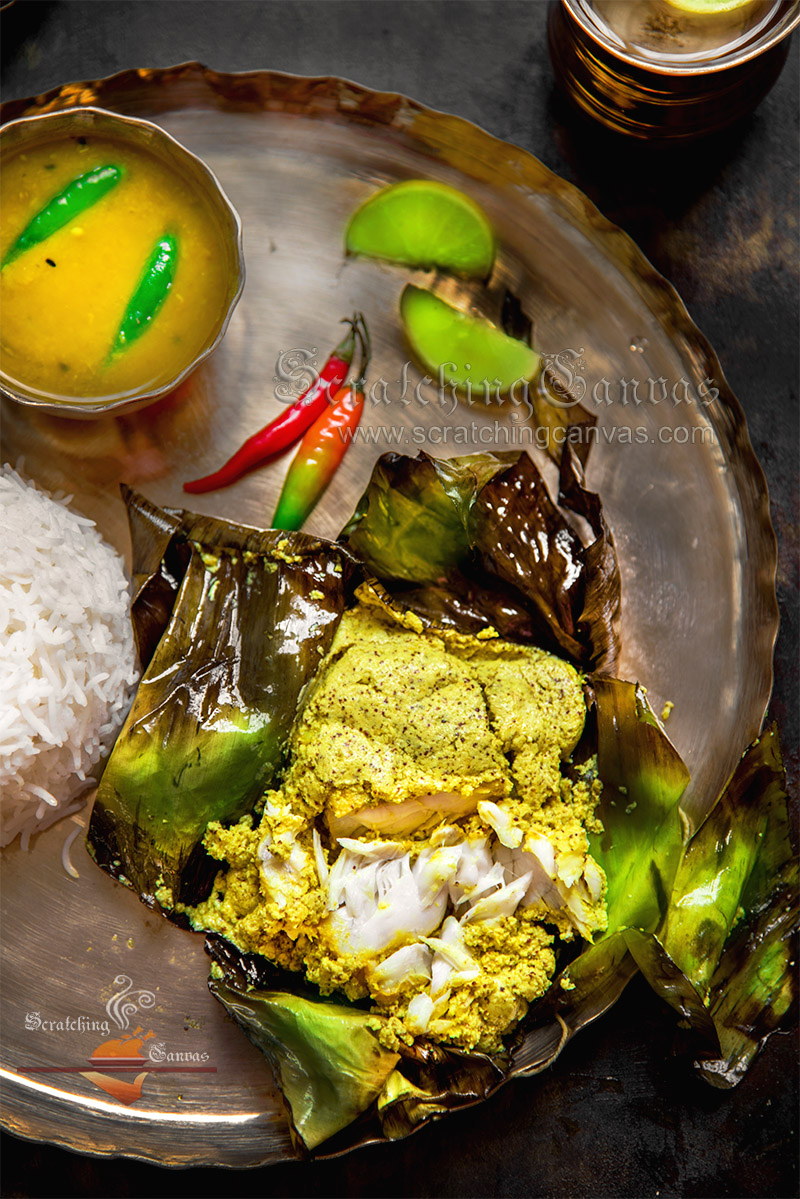 Have you tried/cooked any of the recipes from my blog Scratching Canvas? If yes I would love to know your feedback and opinion. Take a picture of your cooked food and share on Instagram with the hashtag #scratchingcanvas. I will share your picture and opinion with all. See you there 🙂
EAT, LOVE & ENJOY! REPEAT!!!
You may also like these Bengali Classic Fish Preparations