Kancha Aam er Chatni | Mango Chutney | Bengali Raw Mango Chatni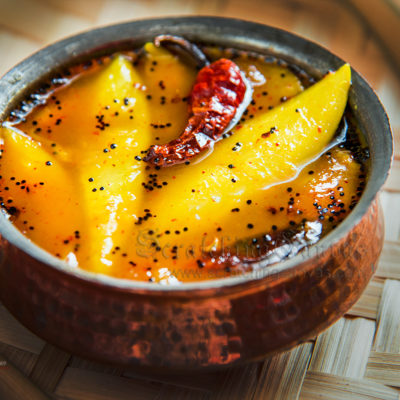 Raw mango: 1, large (300g without seed)
Sugar: ⅔ cup
Ginger, pounded: ½ tbsp
Mustard oil: 1 tbsp
Water: 2 cups
Whole Spices
Dry Red Chili: 1-2
Mustard seeds, black: 1 tsp
Ground Spices
Salt: ½ tsp
Turmeric: ¼ tsp
Red Chili: ½ tsp
Bhaja Masala: 1 tbsp
Wash and clean mango and pat it dry. Discard the seed and chop mango lengthwise.
Sprinkle salt and red chili powder on chopped mango and toss to coat well.
Heat oil in wok and add whole spices to tamper oil.
Add marinated mango and sauté for 1-2 mins.
Add ginger, turmeric and stir well.
Add water and bring it to boil. Cover and cook for 10-12 mins or until mango is cooked.
Once mango is cooked yet firm, add sugar and boil to desired consistency.
Sprinkle bhaja masala in Aamer Chatni and switch off the flame.
Bring chutney to room temperature and serve after meal.
1. Marinade mango to soften raw mango. It also helps to minimize cooking time later.
2. Do Not add sugar if mangoes are not cooked. Mangoes will not be cooked when in contact of sugar.
3. Adjust amount of bhaja masala or red chili powder according to personal preference.
4. Use freshly roasted and grounded fennel seed instead of Bhaja Masala.
5. Sometimes Panch Phoron (Bengali 5 spices) is used instead of red chili and mustard seeds.
Recipe by
Scratching Canvas
at http://www.scratchingcanvas.com/bengali-kancha-aamer-chatni-mango-chutney-recipe/