Dhakai Paratha Recipe | Dhakai Porota Traditional Bengali Paratha | Flaky Layered Puffed Bread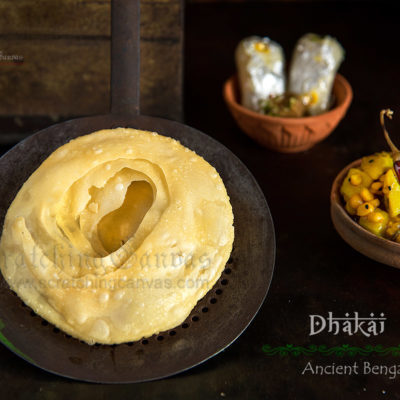 Serves:
8-9 large Paratha
All-purpose flour: 2 cup + ¼ cup (for layering)
Oil/ghee: 3 tsp + ¼ cup (for layering)
Cold water: ½ cup (for kneading)
More oil for deep frying, any flavourless odourless white oil
Begin with kneading the dough.
Take a large bowl and sift 2 cups flour through sieve, twice if possible.
Pour 2 tsp oil and rub well with palms to coat flour with grease. It will help paratha become crispy while frying. This process is known as moyan.
Now add cold water little by little to flour mix and start kneading with fingers.
Keep the dough in a bowl and leave it for 30 mins. covered with lid or wet kitchen towel.
Next is rolling or forming lechi for paratha.
Make small balls from the dough without any cracks around the dough.
Take one dough ball at a time on rolling surface and roll to form a circular disc (roti like) with the help of rolling pin. The disc should be little thicker than luchi/poori. There shouldn't be any crack on surface.
Pour few drops of oil on the flour disc and spread evenly with fingers/brush.
Then sprinkle 1 tsp flour on top of oil and spread as evenly as possible.
Now take a knife and cut along the radium of the circle; meaning from center of to the circumference (outer line of the disc). Watch the video for clear demonstration.
Take the corner of the cut and roll it along with the circumference (edge) into a conical shape.
Now tuck the loose ends of the larger part inward of the cone.
Cut the top off from the pointed end and dip slightly in oil. Set aside on a flat palate and cover with damp cotton cloth. Allow to rest for 30 mins.
Now take one cone at a time and push your little finger inside through the narrow part of the cone. Roll it gently to make a small hole. You can do it with help of blunt knife so that no cut is made between layers.
Place the cone on rolling surface and press the cone gently from top to form a pattie like disc.
Now roll this out into a roti like disc again with rolling pin. Here you will be able to see the spiral layers clearly.
Finally (and most important), frying the Dhakai Porota.
Now heat 4 cups of oil/ghee (clarified butter) in a deep bottomed heavy wok/kadai. Once oil turns hot, simmer the flame.
Add one dhakai paratha slowly in the hot oil. Firstly, it will go down to the bottom of the wok and immediately will float back on the top. Now start pouring hot oil with a ladle in the middle of the paratha (where the hole was) until paratha is puffed up like luchi/poori and browned evenly.
Once paratha is nicely coloured and crispy, remove from oil with a slotted spoon. Tilt it halfway and hold it for few seconds to discard excess oil.
Keep fried paratha on paper towels to get rid of 'still available' oil.
Fry rest of the paratha in same manner.
Don't serve dhakai paratha immediately. It is advisable to keep parathas on stack for 15-20 mins after frying to get rid of dripping oil droplets completely. Then serve with Street style Alu diye Cholar Dal (Curried Bengal gram with potato) and some of your favourite mishti (sweets). Enjoy!
1. Moyan (adding fat into flour) plays an important role in kneading dough for luchi. It will ensure soft pliable dough.
2. The right amount of water is required to knead perfect dough. While too much water can turn it into a muddy mess, little water can also make dough hard and tough.
3. Always allow the covered dough to rest for enough time. It will help the gluten to make dough super soft.
4. If there are any cracks at all on the surface of lechi, paratha will turn into all oil soaked hard flat bread when added in the oil, more like papad.
5. This resting process will help lechi absorb oil and flour to get neat layers.
6. Don't stretch too much otherwise layers can be merged into a single layer.
7. To check the temperature of the oil: add a tiny particle of the dough in the hot oil, if it goes down first and then comes up sizzling it is the right temperature.
8. Frying dhakai paratha is the trickiest part of the entire process. The oil needs to be poured on paratha continuously to ensure even cooking though multiple layers. And this step will take time; say about 3-5 mins for each paratha depending on the size.
9. Dhakai paratha holds way too much oil between the layers which needs to be removed carefully. Otherwise crispy paratha will become soggy and inedible.
Recipe by
Scratching Canvas
at http://www.scratchingcanvas.com/bengali-dhakai-paratha-recipe/