Cholar Dal Alu Diye | Street Style Bengal Gram Lentil with Potato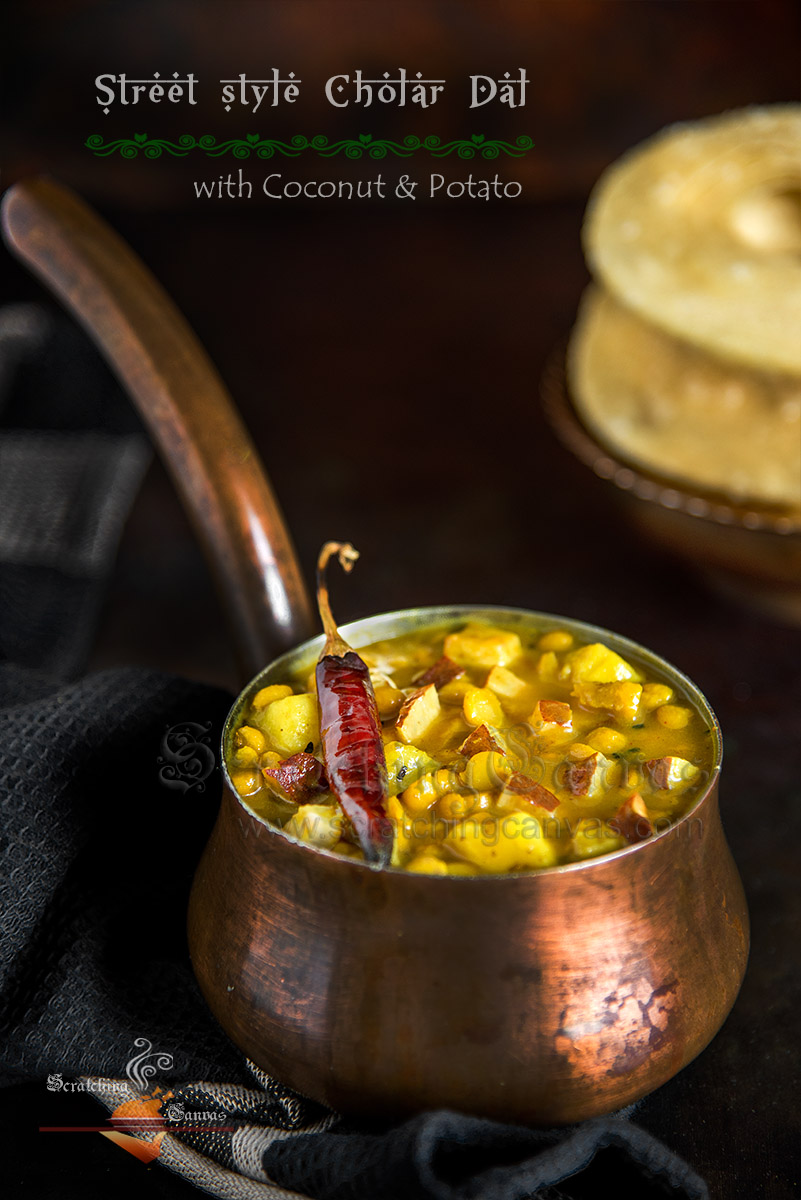 Cholar dal or bengal gram lentil: 1 cup
Coconut, chopped: 3 tbsp
Potato, cubed: 1
Ginger, chopped/crushed: 1 tsp
Turmeric powder: 2 tsp
Salt: 1 tsp
Sugar: 1 tsp
Ghee: 1 tsp
Water
For tampering:
Ghee: ½ tsp
Dry red chili: 1
Panchforon: 1 tsp
Ginger, crushed: 1 tsp
Soak cholar dal in 1.5 cups of water for 1 hr. at least; preferably 1 hr to 4 hr. Wash and clean afterwards.
Pressure cook dal for 1 whistle with 1 tsp grated ginger, few drops of oil in 2.5 cups of water. Switch off the fame and allow the dal to cook inside the cooker until pressure is released. This way dal will not get over cooked.
In the mean while heat 2 tsp of ghee in a pan on medium flame and fry chopped coconut until lightly browned. Once done, remove from pan and keep aside.
In the same pan fry cubed potato with 1 tsp of turmeric powder and pinch of salt until potatoes are golden brown. Keep aside the fried potato until needed.
In the same pan add dry red chili, panchforon and grated ginger and saute for 30 secs. Add ghee in pan if needed.
Now add pre-cooked dal and bring it to boil. Also season with 1 tsp turmeric powder, 1 tsp salt and ½ tsp sugar.
Add fried potatoes to dal. Cover and cook for 10 mins or until potato is cooked. Take care not to overcook dal.
Switch off the flame and add fried coconut and bhaja masala to cooked dal. Keep on standby for 10 mins to absorb flavours. Enjoy with Dhakai Paratha or Luchi.
Recipe by
Scratching Canvas
at http://www.scratchingcanvas.com/bengali-cholar-dal-alu-diye-street-style/