Bengali Fish Fry | Kolkata Bhetki Fry | Famous Kolkata Street Food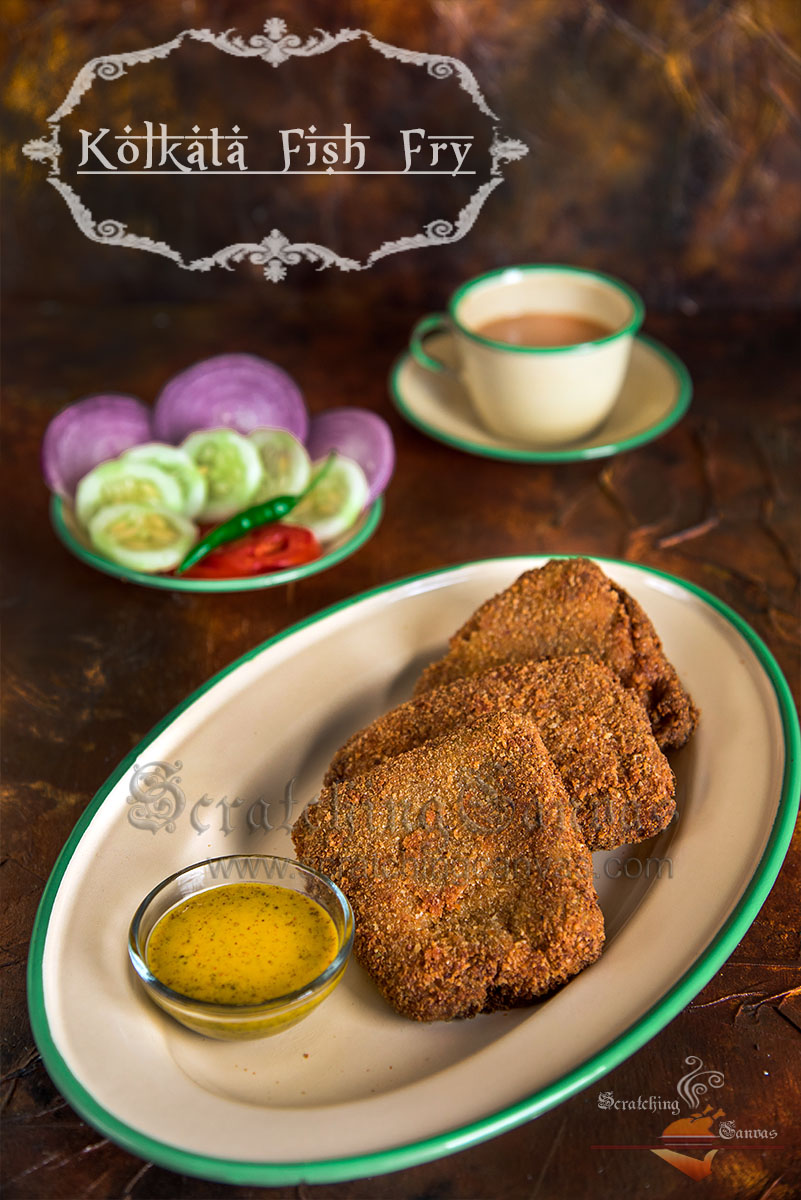 Fish fillet: 4 pcs, preferably bhetki but tilapia can also be used
Egg: 1
Breadcrumbs: 1 cup
Water: 2-3 tsp
Oil for deep frying
First Marinade:
Lemon juice: 1 tsp
Salt: 1 tsp
Second Marinade:
Onion, chopped: 3-4 tbsp
Garlic: 4-5 cloves
Ginger, chopped: 1"
Coriander leaves: 1 cup
Green chili, chopped: 4-6
Wash, clean fish pieces and pat them dry with kitchen towels. Marinate fish pieces with 'first marinade' and keep aside for 10 mins.
Take all the ingredients in blender under 'second marinade'. Take out the fish pieces from 'first marinade' and dip in second one. Set aside for 15-30 mins.
Take egg and 2-3 tsp of water in a small bowl and whisk lightly. Spread the breadcrumbs on a flat plate.
Take out one fish piece at a time from the marinade and shake off excess liquid. Now dip the fish in egg wash first and then coat with breadcrumbs. Follow the same with rest of the fish pieces.
Repeat the whole process of dipping in egg wash and coating with breadcrumbs for each fish piece again. Shape the crumb coated fish pieces with hands to cover from all the sides.
Allow the breadcrumb coated fish pieces rest for 10-15 mins.
Heat 2 cups of oil (at least) in deep bottomed heavy pan on medium flame. To test the oil, drop a tiny piece of breadcrumb; if it immediately floats back to surface oil is ready.
Turn the flame to low and add fish pieces in hot oil and fry on medium low heat for 3-4 mins; flip fish in between if needed. Fry until fish is browned evenly on both sides and once done remove from oil with slotted spoon.
Fry rest of the fish in same manner. Keep fried pieces on paper towel to get rid of excess oil.
Serve with Kasundi (pungent Bengali mustard sauce) and cucumber salad on side. Enjoy!
Recipe by
Scratching Canvas
at http://www.scratchingcanvas.com/kolkata-fish-fry-recipe/