Shukto | Bengali Vegetable Stew |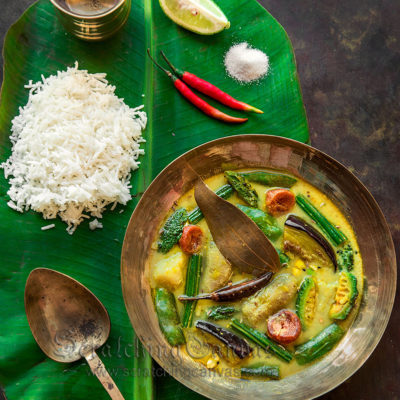 Vegetables
Aloo, Potato: 1, medium
Kachkola, Raw banana or plantain: 1
Lau, Bottle gourd: 6-8 big chunks or half of 1 medium sized lau
Begun, Eggplant: 6-7 pieces or 1 small sized
Sheem, Snow Peas: handful
Danta, Drumstick: 1, cut into bite size pieces
Uchhe, Bitter gourd: 6-7, cut into quarters
Tempering Oil
Ghee, clarified butter: 1 tsp
Bay leaf: 1-2
Dry red chilli: 1
Panchforon, Bengali five spice: 1 heaped tsp
Ginger, freshly pounded/grated: 2 tsp
Others
Posto bata, Poppy seed paste: 2 tbsp
Shorshe bata, Mustard seed paste: 2 tsp
Coconut milk: ½ cup
Shukto Malsala or Bengali Garam Masala: 1 tsp
Sugar: 1 tsp
Salt: 2 tsp
Mustard oil: ½ cup
Bori, wadi, lentil dumpling: 10-12, medium sized
Pour mustard oil in a deep bottomed pan and heat to smoking point.
Fry each vegetable separately till veggies just begin to soften. Keep the fried vegetables separately until needed. Begin frying with potato and end with bitter gourd.
Fry bori/wadi and keep aside. Add more mustard oil if required.
Heat ghee in the same pan and temper with bay leaf, dry red chilli and panchforon.
Add ginger and fry for 30 secs.
Gradually add posto bata and shorshe bata along with sugar and salt. Fry for another minute or until raw smell is gone.
Once masala leaves oil, add coconut milk little by little and mix well.
Once bubbles start forming add warm water and bring it to boil.
Add all veggies at once into the pan; cover and cook for 10 mins.
Adjust seasoning. Add bori and freshly grounded shukto masala (use Bengali garam masala in absence of shukto masala) and serve immediately with steamed rice.
Recipe by
Scratching Canvas
at http://www.scratchingcanvas.com/shukto-recipe/