Kolkata Chicken Biryani | Bengali style Biryani | Murgh Dum Biryani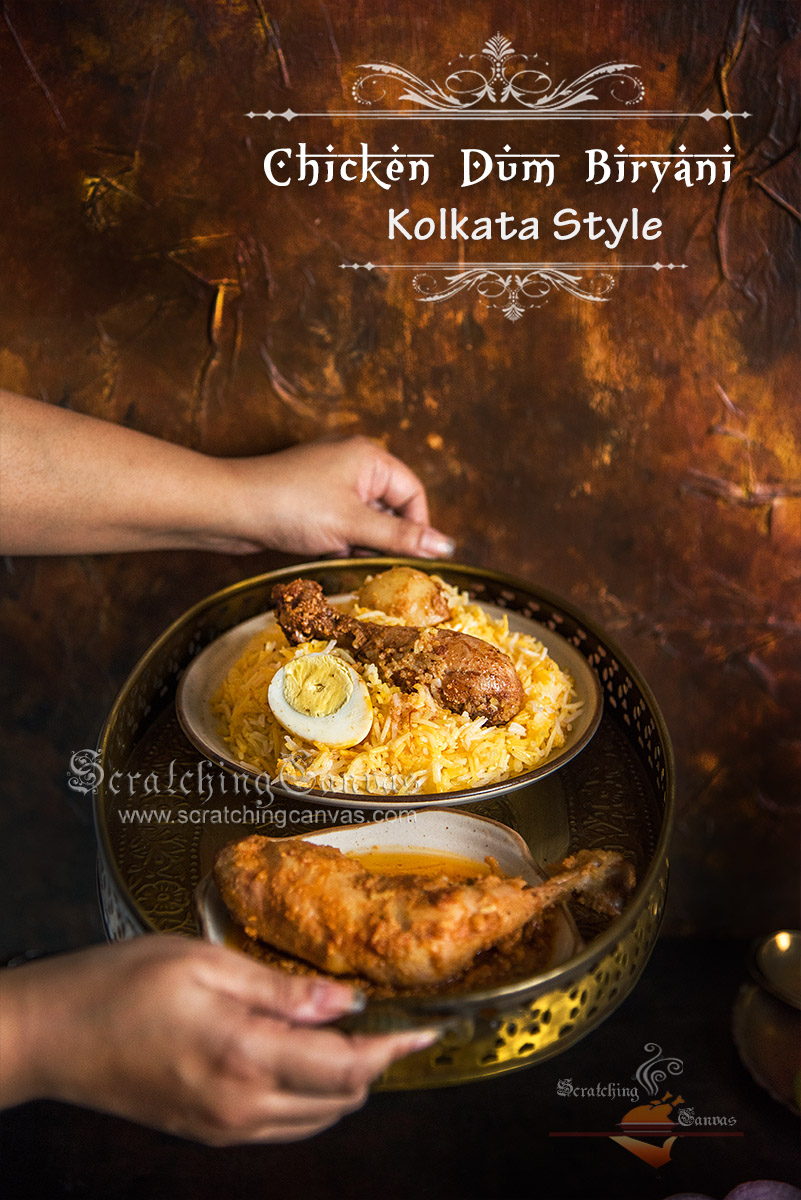 Biryani Spices:
Green cardamom: 6-7
Black cardamom: 1-2
Cloves: 1 tsp
Cinnamon: 1" x 2
Mace: 1 floret
Nutmeg: ¼
Star anise: 1
Cumin seeds: 1 tsp
Fennel: 1 tsp
Black peppercorn: 1 tsp
For Biryani Rice
Basmati rice: 2 cups
Bay leaves: 1
Green cardamom: 3-4
Black cardamom: 1
Cloves: 4-5
Cinnamon: 2" stick
Mace: 1 floret
Nutmeg: ¼
Cumin seeds: 1 tsp
Black peppercorn: 1 tsp
Salt: 1 tsp
Ghee or clarified butter: few drops
For Marinade
Chicken (with bone): 500g
Hung curd: 3-5 tbsp
Ginger Garlic paste, freshly made: 1 tbsp
Red chili powder: 1 tsp
Kashmiri red chili powder:1/2 tsp
Black pepper powder: ⅓ tsp
Biryani masala: 1 tbsp
Salt: 1 tsp
Other Ingredients
Onion: 2, large
Potato: 2-3, medium to large
Hard-boiled egg: 3
Saffron strands: 8-10
Warm milk: ⅓ cup
Metha Attar: 2-3 drops
Kewra water: ½ tsp
Ghee or clarified butter: ¼ cup
Take a cast iron skillet or tava. Dry roast all the ingredients separately and make a powder of all dry roasted spices. This mixed spices is known as Biryani Masala.
In a large bowl beat hung curd, mix all ingredients (except salt and chicken) to make a smooth paste. Add chicken and salt and keep aside for 4-5 hrs or at least 1 hr.
Wash and clean the rice and soak for 30 mins. Make a pouch of muslin with all the ingredients of rice except rice, salt, ghee and bay leaves and seal. Bring water to boil with bay leaves, salt, ghee and spice-bag in a large pot, add rice and cook until rice is half done.
Drain water and spread the rice on a flat surface. Discard the bay leaves and spice-bag.
Heat 3 tbsp of ghee in a wok and fry thinly sliced onion till golden brown. This is known as Barista. Remove from oil and keep on paper towels until needed.
Fry potatoes and egg separately in the same pan. It will make the potatoes juicier and also gives a flavor to the eggs. Fry until potato is half-one. Remove from oil and keep them aside.
Shake off the marinade from chicken pieces and add chicken into the pan and continue frying on medium flame until chicken is half done. Remove chicken from oil and keep separately.
Now in the same pan add the reserved marinade, cook along with potato and eggs until raw smell is gone and oil floats on top of spices.
Soak the saffron strands in warm milk and keep aside for 5 mins. Rub the strands in milk to dissolve them completely. Add metha attar and kewra water and keep aside.
Now take a large pot and arrange the rice, gravy, chicken, potato and eggs in layers separated by ghee, saffron milk only and biryani masala only. Cover the edge of the pan with atta dough and seal with the cover.
Heat a heavy duty iron tawa on gastop and place the biryani pot on it. Now cook it on lowest flame for 35-45 mins.
Once done switch off the flame, keep biryani on tawa for another 10-15 mins to absorb flavours. When ready to eat break seal of atta dough and serve Kolkata Chicken Dum Biryani immediately. Enjoy!
Recipe by
Scratching Canvas
at http://www.scratchingcanvas.com/kolkata-chicken-dum-biryani-recipe/