Golda Chingri'r Malaikari | Bengali Chingri Macher Malay Curry | Prawn Curry in Coconut Milk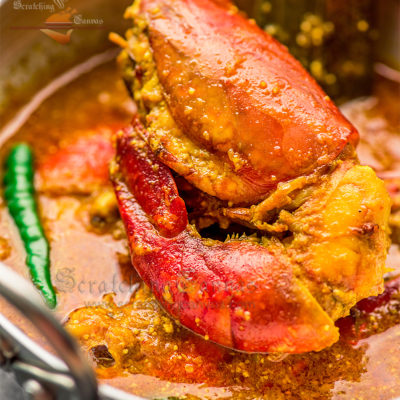 For Marinade:
Golda Chingri or Lobster: 4
Turmeric powder: 1 tsp
Salt: ½ tsp
For Tempering Oil:
Bay leaf: 1-2
Cinnamon stick: one 2" stick
Green cardamom: 4-5, freshly crushed
Fresh green chilli: 1, cut into halves lengthwise
Mustard oil: ¼ cup
Others:
Red onion: 1, large
Ginger: 2" stick
Green chilli: 4-5
Turmeric powder: ½ tsp
Red chilli powder: 1 tsp
Coconut milk: 200 ml
Sugar: 1 tsp
Salt: 1 tsp
Wash and clean lobsters carefully; devein but keep the head attached. The juicy brain is the secret of good Malaikari.
Smear lobsters with turmeric and salt and keep aside for 30 mins.
Heat mustard oil (another magic ingredient for best malaikari) in deep bottomed pan and fry each lobster very carefully until coloured into golden from both sides. Flip once and cook not for than 5 mins in total. Over cooked lobsters turned into rubbery texture which is quire unappetizing. Remove from oil with a slotted spoon and keep in the serving bowl. The dripping oil from lobsters will add extra flavours into the curry.
Temper the same oil with all ingredients under 'tempering oil'.
Make a paste of the onion and once masala starts spluttering add the paste to oil. Fry the paste for
Make a paste of ginger and 2 green chilli and add to the pan; sauté for 1 min. on high flame.
Now add all dry spices including sugar and salt and mix well.
Once oil starts oozing out from sides add posto bata (poppy seed paste) and fry for 1-2 mins or until mixed together with spices.
Turn the flame to lowest and add coconut cream. Mix well.
Pour warm water, stir gently and bring it to boil.
Add fried prawns/lobsters and stir lightly. Cover the pan and keep on simmer for 5 mins.
Flip prawns carefully and turn off the flame. Add dollop of ghee and fresh green chilli and keep on stand by for 5 more mins. Then serve hot with steamed rice.
Recipe by
Scratching Canvas
at http://www.scratchingcanvas.com/bengali-golda-chingri-macher-malaikari-recipe/