Bhetki Macher Paturi Recipe | Kolapata e Vekti Paturi | Partani Macchi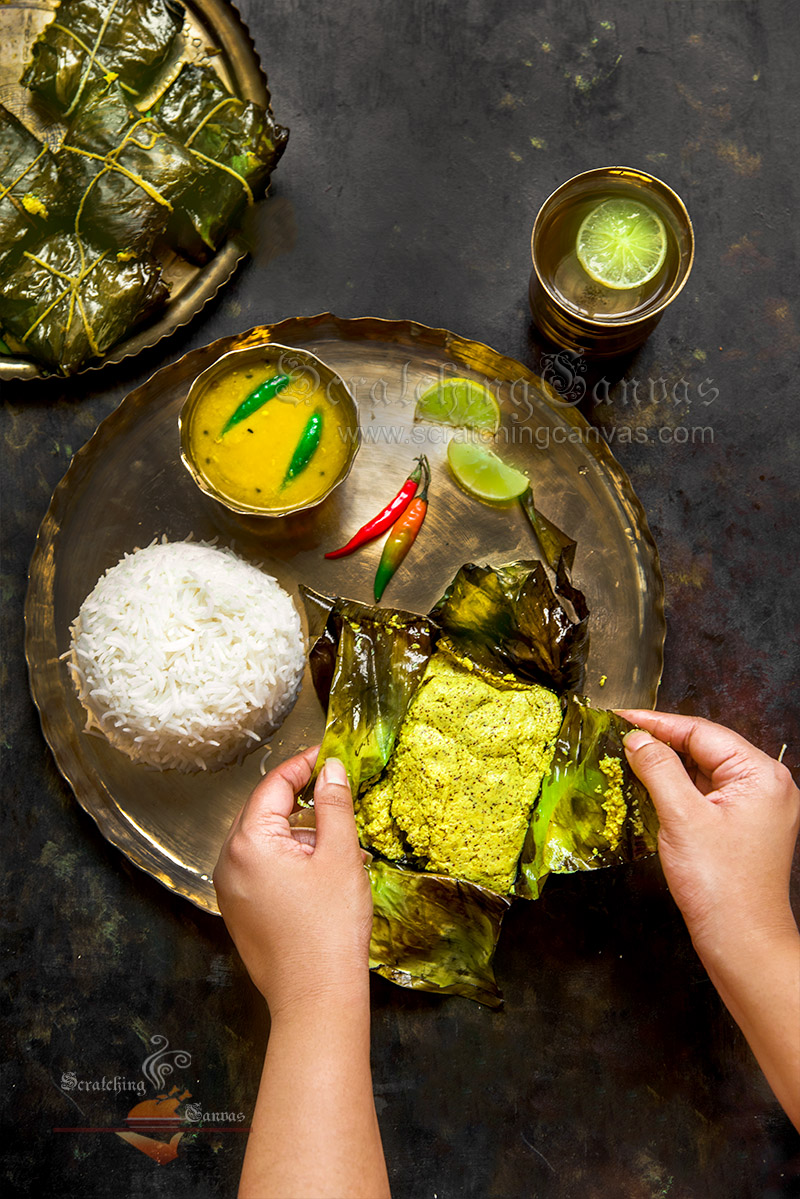 Bhetki fillet, 2
Turmeric powder: 1 tsp
Salt: 1 tsp
Lime juice: 1 tsp, I used gondhoraj lebu
Mustard oil: 4 tbsp
Fresh banana leaves: 4, 16" long or increase the number
Thread or toothpick to seal leave parcels
For Paturi Mix:
Black mustard seeds: 4 tbsp
White mustard seeds: 4 tbsp
Poppy seed: 4 tbsp
Coconut, freshly grated: ½ cup
Green chili: 3-5, adjust depending on your heat quotient
Turmeric powder: 1 tsp
Salt: 1 tsp
Sugar: ½ tsp, optional
Mustard oil: 3 tsp
Clean bhetki fish pieces carefully but don't wash under running water; it will wash away the flavours from fresh fish. Marinate with lime juice, salt and turmeric powder and keep aside for 10 mins.
Take a small bowl and soak poppy seeds with both mustard seeds in ½ cup warm water for 10-15 mins. I like to add few green chilies with it. Once seeds are softened strain seeds (discard the water) and grind into a coarse paste without any additional water.
Add coconut, turmeric, salt, sugar (if using any) rest of green chilies and make a smooth paste. Mustard tends to get bitter while grinding too much so it's better use pulse (or grind) only 2-3 times all together.
Now take half of this paturi mix and marinate (second time) fish pieces with it. Use a lightly fitted lead to cover it and keep aside for 30 mins to 4 hours.
Wash banana leaves and heat it for 5-6 secs on gas flame. This will help to soften raw leaves to fold easily. Otherwise hard leaves will get cracks while folding and filling will be exposed. Now cut the large banana leaves into 4-5 pieces depending on the original leaves.
Lay two pieces of leaves in crisscross pattern (watch the video for full demonstration). Place 2 tsp paturi-mix in the middle, one marinated bhetki piece above that and top with another teaspoon of mixture. Drizzle mustard oil all over and seal it like an envelope with thread or toothpicks. Make sure parcel is sealed neatly from all the sides. Follow same procedure for rest of the fish pieces.
Now comes to cooking part which can be done in two different ways; one is seaming the envelopes and second is cooking in pan. I'm explaining the second process in this recipe.
Heat a flat based pan/tava on medium flame and drizzle few drops of mustard oil. Arrange fish stuffed banana envelopes into the pan in a single layer so that the base of each parcel is set on base of the pan. Cover and cook for 10-12 mins. on medium low flame.
Flip the envelopes once and cook for another 8-10 mins with lid on.
Remove Bhetki Macher Paturi from pan and serve immediately with steamed rice. Don't forget to serve additional green chili. Enjoy!
Recipe by
Scratching Canvas
at http://www.scratchingcanvas.com/bhetki-macher-paturi-recipe/