Parshe Macher Tel Jhol Recipe | Parshe Macher Jhal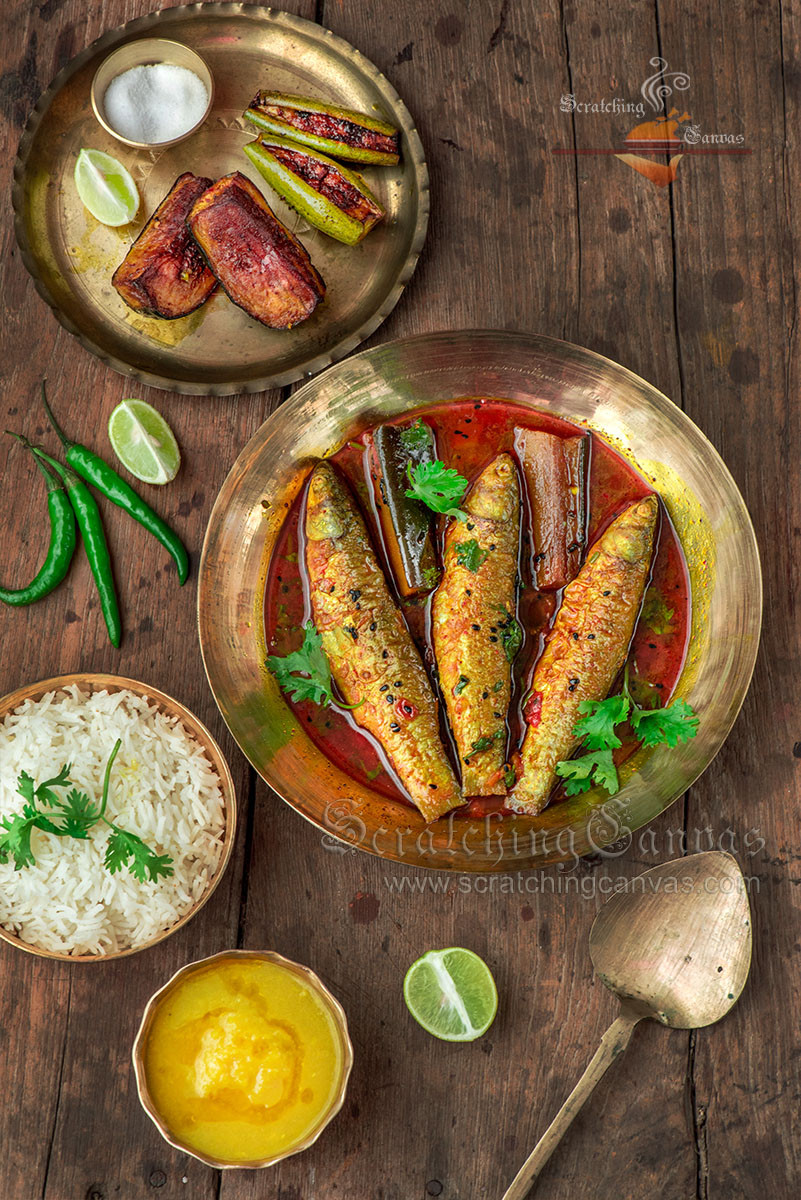 Parshe Mach: 4-5 pieces
Tomato, chopped: 2 tbsp or half or a large tomato
Eggplant: 4-5 pieces, cut into rectangle shape
Fresh green chilli: 2
Fresh coriander leaves, chopped: 2 tbsp
Kalo Jeere, Nigella seeds: 1 tsp
Turmeric powder: 1 ½ tsp
Red chilli powder: 1 ½ tsp
Sugar: ½ tsp
Salt: 1 tsp
Mustard Oil: ¼ cup
Warm water 2 cup
Smear previously washed and clean fish with ½ tsp of each turmeric powder, red chilli powder and salt. Keep aside for 10-15 mins.
Heat mustard oil in a deep bottomed pan till oil is smoking hot. Turn down the flame and wait for 2-3 mins. Add pinch of salt to the oil and stir; this will help to control oil spluttering during frying fish.
Carefully add fish one by one to the hot oil and cook for 1 mins on each side on high flame. If your fish is larger in size you may cook for another minute.
Remove fried fish from oil and keep on the serving bowl. Thus the juice from fish mixed with oil will remain in the bowl which will help to turn curry tastier.
In the same oil fry eggplant pieces until cooked thoroughly. Remove eggplants and keep on the same serving bowl. Add oil to the pan if required.
Add kalonji to the remaining oil and allow to crackle. Slit one green chilli and add to the pan too.
Add chopped tomato to the along with the juice and fry for 30 sec to 1 min. on high flame. Simmer the flame and cook until tomato is softened. You may cover the pan if tomato is not fully ripe.
Add turmeric powder, red chilli powder, salt, sugar and fry for 1 min or until raw smell from spices is gone.
Once masala is mixed nicely and oil separates from masala add 2 cups of warm water and bring it to boil.
Once water starts boiling vigorously add fried eggplant and cook for 2 mins.
Simmer the flame, arrange fried fish in curry in gravy and cook for 3-5 mins.
Switch off the flame, sprinkle chopped coriander leaves, 1 green chilli. Keep the pan covered for 15-30 mins and serve with steamed rice.
Recipe by
Scratching Canvas
at http://www.scratchingcanvas.com/parshe-macher-jhol-recipe/