Shorshe Chingri Recipe| Golda Chingri Shorshe bata Narkel diye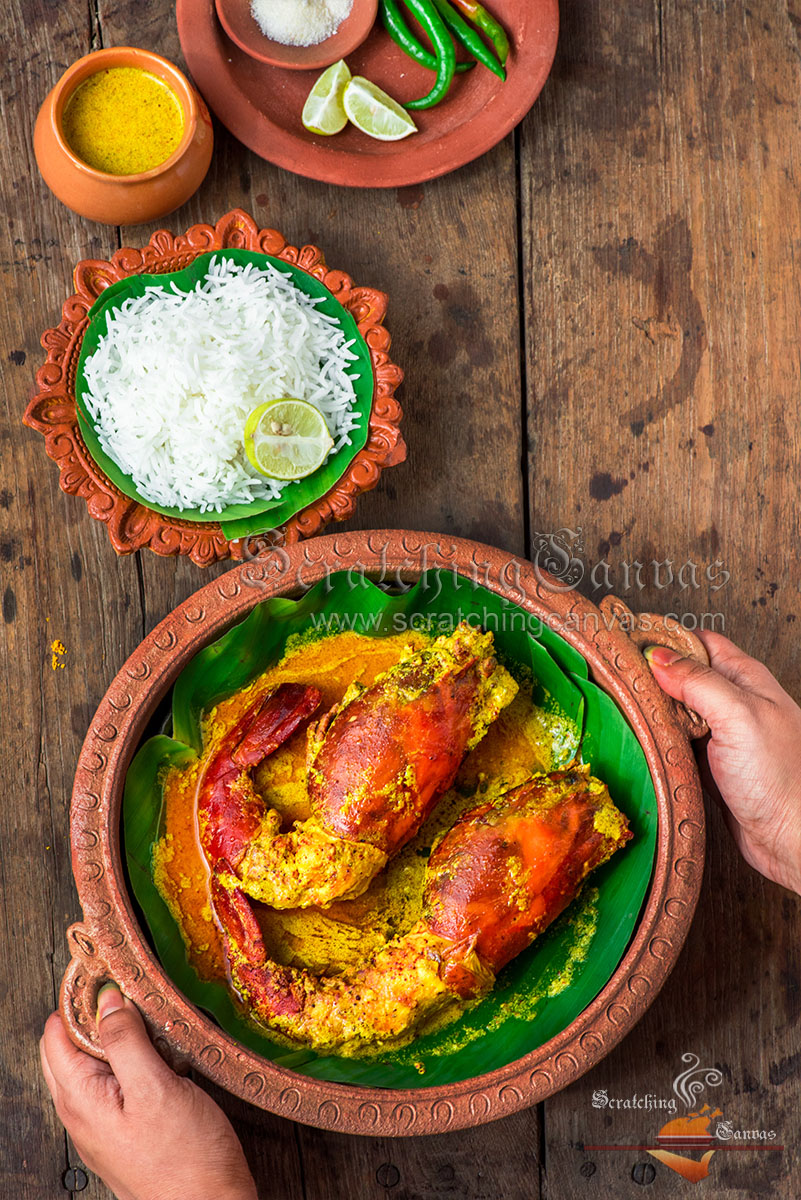 For Marinade:
Golda chingri or any jumbo sized prawn
Turmeric powder: 1 tsp
Red chilli powder: ½ tsp
Salt: ½ tsp
Mustard oil: 4 tbsp
For mustard paste:
Black Mustard seeds: 1.5 tbsp
White Mustard seeds: 1 tbsp
Fresh Green Chilli: 1
Warm water: ½ cup
For tempering Oil:
Mustard oil: 3 tbsp
Green chilli: 1, slit lengthwise
Black mustard seeds: ½ tsp
White mustard seeds: ½ tsp
For Gravy:
Ginger-Garlic, freshly pounded: 1 tbsp
Turmeric powder: 1 tsp
Red chilli powder: ½ tsp
Salt: ½ tsp
Coconut milk: ½ cup
Warm water: 1 cup
Clean golda chingri carefully, devein and remove shell.
Smear with turmeric, red chilli powder, salt and allow to rest for 10-15 mins.
Soak all the ingredients under 'mustard paste' for 30 mins and make a smooth paste. Watch VIDEO for tips to make BEST shorshe bata (mustard paste) at home.
Pour 3 tbsp mustard oil in deep bottomed heavy pan and heat to smoking point. Once smoke is coming out switch off the flame and let it cool for 1 min.
Add marinated golda chingri and fry each side only for 1 min. Total 2 mins together. Adjust the time for prawns you are using. Remove once done and place on large serving bowl. This will add all juices of golda chingri to final curry.
In the remaining oil (add 1-2 tbsp more oil is required) add ingredients under 'tempering oil' and allow to crackle for 30 sec.
Add ginger garlic and fry for 1-2 mins. Freshly made ginger garlic paste will also work instead of pounded.
Add mustard paste along with turmeric powder, red chilli powder & salt and cook for 1 min on high flame or until oil floats on top.
Pour coconut milk and water and bring it to boil.
Add prawns carefully and cook for 1 min. Do not overcook; it will turn prawns rubbery and chewy.
Switch off flame, drizzle little mustard oil on top and serve hot with rice.
Recipe by
Scratching Canvas
at http://www.scratchingcanvas.com/shorshe-golda-chingri-recipe/