Pyazi Recipe| Bengali Peyaji | Best Kanda Bhaji | Onion Pakoda | মুচমুচে পেঁয়াজি চপ রেসিপি | CRISPY ONION FRITTERS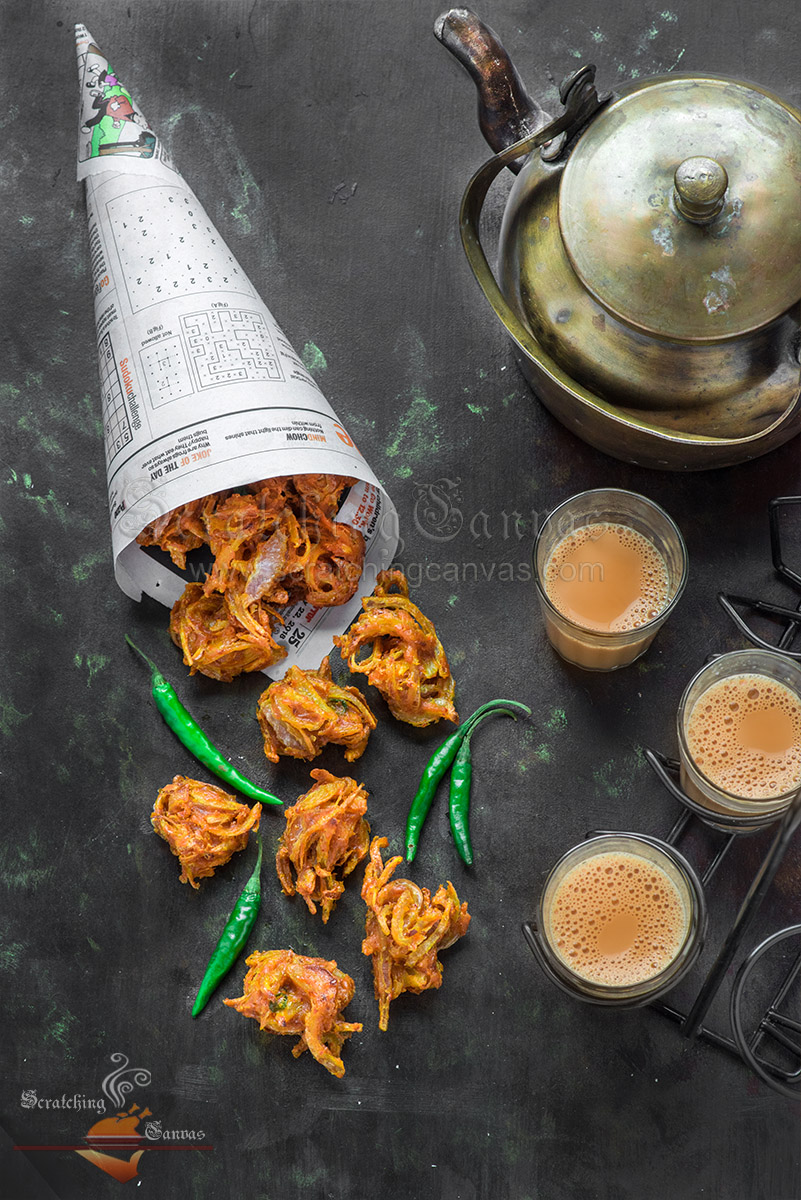 For Batter:
Maida, all-purpose flour: 4 tbsp
Rice flour: 2 tbsp
Bengal gram flour: 2 tbsp
Turmeric powder: ½ tsp
Red chilli powder: ½ tsp
Roasted Cumin powder: ½ tsp
Salt: ¼ tsp
Water: ½ cup
White Oil for deep frying
Others:
Onion, large: 2, thinly sliced
Green chilli: 2, finely chopped
Aam Ada, Mango Ginger: 1 tbsp, freshly pounded
Mustard oil: 2 tbsp
Take a deep bottomed pan which is suitable for deep frying and heat oil on medium flame. The depth of the pan should be more than 2".
Mix all the dry ingredients in a large bowl. Add water gradually little by little and keep whisking. Don't add entire water together; this will make a large lump. Add little water, whisk to mix it thoroughly and then add again and so on. This will ensure lump free smooth matter.
Now add 2 tbsp of hot oil into the batter and whisk quickly. This hot oil will make the batter silky and fries crispy.
Add ginger or mango ginger (whichever you are using) and green chilli to the batter and mix well.
Finally add thinly sliced onion to the batter and toss well so that each onion slice gets coated with the batter. There shouldn't be any batter left after that; otherwise pakoda will be soft, not crispy.
Now 1 tbsp batter at a time and slide in hot oil carefully. You may use your hand for the same. Don't just drop the batter coated patty in hot oil, slowly slide it in. this way there will be no oil spluttering.
Keep the flame on medium and cook pyazi for 3-5 mins. Flip gently on other side and cook for another 3-4 mins on medium flame. If kanda bhaji is evenly coloured and puffed up, your pyaz ke pakode is done. Remove from oil with slotted spoon and keep on kitchen towels to get rid of excess oil.
Serve immediately with ketchup and hot tea.
Recipe by
Scratching Canvas
at http://www.scratchingcanvas.com/pyazi-peyaji-recipe-onion-pakoda/