Bhapa Ilish Shorshe bhata diye | Ilish Bhaape | Steamed Hilsa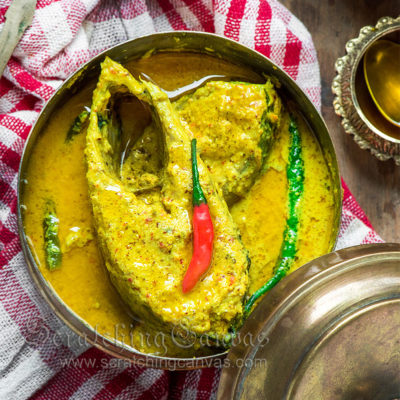 Ilish mach/Hilsa: 4 piece, without egg
Black mustard seeds: 4 tbsp
White mustard seeds: 4 tbsp
Poppy seed: 4 tbsp
Coconut, freshly grated: ½ cup
Yogurt: 2 tbsp
Green chili: 3-5, adjust depending on your heat quotient
Turmeric powder: 1 tsp
Salt: 1 tsp
Sugar: ½ tsp, optional
Mustard oil: 3 tsp
Water: ⅓ cup
Clean ilish mach carefully but don't wash under running water; it will wash away the flavours from fresh fish. If your hilsa is not fresh or if you are not habituated with the smell of raw fish marinate hilsa pieces with salt and turmeric powder and keep aside for 10 mins.
Take a small bowl and soak poppy seeds with both mustard seeds in ½ cup warm water for 10-15 mins. I like to add few green chilies with it. Once seeds are softened strain seeds (discard the water) and grind into a coarse paste without any additional water.
Add coconut, turmeric, salt, sugar (if using any) rest of green chilies and make a smooth paste. Mustard tends to get bitter while grinding too much so it's better use pulse (or grind) only 2-3 times all together.
To make any kind of bhaape you will require a stainless steel tiffin box with tightly fitted lid which will be kept on steam or bhaap for 15-20 mins. That is why the box should sturdy otherwise it will burst open in boiling water.
Now take 3 tbsp of this mixture in the tiffin box and mix with previously whisked yogurt. Whisk both together until a smooth paste if formed.
Add hila pieces in to tiffin box and coat well with mixture. Cover all the sides and cavity neatly.
Cover the box and allow to rest for 15 mins. This way hilsa will absorb all flavours.
If you need slightly runny gravy to go with your rice open the box after 15 mins and add ⅓ cup water. Mix thoroughly in light hand without disturbing the fish steaks.
Slit four green chilli halfway through and place each of them on each hilsa steak.
Drizzle 2 tbsp of mustard oil and cover the lid tightly.
Take a large wok or any wide open pan; place a stand in the middle. Set the hilsa filled tiffin box on the stand carefully so that the tiffin box doesn't touch the bottom of the wok/pan. Now pour hot water (not boiling) into the wok so that only bottom half of the tiffin box is covered with water. Cover the wok with a tightly fitted lid and allow to cook on medium flame for 15-20 mins.
If your hilsa steaks are thicker than 1" cook for 20 mins otherwise 15 mins will be enough to cook ilish.
Once done switch off the flame and keep on stand by for another 5-7 mins or until it is bearable to touch the wok or tiffin box.
Remove tiffin box from wok carefully; take precaution as it will be too hot to burn your skin.
Remove lid of the box gently and drizzle some mustard oil on top of hilsa pieces.
Serve with hot steamed rice and more green chilli.
Recipe by
Scratching Canvas
at http://www.scratchingcanvas.com/bhapa-ilish-shorshe-recipe-steamed-hilsa/