Amrar Chutney | Amra Chatni | Sweet Spicy Chutney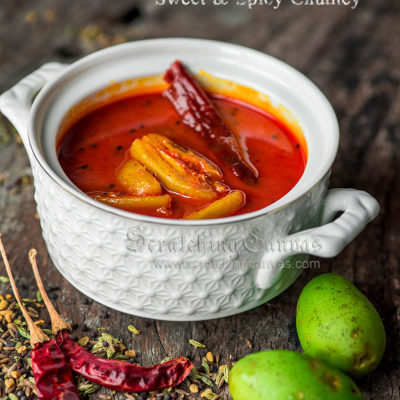 Aamra or Hog plum: 300g
Ginger: 1 tbsp; freshly pounded or paste
Mustard oil: 2 tbsp
Water: 2 cups
Spices:
Panch foron: 1 tsp
Dry Red Chilli: 1
Turmeric powder: ¼ tsp
Red chilli powder: ¼ tsp
Bhaja Masala: ½ tsp
Sugar: 4 tbsp
Salt: ¼ tsp
Soak the hog plums in water for 10 mins at room temperature. Wash and clean amra thoroughly; rub the skin and wash again. It will help to wash away the tartness of amra.
Peel the skin of amra and chop into halves or quarters, depending on the size.
Heat mustard oil in a wok until oil turns pale yellow.
Add panchforon and dry red chilli and allow to sizzle.
Add freshly pounded ginger and fry for 30 sec.
Pour the chopped amra into the wok and fry for 2-3 mins.
Add turmeric powder and fry for another 30 secs or until raw smell is gone.
Pour water and bring it to boil. Cover the wok & cook for 10 mins on medium flame.
Check whether amra is cooked thoroughly. If not cooked properly cook for another 2-4 mins.
Add sugar and mix well until sugar dissolves completely. Don't add sugar if amra is not coocked yet; once sugar is added amra will not be cooked anymore.
Bring it boil until chutney reaches to desired consistency.
Sprinkle bhaja masala on top and switch off the flame.
Transfer Amrar Chatni into a glass bowl and cover. Bring it to room temperature and serve.
Recipe by
Scratching Canvas
at http://www.scratchingcanvas.com/amrar-chutney-recipe/