Bengali Chirer Pulao | Chirar Polao Bengali style | Bengali Poha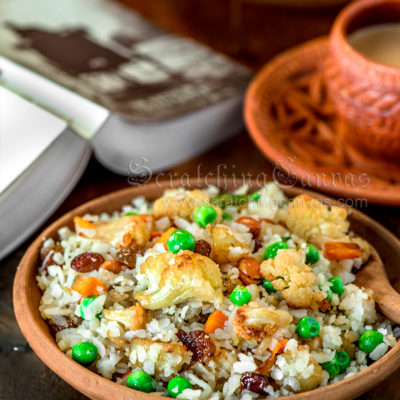 Chire: 2 cups
Cauliflower, roughly chopped: ½ cup or ½ of a small cauliflower
Potato, cut into cubes: ½ cup or 1 medium potato
Carrot, cut into cubes: ¼ cup or 1 small carrot
Green peas: ⅓ cup
Onion, finely chopped: 1
Ginger, freshly pounded: 1 heaped tsp or 1" ginger root
Green chilli: 2-3
Peanut: ¼ cup
Raisin: ¼ cup
Sugar: 1 tbsp
Salt: 2 tsp
Oil: 4 tbsp
Ghee: 1 tbsp
For Tempering Oil
Bay leaf: 1
Dry red chilli: 1
Cinnamon stick: 1"
Green Cardamom: 3-4, crushed
Clove: 3-4, crushed
Heat 2 tbsp of oil in a large work.
Add cauliflower florets and sauté on medium flame for 2-3 mins; season with ½ tsp salt and ¼ tsp Sugar.
Fry on medium flame until cauliflower turns tender. Once cooked turn the flame high and fry for 2-3 mins to brown cauliflower. It will add nice crunch to veggie but be careful not to over fry the cauliflower. Remove with a slotted spoon and place on kitchen towels.
Add chopped potato and carrot in the same oil and fry in the same manner. Remove from pan once veggies cooked thoroughly and keep with fried cauliflower.
Add rest of the oil to the pan and heat on medium flame.
Fry peanuts raisins on low flame till peanuts are browned and crunchy and raisins are plump. Remove from oil once done and set aside.
Now add all ingredients under 'tempering oil' in hot oil and allow to sizzle.
Add onion, chopped green chilli and ginger; fry for 2-3 mins on medium flame. Season with salt & sugar.
Add green peas along with previously fried veggies, peanuts and raisins in to the onion and mix well.
Turn the flame to low, spread softened chire/chidva evenly on top of veggies. Sprinkle salt, sugar and more green chillies (if desired) on top.
Now take a big spatula and fold everything gently in circular motion. Watch the video for better understanding. This way chire will not break apart during mixing. If you keep mixing in regular way polao will turn up into a big pile of smashed chire. And your Chirer Polao is almost done.
Switch off flame pour dollop of ghee on top and serve with a cup of milk tea.
Recipe by
Scratching Canvas
at http://www.scratchingcanvas.com/chirer-pulao-recipe/