Bengali Vegetable Polao | Bengali Fried Rice | Ghee Bhat Bangali wedding house style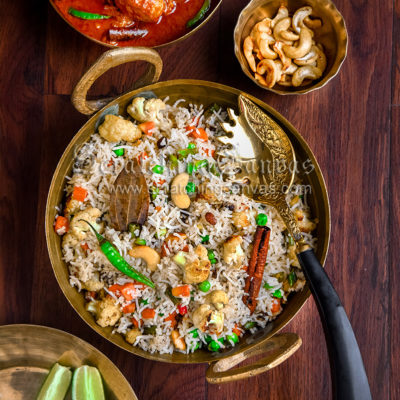 Basmati rice: 1 cup
Cauliflower, chopped into small florets: ½ cup
Carrot, cut into cubes: ½ cup
French beans, cut into 1" length: ½ cup
Green chilli: 3-4, chopped
Green peas: ¼ cup
Cashew nuts: 8-10
Raisin: 2 tbsp
Ghee: 2 tbsp
White oil: 1 tbsp
Spices:
Bay leaf: 2
Cinnamon stick: 2"
Green cardamom: 3-4
Cloves: 4-5
Bengali garam masala powder: 1 tsp
Pepper powder, black or white: 1 tsp
Sugar: 2 tsp
Salt: 2 tsp
Cook rice till al dente meaning rice will be cooked almost say 90% but not completely. If one grain of rice is touched it will hold the shape but when pressed hard the same grain will be broken but not smashed.
Drain water from rice and spread rice evenly in a large sieve or flat palate. Do not cover the cooked rice otherwise it will be cooked thoroughly from the heat within.
Heat oil and 1 tbsp ghee in a large wok and fry all vegetables one by one. Season veggies with pinch of salt & sugar. Set aside once veggies are cooked.
Fry cashew nuts until golden brown in colour and keep a side with veggies.
Now add reserved 1 tbsp of ghee in the same oil (add more if needed) and heat it. Temper the oil mixture with bay leaf, cinnamon, cardamom and cloves. Allow the tempering agents to sizzle.
Add raisins and green peas and sauté for 1 min only.
Pour all fried veggies along with cashew into the pan and stir slightly.
Now switch off the flame and spread preserved cooked rice evenly over the veggies. Sprinkle chopped green chilli, pepper powder, Bengali garam masala powder along with remaining salt, sugar. Take a large ladle and mix everything in a circular motion without breaking the rice grains. Watch the video above for better understanding. Mix in light hands until everything is incorporated.
Now cover the wok with a tightly fitted lid and turn the flame on to simmer. Leave it for 15 mins on simmer untouched. After 15 mins switch off flame and keep it on stand by for another 5-6 mins.
Ghee Bhat or Kolkata Fried Rice or Bengali style Vegetable Pulao is ready to serve with any rich curry Doi Murgi or Mutton Rezala or Chicken Chanp.
Recipe by
Scratching Canvas
at http://www.scratchingcanvas.com/bengali-vegetable-fried-rice-recipe/