Kulfi Sandesh | Ice cream Sandesh | Bhapa Sandesh | Kesar Pista Kulfi Malai Sondesh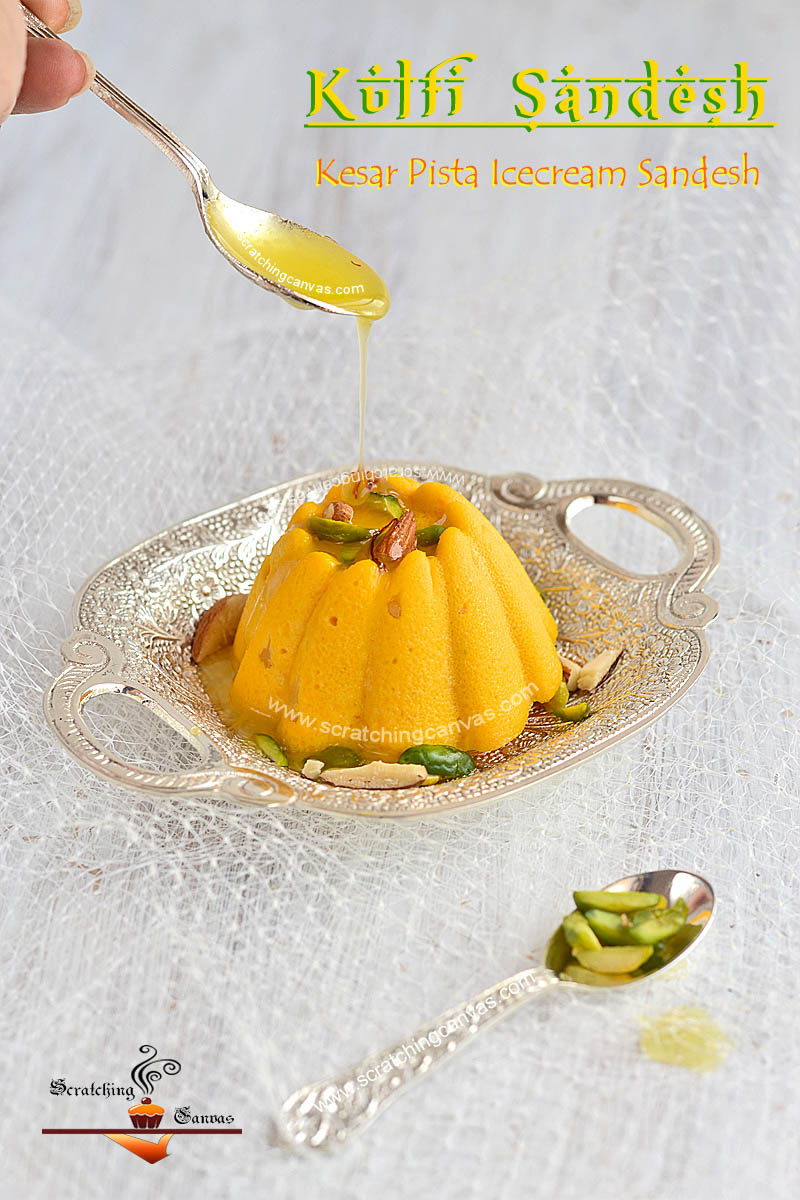 Serves:
8-10 medium sized sandesh
For Kulfi Mixture:
Milk: ¼ cup
Fresh cream: 200 ml
Condensed milk: 200 ml (See Notes)
Saffron strands: 1 pinch or ⅛ tsp
Pistachio: 2-3 tbsp (blanched)
Almond: 2-3 tbsp (blanched) (See Notes)
For Sandesh:
Fresh cottage cheese aka paneer: 500g (homemade or store bought)
For garnishing:
Pistachio: 1 tbsp, slivered
Almonds: 1 tbsp, slivered
Saffron thread: 1 pinch
Saffron flavoured sugar syrup, optional (See Notes)
Soak saffron in warm milk & set aside.
Whisk the saffron milk with fresh cream & condensed milk until blends.
Blend rumbled paneer (cottage cheese) in food processor with milk mixture and nuts until mixture turns into smooth creamy puree.
Pour mixture in microwave safe greased moulds upto ¾ portions and microwave for 2 mins at 900W (at HIGH).
Refrigerate Bhapa sandesh within the moulds for 10-15 mins or until chilled.
Serve Ice cream Sandesh chilled with some saffron flavoured sugar syrup on top.
Enjoy!
1. You can use honey instead of condensed milk to cut down calorie. Adjust the amount of honey according to your preference of sweetness.
2. You can use cashew nuts for creamier result instead of or with almond.
3. To Make Saffron flavoured Sugar Syrup: mix ¼ cup of water with ½ cup of sugar and heat on medium flame until sugar dissolves. Once sugar is dissolved completely add saffron strands and stir continuously with a wooden spatula on high flame for 2-3 mins or until syrup becomes thick enough to coat the back of a spoon. Serve warm.
4. Do not add warm or hot milk into the cream, cream can curdle in touch of high temperature.
5. Add 1-2 tsp of milk if you find your mixture is too dry. But don't add too much liquid; it should be just enough to run the blades of the blender.
6. If you add too much milk mixture or the whole thing at a time you will miss the creamy silky texture.
7. Any regular butter can also be used instead of ghee or clarified butter. It's just ghee adds a pretty aroma to the Indian dessert which actually complements the dish.
8. As various microwave ovens work differently it is safer option to keep an eye on the oven after 1 min.
9. Do Not attempt to remove the sandesh from moulds while they are warm/hot. They will be extremely fragile them. Allow them to chill and get firm, then demold, nice and easily.
Recipe by
Scratching Canvas
at http://www.scratchingcanvas.com/kulfi-sandesh-ice-cream-sandesh-bhapa/