Chicken Do Pyaza or Murgh Do Pyaaza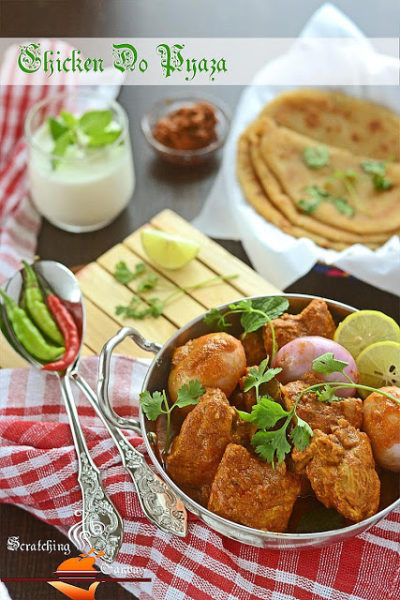 For Marinade:
Chicken: 500g (I used boneless)
Fresh Ginger- Garlic paste: 1 tbsp
Dry red chili: 4-5
Salt: 1 tsp
For tempering oil:
Bay leaf: 1, large
Cinnamon stick: 2"
Green cardamom: 5-6, crushed
Black cardamom: 2, crushed
Clove: 5-6
Mace: 1 floret
Ghee or Clarified butter: 1 tsp
For Gravy/Curry:
Onion, large: 1, finely chopped
Pearl onion: 5-6, if you don't get pearl onion use small sized regular whole onion
Tomato: 1 or tomato puree: 2 ½ tbsp
Chopped coriander leaves: 2 tbsp (optional)
Fresh ginger paste: 1 tsp
Fresh garlic paste: 1 tbsp
Turmeric powder: 1 tsp
Red chili powder: 1 tsp, I used 1 tbsp
Cumin powder: 1 ½ tsp
Coriander powder: 1 tsp
Garam masala powder: 1 tsp (optional)
Beaten yogurt: 1 tea cup
Ghee or Clarified butter: 1 tbsp + 1 tsp (any regular cooking oil can be used as alternate)
Warm water: ½ cup (if necessary)
Salt: ½ tsp
Sugar: 1 tsp
Dry roast the dry red chilies and make a powder of it.
Marinade the clean & washed chicken with roasted chili powder, ginger-garlic paste and set aside for 15 mins.
Fry pearl onion or the whole onion in 1 tsp of hot ghee till golden brown and set aside on paper towel.
Heat rest of the ghee in the same pan & add the tempering ingredients to splutter.
Sauté finely chopped onion on medium flame until translucent. Add ginger garlic paste.
Add tomato puree, turmeric powder, cumin powder, coriander powder & sugar and cook until oil separates from the masala.
Add chicken pieces, stir to cover with the spices and cook on medium flame uncovered.
In the small mixing bowl beat yogurt, red chili powder and salt together and pour over chicken pieces along with fried pearl onions. Stir gently and cook until oil floats on the top again.
Adjust seasoning.
Sprinkle garam masala and chopped coriander leaves on top & serve hot. Enjoy!
Recipe by
Scratching Canvas
at http://www.scratchingcanvas.com/recipe-chicken-do-pyaza/