Narkel Naru | Narkol Naru | Coconut Laddu | Janmashtami Special Recipe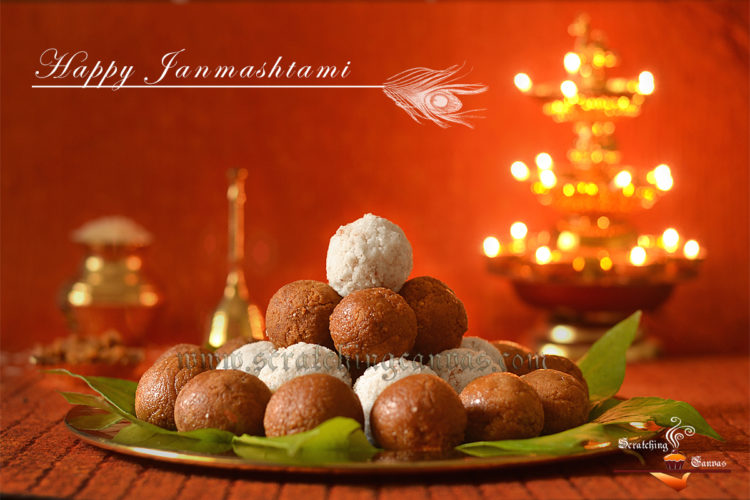 Serves:
20 medium sized Naru
Desiccated coconut: 2½ cups
Sugar: 1 cup (See Tips)
Khoya/mawa: ¼ cup (optional), homemade or store bought
Green cardamom powder: ½ tsp (or essence: 2 drops)
Others:
Ghee (clarified butter): few drops (for greasing)
Dry roast desiccated coconut in a dry pan on medium low flame for 1-2mins. Stir continuously to avoid burning coconut flakes.
At this point add ground green cardamom and stir on lowest possible flame.
Once mixed nicely, add sugar with khoya/mawa and stir to incorporate everything.
Stir continuously to avoid sticking at the bottom until mixture leaves pan smoothly.
Remove the pan from flame and bring to room temperature. Don't forget to cover the mixture with a lid or cling film to avoid direct contact with air. (See Notes)
Take large amount; say 2 tbsp of mixture in your previously greased palms (with ghee) and roll it between your palms to form a ball.
Keep it on a greased plate. (See Notes).
Follow the same with rest of the mixture quickly before it dries up. Serve warm or at room temperature, they are delicious in any ways!
1. If you can't find desiccated coconut use regular coconut and scrape off 1 whole coconut.
2. Substitute the sugar with equal amount of jaggery or condensed milk or ground sugar substitute. If you're using sugar substitute then add it towards the end of cooking not at the beginning.
3. Do not forget to grease your palms to avoid sticking.
4. Once the coconut mixture will come in contact of air, moisture will evaporate faster to make turn the mixture dry and hard.
5. Greasing the plate prior making naru will not only help to prevent naru from sticking to the plate but also will help you to clean everything later without creating much mess.
Recipe by
Scratching Canvas
at http://www.scratchingcanvas.com/narkel-naru-janmashtami-recipes/