Bhoger Khichuri | Moong Dal Khichdi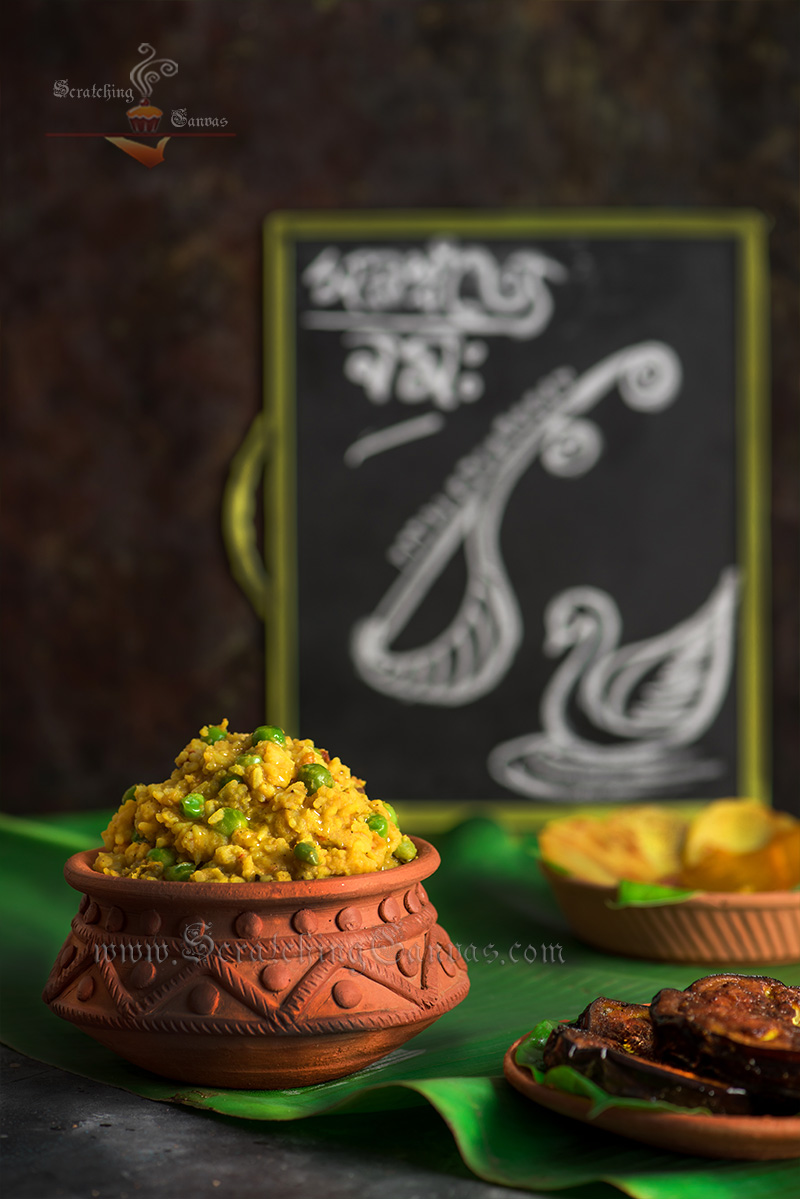 Gobindobhog Rice or any other short grain: 1 cup
Moong dal: 1 cup
Green peas: ½ cup
Ghee (clarified butter): 2 tbsp + more for serving
Ginger, minced: 1 tbsp
Hot water: 4 cups
Salt: 1 tsp
Sugar: 1 tbsp
Whole spices:
Bay leaf: 1
Dry red chili: 1
Green cardamom, crushed: 4-5
Cinnamon stick: 1"
Clove: 4-5
Ground Spices:
Turmeric: 1 tsp
Red chili: 1 tsp
Cumin: 1 tsp
Garam masala: 1 tsp
Dry roast moong dal on medium low flame until fragrant and wash under running cold water carefully. Soak dal for 1 hr. and then drain water. Wash rice and set aside.
Heat ghee in a large heavy bottomed pan until melted and tamper with whole spices (mentioned in the ingredients list).
Once spices start splattering add ground spices, except garam masala and ginger into the pan and mix lightly with a dash of water for 10-15 secs or until oil separates from masala. If using fresh peas add now and cook for 2-3 mins.
Add lentil and mix well; add 2 cups of hot water with salt and sugar and bring it to boil. Cover the pan with a lid and cook lentil until it's half cooked.
Once lentil is half done add rice with rest of the water and cook until rice and lentil is done completely. Adjust seasoning. It will take around 10-12 mins to be done.
Add garam masala and frozen peas (if using any) at this point of cooking, mix and cover the pan for 10 mins. Peas will be cooked by the heat of the khichuri.
Offer your bhoger khichuri piping hot with dollop of ghee to goddess first as part of your prayer and then enjoy yourself with more ghee, some bhaja (preferably five types of bhaja as offered in Bengali Thali), labra, payesh (rice pudding) and chatni (chutney).
1. Don't soak gobindobhog (if using any) it will wash away the flavour of the rice.
2. Fried coconut strips can be added instead of peas to add subtle sweetness to the khichdi.
3. Health conscious people can use ghee and oil in 1:1 ratio.
4. I cook the dal with masala to incorporate the flavours with lentil. Lentil can be pre-boiled and added to masala directly.
5. Various seasonal veggies can be added to the khichdi as per personal taste. Traditional bhoger khichuri doesn't include any veggies.
Recipe by
Scratching Canvas
at http://www.scratchingcanvas.com/bhoger-khichuri-bengali-moong-dal-khichdi/