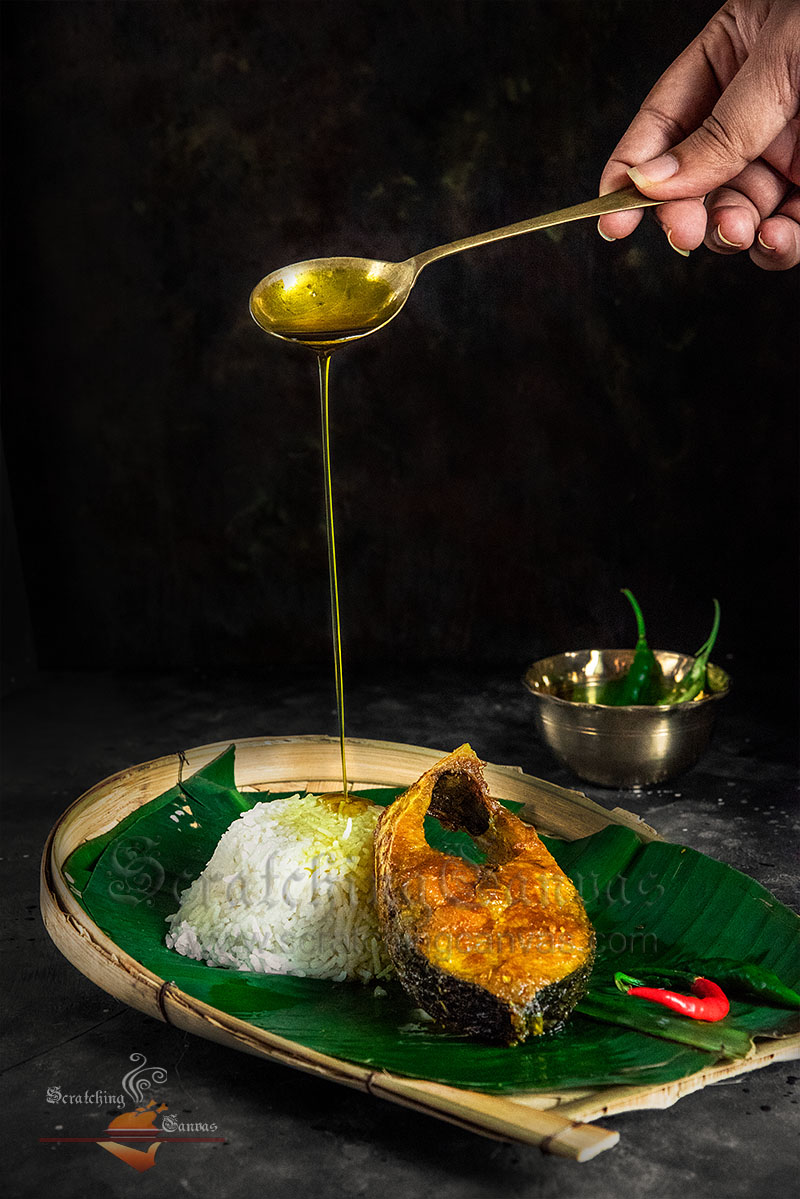 Ilish is not just a fish to Bengali people, it's an emotion to us. Ilish Mach Bhaja (fried Hilsa), Ilish Bhaja tel (oil from fried fish) ladened steamed rice; flavoured with kancha lonka (green chili) as lunch platter is the ultimate goal of the Bong-life on a monsoon afternoon. And the 'Bhat-ghum' afterwards is inevitable.
By the way, we are full of emotions ('excessive' will be more appropriate word actually) when it comes to our food; like luchi, sandesh, mangsho and many more are considered as 'raw bong emotions'.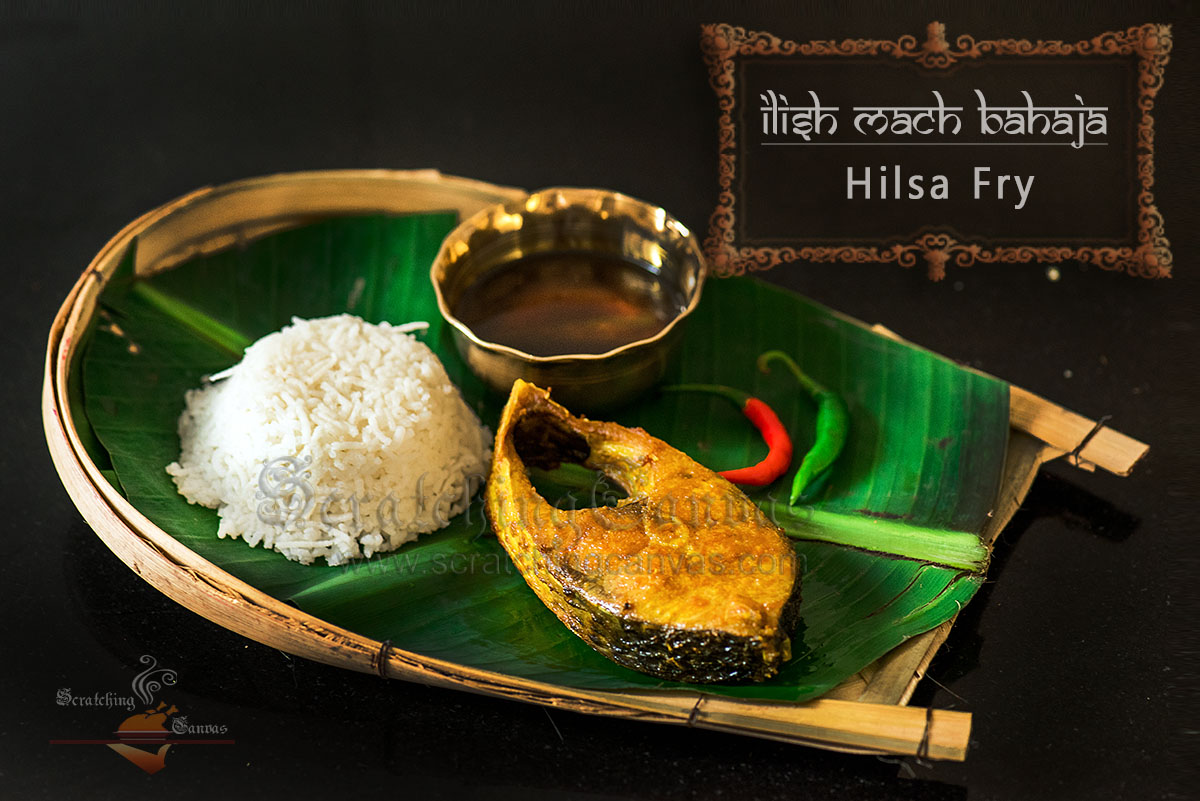 I think the term 'Ilish Bhaja er Tel diye bhat' (rice with oil from fried fish) is strong enough to scare away my 'non-bong' friends out of horror. Let me clear things out here first. The ilish or hilsa fish has such extremely strong aroma that many non fish eaters may consider it as foul smell. It is even suggested not to wash too much ilish as excess water can wash away the flavours from hilsa. When this hilsa is fried in smoking hot mustard oil it releases the flavours in oil and we simply can't abandon it there to be drained. Hence we flavour our steamed rice with the ilish macher tel in addition of fresh green chili. Thus we reach heaven on earth; as matter of fact we travel back and forth throughout the monsoon 🙂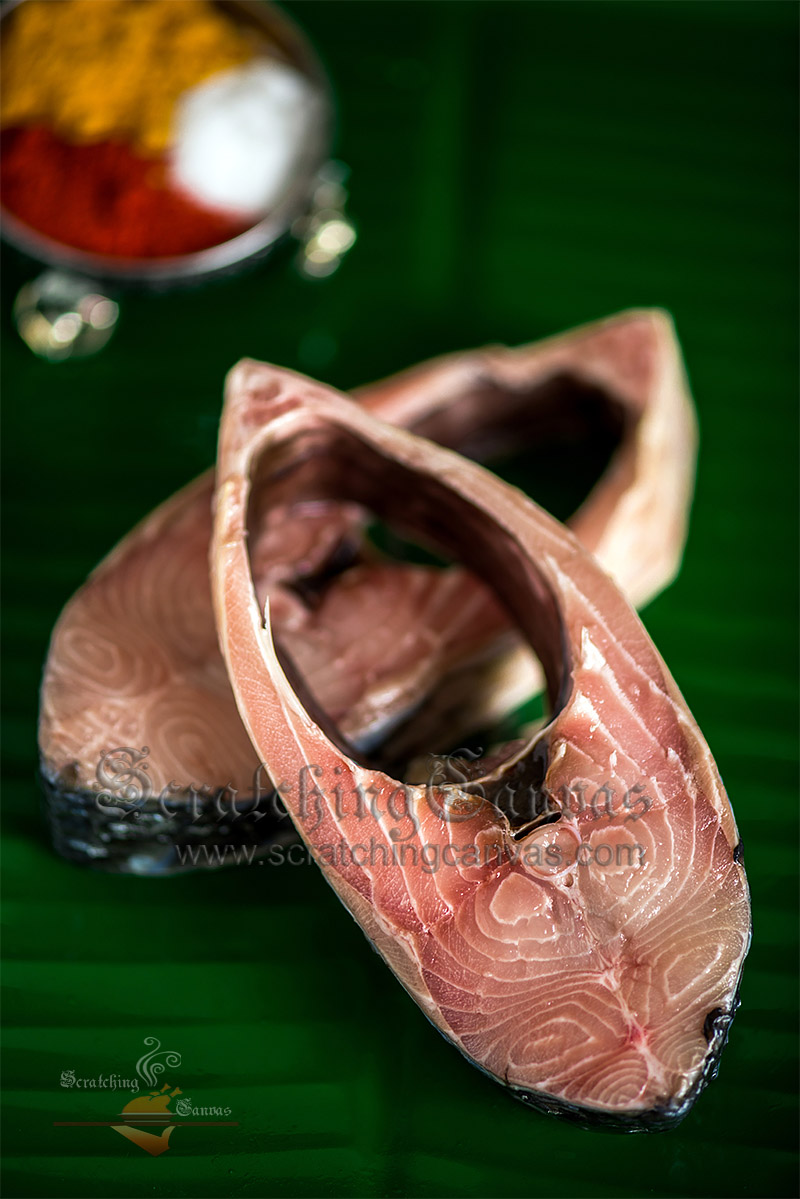 Ilish Bhaja and ilish er tel bhat are not just another Bengali recipe; it's the customary opening ceremony of hilsa season at a bong home. Ilish itself is considered as a delicacy and it is treated as luxury due to the soaring price range and unavailability. That is why once hilsa is brought to home all possible preparations are recreated with every possible part of this super expensive fish.
Most popular hilsa dishes are (apart from fried one) Shorshe Ilish (hilsa in mustard curry), Bhapa Ilish (steamed hilsa), Ilish Polao (hilsa pulao), Ilish Paturi (steamed hilsa wrapped in banana leaf), Ilish Macher Tel Jhol (Hilsa curry with eggplant), Ilish Macher Matha diye Bhaja Muger Dal (Moong Dal with hilsa head), Ilish er Dim Bhaja (fried roe of hilsa), Dudh Ilish (hilsa in curried milk) and many more. You can find few recipes here on the blog by clicking those links. I'll upload rest of the ilish recipes soon, I promise!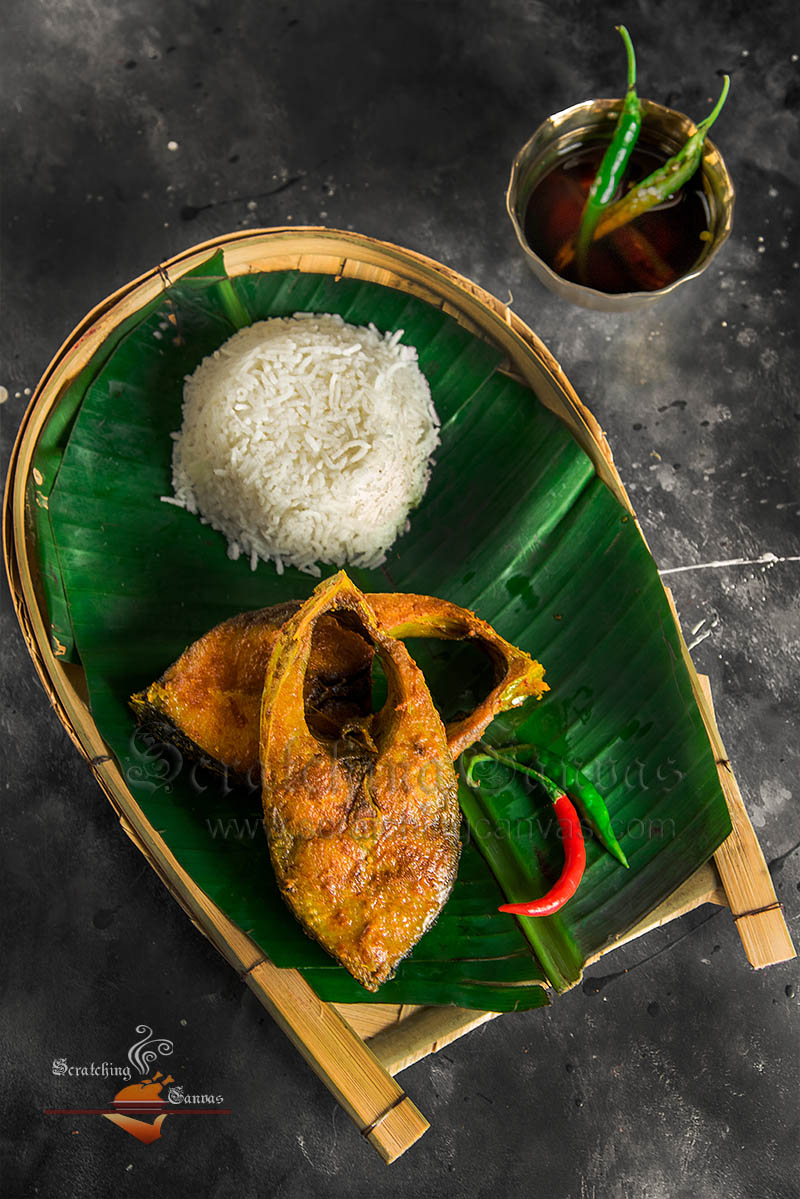 ilish is considered as king of fish to bengali cuisine due to its flavours and taste. But it is not easily available throughout the year for the own good of hilsa species. The excessive demand of hilsa caused a vacuum in the market and people started catching them even during the month of their reproduction. Hence a ban on catching hilsa between november to march was imposed by Bangladesh government to save the species. This act actually is helping the market to be slightly back on track though price is getting sky high. If many other countries which are involved in business with hilsa start doing the same, may be hilsa production will be back to regular again in future. We can only hope for the best before this luxury treat gets extinct.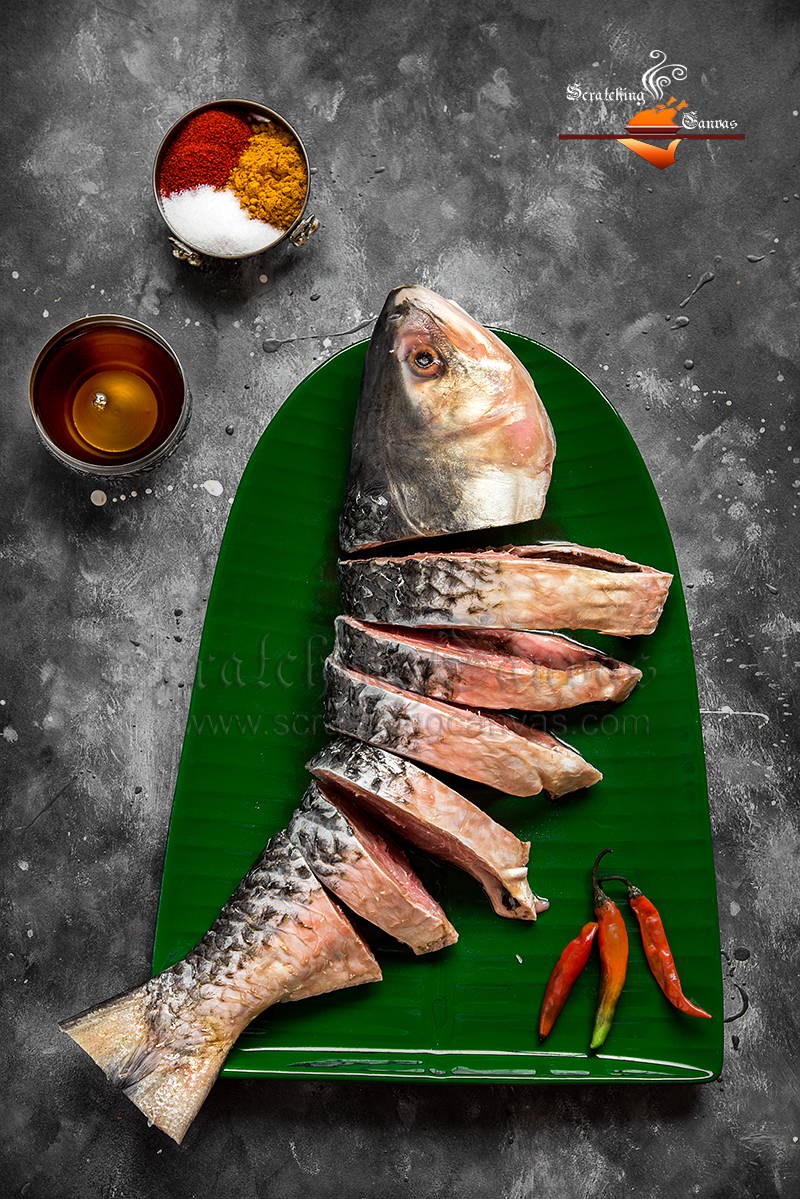 Watch my elaborated step by step video recipe of How to Fry Hilsa.
Read the entire recipe and Notes carefully before you start cooking. Do make sure all ingredients are at room temperature (unless mentioned) and weighed or measured correctly in appropriate weighing scale or measuring instruments such as cups or spoons. Remember these are not regular cups or spoons which is used in daily life.
SERVING & STORAGE:
Serve freshly cooked Ilish Mach Bhaja r Tel with steaming hot rice, Masoor dal and some Jhiri Jhiri Alu Bhaja on side, may be if insisted.
This Ilish Bhaja or oil can not be stored or refrigerated. It is not advisable to store and reheat the oil or fried fish. Not only the taste will be bad but also it is neither hygienic nor a healthy option.
Ilish Bhaja | Bhaja Ilish Mach er Tel | Fried Hilsa | How to Fry Hilsa Ilish Mach
Ingredients
Ilish Mach: 4 pc, large pieces preferable
Turmeric powder: 2 tsp, I had extra-large pieces
Salt: 1 tsp
Mustard Oil: ¼ cup
Green chili: 1-2, sliced
Instructions
Wash and clean hilsa fish pieces carefully. Marinate with salt and turmeric powder and keep aside for 10-15 mins.
Heat mustard oil in a deep bottomed pan to the smoking point. Simmer the flame and add marinated hilsa pieces one by one carefully to the hot oil.
Cook for 2-3 mins and then flip the fish very gently without breaking into pieces.
Cook for another 2 mins and flip again to check whether fish is cooked through.
If both sides of each fish is turned into golden brown and firm, ilish mach is cooked.
Remove ilish from oil with care; they tend to break into pieces.
Transfer the hoi oil into a bowl and add green chili with pinch of salt in it.
Serve Ilish Mach Bhaja and the hoi oil immediately with hot steamed rice. Enjoy!

EAT, LOVE & ENJOY! REPEAT!!!
You may also like these Traditional Bengali Ilish (Hilsa) Recipes