Instant Kulfi Malai in 5 mins | মালাই কুলফি ৫ মিনিটেই
No Breadcrumbs.
No Cornflour.
No Khoya/Mawa.
No Rice flour is needed.
Creamy aromatic Kesar Malai Kulfi enriched with dry fruits, flavoured with precious Saffron is all I need right now! I love my Malai Kulfi mildly sweet and the added freshness from sprinkled pista on top seems like an ideal deal in this scorching heat.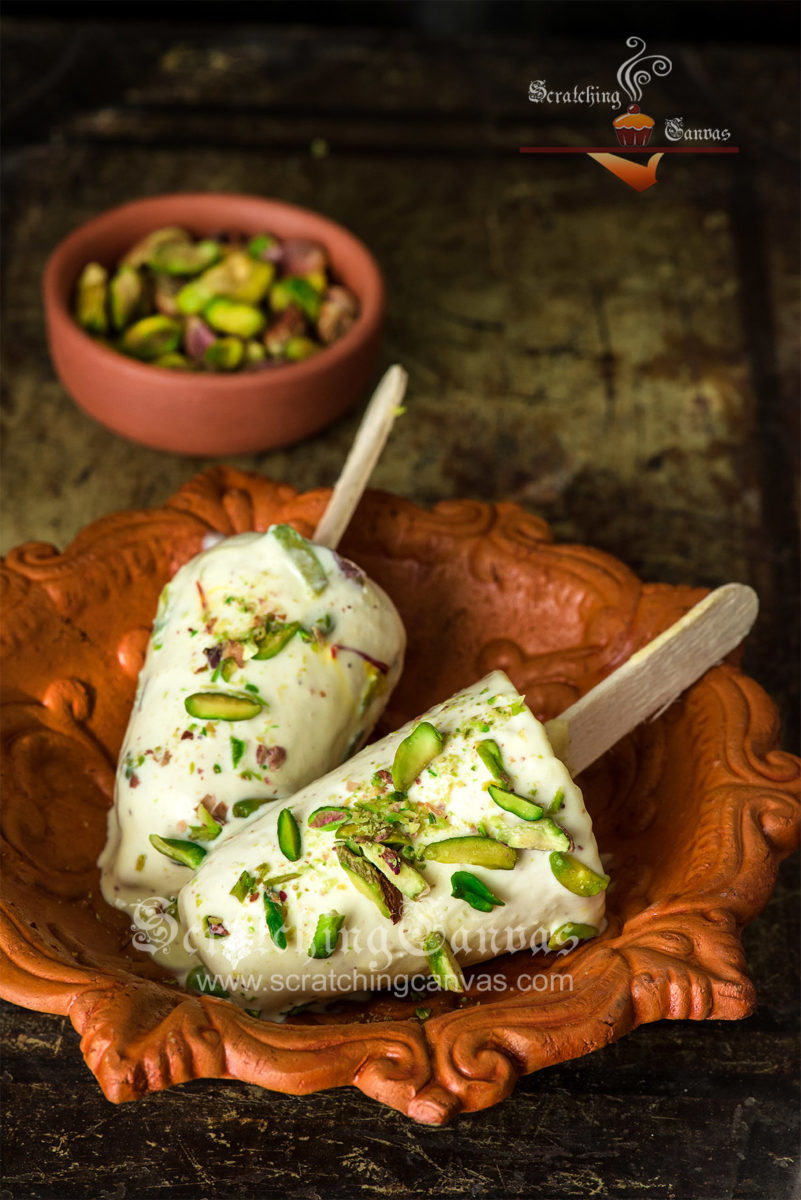 Kulfi is an Indian style no churn ice-cream which is extremely creamy and enriched with nuts & saffron. The main trick of making this Malai Kulfi is cooking the milk for longer hours on low flame by constant stirring which is extremely tedious & tiring job in this scorching heat pf Indian Summer.
But my Homemade Instant Malai Kulfi Mix is a total life saver. I prepare the mixture in just 1 minute & make kulfi anytime I want without any cooking. This Kesar Pista Kulfi Mix doesn't need any cornflour or bread or khoya/mawa or rice flour to thicken Kulfi mixture at all.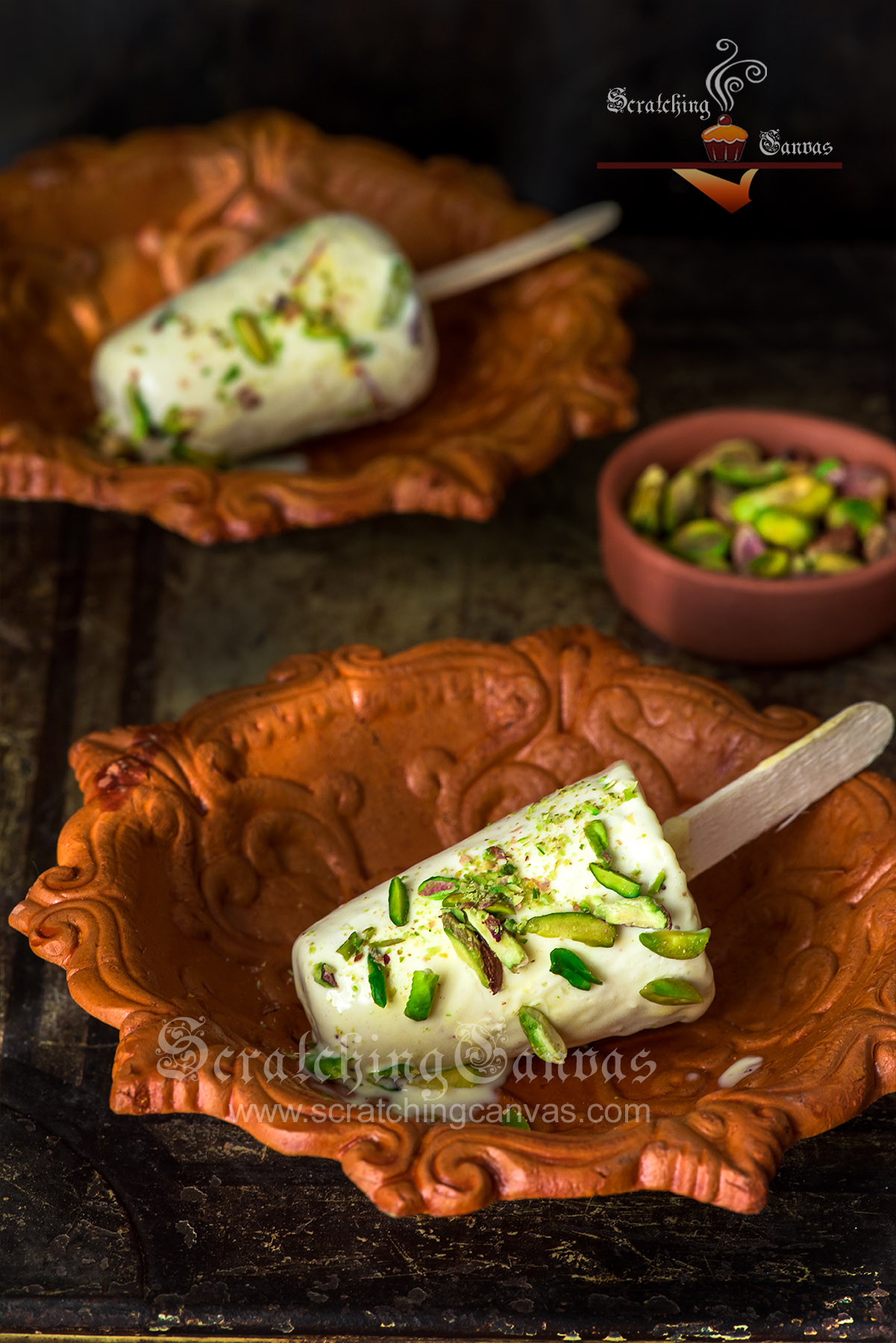 Watch detailed Video of Instant Kulfi Malai or Kesar Pista Kulfi in 5 mins Recipe.
Read the entire recipe and Notes carefully before you start cooking. Do make sure all ingredients are at room temperature (unless mentioned) and weighed or measured correctly in appropriate weighing scale or measuring instruments such as cups or spoons. Remember these are not regular cups or spoons which is used in daily life.
Instant Kulfi Malai in 5 mins | No Cook Kesar Kulfi Recipe
Ingredients
Cream: 250 ml
Fresh or heavy cream, whipping or whipped cream will work fine
Milk powder: ½ cup
Warm milk: 2 tbsp
Pinch of Saffron strands
Kulfi Mix:
Almond: 12-15
Cashew nuts: 7-8
Pistachio: 2 tbsp
Sugar: ¼ cup
Green cardamom: 4-5 pods
Chopped Pistachio for garnishing
Instructions
Soak saffron in warm milk & set aside for 5 mins or until milk is turned to bright golden colour.
Make the Spice Mix by grinding everything under 'Kulfi Mix' into fine powder. There should not be any lumps or large chunks or nuts int he mixture. Grind the mixture couple of time if necessary.
Pour Cream & powdered milk in a large bowl & whisk gently.
Add saffron milk & Kulfi mix into the cream mixture & whisk to incorporate everything. Mixture should be in smooth pouring consistency.
Now pour the mixture into Kulfi molds with tightly fitted lid.
In case of Kulfi on stick (popsicles) wrap the opening of mixture filled molds with metal foil & make small slit on top. Insert popsicle sticks.
Set the molds in freezer for 2-4 hrs or overnight.
To remove kulfi from molds roll each mold between palms and pull with the stick or pour over the serving dish (in case of stick-less kulfi).
Garnish with chopped pistachio & serve immediately.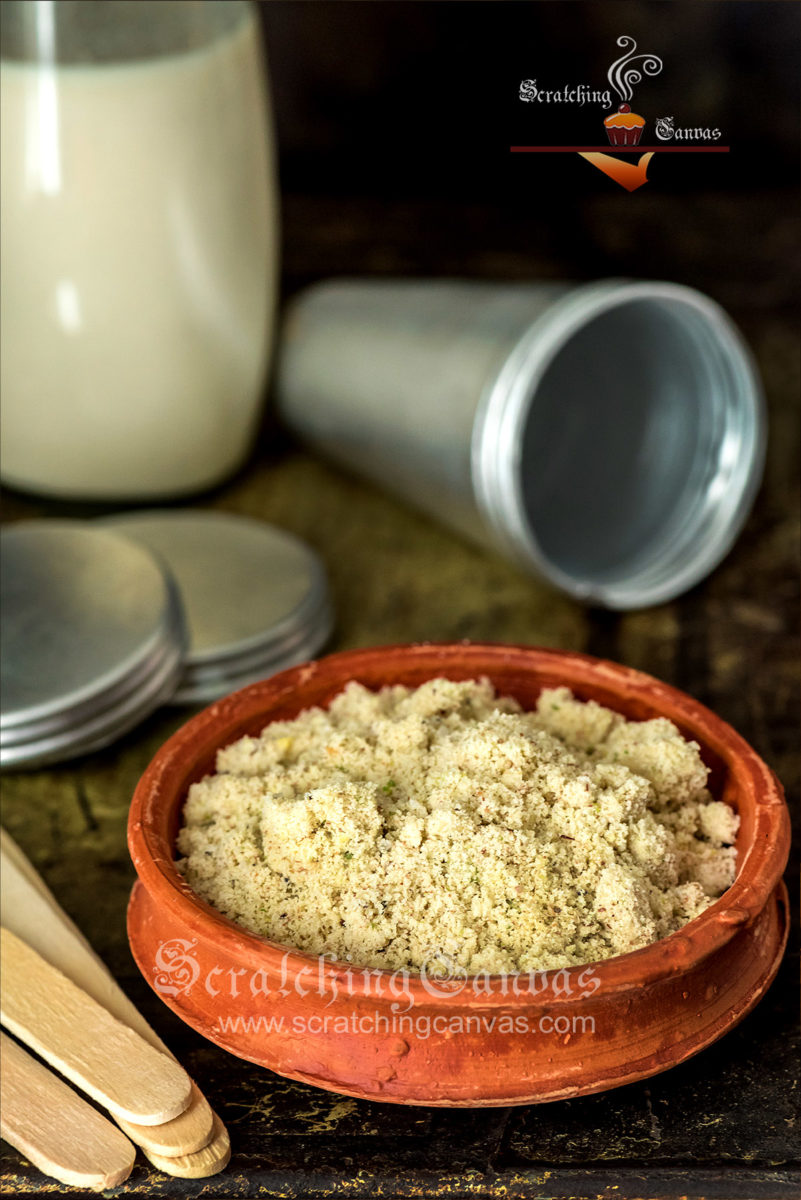 Have you tried/cooked any of the recipes from my blog Scratching Canvas?
If yes I would love to know your feedback and opinion. Take a picture of your food and share on Instagram with the hashtag #scratchingcanvas. Or simply drop me a message @rimleed I will share your picture and opinion as well. See you there 🙂
EAT, LOVE & ENJOY! REPEAT!!!
You may also like these Popular Ice-cream Preparations
Ice cream Sandesh

Cardamom Ice cream

Mango Ice cream

Grape Icecream

Icecream Cake

Chocolate Icecream Cake