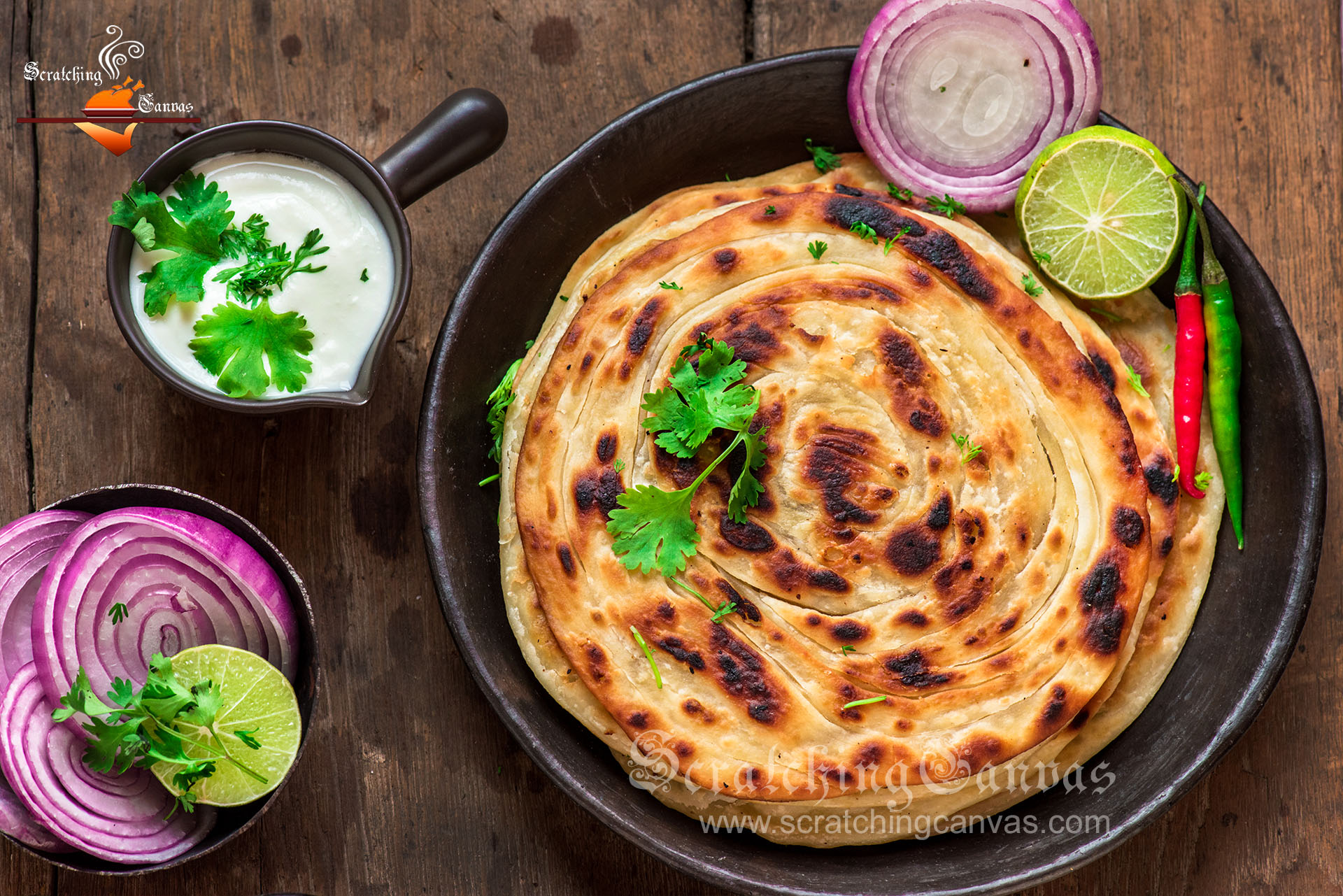 Lachha Paratha is a unique Indian flat bread with visible multiple layers even after cooking. This multi layered paratha is crispy and flaky in texture unlike any other Indian paratha. A well-cooked Lachha paratha will always shed off its layers like rings while touched and folded. This Parotta or Lacchedar Paraha is a staple from North Indian & Mughlai cuisine and often paired with various Mughlai Chicken & Mutton and many vegetarian preparations.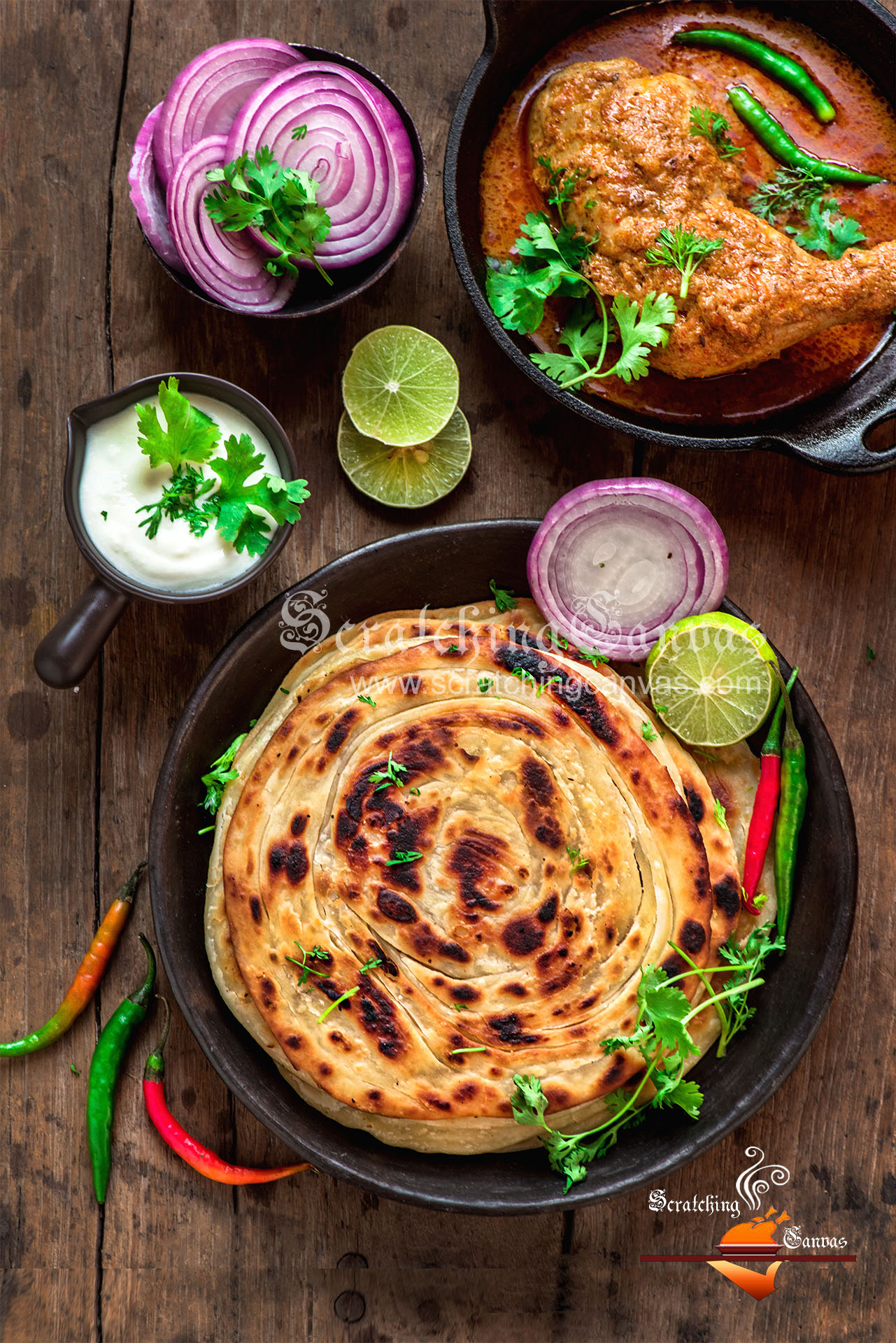 As in northern India maida is more convenient choice for paratha than atta, Laccha Paratha is made of all-purpose flour & desi ghee. But in western & southern region of India this same layered paratha is made of wheat flour (atta) and sometimes with a combination of both wheat flour & all-purpose flour (maida) in 1:1 ratio. There is another paratha called Malabar Parotta from Kerala which is quite similar to this laccha paratha which is often called as Kerala Parotta. This paratha has similar multiple layers yet not as crispy as lachha paratha, it's more like on soft pliable texture.
The sight of uncountable layers of lacchedar Parotta is quite intriguing to try this paratha. It may seem difficult to make Laccha Paratha on your own but there are several procedures to follow to make lachha paratha at home successfully. I already have the Traditional recipe of Lachha Paratha on the blog which I had shared 6 years ago. But today I'm sharing this, a ridiculously easy recipe which can yields a dozen of perfect Laccha Paratha in just 30 mins.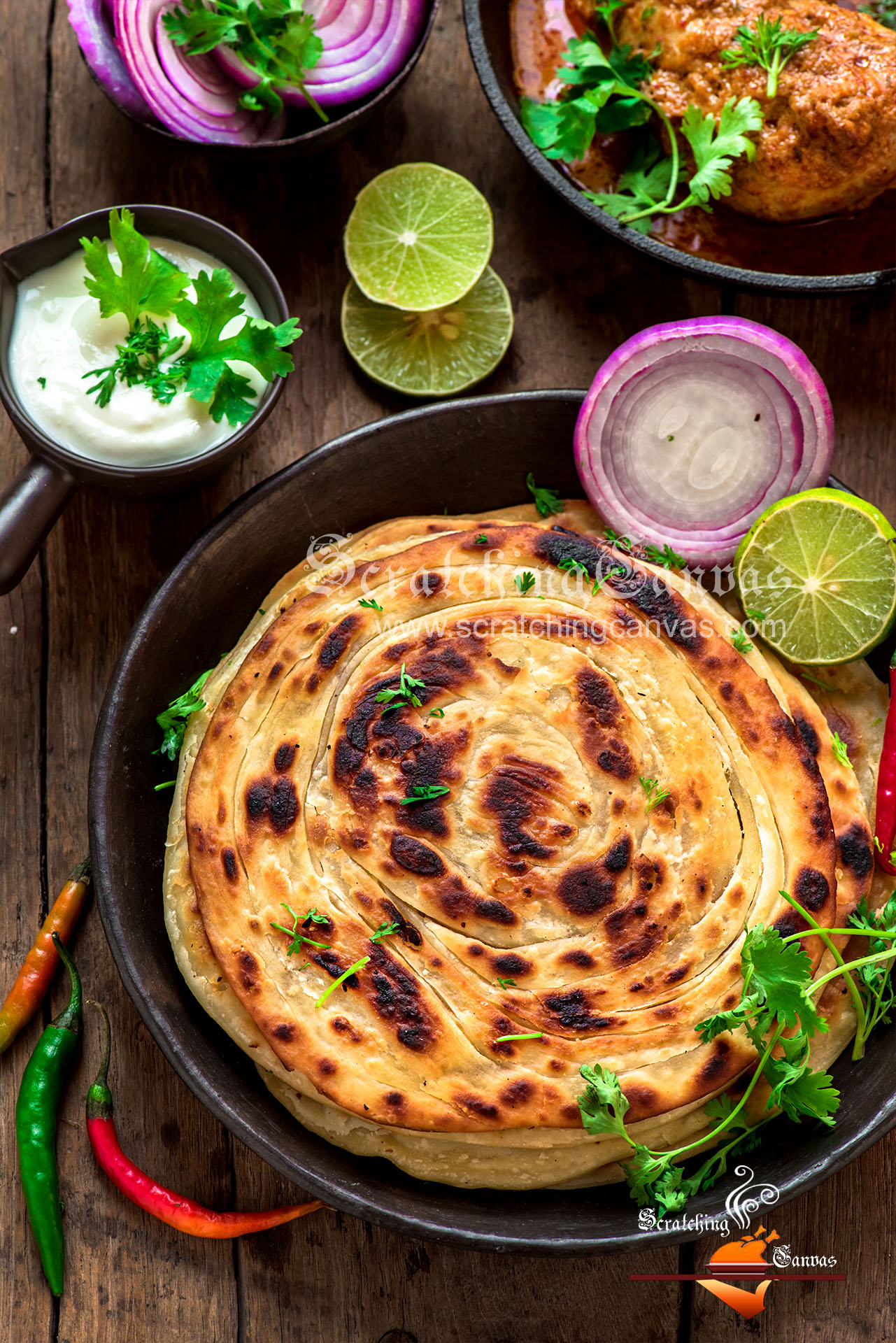 Watch detailed Video of Lachha Paratha in 30 mins or Lachhedar Parotta Recipe.
Read the entire recipe and Notes carefully before you start cooking. Do make sure all ingredients are at room temperature (unless mentioned) and weighed or measured correctly in appropriate weighing scale or measuring instruments such as cups or spoons. Remember these are not regular cups or spoons which is used in daily life.
SERVING & STORAGE:
Lachha Paratha tastes best withKosha Mangsho, Chicken Do Pyaza, Chicken Chanp and Biye Barir Pulao. For vegetarian options Kashmiri Dum Aloo, Cauliflower Roast or Cholar Dal tastes great with Lacchedar Porotta.
Always serve Lachha Paratha hot right after cooking. Otherwise paratha will be hard & chew once cold. It is not advisable to store paratha for later consumption. If you still have some left overs, wrap them in foil and refrigerate. It will be consumable within 2 days only. Fry or dry roast the paratha on tawa before serving, there is no need to add oil.

Lachha Paratha Recipe Quick & Easy
Ingredients
Maida, all-purpose flour: 2 cups + ¼ cup for dusting
Salt: 1 tsp
Oil: 1 tbsp + 1 tsp per paratha for frying
Water: 1 cup
Instructions
Sieve flour in a large mixing bowl.
Pour 1 tbsp of oil in the middle of flour and mix with your fingers. It will look like breadcrumbs.
Pour water little by little in the middle and rub in your palms.
Add more water and knead to make pliable dough.
Add few drops of oil on dough and apply all over the surface. Oil will lock moisture in dough from air drying.
Cover the dough with a damp kitchen towel and allow it to rest for 10 mins.
By this time dough will turn soft & texture will be smoother.
Take out 6 equal portions out of the dough.
Grease the rolling board & pin with few drops of oil.
Take one dough ball at a time and roll out to a large roti or flat layer.
Now brush with oil & dust with flour, spread evenly.
Here starts the tricky part. Fold the roti just like a fan till you reach the end.
It will look like a layered rope. Now gently hold two opposite ends of the rope.
Now tap the dough-rope on the kitchen counter or rolling board. The dough will be stretched bit by bit automatically.
When the rope is long enough to handle place the rope on the kitchen counter or rolling board. Gently start rolling the rope just like a snail and at the end. Roll until you reach the opposite end. Press the end gently in the middle. You may grease the top with drops of oil to protect flour dough from air drying.
Do the same with rest of the dough. Place the Swiss roll shaped dough balls in a separate pan. Don't overlap the dough balls.
Now take one ball at a time and roll them out on rolling board with a rolling pin.
Follow the same with rest of the dough.
Heat a heavy duty tawa/tava on high flame; add the paratha and dry roast on medium heat for 1 min.
Once bubbles start forming on surface flip the paratha & cook for 10-15 secs.
Pour 1 tsp of oil around the edge of lachha paratha and allow it to cook for 1 min on medium flame.
Flip paratha again and cook the other side too. Sprinkle oil if necessary.
As the paratha has layers it will take longer time to cook than usual roti or paratha. So keep the temperature medium only.
Once both sides of Lachha Paratha are nicely browned & crispy remove paratha from tava & serve immediately.
Repeat the same with rest of the paratha. Serve immediately.
Have you tried/cooked any of the recipes from my blog 
Scratching Canvas
?
If yes I would love to know your feedback and opinion. Take a picture of your food and share on Instagram with the hashtag #scratchingcanvas. Or simply drop me a message @rimleed I will share your picture and opinion as well. See you there 
EAT, LOVE & ENJOY! REPEAT!!!
You may also like these Popular Paratha and Luchi/Poori Preparations