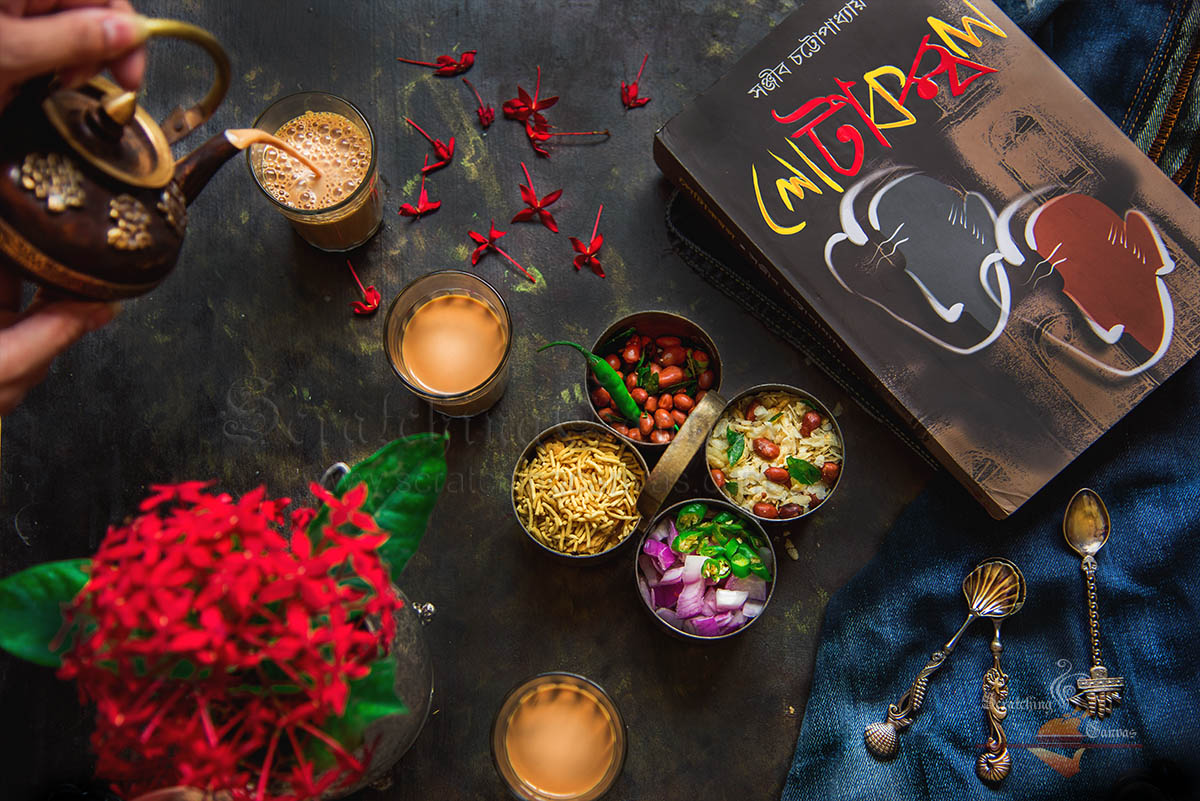 Chire Bhaja or Chivda or Chooda is one of the most popular snacks on Bengali households. This homemade crispy Poha is hot favourite throughout the year but during monsoon it becomes a necessity to us. Because, it's crunchy, salty with a dash of pepper, exactly what one can ask for on a rainy day. Top of all you can make a large batch, good enough to feed a group of 6-8 people in a jiffy.
To me Chire Bhaja, Gorom Cha and Sanjib (Sanjib Chattopadhyay) is the ideal combination of a lazy Monsoon afternoon.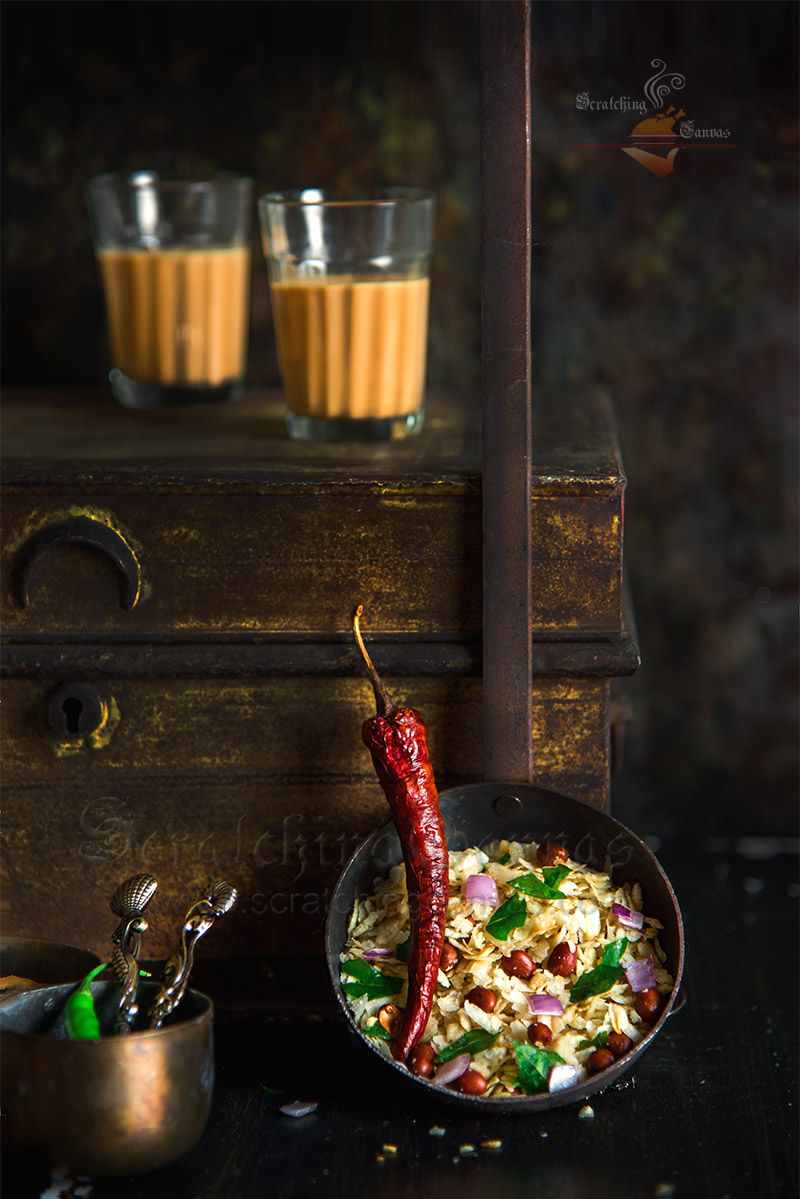 You might already know our love for 'maach-bhaat' (fish and rice) but did you know that bongs are also connoisseur of tea? Give us a cup of good tea with a book and we will be all yours, truely (pun intended). And this deadly combo of 'good snack, tea and books' hit the highway when the weather cools down. And these phrase of uncounted cups of tea is complemented by our favourite snacks like Badam diye Chire Bhaja or Narkel Kora diye Bhaja chire.
As this Roasted Beaten Rice is a purely homecooked food (though these days you can find it in departmental stores) there are few variations available. Sometimes freshly grated coconut and 1 tbsp of sugar are mixed instead of peanuts and curry leaves. In many families julienned ginger is added with curry leaves. Few omit curry leaves, few add fried/roasted sweet peas and many more. It's not about sticking to the original, it's all about enjoying what you love during the dull weather of monsoon. And this is exactly how I keep my spirit alive!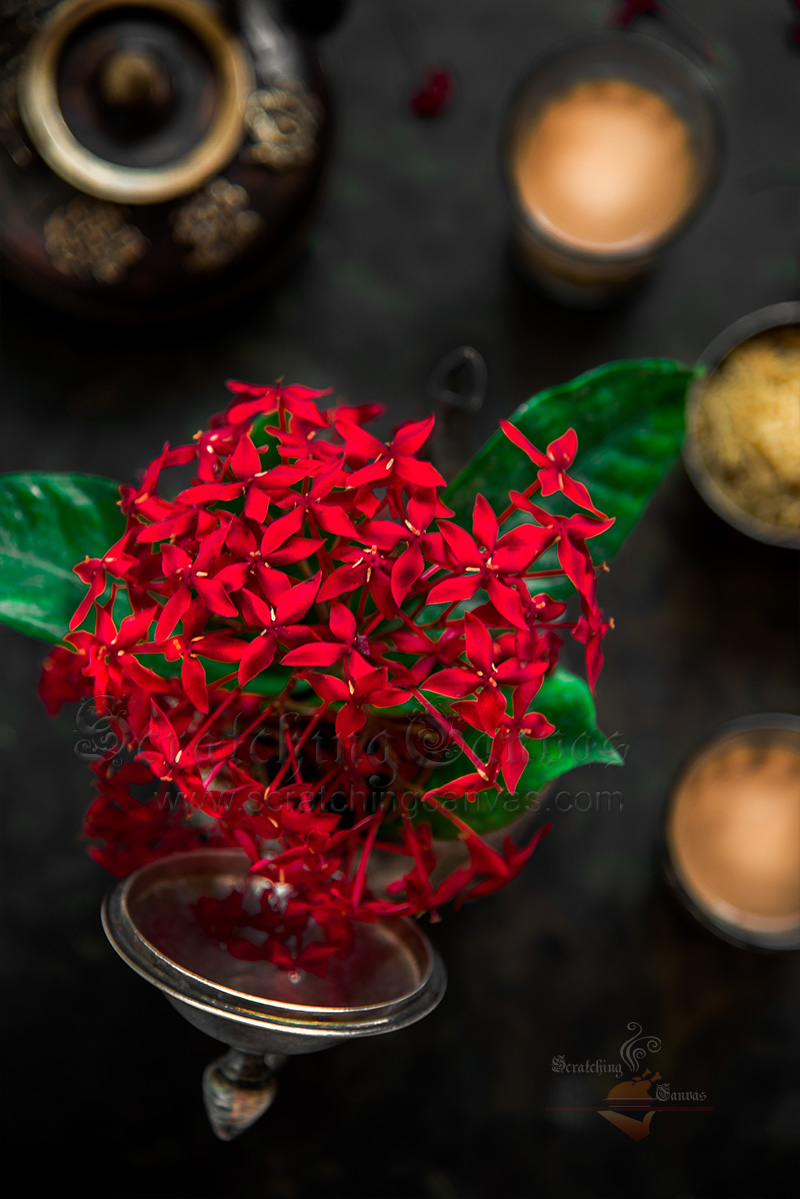 Back in my mother's house we used to have all kinds of snacks available throughout the year. Be it Kucho Nimki, Jhal Bonde (Kara Boondi) or Chire Bhaja my mom used to make everything at home during weekends. I still can not understand from where on earth she could gather all those energy on weekends after working throughout the weeks. And look at me I loath around on my sofa all weekend long!
There was another thing which my dad always loved, that is Badam Bhaja, a speciality from my mom's kitchen; it was quite unique back then. Mom used to dip raw peanuts in a well seasoned batter and deep fried those peanuts. As I was never fan of deep fried items gave it a pass most of the time. But it was worth trying even few bites.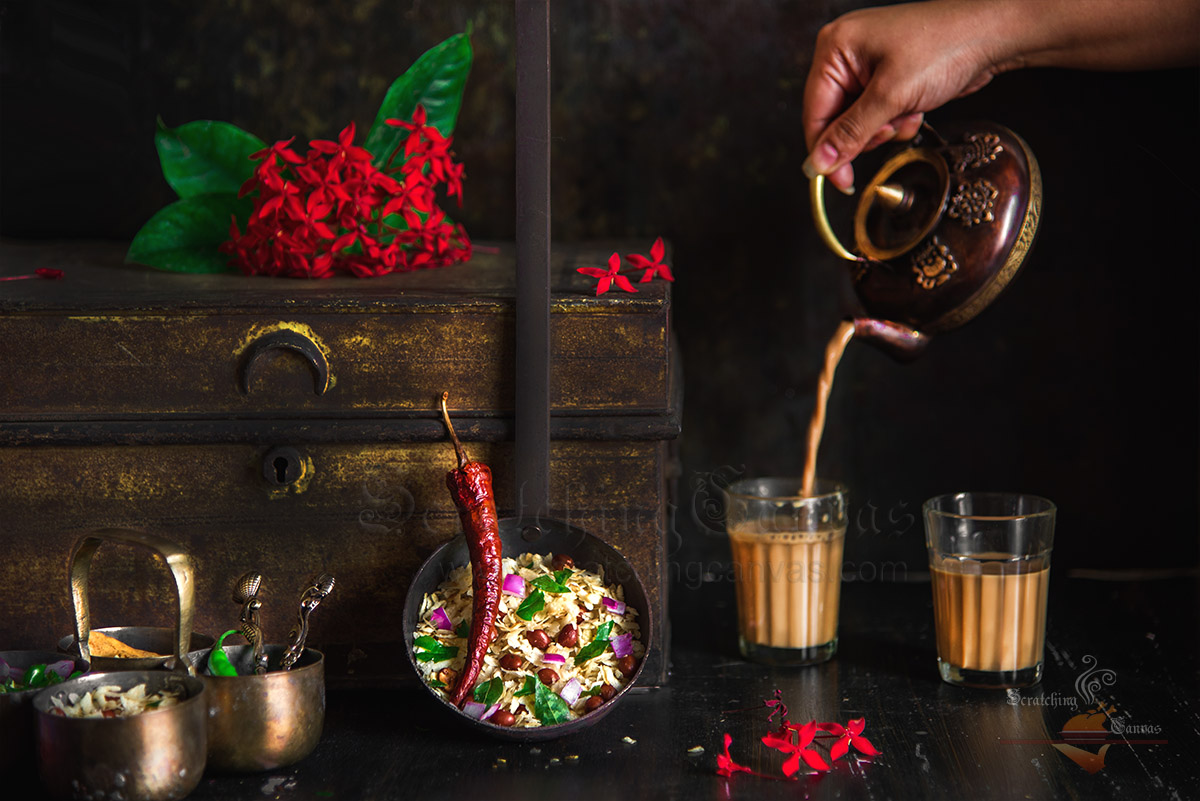 Traditionally Bengali Chire Bhaja is also deep fried in most Bengali households. Even my mom used to fry it in gallons of oil. Honestly speaking it used to put me off due to the excessive greasiness. But then one day my Masi (mom's sister) who used to live in Bombay (yes she was there when it was called bombay not mumbai) taught my mother how to cook Chire Bhaja in extremely low oil. And then only my love affair with Crispy Poha or Chooda began. Yes, in Maharashtra Chire Bhaja is called as Crispy Poha or Masala Chivda.
And why not to love such a thing! Masala Chivda contains fewer calories than other snacks, healthier as it has peanuts, curry leaves and pepper; purely homemade and requires only handful of easily available ingredients. Also it can be cooked in a jiffy, almost instantly. By the time you will make tea, chire bhaja will be cooked from scratch. So embrace it like I'm doing these days.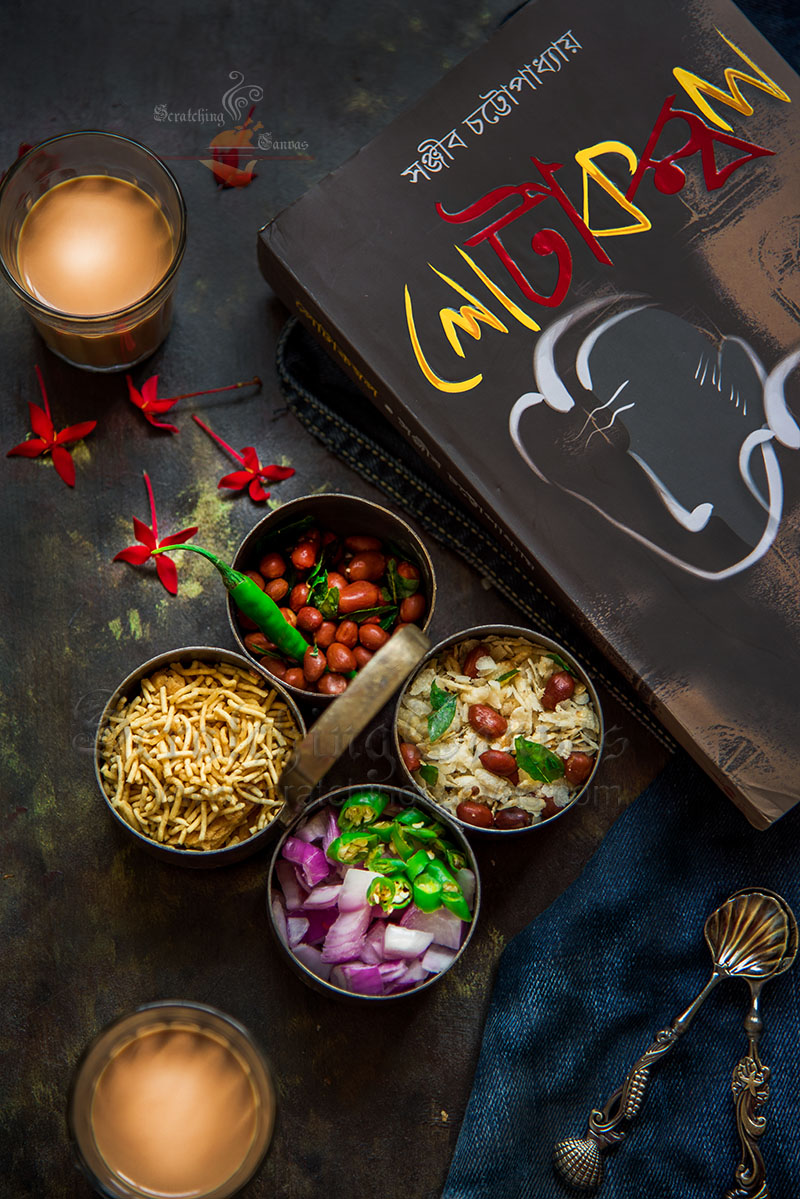 Watch my elaborated step by step video recipe of Chire Bhaja or Crispy Poha or Masala Chivda.
Read the entire recipe and Notes carefully before you start cooking. Do make sure all ingredients are at room temperature (unless mentioned) and weighed or measured correctly in appropriate weighing scale or measuring instruments such as cups or spoons. Remember these are not regular cups or spoons which is used in daily life.
Chire Bhaja | Masala Chivda | Crispy Poha | Chooda
Ingredients
Chire/Poha/Beaten Rice: 2.5 cup
Raw Peanuts: ½ cup
Dry Red Chili: 1
Black Peppercorn: 4-5
Curry leaves: 8-10
Black Pepper Powder: 2 tsp
Salt: 1.5 tsp
Sugar: 1 tsp
Oil: 2 tbsp
Instructions
Heat oil in a frying pan. fry raw peanuts on medium flame for 3-5 mins or until evenly browned. remove peanuts with a slotted spoon and keep on paper towels to absorb excess oil.
Add dry red chili, peppercorns and curry leaves in the same hot oil and allow to splutter.
Now add 1 cup chire/beaten rice/poha in the pan and stir very quickly to mix thoroughly. Keep the flame to low.
Once mixed nicely add rest of the poha to the pan and again stir quickly.
Add black pepper powder, salt and sugar and continue stirring. Increase the flame to medium.
Add roasted peanuts and mix well. Adjust seasoning.
Bring to room temperature and serve with extra peanuts, chopped onion green chilies. Enjoy with piping hot Ginger Tea or Masala Chai.
EAT, LOVE & ENJOY! REPEAT!!!
You may also like these Authentic Bengali Snack Recipes