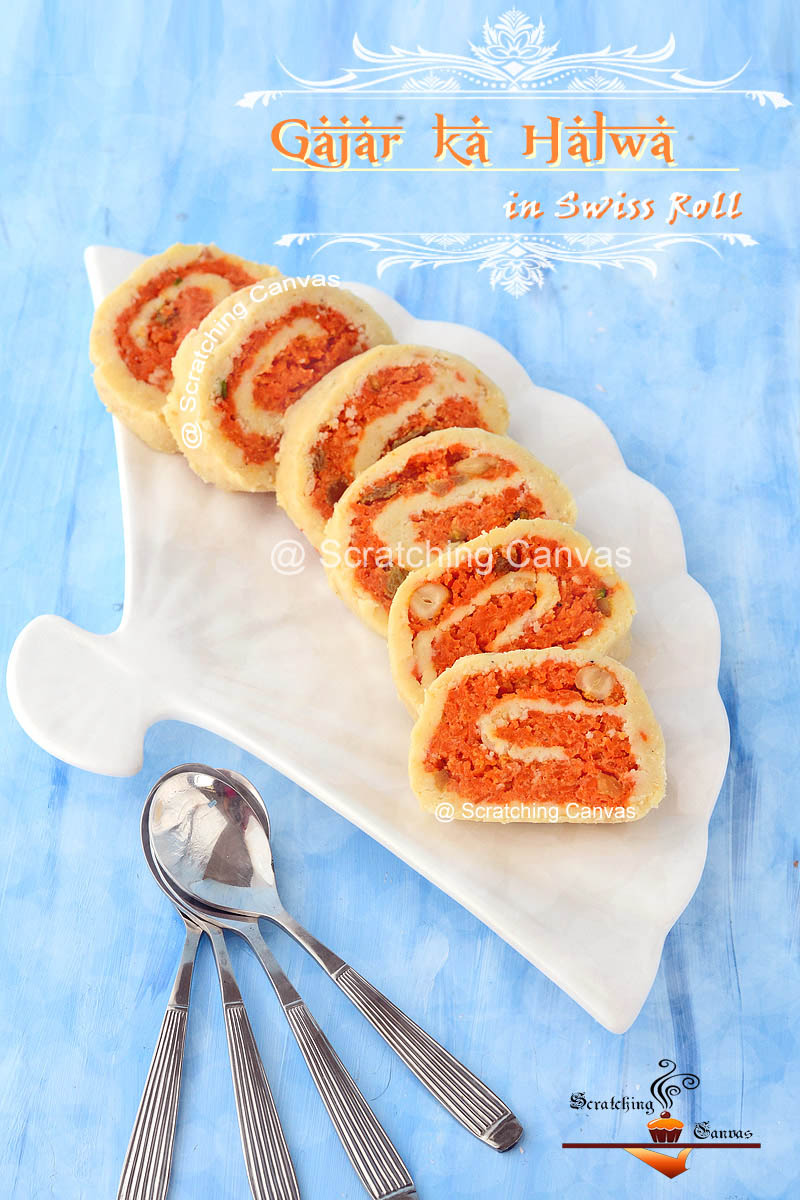 Hello to all the Happy People from a super-Happy-at-the-present-moment girl! And my latest experiment, Gajar Ka Halwa Swiss Roll aka Carrot Halwa Roulade (in other words Carrot Pudding Mawa Roll) is the key of my happiness. Let me guess the first thing in your mind is, "WHAT? Gajar Ka Halwa Swiss Roll? Is she sane? Kahi pagal to nahi ho gayi?" So the answer is I'm completely in a calm sane state of mind and today I'm sharing my Gajar Ka Halwa Swiss Roll aka Carrot HalwaRoulade recipe with you all! So hop in guys without wasting any valuable time!
Gajar ka Halwa
Swiss Roll or Carrot Halwa Roulade is an Indian inspired fusion dessert which is a result of few insane experiments in my kitchen. It is nothing but simple carrot pudding, stuffed between sheets of sweetened mawa and rolled up like swiss roll. It's easy, quick and simple yet scrumptious. It is totally a no mess & fun makeover of traditional Gajar ka Halwa.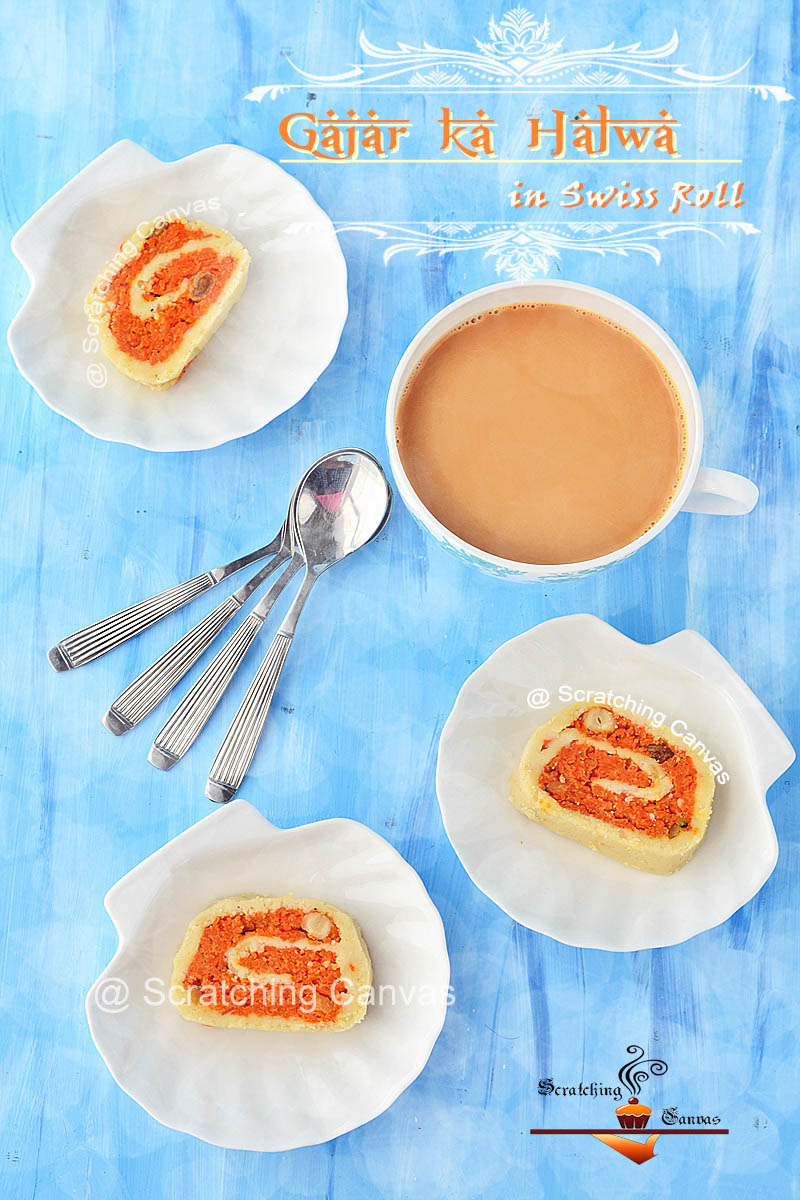 Gajar ka halva
is a decadent Indian dessert which is extremely popular worldwide. This traditional north Indian dessert is one of the oldest desserts of India; you can almost call it ancient. And it is mostly relished with another ancient Indian dessert rabri. I know we all believe 'old is gold' but you know what, sometimes we need to introduce silver or even copper to break the monotone. If you happen to live in Maharashtra, (western part of India) like me where the word 'dessert' means only couple of preparations like Sheera, Modak, Gujiyaor Puran Poli any other sweets like Gajar ka Halwa seems to be a blessing. Hence the over dose and search of an escape; and there my fusion dessert is introduced, Carrot Halwa Roulade, a mawa swiss roll with filling of old fashioned Gajar ka Halwa.
Oh yes there is another good reason to try this Carrot Halva Roulade; flaunt your culinary skill on your next Sunday brunch or show it off in this winter's last family picnic. It takes few minutes to cook up a large batch with only handful of easily available ingredients; quite a quick fix dessert to satisfy a group of people. And the long shelf-life of desserts always makes life problem free.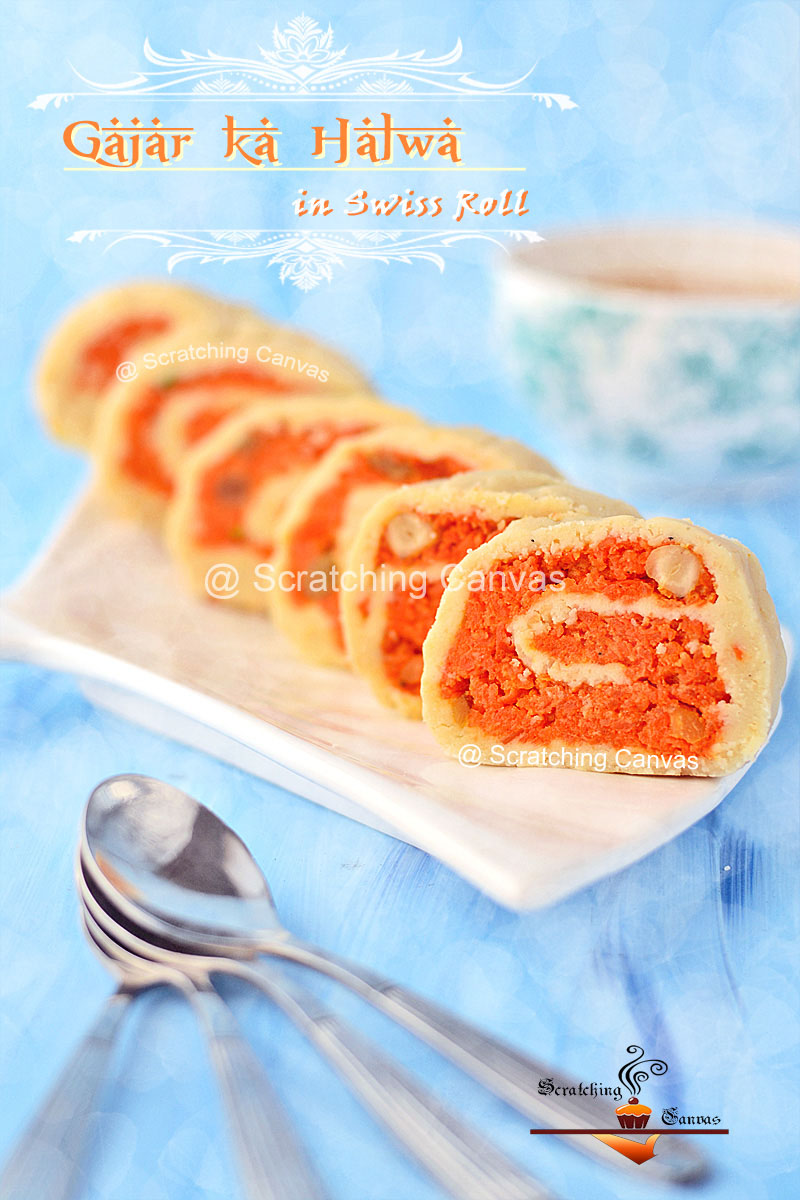 Serve Gajar ka Halwa Swiss Roll at room temperature or slightly warm but cold or freezing is strictly no go zone. Enjoy with/without drizzle of hot Rabri on top. Chopped nuts can be also added on top for the extra crunch as per personal preference. This Carrot Halva Roulade can also be enjoyed over a cup of evening tea, may be after the lunch. Do you need more reasons? Jeez! Now get up and give it a swirl, ASAP!
Here you go with an easy recipe of Gajar Ka Halwa Swiss Roll aka Carrot Halwa Roulade or Carrot Pudding Mawa Roll.
Preparation Time: 00 mins
Cooking/Active Time: 15 mins
Resting/Inactive time: 60 mins.
Read the entire recipe and tips carefully before you start cooking.
Do make sure all ingredients are at room temperature (unless mentioned) and weighed or measured correctly in appropriate weighing machine or measuring instruments such as cups or spoons. Remember these are not our regular cups or spoons which we use in our daily life.
Sugar: ¼ cup or Condensed milk: 50ml          
Handful of chopped almonds or pistachios
Hot Rabri, optional
This recipe requires thick mawa or khoya, so store bought one is the simplest way to cook up this easy dessert. If you don't find any in your neighbourhoods, don't be a spoilsport, use homemade khoya or mawa instead. Khoyais nothing but thick dense milk solid without any water content in it. It's quite easy to make at home but time consuming and tedious job. Also making your own khoya will add up little more time in the original recipe.
To make Homemade Khoya or Mawa use this recipe which I had shared before. I always use one of these versions whenever I use mawain any recipe. Mostly I use Microwave version to cook quick Mawa.
Now it's time to make the Sweetened Khoya or Mawa.
Take the mawa in a deep bottomed nonstick pan.
And add either sugar or condensed milk and mix. Sprinkle ground cardamom and stir until sugar melts. Once mixture starts bubbling scrape side off & stir until mixture thickens. Once done, bring the mixture to room temperature.
Spread the khoya mixture on a large piece of butter paper and knead the mixture with light hand until mixture is smooth. Watch the Video for detailed instruction.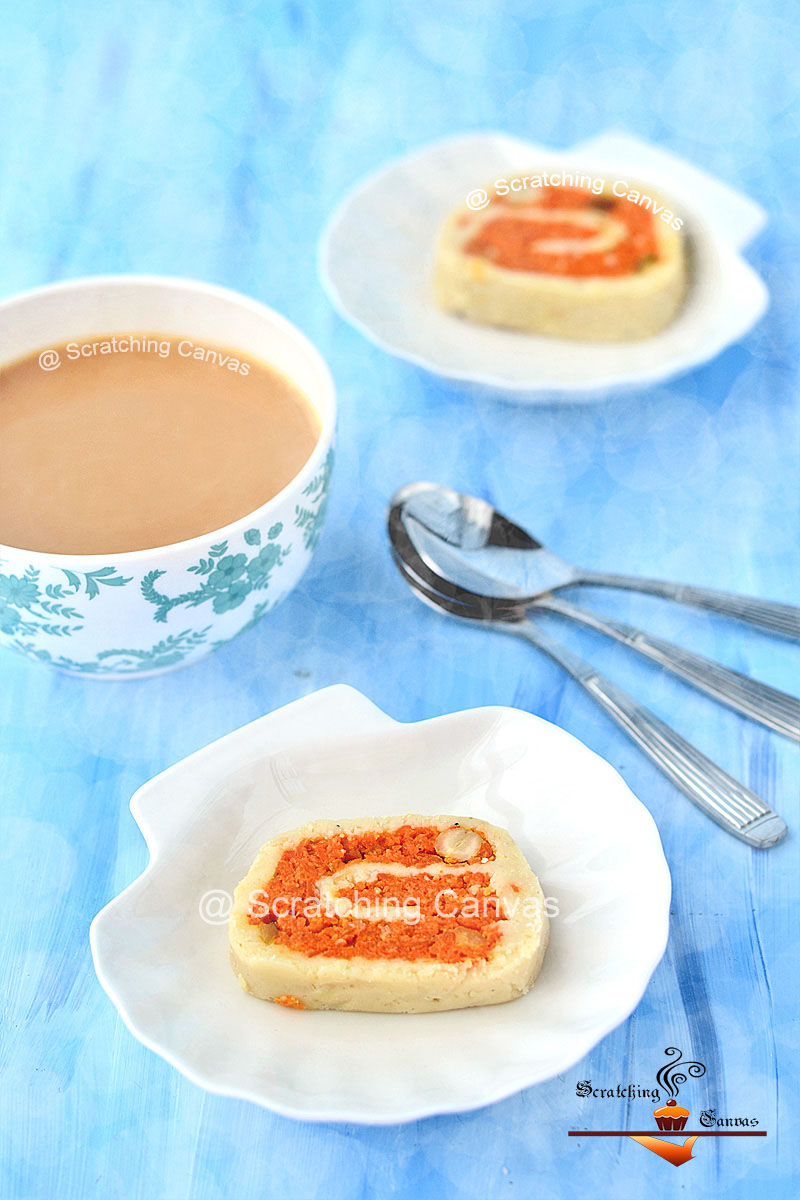 Next is the Layering.
Now cover the khoya mixture with another large piece of butter paper. Roll the mixture between sheets with a rolling pin
until layer is thin and even. Peel the upper layer of butter paper and remove it.
Dump gajar ka halwa

or carrot

halva at one side of the layer. Spread & smoothen the layer as much possible along the length of the khoya layer. 
Watch the Video for detailed instruction.
It's time to make the Roulade.
Now start rolling the layers; starting from the edge towards you to the ending on the opposite edge. Make sure the filling remains inside.
Watch the Video for detailed instruction.
Roll the roulade in another fresh sheet of butter paper. Twist both sides to seal the edges. Refrigerate the roulade for 1 hr. at least.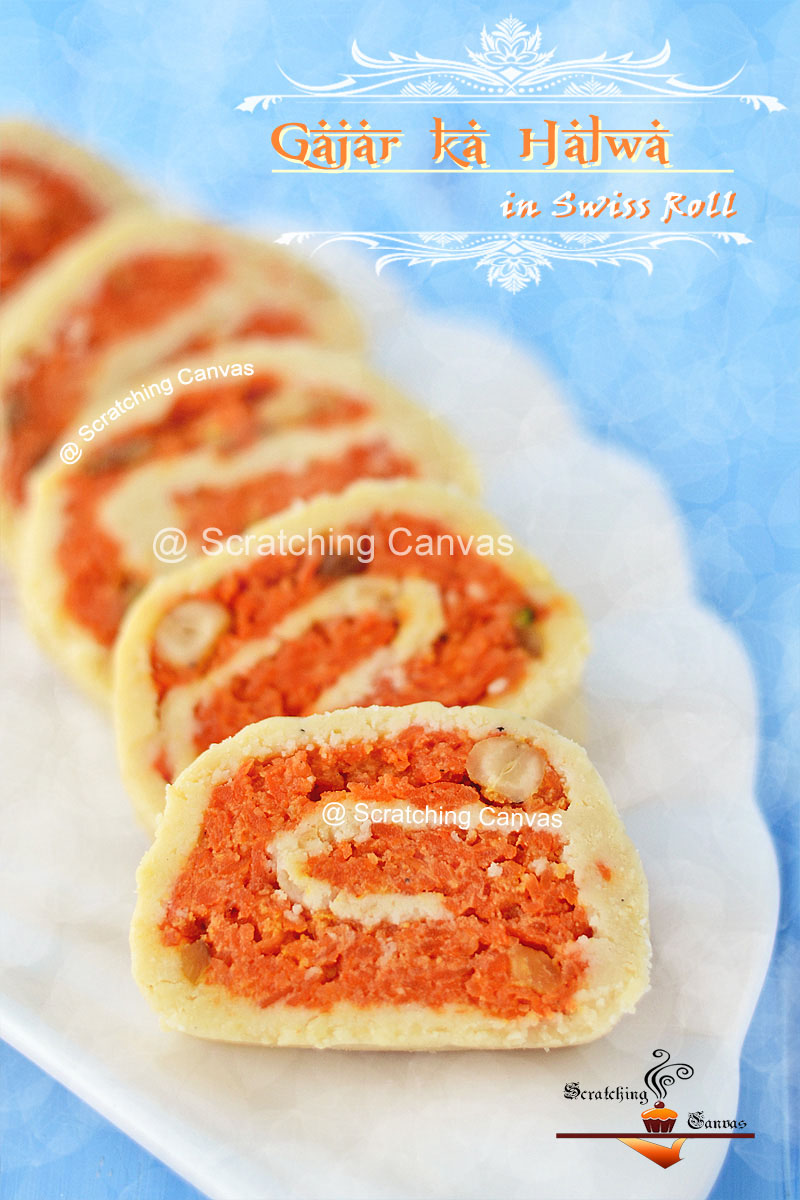 Peel the paper carefully and remove the roulade. And cut into 1″ thick roundels with a very sharp knife. Avoid any blunt knife as it may cause damages in even slicing (experience speaks louder than words, again!)
Enjoy your delicious Gajar Ka Halwa Swiss Roll aka CarrotHalwa Roulade with or without drizzle of Rabri on top! Or you can also add chopped nuts on top to add some crunch in the Carrot Pudding Mawa Roll. I simply love to dig in as it is. Just a few minutes and the bowl will be wiped, licked away clean (this is my way to eat clean, you see)!
Store Gajar ka Halwa Swiss Rollin refrigerator upto one week. The longer you will refrigerate the firmer and stiff Carrot Halva Roulade will be.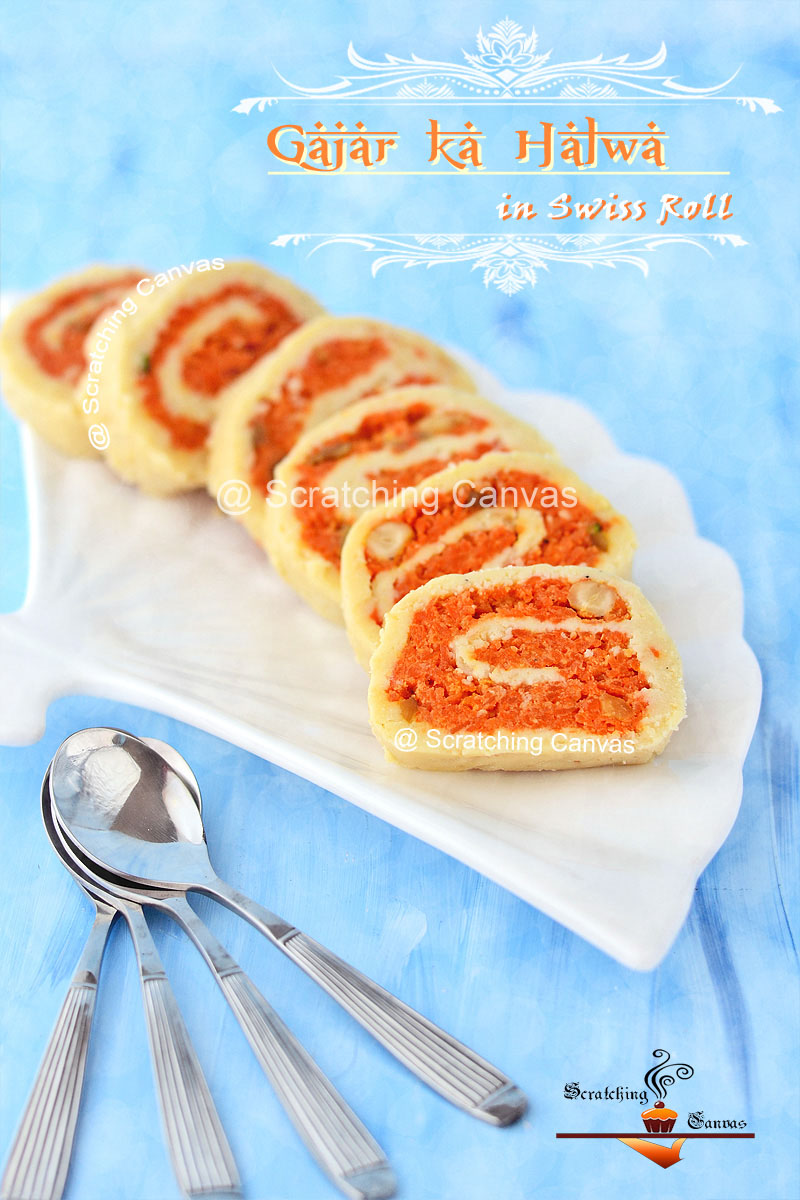 1.  Use condensed milk instead of sugar.
2.  Use saffron, nutmeg, cinnamon or rose water instead of ground cardamom. In fact simple vanilla will be a definite step up. Essence can also be used instead of group spice but I personally prefer to slick to the ground ones.
3.  Sprinkle some chopped pistachios or almonds on top to add some crunch.
4.  The mawacan be combined with sugar in microwave too instead of gas top. Feel free to use whichever is your preference.
You may also like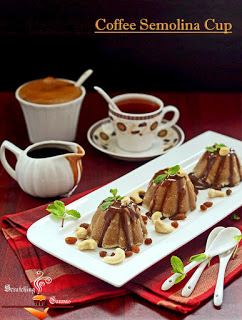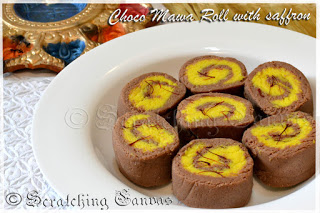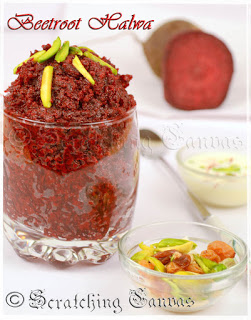 Eat, Love & Enjoy! And Repeat!!!