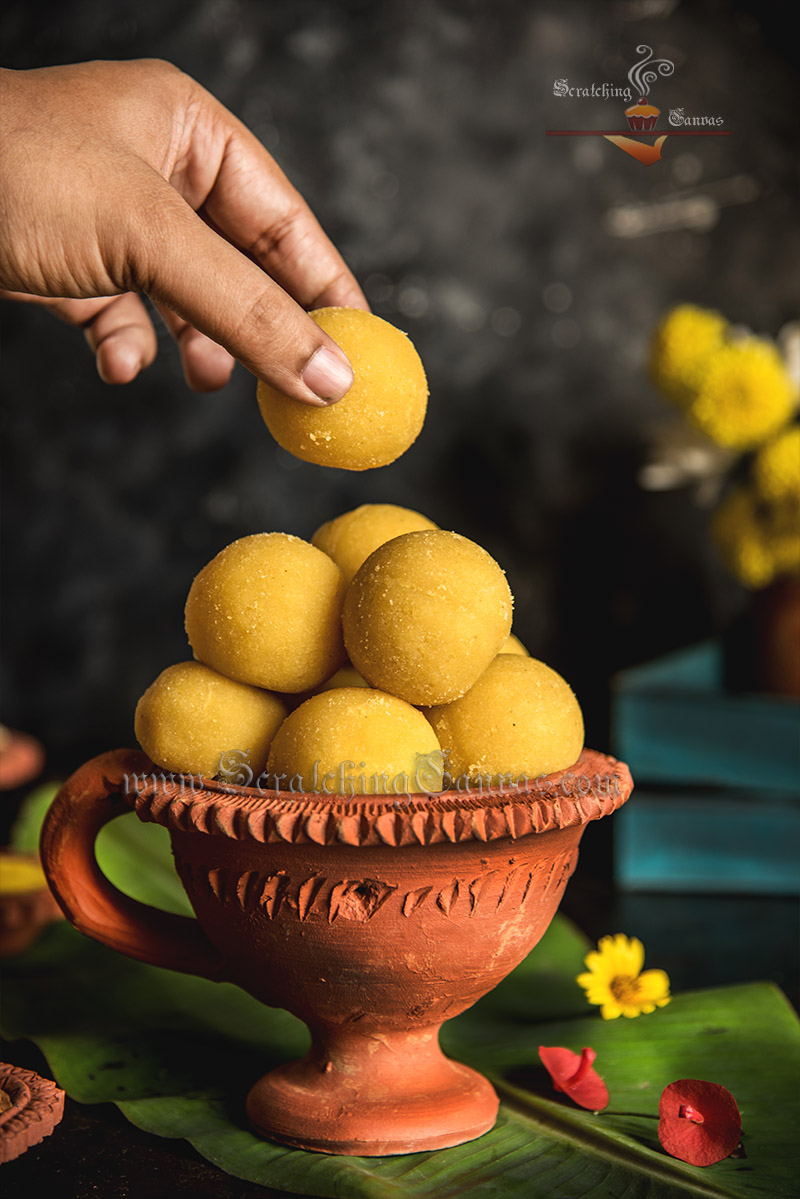 Moong Dal Ladoo or Mung Laddu aka Bengali Muger Ladoo is my Diwali special Homemade Sweet for this year's celebration. Diwali is a festival of light and colour; a celebration of good over evil. It's all about diya (earthen lamp), rangoli, firecrackers, new cloths, gifts and last but most importantly food, loads of homemade sweets and snacks. To know more about Diwali celebration visit here.
Every household has their favourite Diwali Mithai which they prepare for the celebration. I also try to make at least one homemade sweet or snack before Diwali. But this year under various circumstances I'm unable to step into my kitchen from past couple of months. Even if I do that is only to make a bowl of instant noodles or poha or some quicky meal. So I had put  my hands down on this year's Diwali celebration; I had decided not to do a single thing.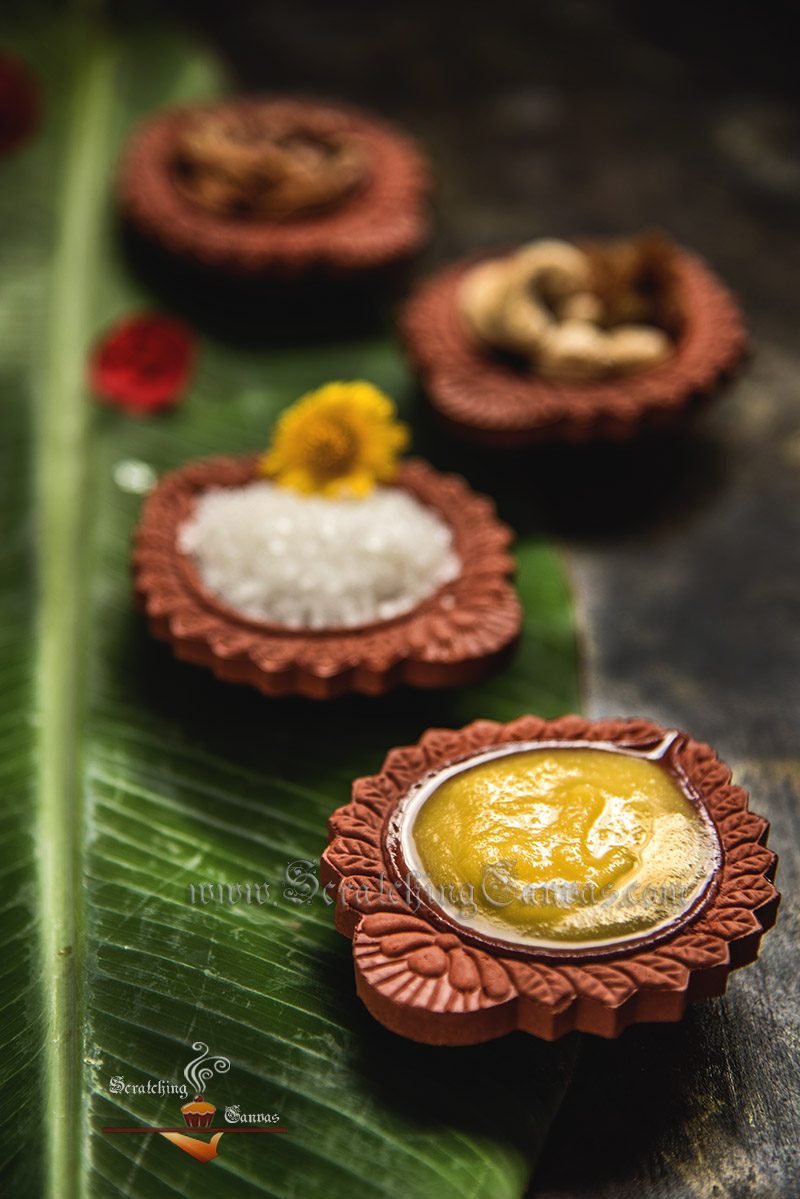 I consoled myself by telling I'll just lay back and watch the fireworks this year which I miss generally due to lighting the diyas. But as Diwali is approaching my social media timelines are flooded with homemade sweets and snacks like various ladoo, peda, gujiya, halwa, muruku, nimki, bhakarwadi and all sorts of Indian desserts. Can you imagine how guilty I'm feeling right now for not doing a thing?? Peer pressure is everywhere my dear friends and I used to think I'm above all these act, sigh!!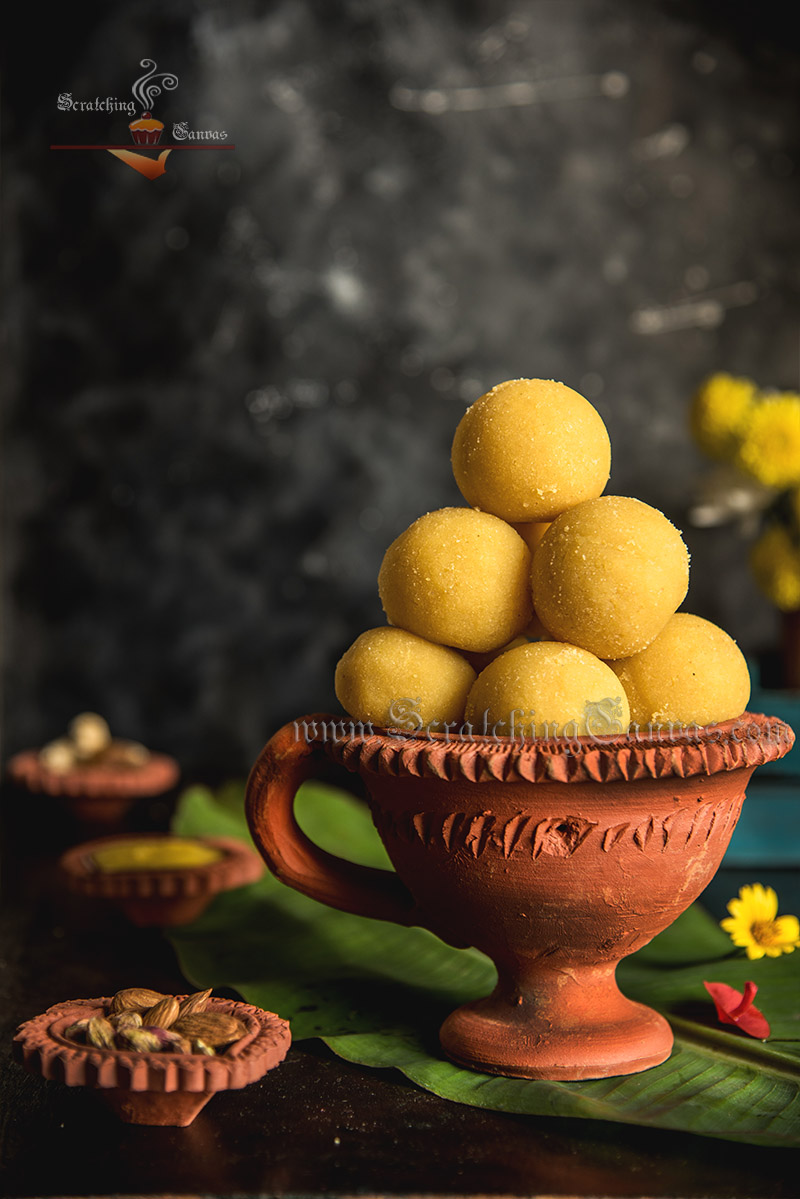 So now you know I had picked Moong Dal Ladoo not because I'm a die-hard fan of Muger Ladoo, simply because it is the quickest possible recipe I could find just two days before Diwali. It is one of the simplest No Cook Diwali Sweets which requires only three basic ingredients and only 15 mins to prepare 10-12 large laddoo. And top of all it is extremely low in calorie & sugar level and calls for minimum work in the kitchen to feed a large group of people. Dil bhi Khush Pet bhi Khush!
Mung Ladoo is one of the oldest and widely popular desserts of India. Traditional Moong Dal Ladoo is made by cooking mung puree in ghee on low flame till the right halwa like consistency is formed and then dry fruits and sweetener is added and laddoo is formed by rolling the warm moong dal halwa between palms. But it also has a lighter version which is more popular as snack rather than dessert. In this light weighted mung ladoo, dal is dry roasted and grinded with sweetener, and mixed with ghee to form laddoo. This is healthy, slightly sweet and nutritious as you can get proteins from the lentil, carbohydrate from sweetener and nutrition from various nuts and ghee. (And I'm making this one; sshhh don't tell others now)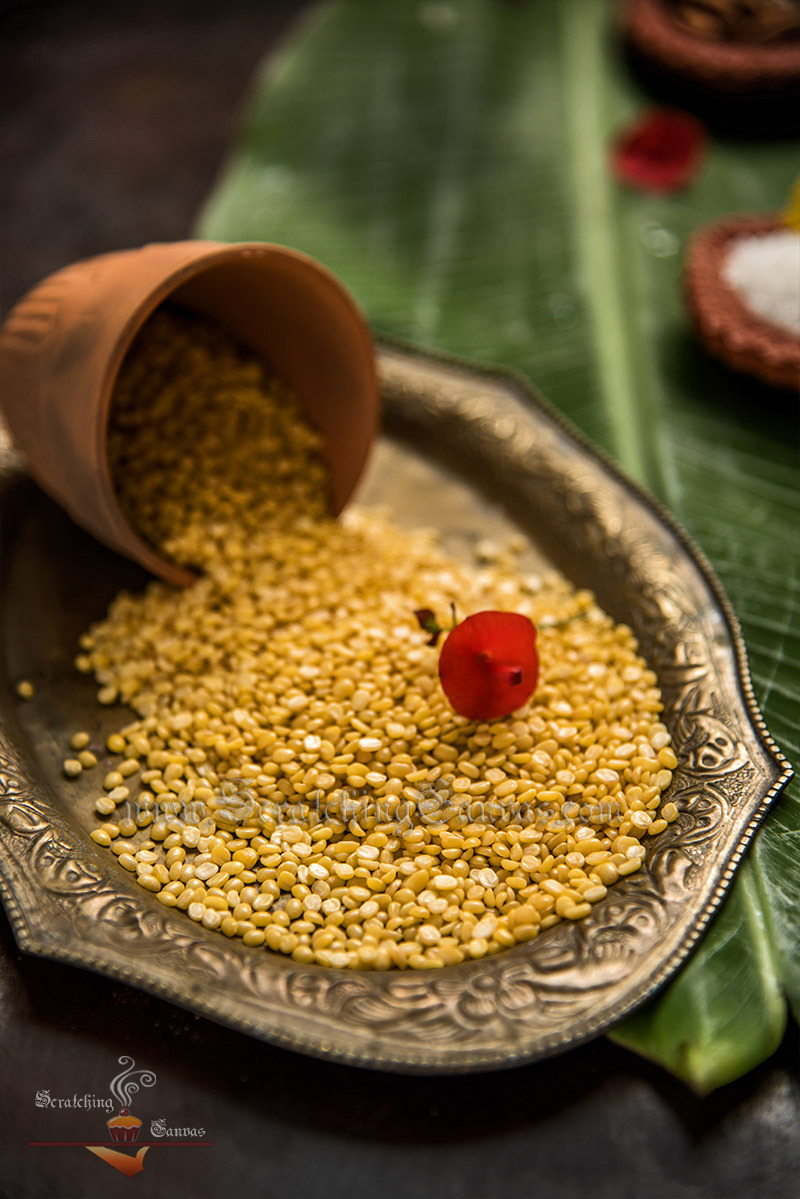 We Indians love this mung laddu so much that now this simple dessert has at least one sibling in every region of the country. In other words everyone has not only adapted this Muger Ladoo but also personalized with own flavours. In Utter Pradesh or Bihar people mix whole wheat flour with moong dal to make ladoo. In Karnataka and Maharashtra coconut flakes is used with the lentil. In Odisha and Andhra Pradesh jaggery is used with very little ghee to make Moong Dal Ladoo instead of refined sugar.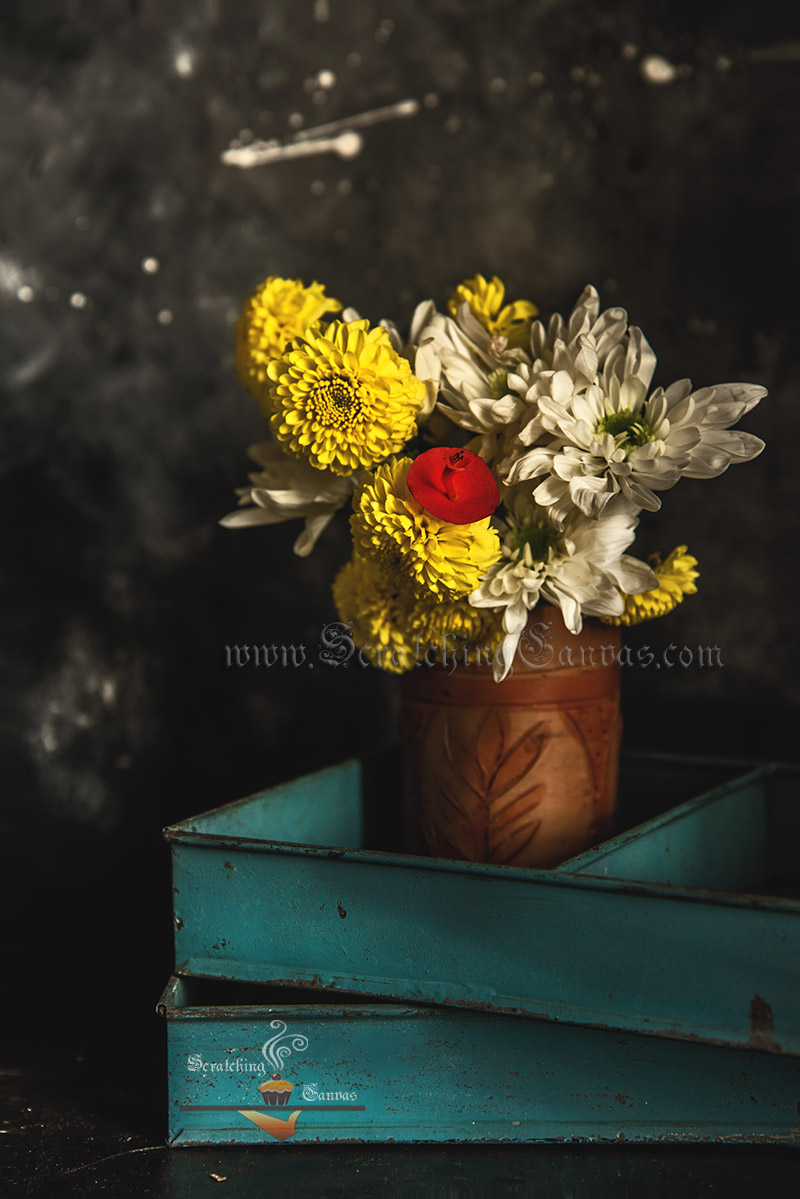 Moong Dal Ladoo aka Bengali Muger Ladoo is not a traditional Bengali dessert. Hence we Bengalis are not so familiar with this light dessert. I was introduced to this mung laddu by my granny who used to make one of the finest mugger laddu I have ever tasted. Her ladoos were amazingly light, just a dash of sweetness and zero greasiness from her desi ghee. It's really sad thing that I don't have her recipe but I got my note from all over the internet and finalized to this what I'm publishing here today.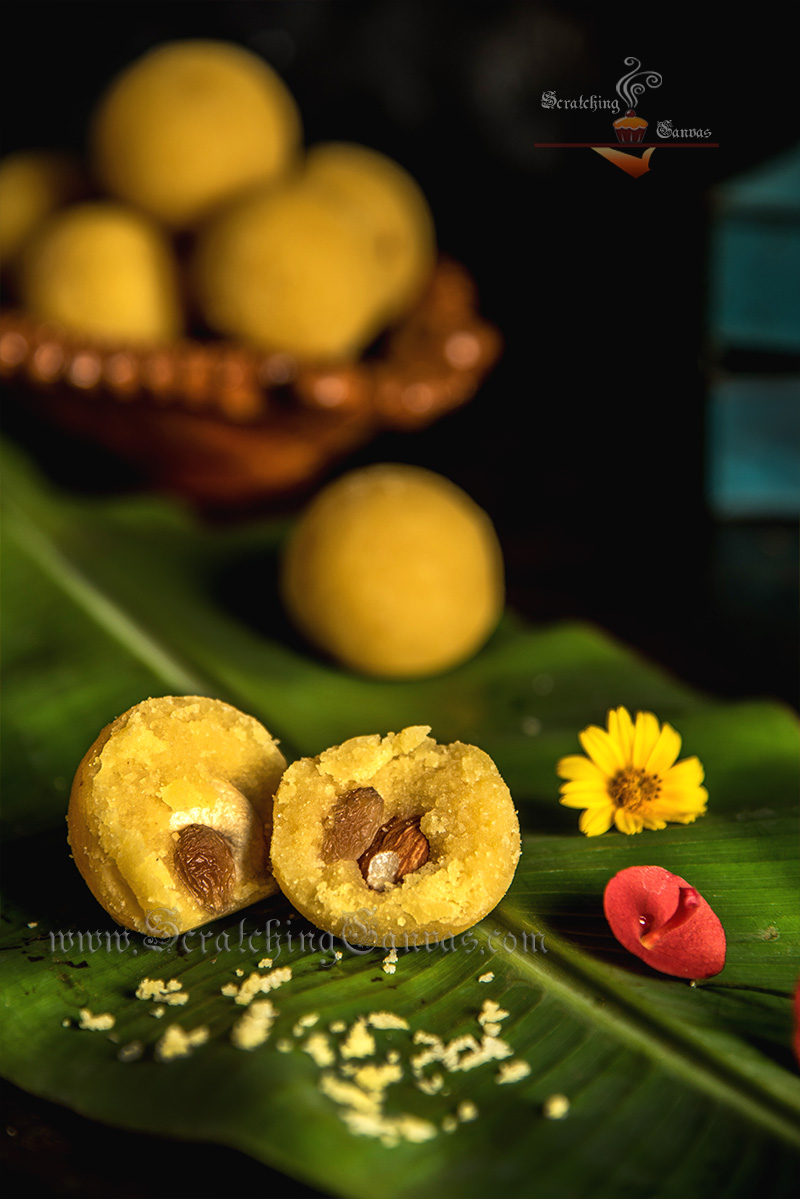 But before we begin let's keep in mind few things which is completely applicable for any lentil laddoo or halwa.
a> Traditionally dal is soaked for 2-3 hrs. at room temperature. But as this is a quick fix recipe I soaked them for 30 mins. in lukewarm water.
b> Roasting lentil is the base of this recipe, so don't be impatient. A little rush can make the whole thing fall apart.
c> Do not add the entire ghee at a time to the lentil flour mixture, this will require more ghee.
d> If you find your mixture is becoming hard while you are making laddoo sprinkle ½ tsp of milk and knead again. Or microwave it for 10 secs but not more than that otherwise the texture will be spoiled.
e> Relax and enjoy the moong dal ladoo.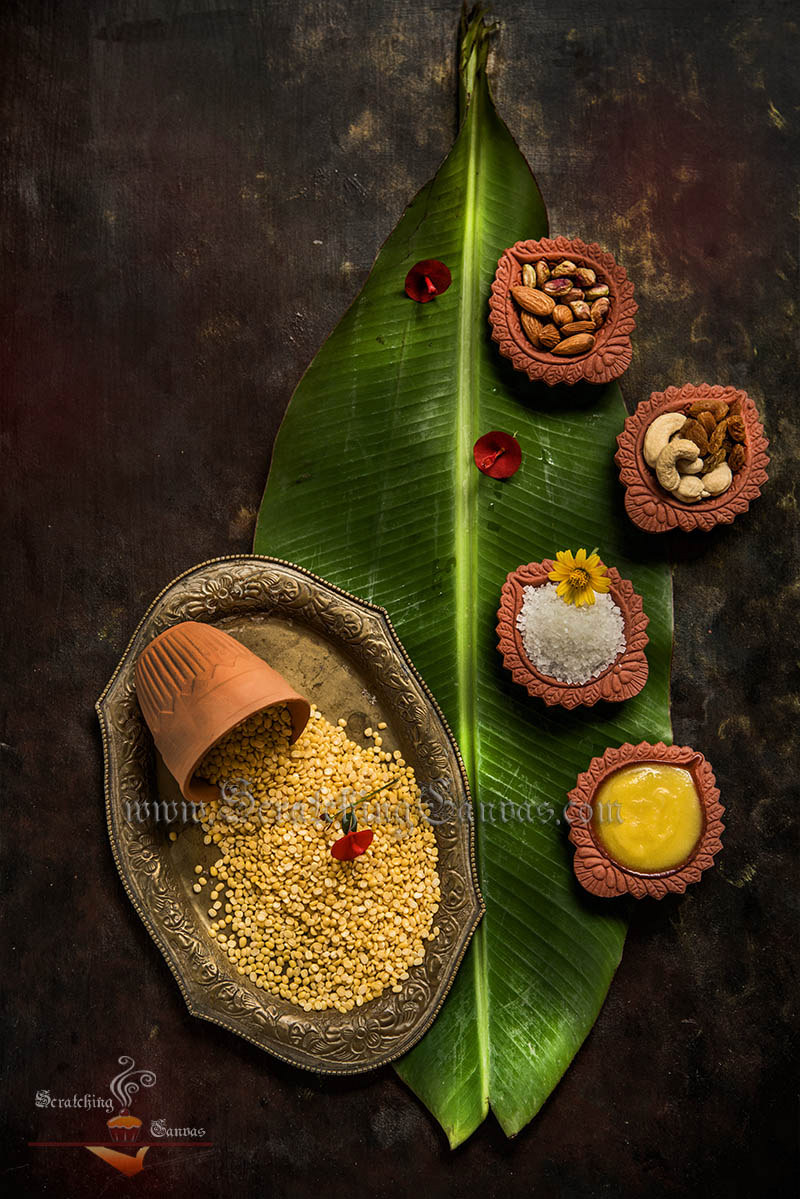 Watch my elaborated step by step video recipe of Instant Moong Dal Laddu (Coming Soon).
Read the entire recipe and Notes carefully before you start cooking. Do make sure all ingredients are at room temperature (unless mentioned) and weighted or measured correctly in appropriate weighing machine or measuring instruments such as cups or spoons. Remember these are not your regular cups or spoons which you use in your daily life.
Variations:
Use dry fruits of your choice; there are no rules & regulations.
Use any flavours you want, like cardamom, nutmeg or rose water.
Create some variations with, roasted semolina and/or poppy seeds.
Substitute sugar with jaggery.
Moong Dal Ladoo
Serves:
10-12 large Ladoo/laddu
Ingredients
Roasted Moong dal: 250g, 1 + ¼ cup (See Notes)
Roasted Moong dal: 250g, 1 + ¼ cup (See Notes)
Sugar: ½ cup or 135g (See Notes)
Sugar: ½ cup or 135g (See Notes)
Ghee (clarified butter): 50g or ¼ cup (See Notes)
Ghee (clarified butter): 50g or ¼ cup (See Notes)
Dry fruits: ¼ cup, I used mixture of cashew, almonds, pistachio and raisins
Instructions
If you are using roasted moong dal you can skip this whole paragraph and go straight to the step 6. In case you are using raw moong dal, follow these steps to prepare lentil for the laddu. Soak washed moong dal in slightly warm water for 30 mins. (See Notes)
Drain the water and spread the moong dal on a flat surface to air dry them. It is an optional process to get lentils dried before cooking.
Take moong dal in a heavy bottomed pan/wok and dry roast by stirring continuously on medium low flame.
Roast lentil until colour is changed slightly darker. Or simply wait till you smell the nice aroma of roasted moong. (See Notes)
Remove the roasted lentil immediately from pan and allow to cool down completely.
Once done make fine powder of roasted lentil in mixer grinder.
Powder the sugar in the same jar.
Take a large bowl and sift both lentil flour and sugar through sieve, twice if possible. Discard the lumps and larger grains, if there is any.
In a small pan melt ghee (just melt it, do not heat) on stovetop and pour the ghee in flour sugar mixture little by little and mix quickly with spatula. (See Notes)
Once mixture has soaked all ghee and coming together nicely knead it with your palms and make round balls out of it. Place ½ tsp of dry fruit mixture in the middle and seal the edge neatly.
Roll the ball between your palms to form smooth even laddoo. Or you can also you laddoo moulds for the same. (See Notes)
Do the same with rest of the mixture dough. Keep the dough covered when working on one laddoo. This way mixture will remain soft & warm which will result smooth melt in your mouth Moong Dal Ladoo. (See Notes). Serve at room temperature. Enjoy!
Notes
1. Roasted lentils are easily available at any super markets. If you can't find any, follow the video recipe on how to prepare moong dal for the ladoo.
2. Substitute the sugar with equal amount of jaggery or sugar free powder.
3. Use ¼ to ½ cup ghee for smoother and richer taste. I dint want to pile on extra weight so I use as little fat as possible.
4. Just make sure water is not too hot, it should be touchable with bare hands. Otherwise lentils will get cooked in the hot water.
5. While mixing ghee (or butter) and flour, be careful to mix thoroughly. It is important to coat the lentil-sugar mixture with the fat to bind ladoo nicely.
6. Do not over roast the lentils otherwise it may not bind properly while forming laddoo. Keep an eye on lentil while roasting and stir continuously. It may burn in a fraction of second and no one likes bitter dessert with charcoal smell.
7. By adding little at a time ensures the mixture absorbs the fat first then adding more if required.
8. You can also use any moulds of your choice. Or you can also use cookie cutter to create exciting shapes.
9. It is important to keep the dough covered with cling film to avoid air contact. If you leave the dough in open air while you are working with small balls, it will lose its moisture and will become too dry & hard to handle.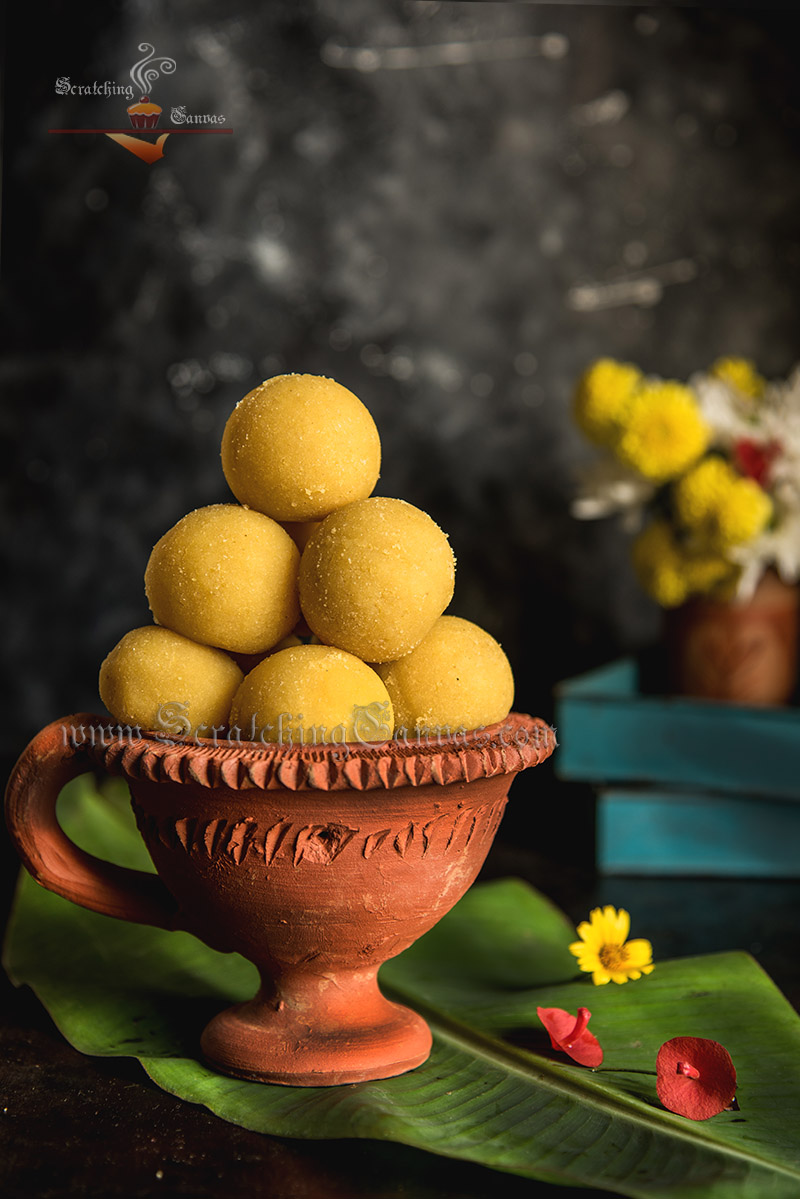 Eat, Love & Enjoy! Repeat!!!