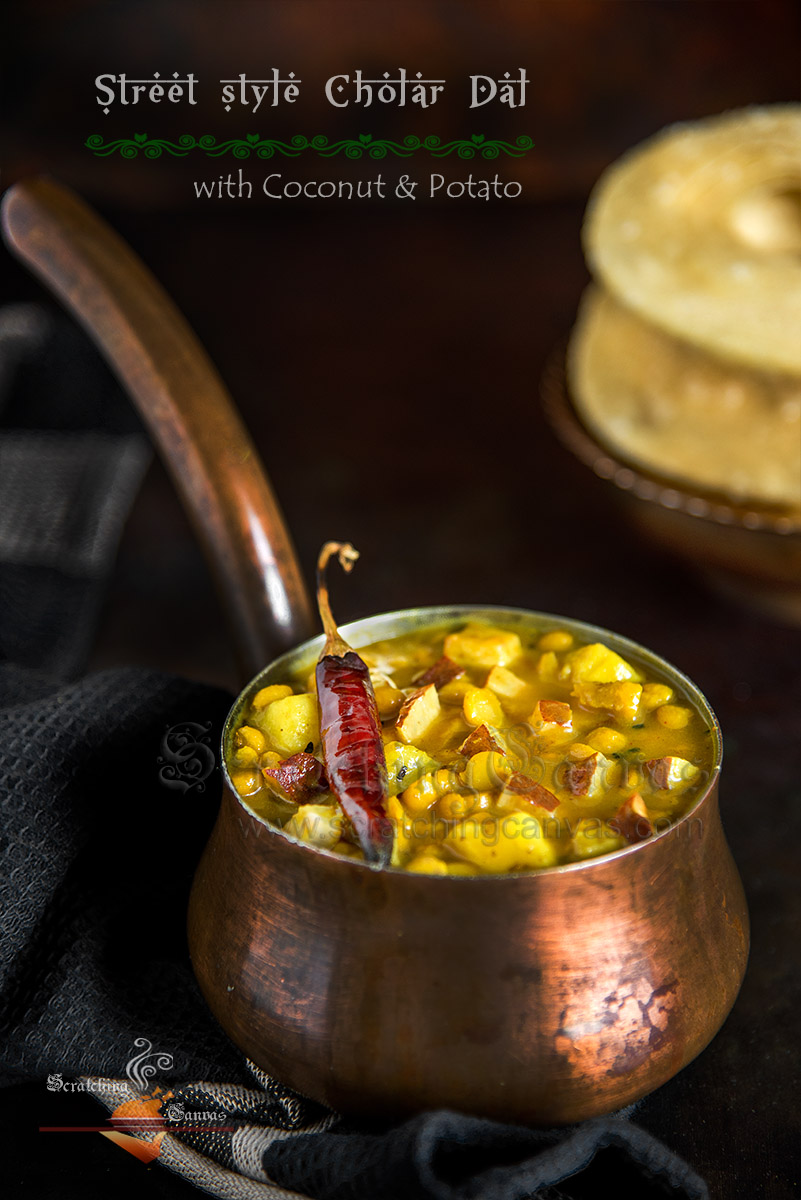 Alu diye Cholar Dal is better known as mishti'r dokan er Alu'r Cholar Dal er Torkari which is served as pair with Dhakai Porota or Hinge'r Kochuri. This variation of bengal gram lentil is cooked with potato in addition of fried coconut pieces; flavoured with panchforon (special bengali seed mix) and fresh ginger.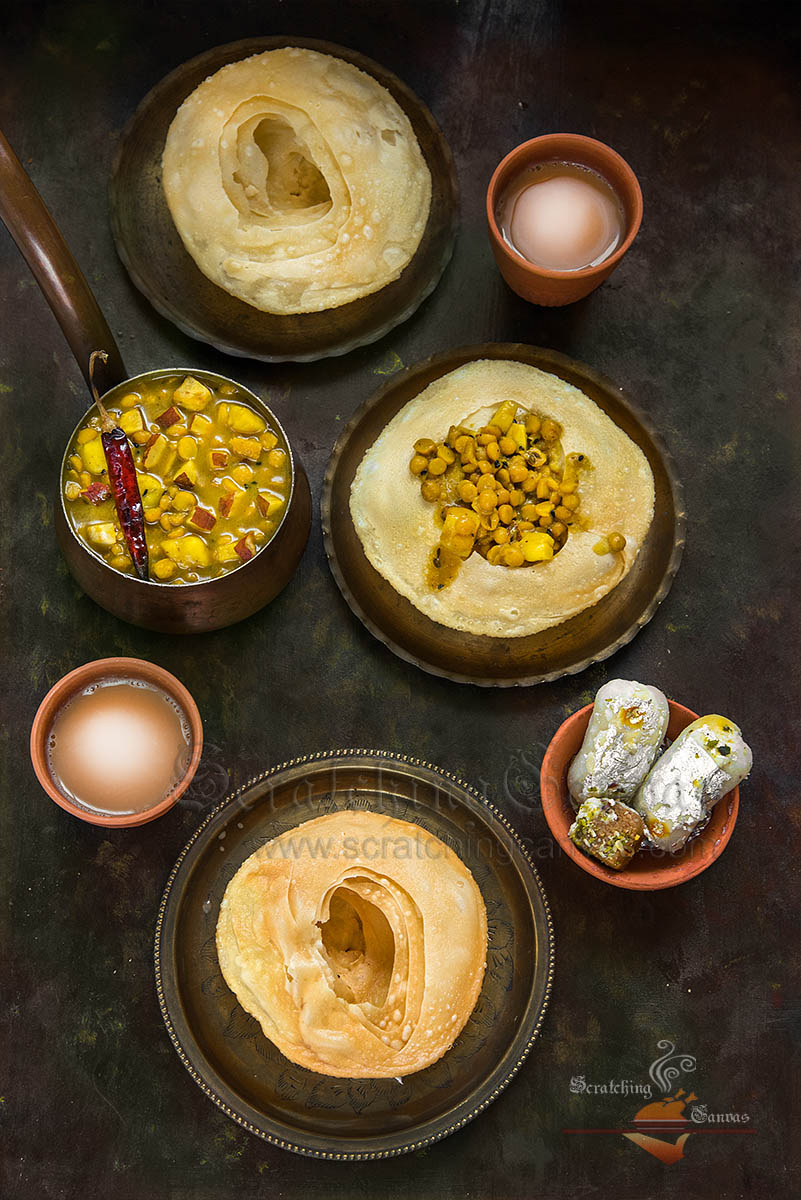 Traditionally Bengali Cholar Dal is known for mild sweetness and flavour from gota Garam Masala (whole spices) and ginger. This sweet Bengal gram is often served with luchi (bengali poori) or porota (paratha). This is one of the staples in bengali households, be it for breakfast or dinner. You can find recipe here.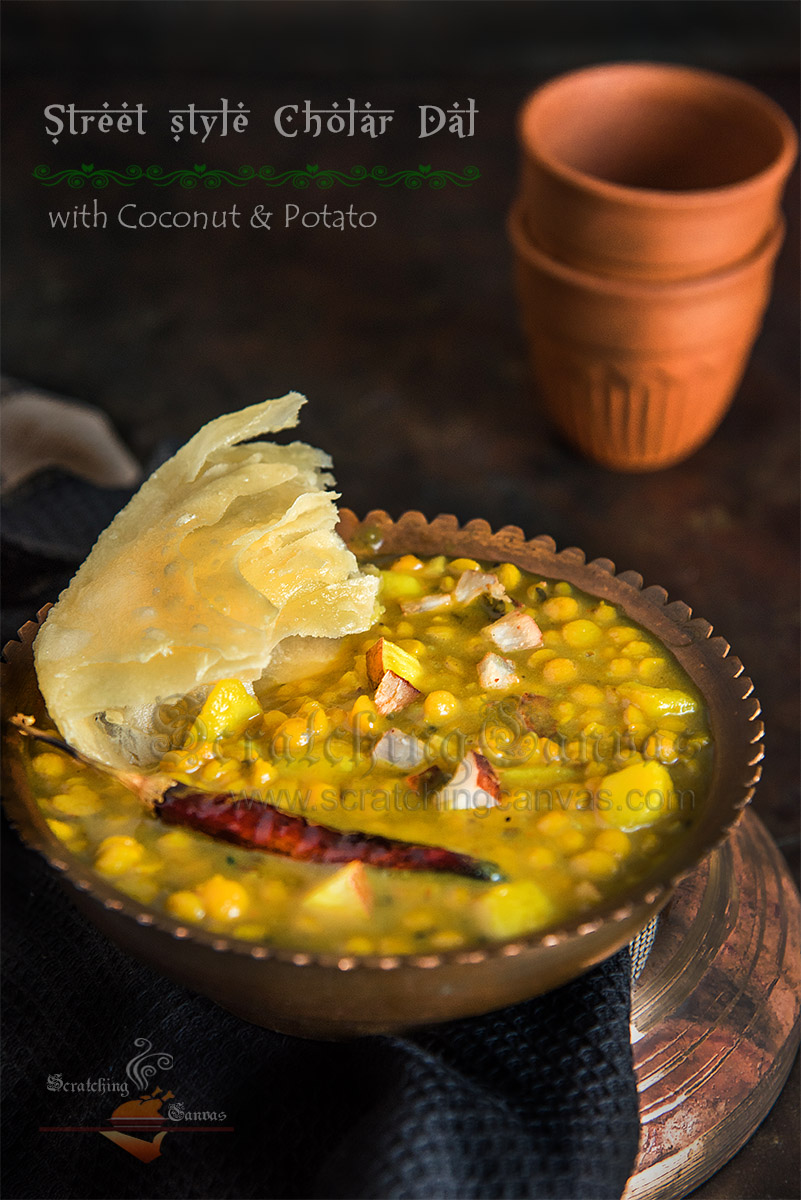 There is another type of cholar dal in Bengali cuisine which is equally popular among street food lovers. This version is not sweet at all; rather salty and tastes bit like light curry. This street style cholar dal is very mild in flavour and loaded with small potato pieces. This is quite easy to make within a very short time span. No prep-work and handful of ingredients makes it popular in street shops and mild flavours from mixed spices lands it as winner of many hearts in consumers.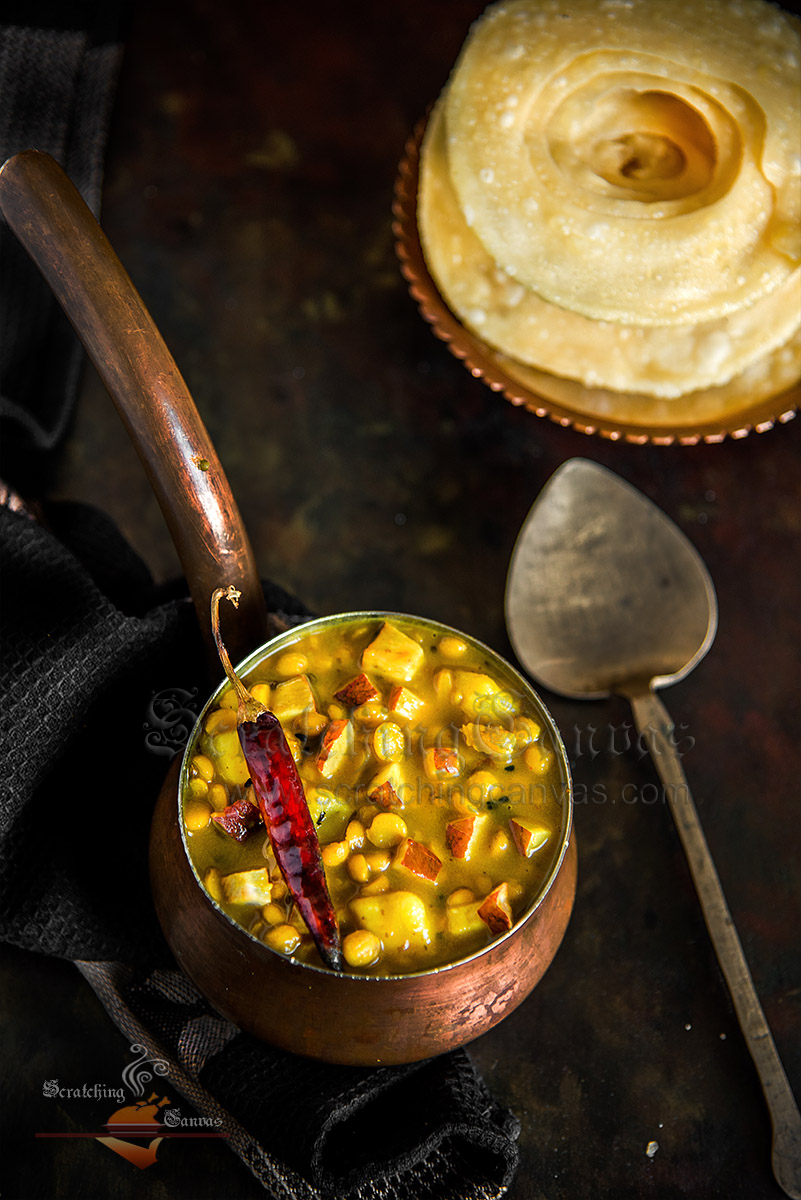 The speciality of this mishti'r dokan style Alu'r Cholar Dal is the consistency of dal and teeny weeny bites in between. The crispy layers of dhakai porota is supposed to be dunked in soupy dal and enjoyed the mixed flavours from both. That is why this street style cholar dal is poured right in the middle of dhakai paratha. And the finishing by dipping the remaining flakes of paratha in gravy and licking your finger off is the goodbye kiss from a lover.
The crunch of fried coconut adds a whole new dimension though you have to sacrifice your sunday lethargic mood. Because only lucky few first comers can spot those decorative (you can guess the amount) fried coconut on top of their cholar dal. And surprisingly this is probably one of those exceptional street food where no green chili is used, not even a slice!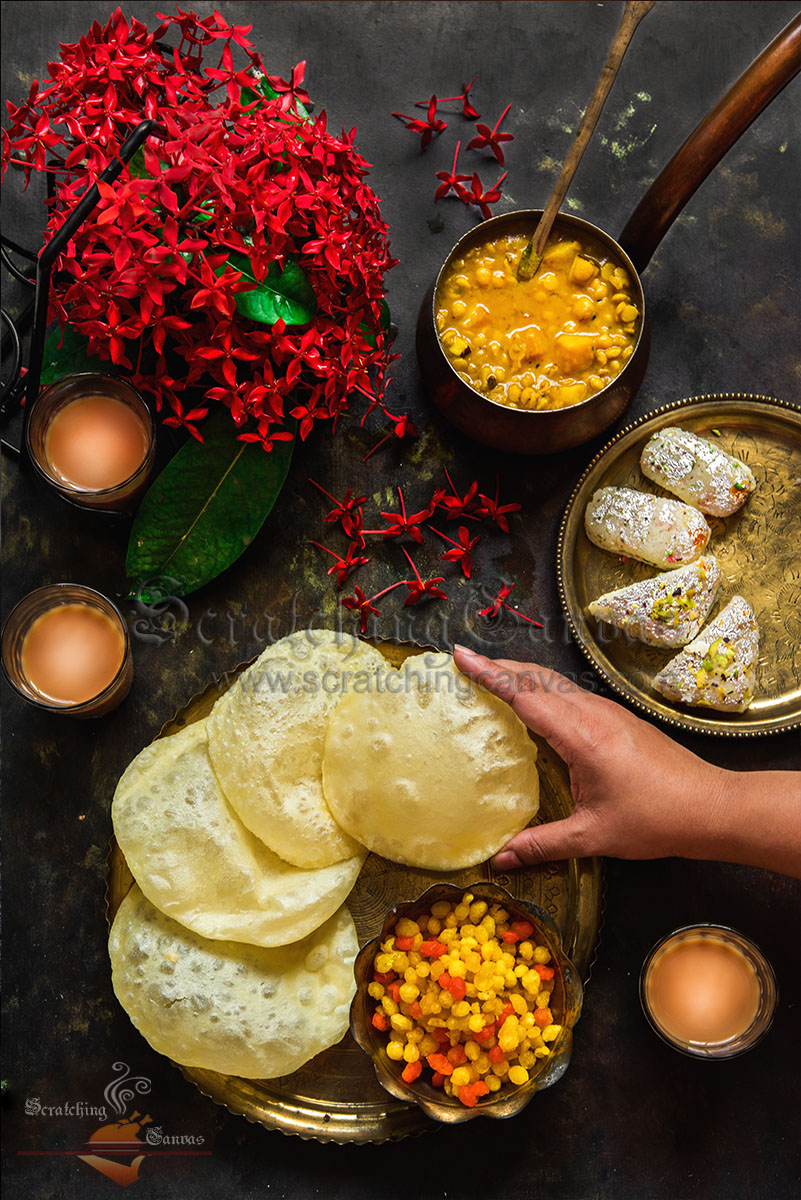 Watch my Fool-proof recipe of  Bengali Street style Cholar Dal Alu diye.
Read the entire recipe and Notes carefully before you start cooking. Do make sure all ingredients are at room temperature (unless mentioned) and weighed or measured correctly in appropriate weighing scale or measuring instruments such as cups or spoons. Remember these are not regular cups or spoons which is used in daily life.
SERVING & STORAGE:
Alu diye Cholar Dal is served with Dhakai Paratha in street shops or bengali Mishti'r Dokan. Excess cholar dal can be stored in airtight container and refrigerated for 3-5 days.
It is not advisable to store this Paratha for later consumption. The hidden oil between layers can turn it inedible even after 6-7 hours storage.
Cholar Dal Alu Diye | Street Style Bengal Gram Lentil with Potato
Ingredients
Cholar dal or bengal gram lentil: 1 cup
Coconut, chopped: 3 tbsp
Potato, cubed: 1
Ginger, chopped/crushed: 1 tsp
Turmeric powder: 2 tsp
Salt: 1 tsp
Sugar: 1 tsp
Ghee: 1 tsp
Water
For tampering:
Ghee: ½ tsp
Dry red chili: 1
Panchforon: 1 tsp
Ginger, crushed: 1 tsp
Instructions
Soak cholar dal in 1.5 cups of water for 1 hr. at least; preferably 1 hr to 4 hr. Wash and clean afterwards.
Pressure cook dal for 1 whistle with 1 tsp grated ginger, few drops of oil in 2.5 cups of water. Switch off the fame and allow the dal to cook inside the cooker until pressure is released. This way dal will not get over cooked.
In the mean while heat 2 tsp of ghee in a pan on medium flame and fry chopped coconut until lightly browned. Once done, remove from pan and keep aside.
In the same pan fry cubed potato with 1 tsp of turmeric powder and pinch of salt until potatoes are golden brown. Keep aside the fried potato until needed.
In the same pan add dry red chili, panchforon and grated ginger and saute for 30 secs. Add ghee in pan if needed.
Now add pre-cooked dal and bring it to boil. Also season with 1 tsp turmeric powder, 1 tsp salt and ½ tsp sugar.
Add fried potatoes to dal. Cover and cook for 10 mins or until potato is cooked. Take care not to overcook dal.
Switch off the flame and add fried coconut and bhaja masala to cooked dal. Keep on standby for 10 mins to absorb flavours. Enjoy with Dhakai Paratha or Luchi.
EAT, LOVE & ENJOY! REPEAT!!!
You may also like these Bengali Dal (lentil) Recipes