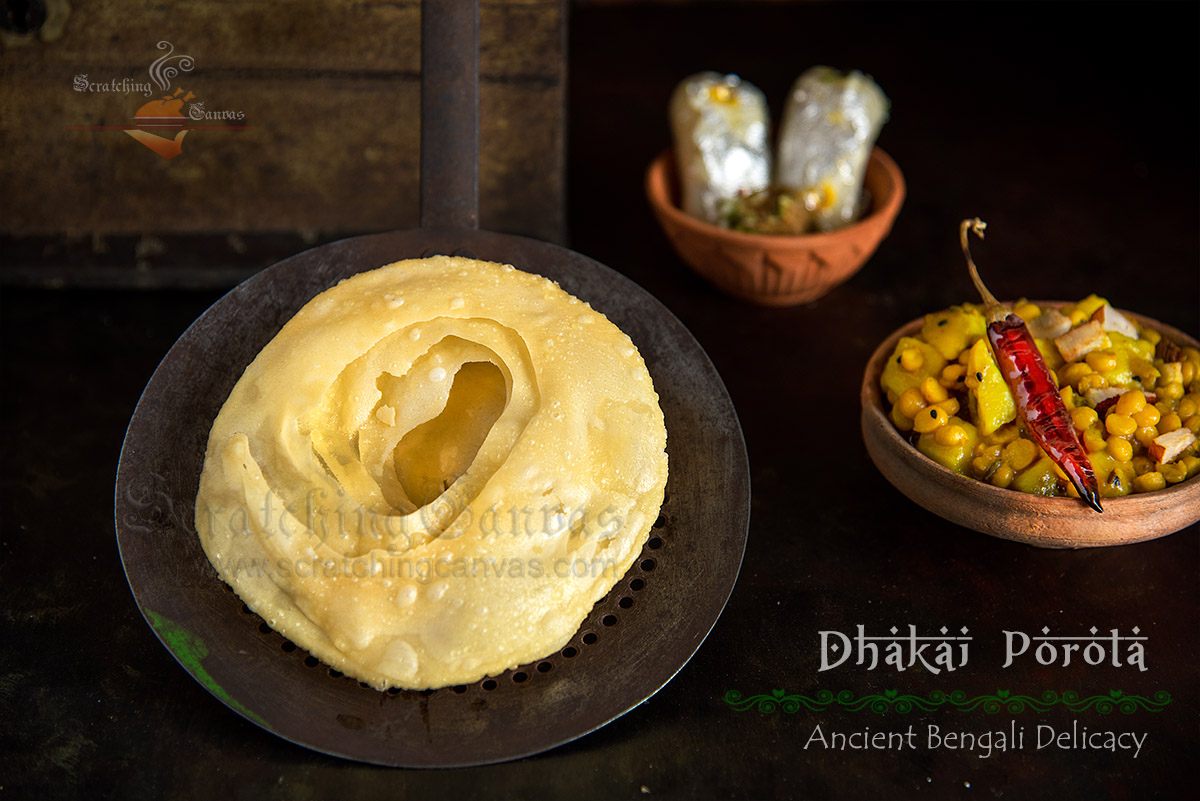 Dhakai Porota or Dhakai Paratha is one of the most famous Bengali old-school street food which is equally popular in both sides of the border, Kolkata and Dhaka.  I don't blame you if you say you have never heard of it. This traditional Bengali paratha is definitely is a grand contribution of Bengali people to Indian food history. But this paratha follows an extremely tricky recipe which requires infinite patience and expert level skills. And probably that is the reason Dhakai Porota is getting wiped off from the streets or shops.
Let me give a brief introduction of Dhakai Paratha. This is a unique paratha which (or even similar to this) you have never seen/experienced elsewhere. Though it is called paratha but it has least resembles to regular paratha. Dhakai Porota looks more like luchi or poori, puffed up like a football in size and layers will definitely remind you of lachha paratha. And it has multiple layers inside overlapping each other yet can be seen distinctly in plain sight. But for sake of simplicity you can say Dhakai Paratha is a cross between Luchi and Lachha Paratha.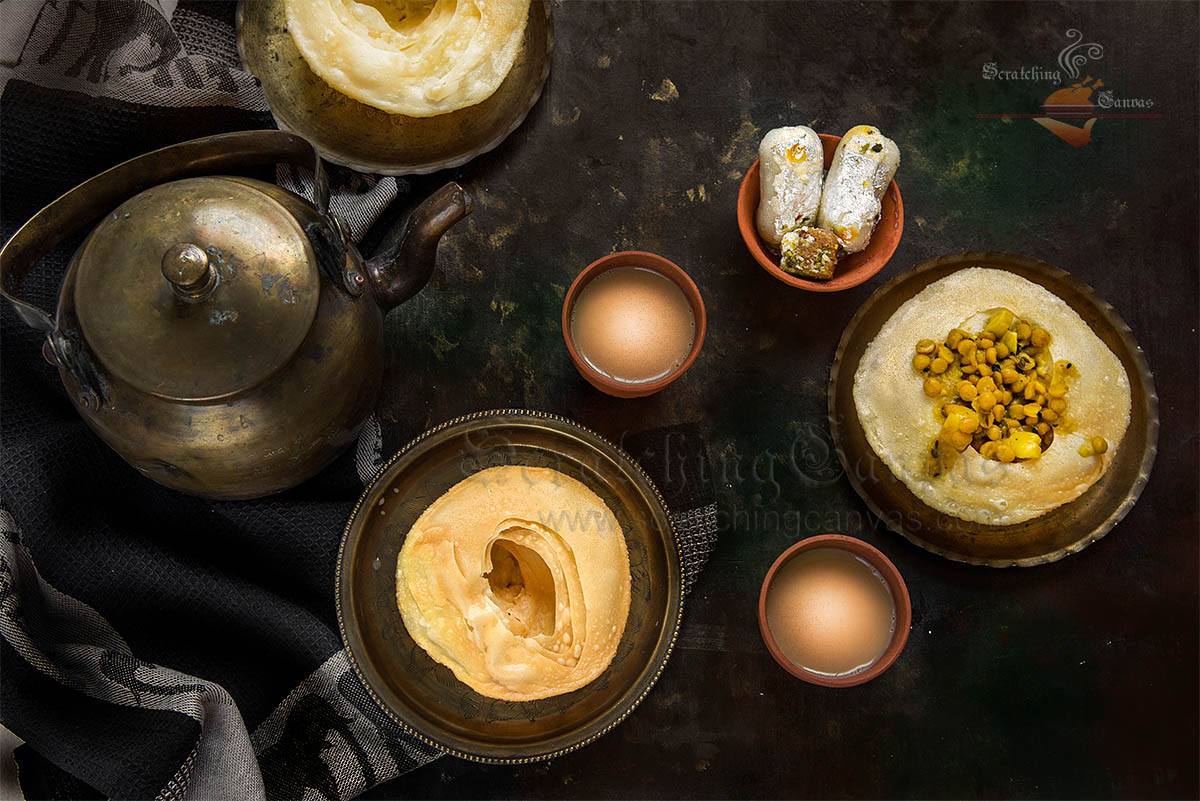 The authentic Bengali Dhakai Porota is a century-old delicacy from the undivided Bengal, which is today's West Bengal, India and Bangladesh. And as history gets fade away this extremely delicious Dhakai Paratha is also getting extinct from culinary records. Fortunately there are people who refuse to dissolve in today's fast-food 'pizza-burger' pace and hold back their traditions and rituals across their heart and soul. Thanks to them that this unique Dhakai Porota can be found in old parts of north Kolkata and streets of Dhaka even today. But honestly days of Dhakai Porota are already numbered if we don't spread the word.
It is not the only reason why I'm penning down the recipe. No, creating just public awareness doesn't worth my back wreaking experience and several failed experiments, five times to be precisely (you can check here https://www.instagram.com/p/BYXt5HJA3yv/?taken-by=rimleed) in search of authentic recipe of Dhakai Paratha.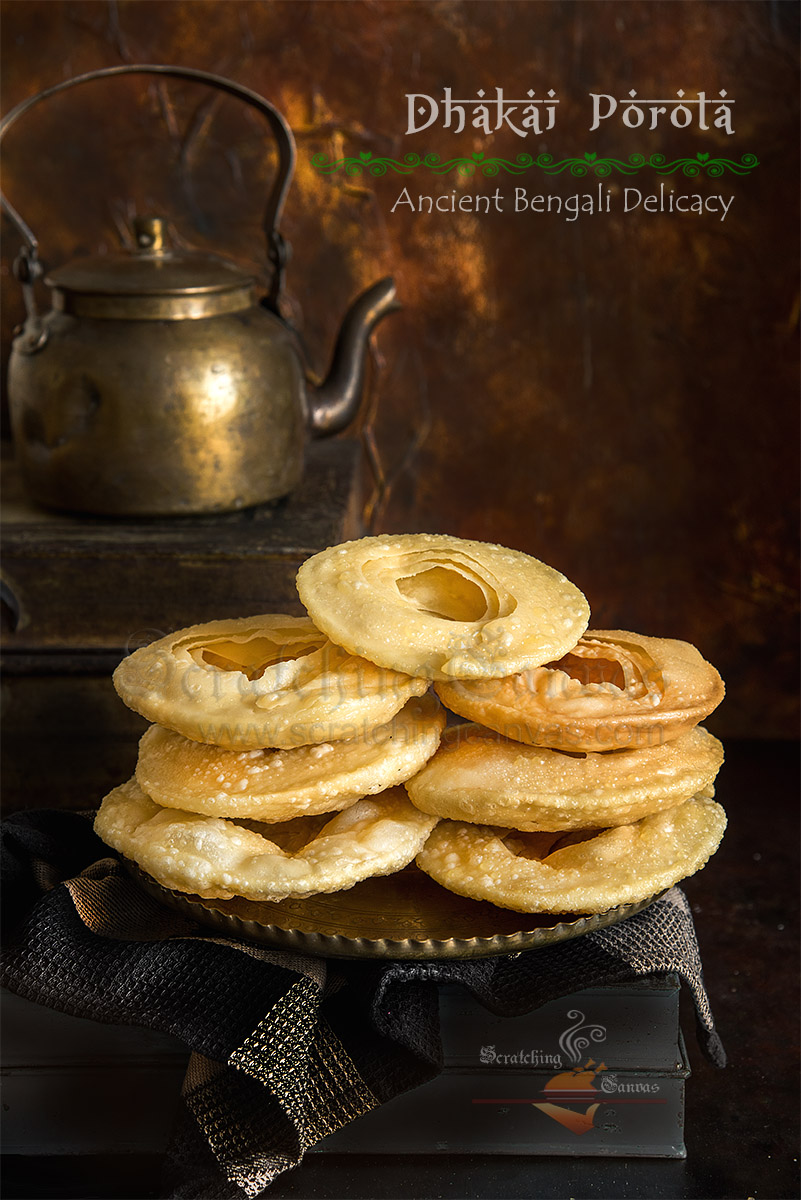 As a matter of fact Dhakai Porota takes me back to my good old happy carefree days and I did everything for the sake of lost childhood. It used to be my Friday after school snack and occasional Sunday dinner for my entire family. There was a small street shop just opposite to our home where they used to sell Dhakai Porota in size of small football. Though I could never finish even half of the paratha nothing could stop me from drooling over the huge pile of Dhakai Porota at their shop on my way back from school.
And this particular stall did well in business and they turned it into a large snack shop which is still standing proudly. This is the only place where you can taste authentic dhakai paratha even today. They begin the process in the early morning and finish it around 1 pm and freshly fried Dhakai Paratha is stacked up in large jhuri (cane baskets) to get rid of excess oil. Rest of the cooking (dal etc) is done by 3 pm and they start selling these Dhakai Porota with Alu diye Cholar Dal from 4 pm. They never sell a single pieces of this paratha before 4 o'clock because they believe it takes 3-4 hours to drip off the oil from paratha completely. So if you consume before that you will fall sick in stomach.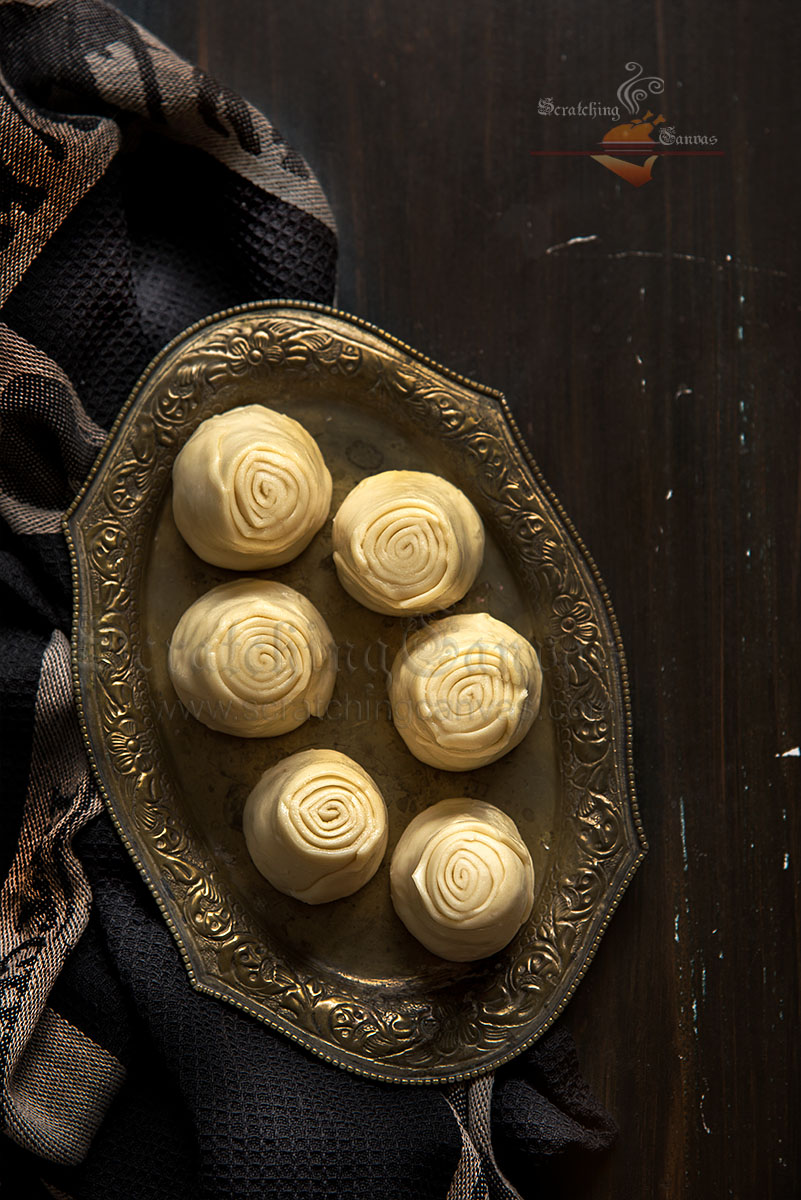 It has been few months I'm trying to make Dhakai Porota at home. But I had no idea how to proceed so was glued to the internet and have been trying to turn every possible stone. Then my father went to the above mentioned shop on my request and got an idea from them. I've tried five times in couple of different procedures and failed miserably because due to lack of technical skills. Each time I faced a trouble I learnt a new trick to surpass that. And finally after tormenting experiences when I succeeded I couldn't hold my joy and I has shared my experience on my Instagram handle (check here https://www.instagram.com/p/BYdJI0LAdc9/?taken-by=rimleed).
Though Dhakai Paratha is a scrumptious preparation yet the recipe is extremely critical. There are at least a dozen of steps where even a slightest change in technique can go haywire. And worst thing is you won't be able to understand what went wrong! This is exactly why people have stopped making dhakai porota which pushed it to extinct gallery.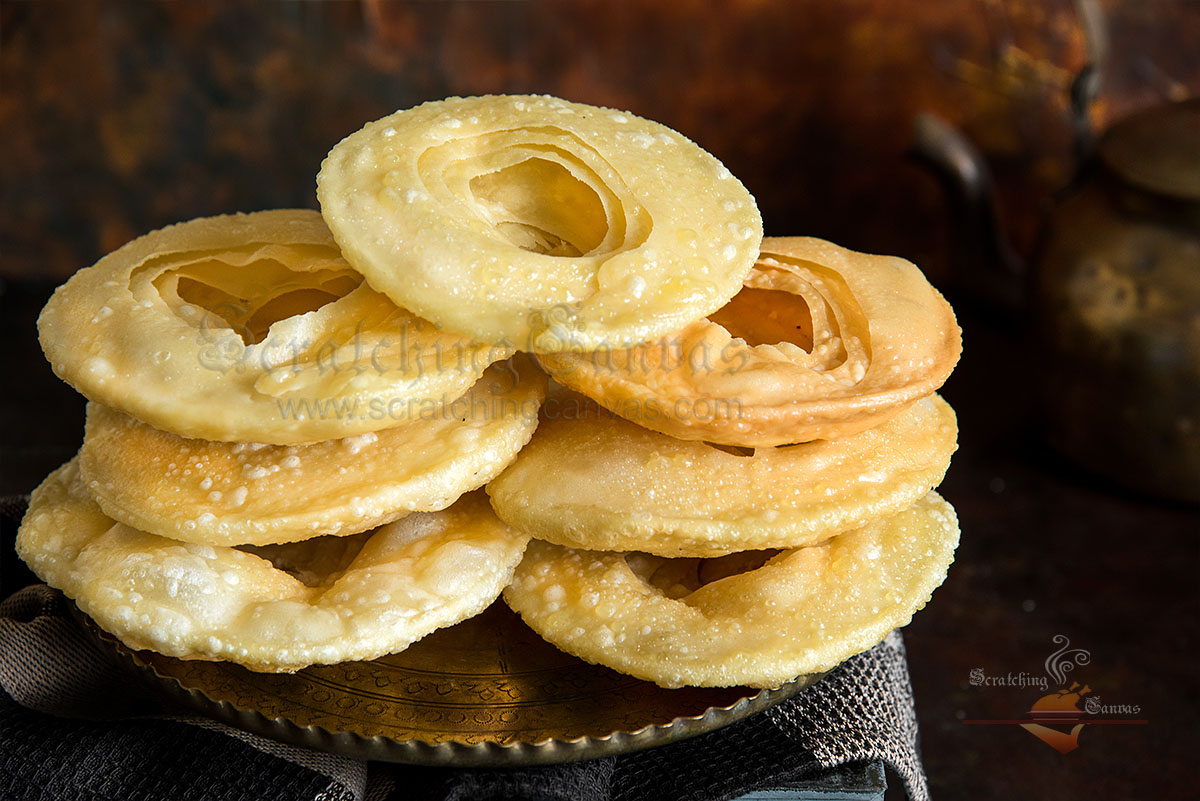 The making of this paratha is nothing but rocket science; okay 'rocket science' might be too much but it is pure science, trust me.  It's all about taking right amount of ingredients and processing them in exactly correct ways. We should bend the knee to that person(s) who had invented this. And the mother of all culinary skills is the trick to make the layers in such a way that all of them get cooked. It definitely requires huge patient to make evenly crispy Dhakai Paratha and at the same time keeping all the layers distinct, not getting merged into one another.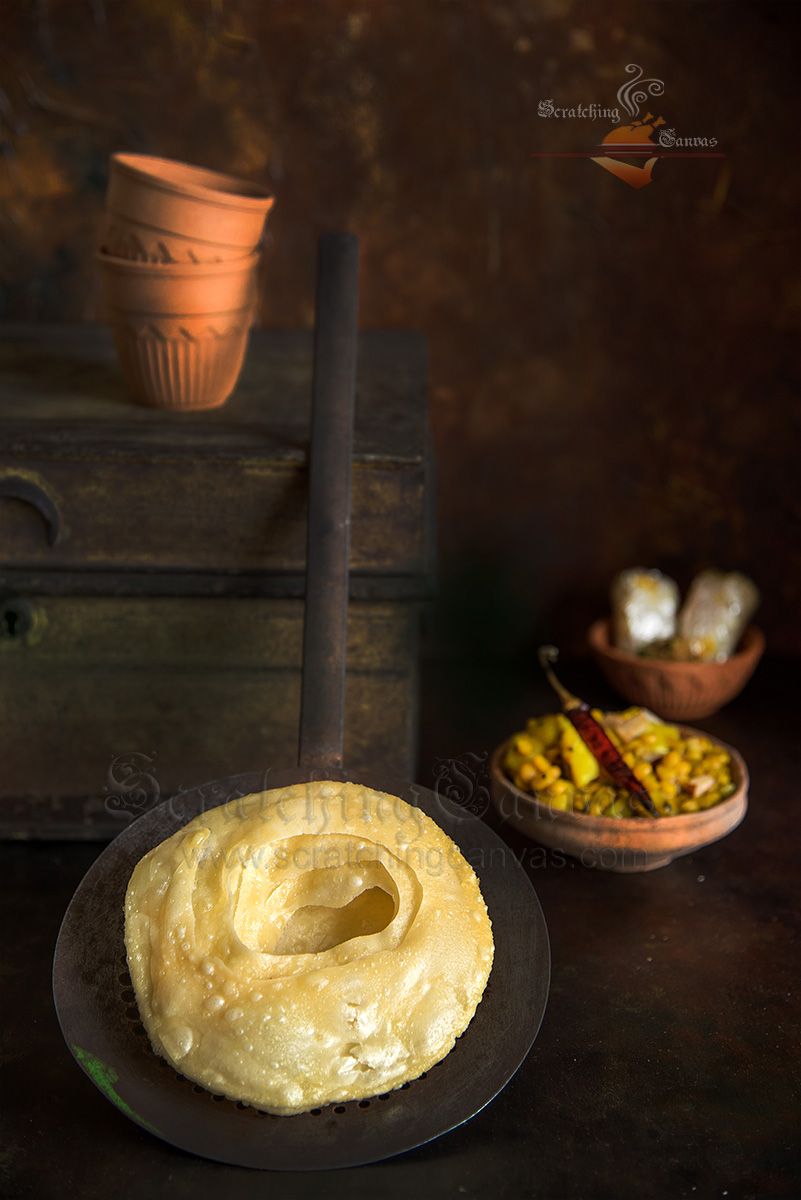 Before you proceed to the recipe, keep these following things in mind and you will get No Fail Dhakai Paratha each time. The process of adding grease (ghee/oil) to flour and mixing it lightly is known as moyan and it helps paratha become crispy while frying. This is an essential step for making dhakai paratha. It is important to roll out the paratha (1st rolling) evenly and without any cracks on surface. Otherwise it will not hold layers.
Cut at least ¼ portion of the cone from the tip. Before rolling (for the second time) make sure to free enough space in hole to pass air. But don't tamper the bottom layer. Temperature of oil is highly important here, so is keeping the temperature constant. To maintain the temperature initially keep on medium-high, once paratha floats on top turn it to medium-low and while browning turn it to low. Keep pouring oil constantly right into the hole until paratha is puffed up nicely. And start pouring all over the dhakai porota until it is evenly browned.
Now you are good to go; make some crispy dhakai porota and cholar dal and savour every last bite of it. You can thank me later.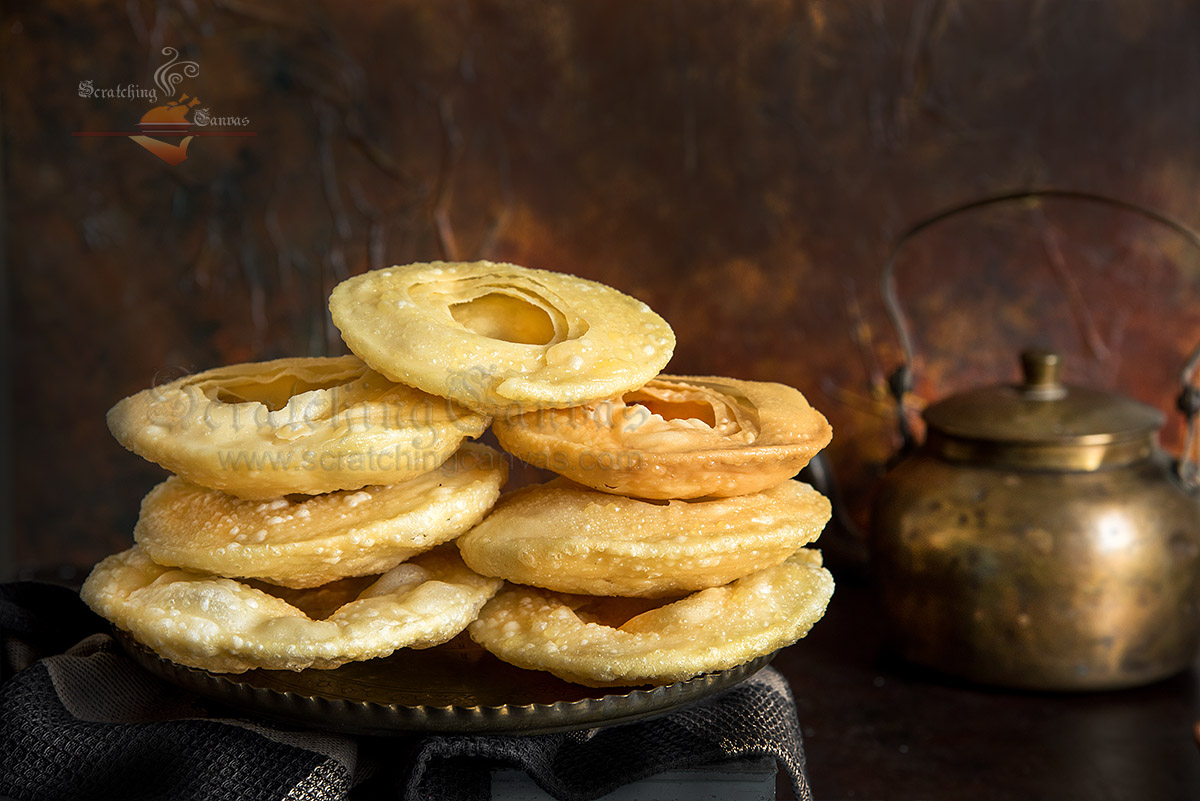 Watch my Fool-proof recipe of  Bengali Dhakai Paratha (Dhakai Parota).
Read the entire recipe and Notes carefully before you start cooking. Do make sure all ingredients are at room temperature (unless mentioned) and weighed or measured correctly in appropriate weighing scale or measuring instruments such as cups or spoons. Remember these are not regular cups or spoons which is used in daily life.
SERVING & STORAGE:
Dhakai Paratha should be served after draining oil as much as possible, preferably after 15-20 mins . This Dhakai Porota should not be served immediately, right after frying.
And by any chance if you are having this on your Sunday breakfast, 
Bonde or Sweet Boondi
 is a must thing to lick off your plate.
It is not advisable to store this Paratha for later consumption. The hidden oil between layers can turn it inedible even after 6-7 hours storage.
Dhakai Paratha Recipe | Dhakai Porota Traditional Bengali Paratha | Flaky Layered Puffed Bread
Serves:
8-9 large Paratha
Ingredients
All-purpose flour: 2 cup + ¼ cup (for layering)
Oil/ghee: 3 tsp + ¼ cup (for layering)
Cold water: ½ cup (for kneading)
More oil for deep frying, any flavourless odourless white oil
Instructions
Begin with kneading the dough.
Take a large bowl and sift 2 cups flour through sieve, twice if possible.
Pour 2 tsp oil and rub well with palms to coat flour with grease. It will help paratha become crispy while frying. This process is known as moyan.
Now add cold water little by little to flour mix and start kneading with fingers.
Keep the dough in a bowl and leave it for 30 mins. covered with lid or wet kitchen towel.
Next is rolling or forming lechi for paratha.
Make small balls from the dough without any cracks around the dough.
Take one dough ball at a time on rolling surface and roll to form a circular disc (roti like) with the help of rolling pin. The disc should be little thicker than luchi/poori. There shouldn't be any crack on surface.
Pour few drops of oil on the flour disc and spread evenly with fingers/brush.
Then sprinkle 1 tsp flour on top of oil and spread as evenly as possible.
Now take a knife and cut along the radium of the circle; meaning from center of to the circumference (outer line of the disc). Watch the video for clear demonstration.
Take the corner of the cut and roll it along with the circumference (edge) into a conical shape.
Now tuck the loose ends of the larger part inward of the cone.
Cut the top off from the pointed end and dip slightly in oil. Set aside on a flat palate and cover with damp cotton cloth. Allow to rest for 30 mins.
Now take one cone at a time and push your little finger inside through the narrow part of the cone. Roll it gently to make a small hole. You can do it with help of blunt knife so that no cut is made between layers.
Place the cone on rolling surface and press the cone gently from top to form a pattie like disc.
Now roll this out into a roti like disc again with rolling pin. Here you will be able to see the spiral layers clearly.
Finally (and most important), frying the Dhakai Porota.
Now heat 4 cups of oil/ghee (clarified butter) in a deep bottomed heavy wok/kadai. Once oil turns hot, simmer the flame.
Add one dhakai paratha slowly in the hot oil. Firstly, it will go down to the bottom of the wok and immediately will float back on the top. Now start pouring hot oil with a ladle in the middle of the paratha (where the hole was) until paratha is puffed up like luchi/poori and browned evenly.
Once paratha is nicely coloured and crispy, remove from oil with a slotted spoon. Tilt it halfway and hold it for few seconds to discard excess oil.
Keep fried paratha on paper towels to get rid of 'still available' oil.
Fry rest of the paratha in same manner.
Don't serve dhakai paratha immediately. It is advisable to keep parathas on stack for 15-20 mins after frying to get rid of dripping oil droplets completely. Then serve with Street style Alu diye Cholar Dal (Curried Bengal gram with potato) and some of your favourite mishti (sweets). Enjoy!
Notes
1. Moyan (adding fat into flour) plays an important role in kneading dough for luchi. It will ensure soft pliable dough.
2. The right amount of water is required to knead perfect dough. While too much water can turn it into a muddy mess, little water can also make dough hard and tough.
3. Always allow the covered dough to rest for enough time. It will help the gluten to make dough super soft.
4. If there are any cracks at all on the surface of lechi, paratha will turn into all oil soaked hard flat bread when added in the oil, more like papad.
5. This resting process will help lechi absorb oil and flour to get neat layers.
6. Don't stretch too much otherwise layers can be merged into a single layer.
7. To check the temperature of the oil: add a tiny particle of the dough in the hot oil, if it goes down first and then comes up sizzling it is the right temperature.
8. Frying dhakai paratha is the trickiest part of the entire process. The oil needs to be poured on paratha continuously to ensure even cooking though multiple layers. And this step will take time; say about 3-5 mins for each paratha depending on the size.
9. Dhakai paratha holds way too much oil between the layers which needs to be removed carefully. Otherwise crispy paratha will become soggy and inedible.
EAT, LOVE & ENJOY! REPEAT!!!
You may also like these Traditional Bengali Luchi/Kochuri Recipes