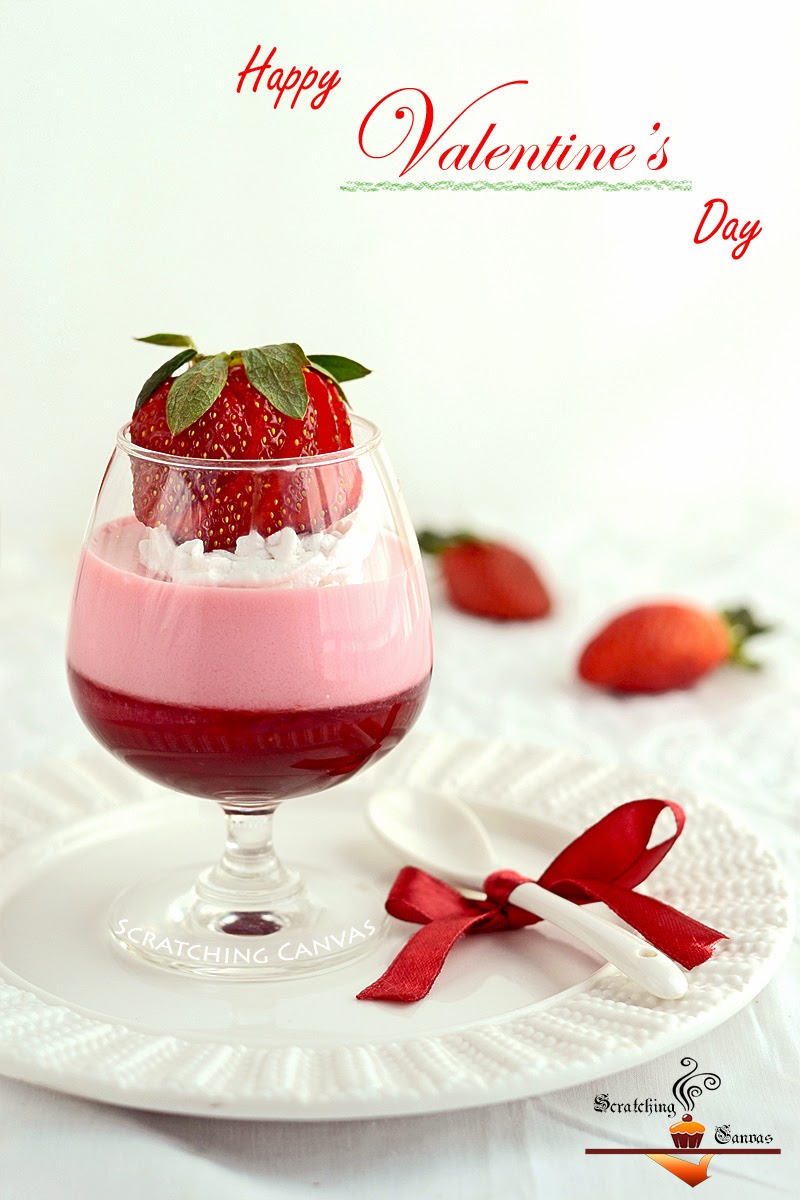 Valentine's Day is all about love which speaks through Roses. I already shared Rose Fudge yesterday which I had prepared for the upcoming Vday and which is also very much gone by now. Again curse Bhatty!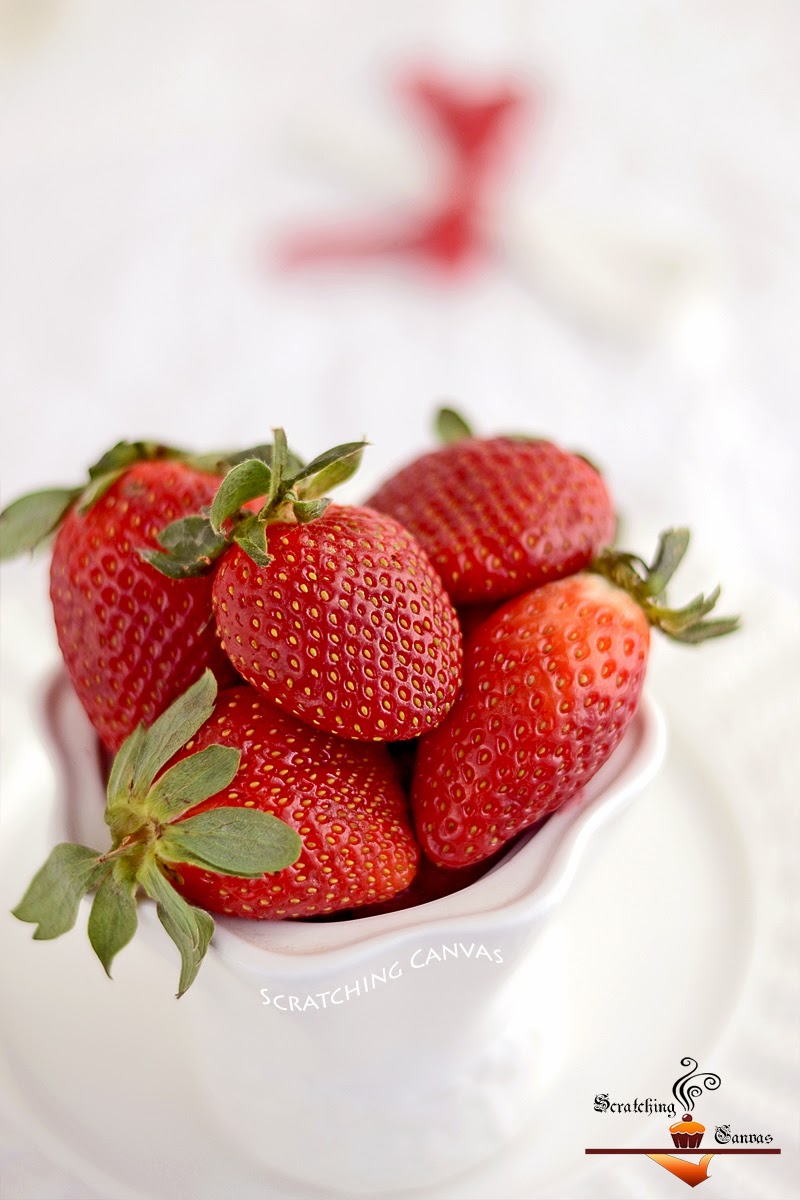 Today I had a terrible day, suffering with power cut issue all day long, (yes, we are living in 2014 and somehow this particular issue has remained same since 1980) I tried to divert my mind by wandering in Facebook. It is the most important job in my life right now; more than anything. Anyways, there in a food group I saw someone was asking for recipes with strawberry, cream & condensed milk for her valentine and I remember I had left out my strawberry tray last night accidentally. Immediately I rushed to my den and found it there only where I left.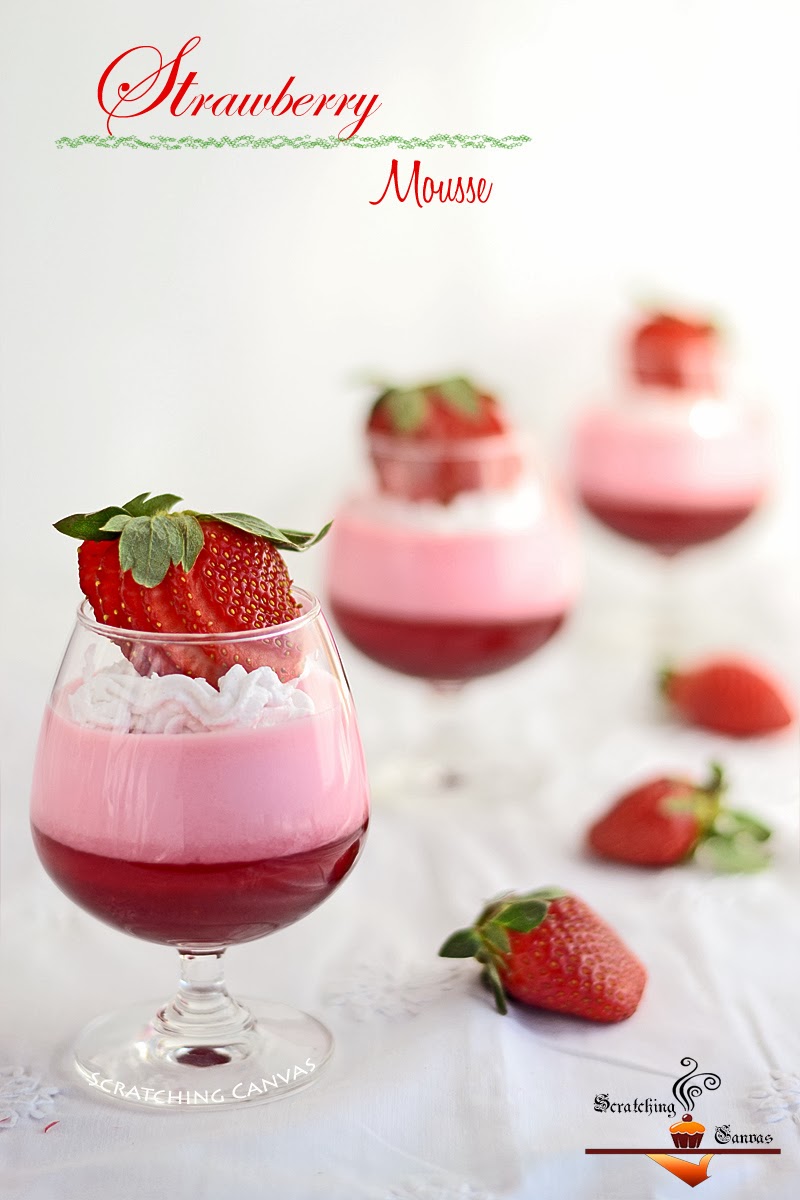 As it was outta refrigerator I had to finish them off today only. And the thought was, why not make strawberry mousse with it as I suggested on that group. Thanks to the lady who saved my strawberry and sweet note of Vday.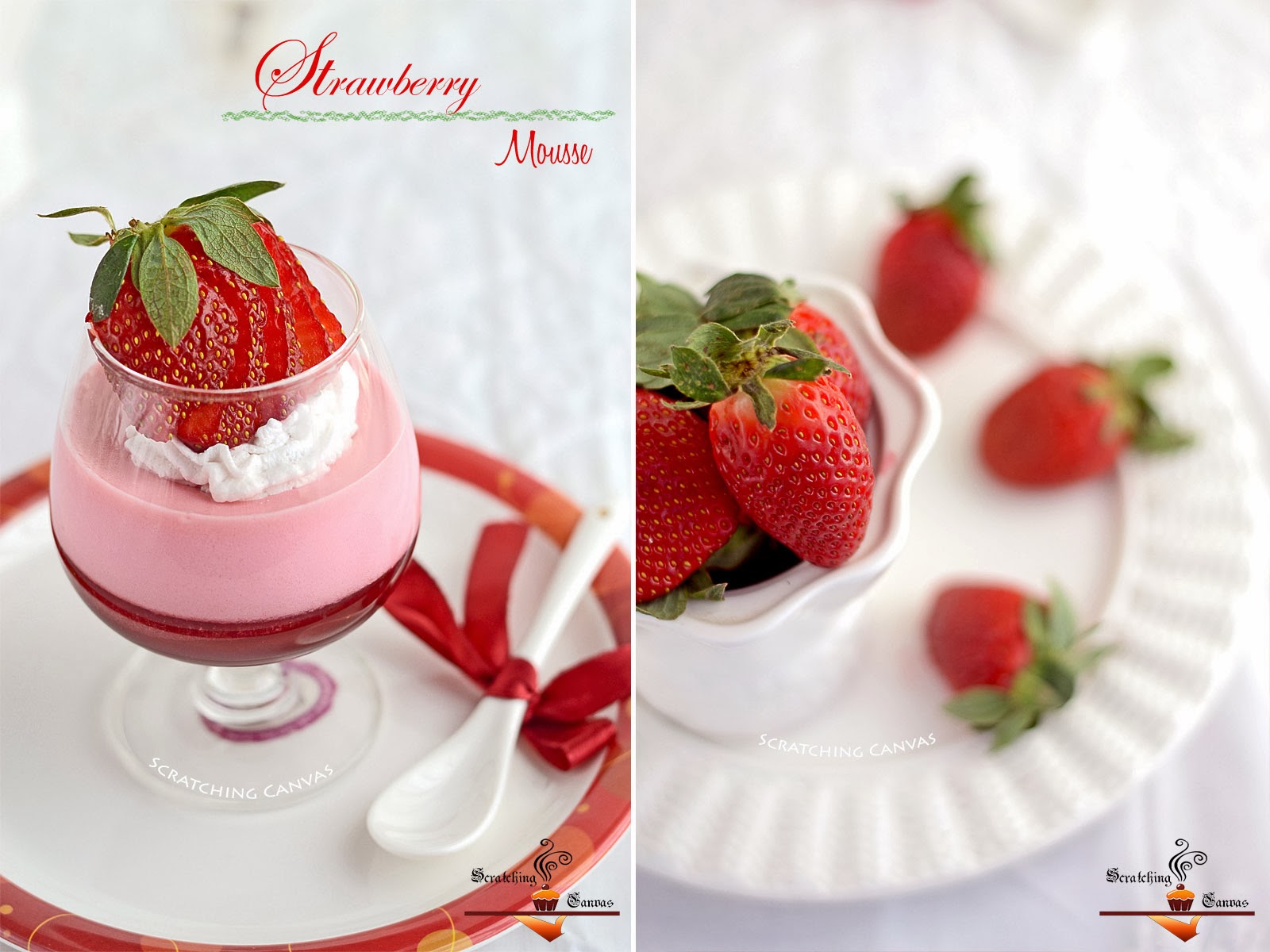 Strawberry is another name of love (to me at least) but in India these are known for the tart not for sweetness. So when I found a good quality I had bought a small tray of it. It was so red and glossy I couldn't resist myself from clicking few shots before I put the first piece in my mouth. Now I think it was totally worthy as I'm using few of those shots in this post.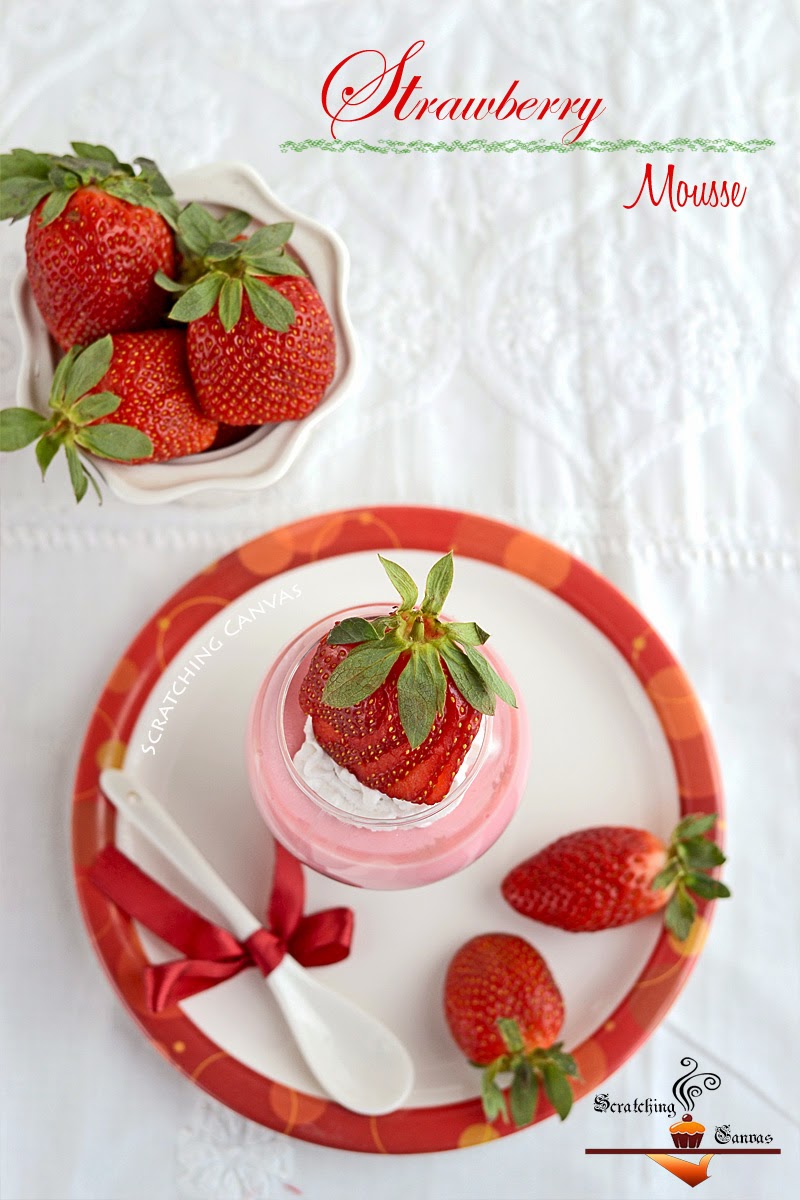 No more talking let the picture tell rest of the story 
and if I say it is with 55 calorie only will you believe that!!
Here is the recipe of
Skinny Strawberry Mousse (Vegan)
.
Preparation Time: 05 mins
Dairy free whipping cream (I used D'licia): ¼ cup (Yields 2 Cups Whipped)
Icing sugar: 1 tsp + 1 tbsp (adjust the amount according to personal preference)
Strawberry: 300g (fresh/frozen)
2 individual mixing bowls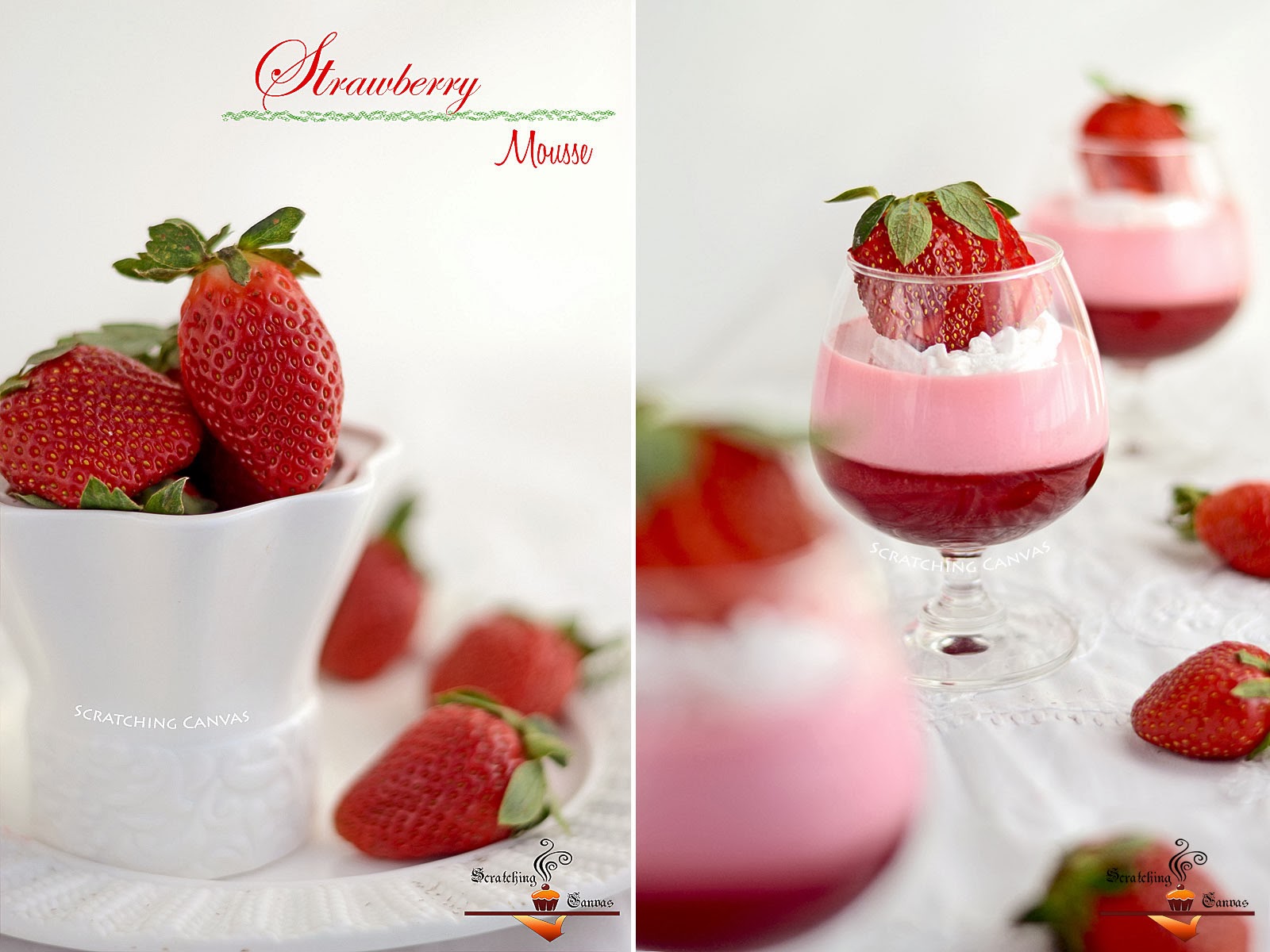 Before you start your preparation, make sure cream is chilled. And if you live in summer based country make sure you keep the whisk and mixing bowl in refrigerator for 1 hr at least.
Roughly chop the strawberries and make smooth puree in blender. No need to add water; still if you insist, add 1-2 tsp maximum. Add 1 tbsp icing sugar and blend well. Transfer the puree into two mixing bowls in equal portions. Cover one bowl with cling film and set in the refrigerator until needed.
Arrange the serving bowls/glasses and add 2 -3 tbsp of strawberry puree in each serving bowls and allow it to set in the refrigerator for 10-15 mins or until your cream is ready.
Take a large mixing bowl. Pour the chilled cream in it and whisk for 2 mins or until cream is slightly thicken. By the time cream will lose the gloss also. Add the icing sugar and beat vigorously for next 3-4 mins. Within 2-3 mins cream will form soft peaks and within another minute hard peak will be formed too. Just don't stop whisking.
Once you reach your desired consistency of the cream, stop whisking. Reserve little portion for serving. Remove the strawberry puree from refrigerator and add rest of the cream in it. Mix with spatula gently until everything incorporates.
Transfer the mousse to piping bag and pipe into serving bowls/glasses bowls on the top of the puree. Be careful not to disturb the puree layer. When you are done, refrigerate for 1-4 hrs. Remember the longer you will refrigerate and firmer your mousse will be.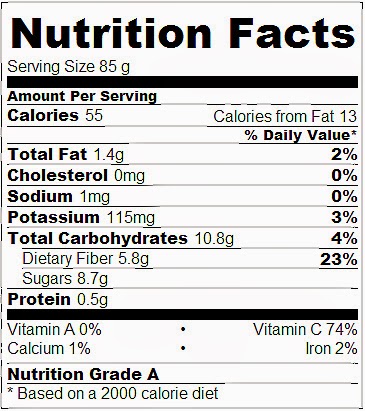 Reference: http://caloriecount.about.com/
Always serve this Skinny Strawberry Mousse (Vegan) as chilled. Remove the bowls from refrigerator just before serving. Top with dollop of whipped cream & fresh strawberries and serve. You can also add Strawberry Jam or wafers or anything you fancy. Play with your imagination!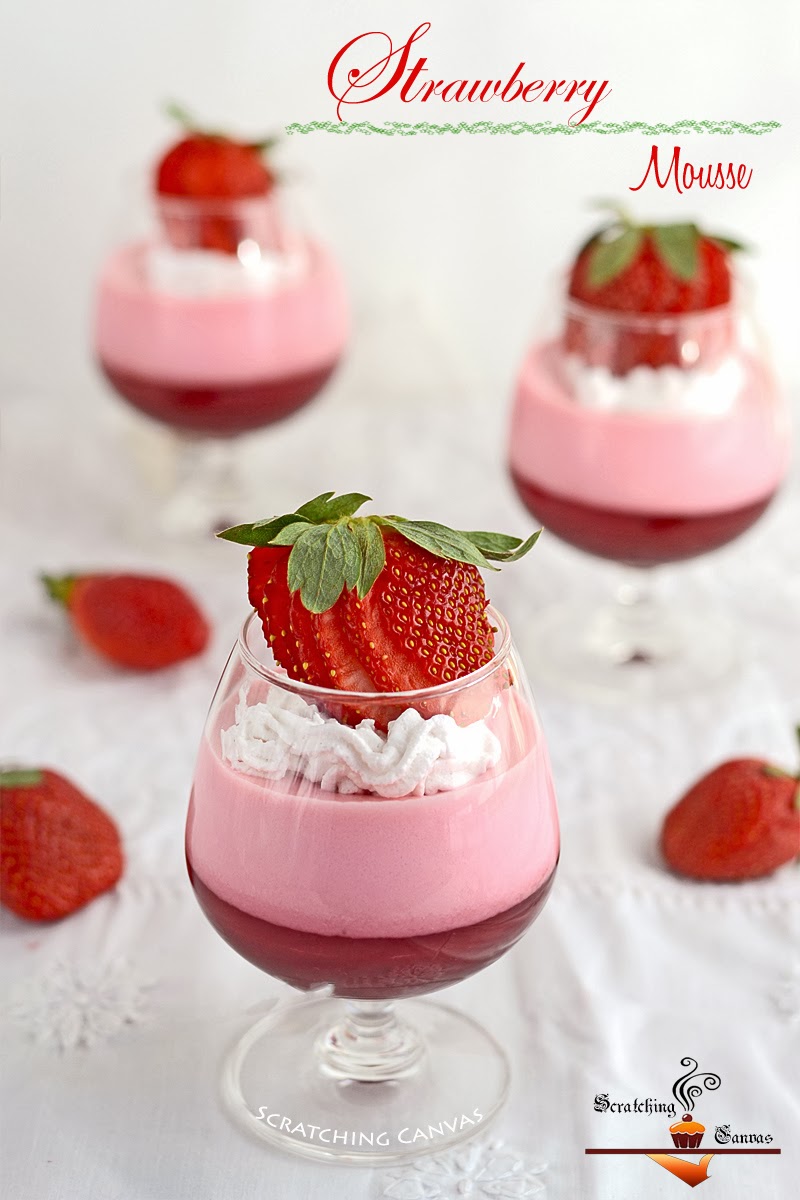 Here is some other Mousse recipes which you might like.