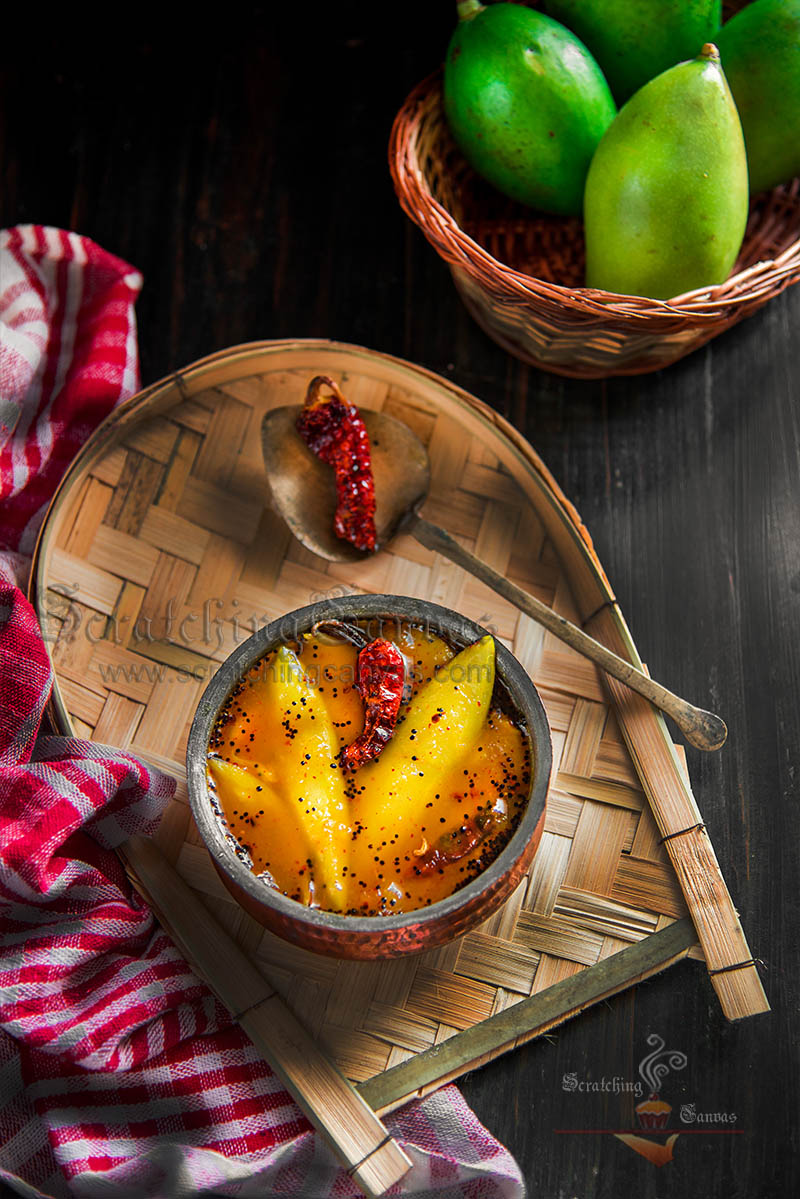 Kancha Aam er Chatni or Raw Green Mango Chutney is a summer special Bengali delicacy. Chutney means condiments to rest of the world but to a Bengali it is Chatni. And Bengali chatni has to be sweet, bit sour; sometimes with a hint of hot spices. In fact it is a fine balance between all these flavours. Chatni belongs to neither condiment nor dessert category; it's a class of its own.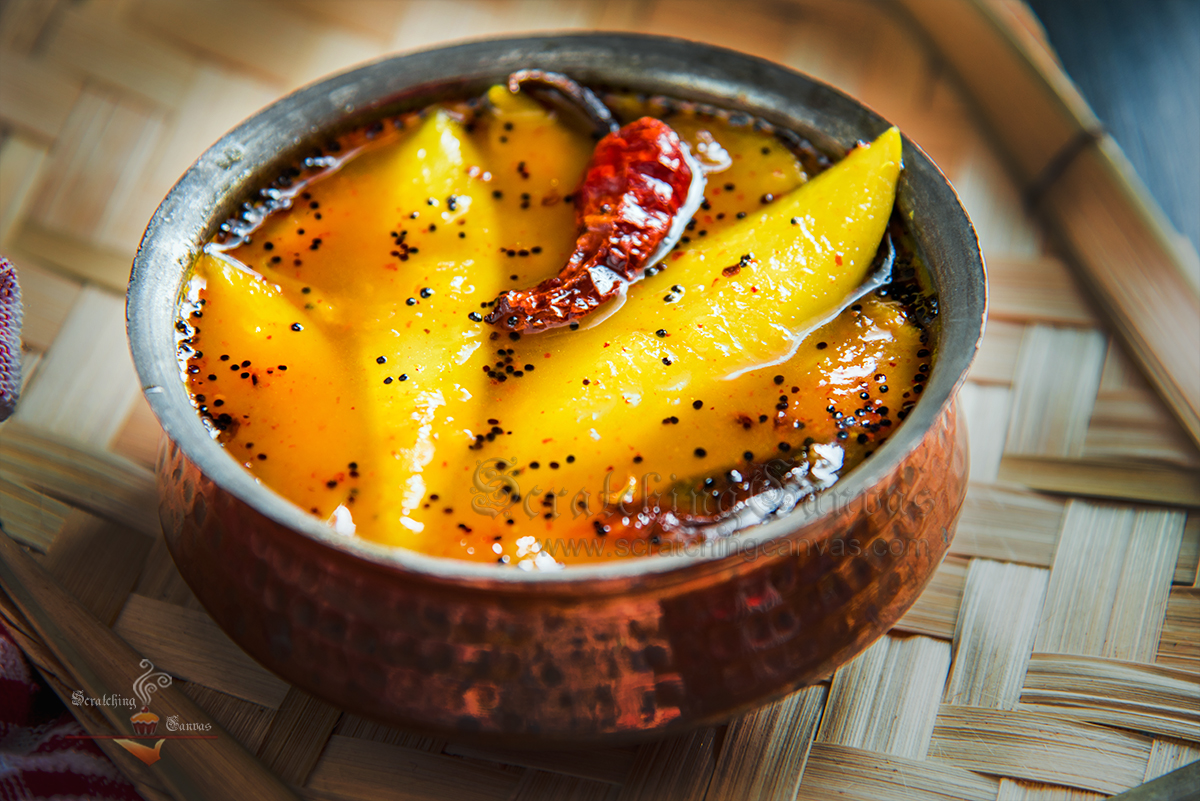 Traditional Bengali meals are way different from rest of Indian meals. A typical Bengali meal consists of 5-6 courses which include all type of flavours, from bitter to sweet. Traditionally first course has to bitter like Shukto (Bitter Mixed Veg) followed by second course dal (lentil) and bhaja (fried items) or Posto. Then comes the third course curries including vegetarian and fish or chicken. Fourth one is tongue cleanser, chatni (chutney) with papad (cracker). Fifth is doi (sweet yogurt) and mishti sweets (dessert). And the meal ends with paan (sweetened betel leaf).
Even any Bengali puja bhog (offering to god/goddess during worship) must include bhoger khichuri, bhaja, labra and chatni. Even a simple homely day meal of a bengali is not complete without a small bowl of aamer chatni.
As I mentioned before Bengali chatni is not condiment called chutney. It is only served during the end of a meal before serving sweets but never as side with snacks or fries. Few popular Bengali chatni are aamer chatni (green mango chutney), tomato chatni, khejur amsotto chatni (date & mango leather chutney), anaroser chatni (pineapple chutney) and peper plastic chatni (raw papaya chutney). The flavour and ingredients keep changing according to availability of seasonal fruits. Bengali Green Mango or Kancha Aam er Chatni is the most widely cooked amongst all these chatni.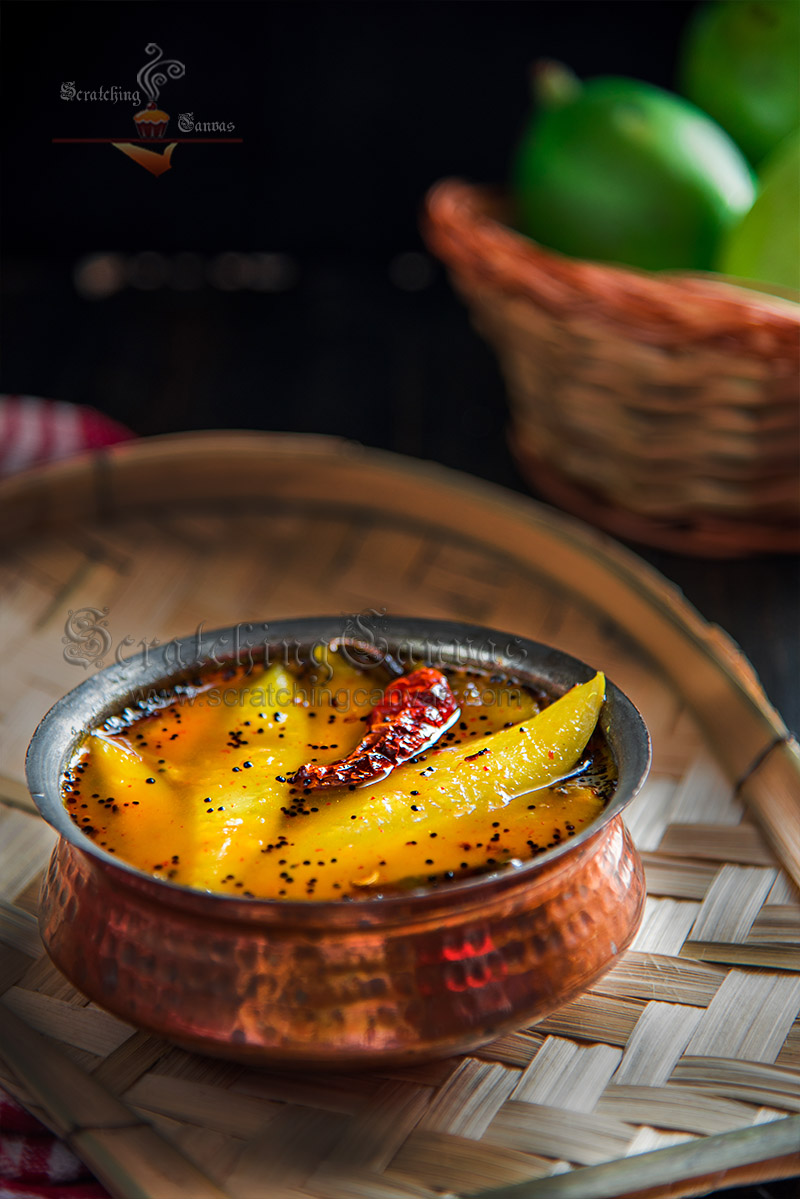 Mangoes are available only for very short span of summer days, but Bengal produces a very large variety of mangoes. Naturally we Bengalis use the most of it by consuming mangoes in every possible way. Kancha Aam er Tok Dal (Mango cooked in lentils), Aam Pora Sharbat (Grilled Mango Panna), Aam Kasundi (Mango Mustard dip) are other popular things to cook with fresh raw mangoes. Thankfully now I have a large carton of raw mangoes and I'll try my hands on these recipes in coming weeks. I'll update the blog with these recipes soon.
Watch my elaborated step by step video recipe of Kancha Aam er Chatni aka Raw Mango Chutney.
Read the entire recipe and Notes carefully before you start cooking. Do make sure all ingredients are at room temperature (unless mentioned) and weighed or measured correctly in appropriate weighing machine or measuring instruments such as cups or spoons. Remember these are not regular cups or spoons which is used in daily life.
Serving Storage:
Kancha Aam er Chatni mostly enjoyed on lunch after a rice meal including dal, bhaja (fries) and curries. Any bhog is incomplete with khichuri ar chatni.
Store excess chutney in glass jars and refrigerate. This Mango Chutney tastes good for 5-7 days if stored in airtight container and refrigerated. But remember longer shelf life will increase the tartness in Aam er Chatni.
Use clean and dry spoons everytime to fetch chatni from jars and keep the lid on. It will ensure longer shelf life.
Kancha Aam er Chatni | Mango Chutney | Bengali Raw Mango Chatni
Ingredients
Raw mango: 1, large (300g without seed)
Sugar: ⅔ cup
Ginger, pounded: ½ tbsp
Mustard oil: 1 tbsp
Water: 2 cups
Whole Spices
Dry Red Chili: 1-2
Mustard seeds, black: 1 tsp
Ground Spices
Salt: ½ tsp
Turmeric: ¼ tsp
Red Chili: ½ tsp
Bhaja Masala: 1 tbsp
Instructions
Wash and clean mango and pat it dry. Discard the seed and chop mango lengthwise.
Sprinkle salt and red chili powder on chopped mango and toss to coat well.
Heat oil in wok and add whole spices to tamper oil.
Add marinated mango and sauté for 1-2 mins.
Add ginger, turmeric and stir well.
Add water and bring it to boil. Cover and cook for 10-12 mins or until mango is cooked.
Once mango is cooked yet firm, add sugar and boil to desired consistency.
Sprinkle bhaja masala in Aamer Chatni and switch off the flame.
Bring chutney to room temperature and serve after meal.
Notes
1. Marinade mango to soften raw mango. It also helps to minimize cooking time later.
2. Do Not add sugar if mangoes are not cooked. Mangoes will not be cooked when in contact of sugar.
3. Adjust amount of bhaja masala or red chili powder according to personal preference.
4. Use freshly roasted and grounded fennel seed instead of Bhaja Masala.
5. Sometimes Panch Phoron (Bengali 5 spices) is used instead of red chili and mustard seeds.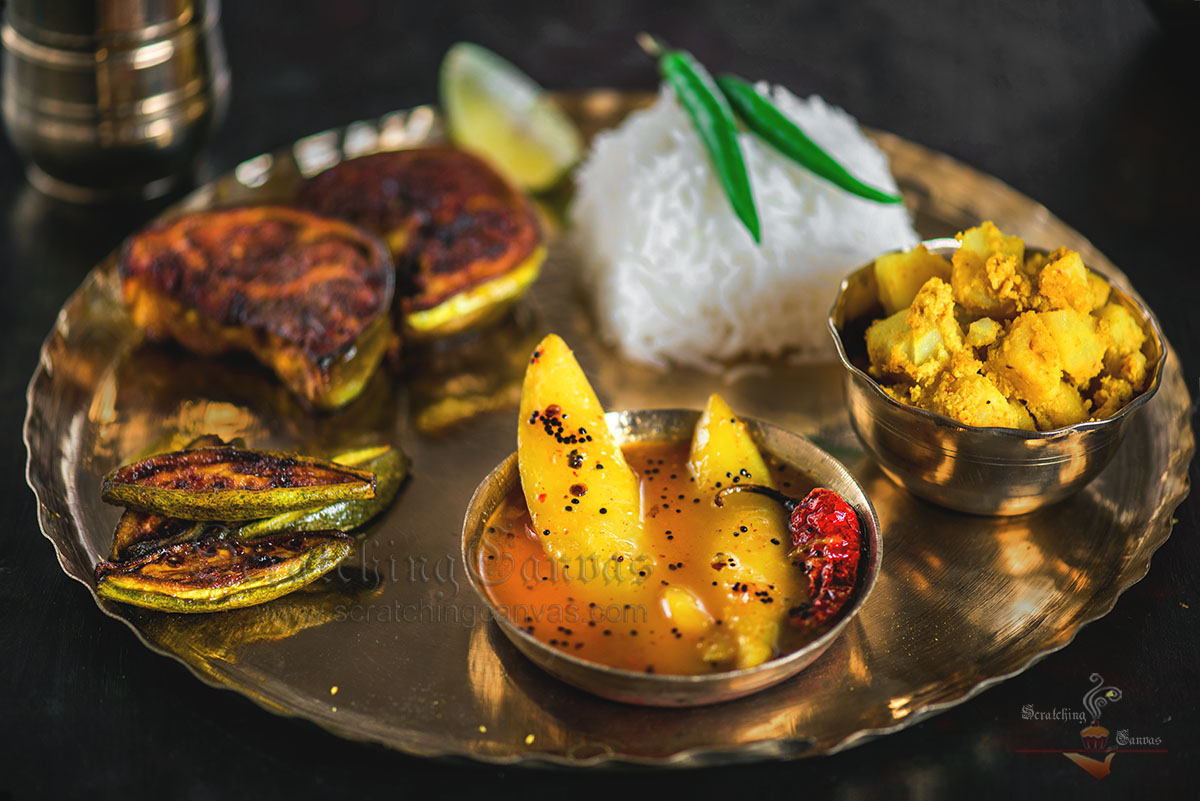 EAT, LOVE & ENJOY! REPEAT!!!