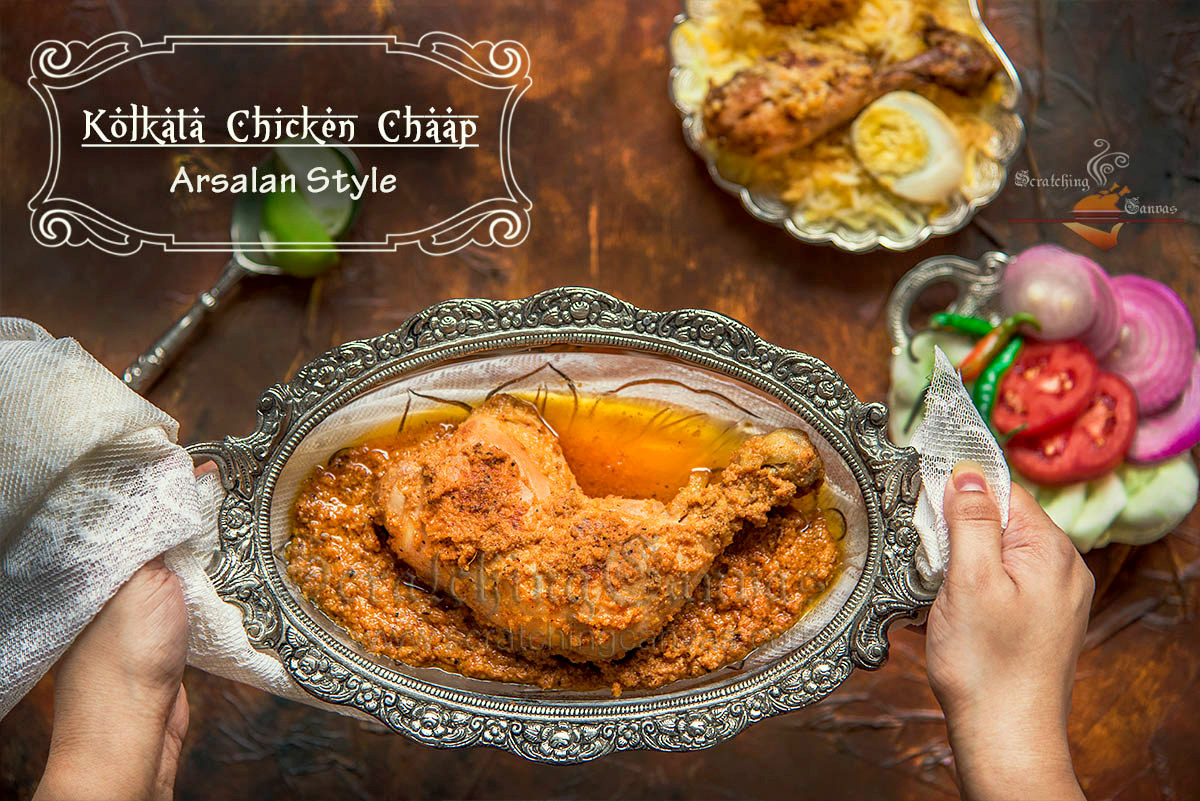 Chicken chaap Arsalan style or more popularly known as Kolkata Chicken Chanp is a classic Awadhi style Chicken preparation which is enjoyed most with Kolkata Dum Biryani. Chicken Chaap is a unique combination of well-cooked juicy chicken in rich oil based thick gravy. It's rich yet not spicy, rather extremely flavourful and finger licking good. This Chicken Chanp recipe is from Kolkata's famous restaurant, Arsalan which is better known as Arsalan Chaap these days.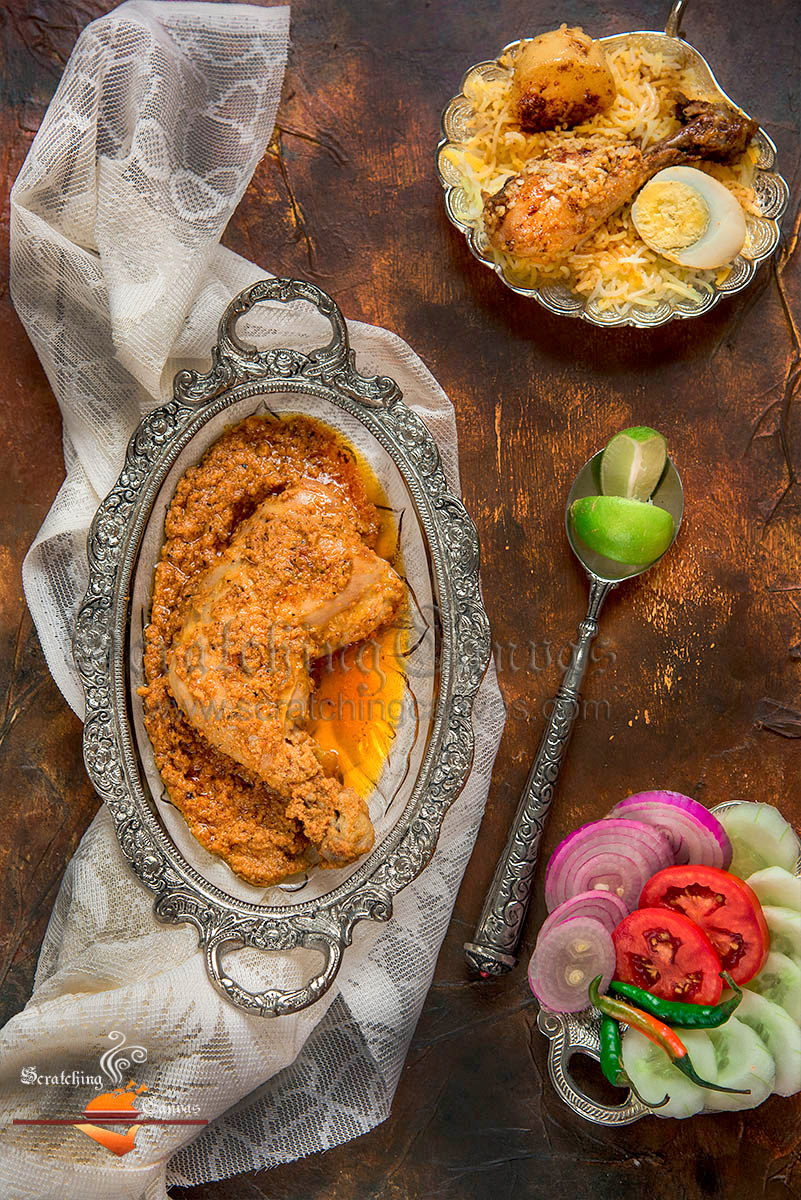 Chicken Chanp is an Awadhi derivation from Indian Mushlai cuisine. It is believed nawabs of Awadh, Lucknow who are originally from Persia, Iran had developed a taste of Mughlai food and their cooks had developed a new cuisine by combining their own cuisine with Mughlai. Hence the Awadhi cuisine was born. When one the Awadhi Nawab was banished to Kolkata he bought a pack of his own cooks who actually introduced Dum Biryani and Chicken Channp to Kolkata which after few decades turned into famous as Kolkata Biryani and Kolkata Chanp.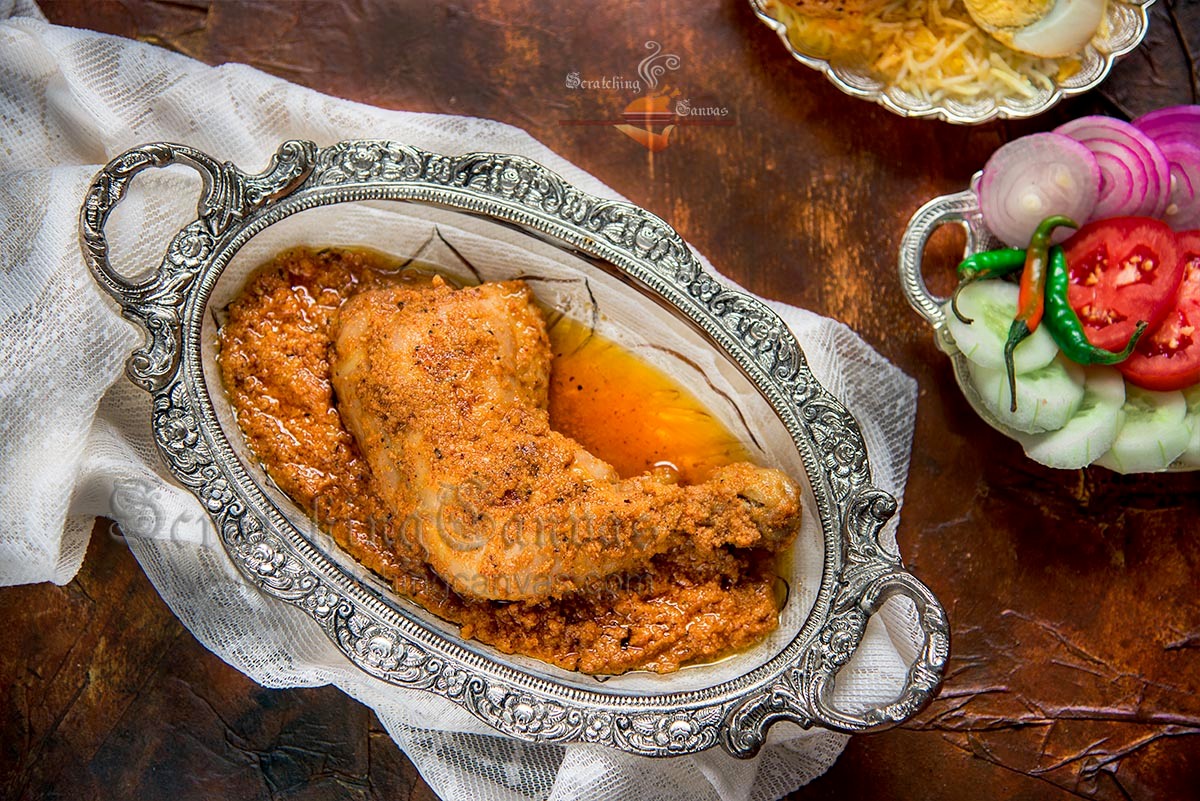 Kolkata has hundreds of Awadhi and Mughlai restaurants and they all cook brilliant food including chicken chaap and dum biryani. But over the period of time the original recipe of chaap and biryani had turned into many hands and got few makeovers for good or bad. That is why same old preparations look and taste differently in various eateries in Kolkata.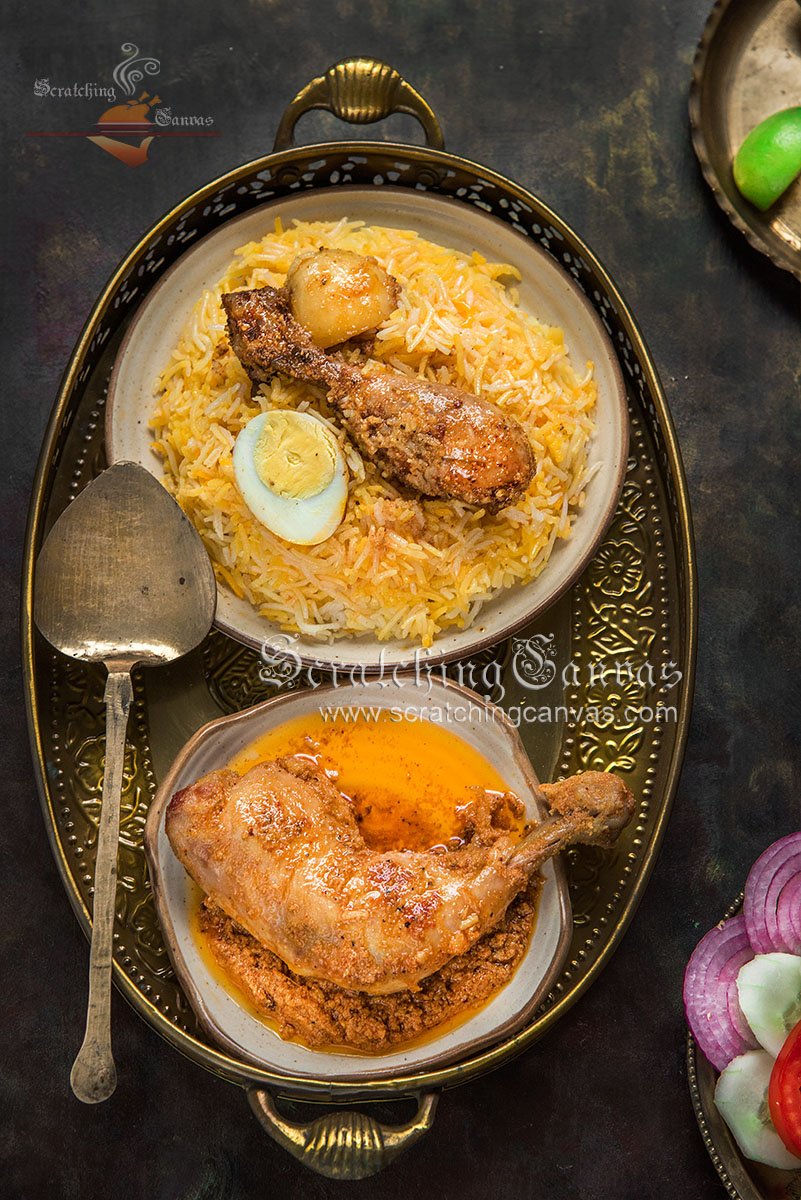 Chicken chaap is a simple yet elegant chicken preparation which required chicken leg pieces (whole leg not drumsticks) and handful of ingredients. The trick of juicy and moist chicken is the overnight marination. And then chicken is cooked (rather pan fried) in considerable amount of oil or ghee along with poppy seed paste. The 'Awadhi flavour' and fragrant comes from mixture of saffron infused milk and kewra water. Sometimes meetha attar is also added to enhance the richness in flavours.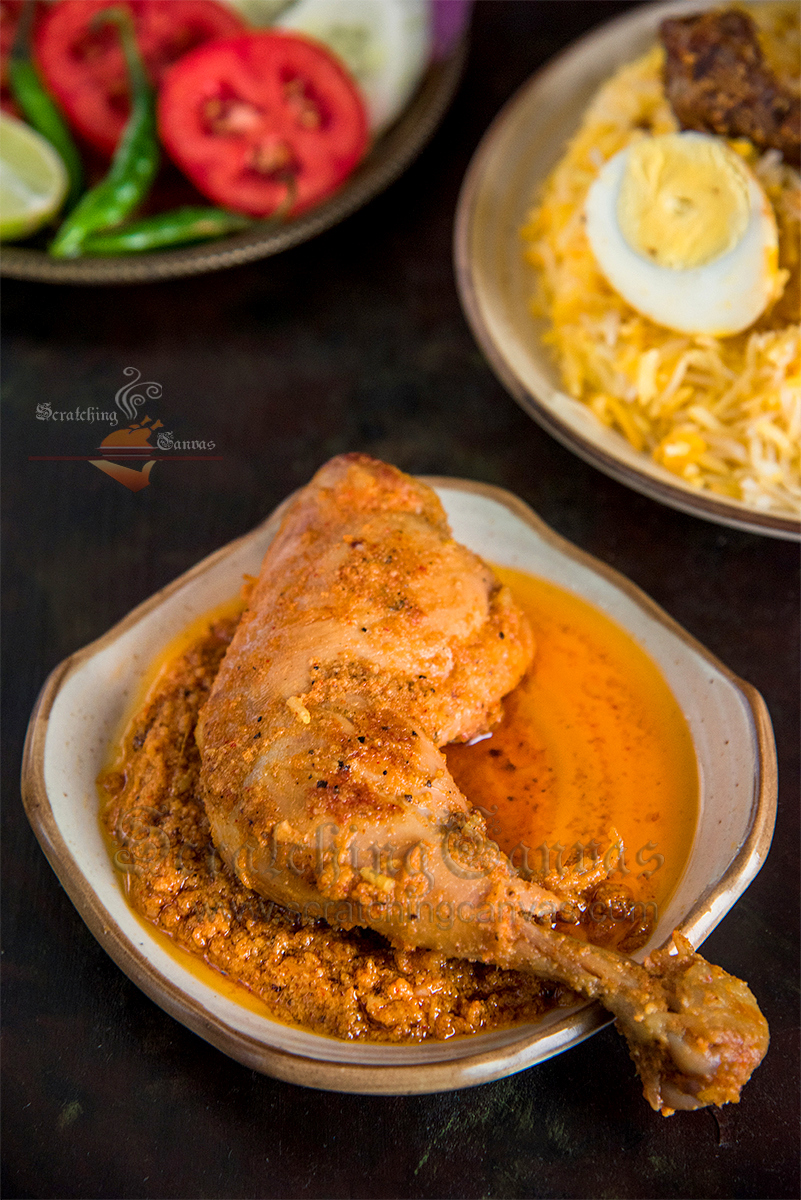 Watch detailed Video of  Bengali Chicken Chaanp Arsalan style Recipe.
Read the entire recipe and Notes carefully before you start cooking. Do make sure all ingredients are at room temperature (unless mentioned) and weighed or measured correctly in appropriate weighing scale or measuring instruments such as cups or spoons. Remember these are not regular cups or spoons which is used in daily life.
Arsalan Style Chicken Chaanp It is an old post from early days of my blogging career though it is one of the most searched recipe on my blog. And I don't have a heart to make any changes on that particular post. So I'm adding a new page with the VIDEO and NEW IMAGES. And this time I did few tiny changes in the recipe too. But you can always check the OLD Recipe of Arsalan style Chikcken Chanp anytime.
SERVING & STORAGE:
Chicken Chaap tastes best with Kolkata Mutton Biryani, it is one of the most ordered restaurant food in Kolkata or Bengali eateries. Chicken Chanp tastes also good with Lachha Paratha, Tawa Naan.
Store excess chaap in airtight container under refrigeration and consume within 2 days.
Have you tried/cooked any of the recipes from my blog Scratching Canvas? If yes I would love to know your feedback and opinion. Take a picture of your cooked food and share on Instagram with the hashtag #scratchingcanvas. I will share your picture and opinion publicly. See you there 🙂
EAT, LOVE & ENJOY! REPEAT!!!
You may also like these Mughlai Preparations