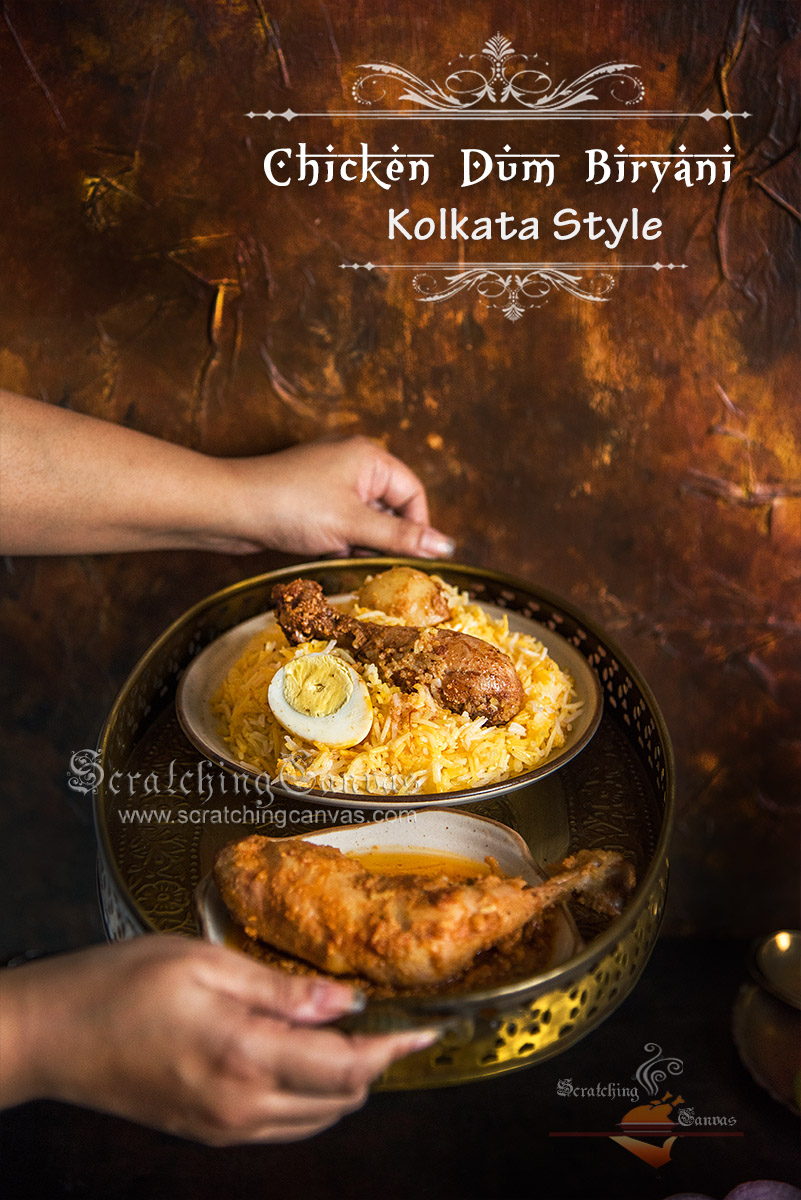 Kolkata Chicken Biryani or Bengali style Chicken Dum Biryani is an epitome of indulgence in delicate delicious food. Biryani itself is a medley of rice, meat and spices though it has (probably) 1000 variations across the world. Typical Kolkata biryani which is adopted from Awadhi style Biryani offers fragrant Dehradun rice, mild flavoured spices, spicy chicken, aroma of metha attar & kewra water and richness from desi ghee. And of course well-seasoned potato and hard boiled eggs are what makes any Kolkata Biryani standout in the crowd of biryani world.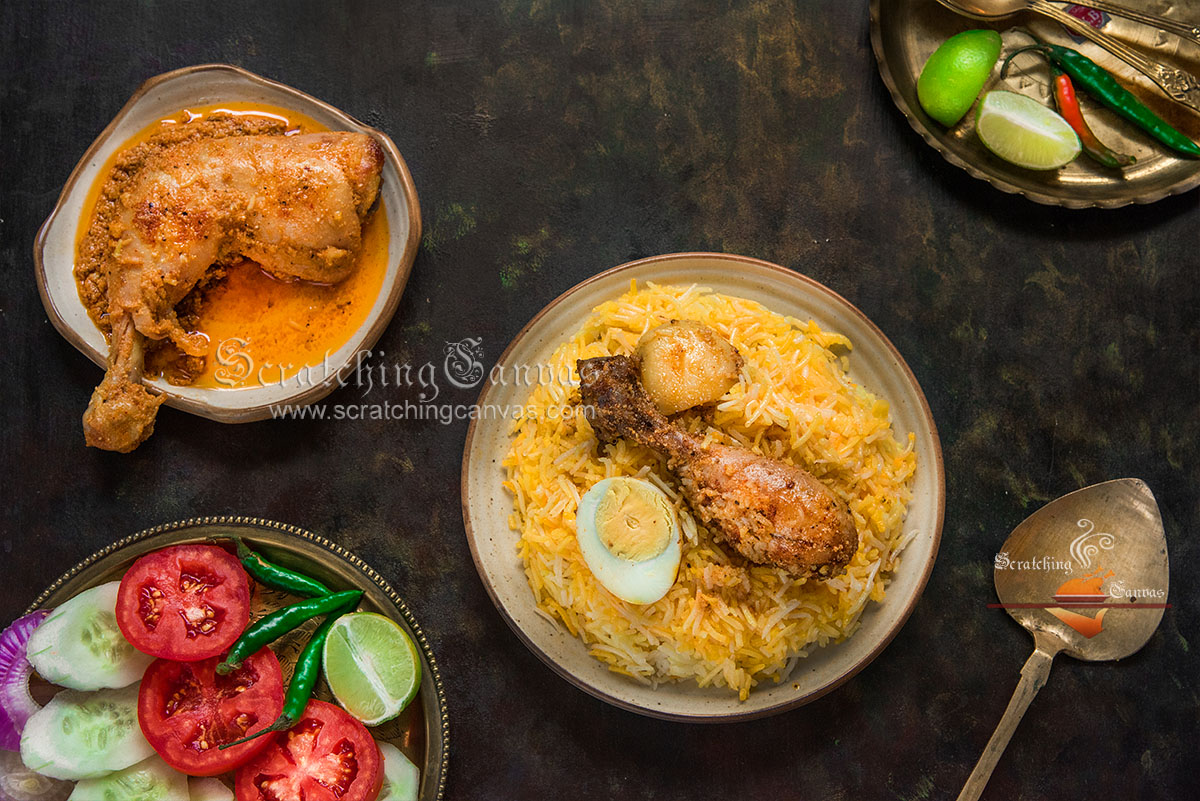 As I mentioned in my Chicken Chaap post Kolkata Mughlai cuisine is heavily influenced by Awadh, Uttar Pradesh. When nawab of Awadh was sent to Kolkata in the period of British Raj he had brought his own cooks and servers along with his own crew. And Biryani, Chaap and various kebabs were regularly cooked preparations for his highness in their newly setup special kitchen. But with the controlled cash flow (from British Governor) it became quite a challenge for the royal chefs to maintain unlimited supply of biryani-chaap for happiness of nawab.
So they had introduced boiled and well seasoned potato and hard boiled eggs in biryani along with reduced amount of meat. And gradually metha attar, kewra water also added in the rice to increase the glamor quotient. Thus biryani looked full and sufficient and royal which has turned into famous Kolkata Dum Biryani with time.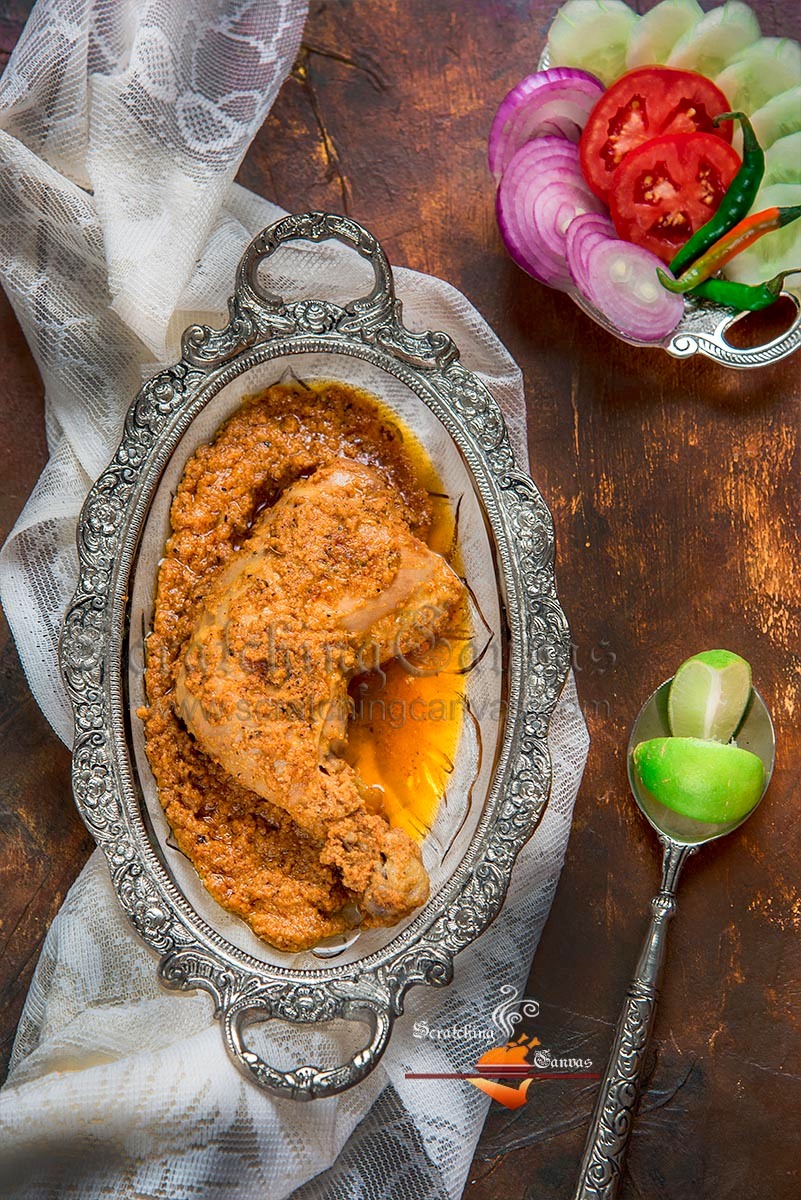 This Kolkata Chicken Dum Biryani has seen so many evolution over time that now we have few variations of the very same biryani. There is no right or wrong in the world of culinary; cooking is an art and there shouldn't be any black and white in any form of art. The core ingredients like cooked rice along with whole garam masala, chicken marinated in yogurt and spices are cooked along with potato and boiled eggs these things remain unchanged in any form of Kolkata Biryani. Rest things are keep changing.
The famous Royal Indian Restaurants always cook their biryani in pure virgin mustard oil along with their secret spices; Arsalan, another famous restaurant adds ghee with white oil in their biryani and they never adds saffron or turmeric in their biryani. But they all make equally delicious biryani for us.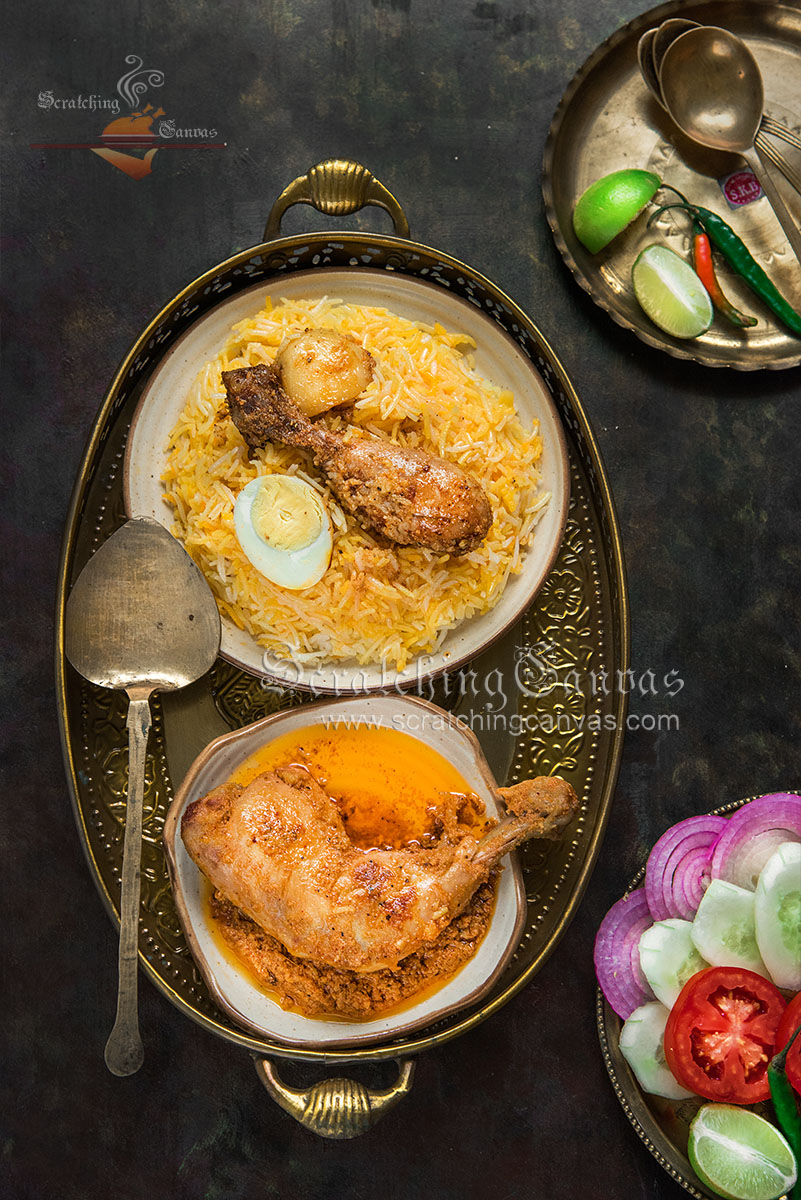 Watch detailed Video of  Kolkata Chicken Dum Biryani Recipe.
Read the entire recipe and Notes carefully before you start cooking. Do make sure all ingredients are at room temperature (unless mentioned) and weighed or measured correctly in appropriate weighing scale or measuring instruments such as cups or spoons. Remember these are not regular cups or spoons which is used in daily life.
SERVING & STORAGE:
Kolkata Chicken Dum Biryani and Kolkata Mutton Biryani both tastes best with Kolkata Chicken Chaap, it is one of the most ordered restaurant food in Kolkata or Bengali eateries. Chicken Dum Biryani tastes also good with Rezala or Mutton Kosha.
Store excess biryani in airtight container under refrigeration and consume within 2 days.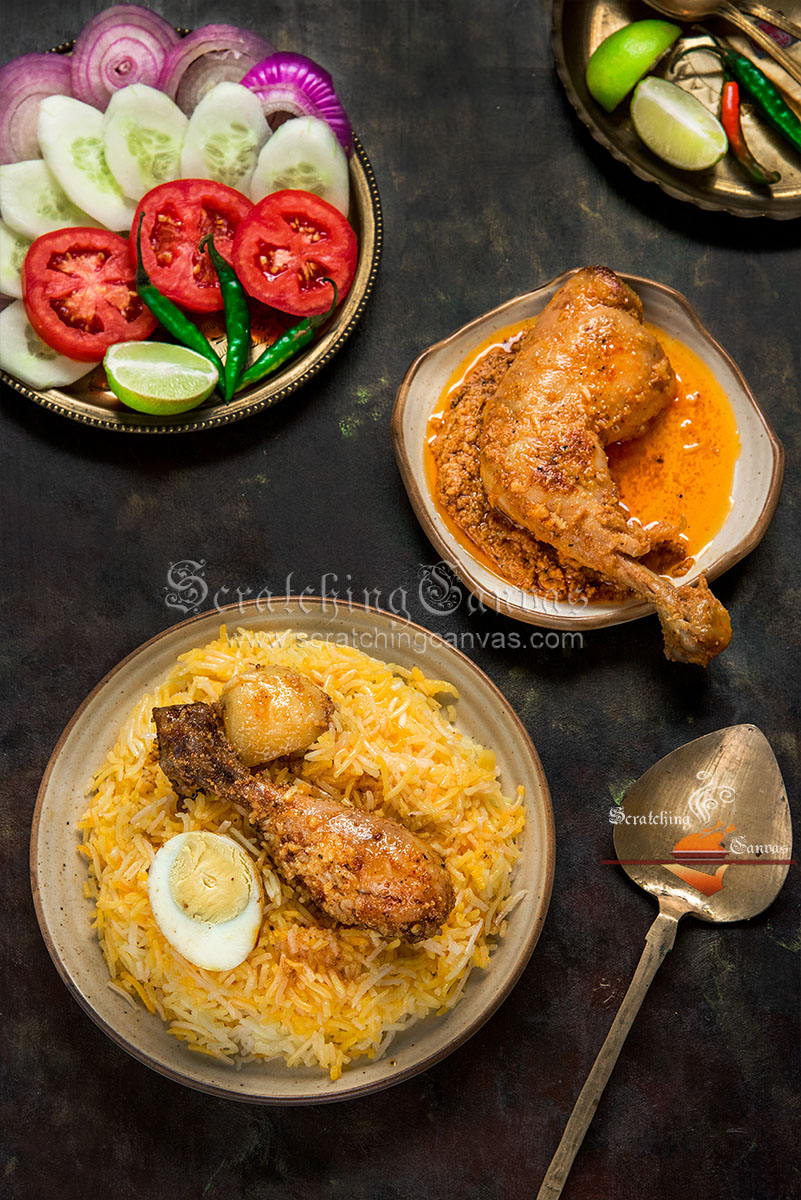 Kolkata Chicken Biryani | Bengali style Biryani | Murgh Dum Biryani
Ingredients
Biryani Spices:
Green cardamom: 6-7
Black cardamom: 1-2
Cloves: 1 tsp
Cinnamon: 1" x 2
Mace: 1 floret
Nutmeg: ¼
Star anise: 1
Cumin seeds: 1 tsp
Fennel: 1 tsp
Black peppercorn: 1 tsp
For Biryani Rice
Basmati rice: 2 cups
Bay leaves: 1
Green cardamom: 3-4
Black cardamom: 1
Cloves: 4-5
Cinnamon: 2" stick
Mace: 1 floret
Nutmeg: ¼
Cumin seeds: 1 tsp
Black peppercorn: 1 tsp
Salt: 1 tsp
Ghee or clarified butter: few drops
For Marinade
Chicken (with bone): 500g
Hung curd: 3-5 tbsp
Ginger Garlic paste, freshly made: 1 tbsp
Red chili powder: 1 tsp
Kashmiri red chili powder:1/2 tsp
Black pepper powder: ⅓ tsp
Biryani masala: 1 tbsp
Salt: 1 tsp
Other Ingredients
Onion: 2, large
Potato: 2-3, medium to large
Hard-boiled egg: 3
Saffron strands: 8-10
Warm milk: ⅓ cup
Metha Attar: 2-3 drops
Kewra water: ½ tsp
Ghee or clarified butter: ¼ cup
Instructions
Take a cast iron skillet or tava. Dry roast all the ingredients separately and make a powder of all dry roasted spices. This mixed spices is known as Biryani Masala.
In a large bowl beat hung curd, mix all ingredients (except salt and chicken) to make a smooth paste. Add chicken and salt and keep aside for 4-5 hrs or at least 1 hr.
Wash and clean the rice and soak for 30 mins. Make a pouch of muslin with all the ingredients of rice except rice, salt, ghee and bay leaves and seal. Bring water to boil with bay leaves, salt, ghee and spice-bag in a large pot, add rice and cook until rice is half done.
Drain water and spread the rice on a flat surface. Discard the bay leaves and spice-bag.
Heat 3 tbsp of ghee in a wok and fry thinly sliced onion till golden brown. This is known as Barista. Remove from oil and keep on paper towels until needed.
Fry potatoes and egg separately in the same pan. It will make the potatoes juicier and also gives a flavor to the eggs. Fry until potato is half-one. Remove from oil and keep them aside.
Shake off the marinade from chicken pieces and add chicken into the pan and continue frying on medium flame until chicken is half done. Remove chicken from oil and keep separately.
Now in the same pan add the reserved marinade, cook along with potato and eggs until raw smell is gone and oil floats on top of spices.
Soak the saffron strands in warm milk and keep aside for 5 mins. Rub the strands in milk to dissolve them completely. Add metha attar and kewra water and keep aside.
Now take a large pot and arrange the rice, gravy, chicken, potato and eggs in layers separated by ghee, saffron milk only and biryani masala only. Cover the edge of the pan with atta dough and seal with the cover.
Heat a heavy duty iron tawa on gastop and place the biryani pot on it. Now cook it on lowest flame for 35-45 mins.
Once done switch off the flame, keep biryani on tawa for another 10-15 mins to absorb flavours. When ready to eat break seal of atta dough and serve Kolkata Chicken Dum Biryani immediately. Enjoy!
Have you tried/cooked any of the recipes from my blog Scratching Canvas? If yes I would love to know your feedback and opinion. Take a picture of your cooked food and share on Instagram with the hashtag #scratchingcanvas. I will share your picture and opinion with all. See you there 🙂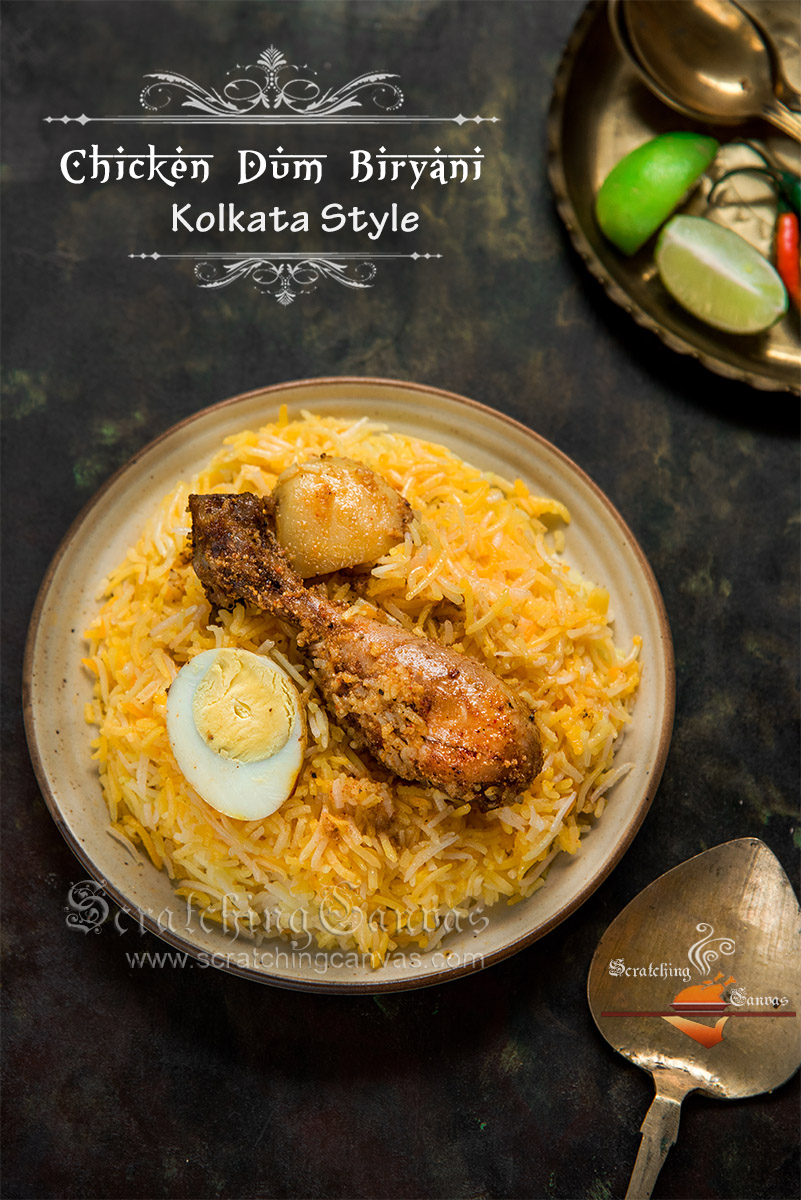 EAT, LOVE & ENJOY! REPEAT!!!
You may also like these Kolkata style Mughlai Preparations