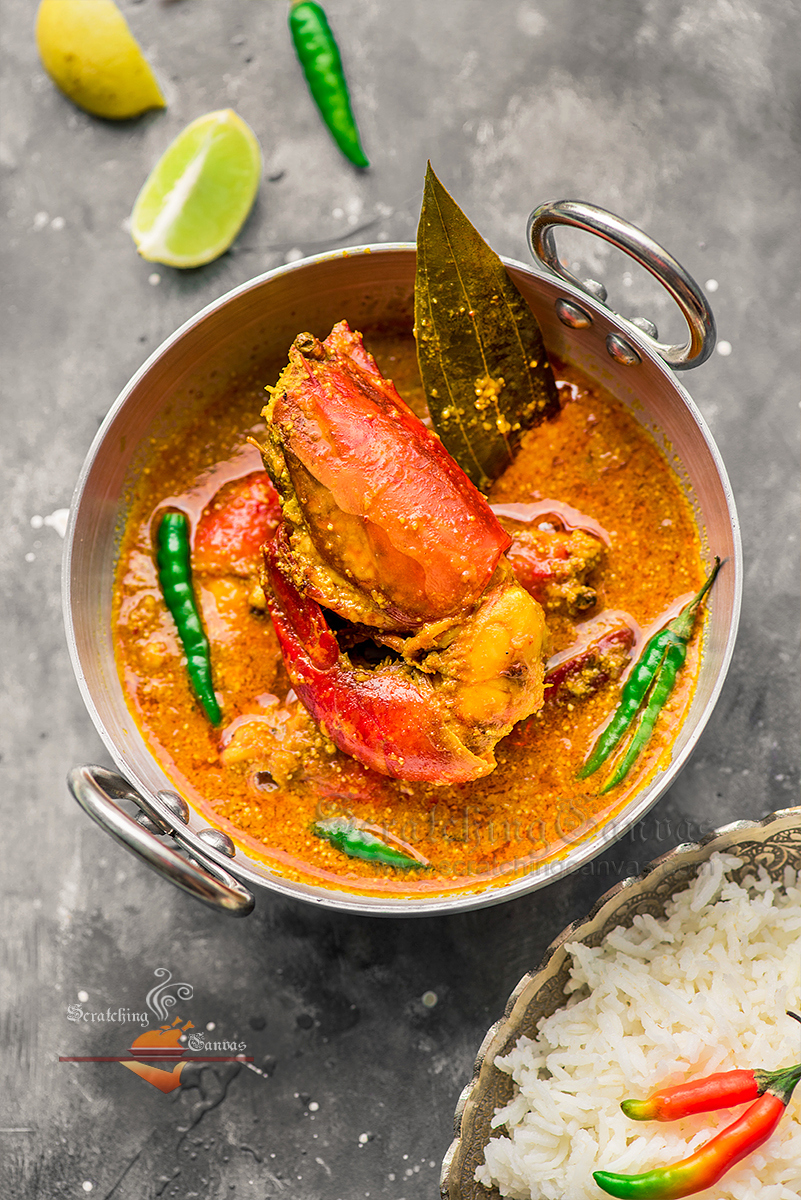 Golda Chingri'r Malaikari is a classic Bengali preparation with Lobster or prawns and coconut milk. This silky smooth creamy yet surprisingly light gravy is perfumed with Bengali gota gorom moshla (whole spices) and flavoured with ginger, fresh green chilli and of course none other than shorsher tel (virgin mustard oil). The creaminess in the gravy comes from a secret ingredient which makes my family recipe of Chingri Malaikari the best among all.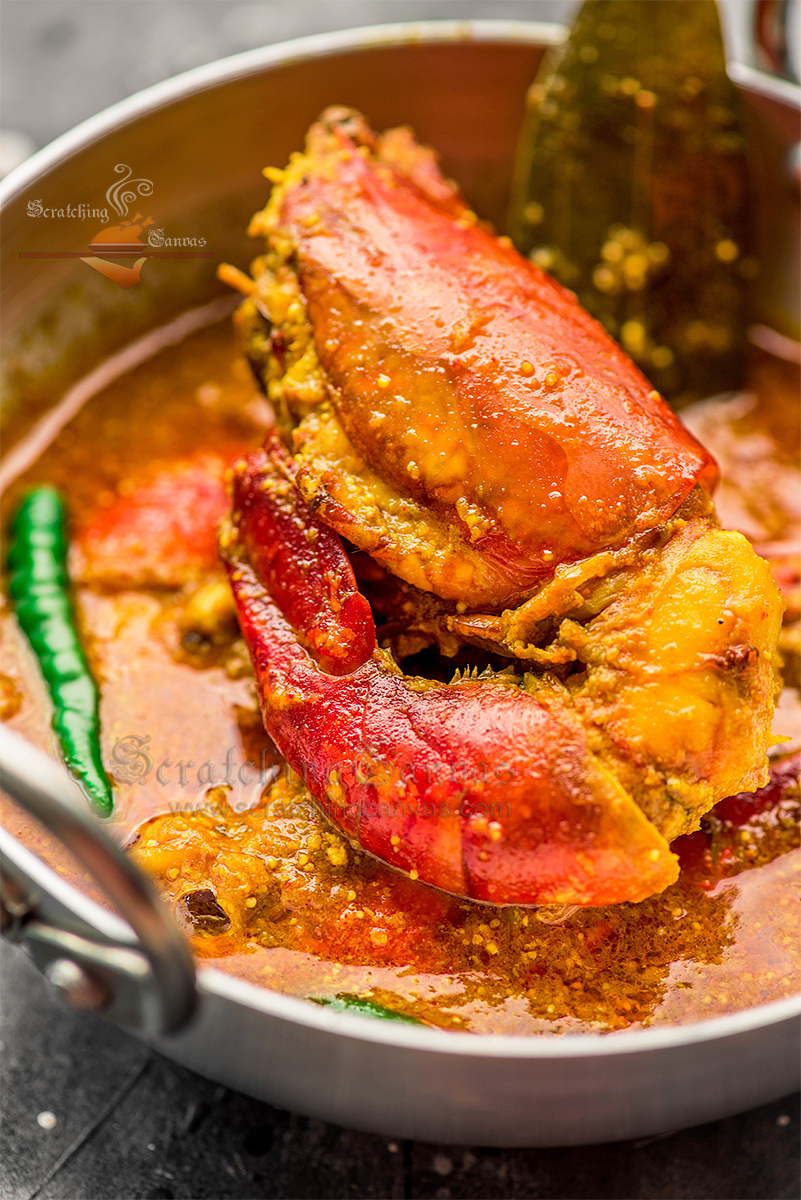 This creamy velvety Golda Chingri Malaikari is a royal looking rich preparation. And malaikari always calls for good quality golda chingri (lobster) or bagda chingri (tiger prawn) with their head attached. The head of the prawn adds a whole new dimension to the dish. The word Malaikari is actually a local abbreviation of Malay Curry meaning a curry from Malaysia. But on the contraction another opinion because of the usage of (coconut) cream or malai in hindi it is known as Malai Curry. Whatever the reason is we bengalis love our Chingrir Malai Curry and feel quite proud about bengal's this creation.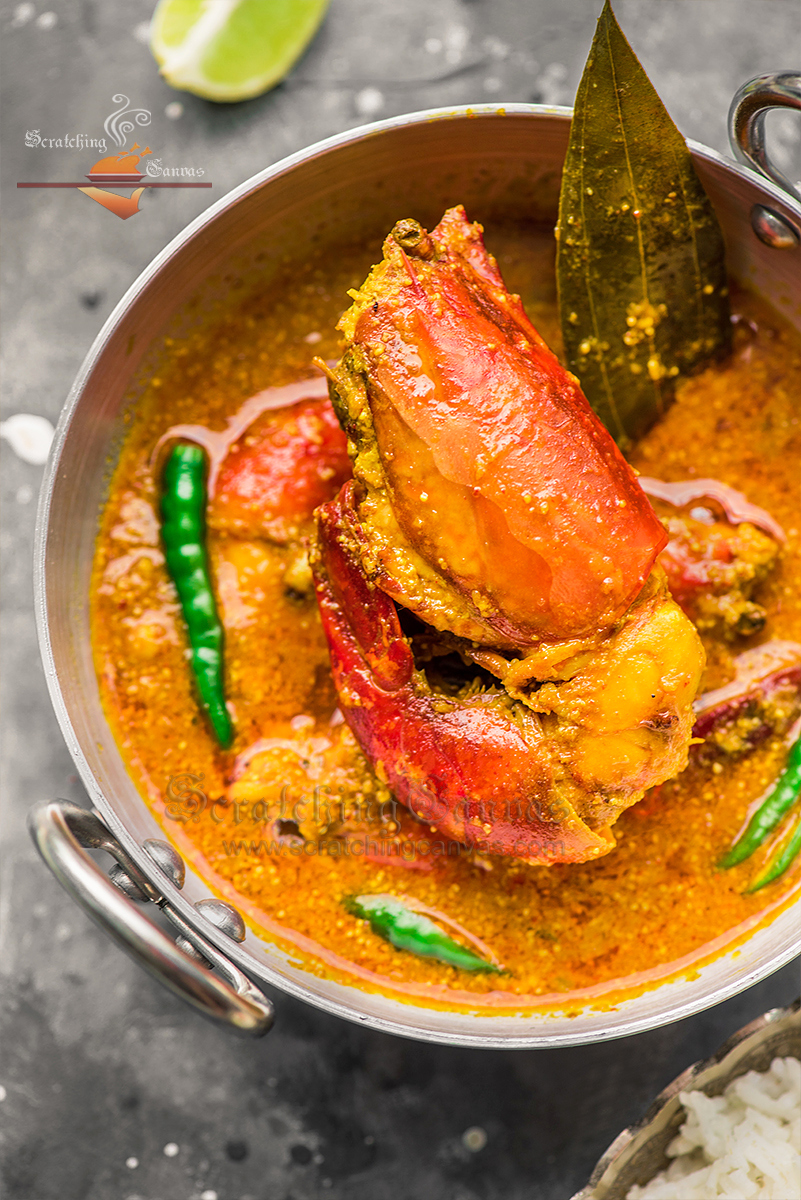 Watch detailed Video of  Golda Chingri'r Malaikari Recipe.
Read the entire recipe and Notes carefully before you start cooking. Do make sure all ingredients are at room temperature (unless mentioned) and weighed or measured correctly in appropriate weighing scale or measuring instruments such as cups or spoons. Remember these are not regular cups or spoons which is used in daily life.
SERVING & STORAGE:
Chingri Macher Malai Curry tastes best with steamed rice or Basanti Polau.
Store excess Malai Curry in airtight container under refrigeration and consume within 2 days.
Golda Chingri'r Malaikari | Bengali Chingri Macher Malay Curry | Prawn Curry in Coconut Milk
Ingredients
For Marinade:
Golda Chingri or Lobster: 4
Turmeric powder: 1 tsp
Salt: ½ tsp
For Tempering Oil:
Bay leaf: 1-2
Cinnamon stick: one 2" stick
Green cardamom: 4-5, freshly crushed
Fresh green chilli: 1, cut into halves lengthwise
Mustard oil: ¼ cup
Others:
Red onion: 1, large
Ginger: 2" stick
Green chilli: 4-5
Turmeric powder: ½ tsp
Red chilli powder: 1 tsp
Coconut milk: 200 ml
Sugar: 1 tsp
Salt: 1 tsp
Instructions
Wash and clean lobsters carefully; devein but keep the head attached. The juicy brain is the secret of good Malaikari.
Smear lobsters with turmeric and salt and keep aside for 30 mins.
Heat mustard oil (another magic ingredient for best malaikari) in deep bottomed pan and fry each lobster very carefully until coloured into golden from both sides. Flip once and cook not for than 5 mins in total. Over cooked lobsters turned into rubbery texture which is quire unappetizing. Remove from oil with a slotted spoon and keep in the serving bowl. The dripping oil from lobsters will add extra flavours into the curry.
Temper the same oil with all ingredients under 'tempering oil'.
Make a paste of the onion and once masala starts spluttering add the paste to oil. Fry the paste for
Make a paste of ginger and 2 green chilli and add to the pan; sauté for 1 min. on high flame.
Now add all dry spices including sugar and salt and mix well.
Once oil starts oozing out from sides add posto bata (poppy seed paste) and fry for 1-2 mins or until mixed together with spices.
Turn the flame to lowest and add coconut cream. Mix well.
Pour warm water, stir gently and bring it to boil.
Add fried prawns/lobsters and stir lightly. Cover the pan and keep on simmer for 5 mins.
Flip prawns carefully and turn off the flame. Add dollop of ghee and fresh green chilli and keep on stand by for 5 more mins. Then serve hot with steamed rice.
Have you tried/cooked any of the recipes from my blog Scratching Canvas? If yes I would love to know your feedback and opinion. Take a picture of your cooked food and share on Instagram with the hashtag #scratchingcanvas. I will share your picture and opinion with all. See you there 🙂
EAT, LOVE & ENJOY! REPEAT!!!
You may also like these Bengali Classic Preparations