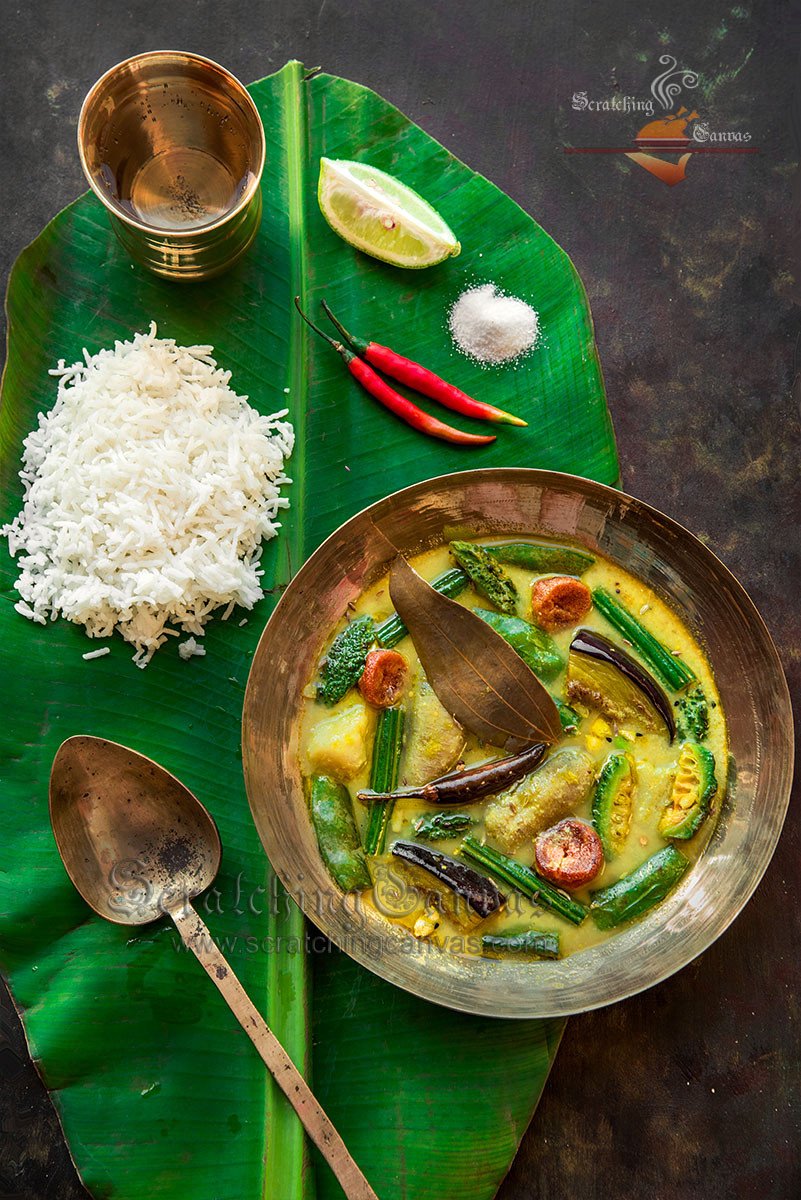 Shukto is one of the simplest traditional Bengali preparations which can be cooked with arrays of vegetables (read whatever you have in your pantry) and minimal spices. Another interesting thing is this Sukto is truly Bengali preparation without any influence from other cuisines or regions. This Bengali style vegetable stew has several variations over Bengal yet most widely cooked pure vegetarian dish. It won't be wrong to call it the bitter-sweet symphony of Bengali cuisine.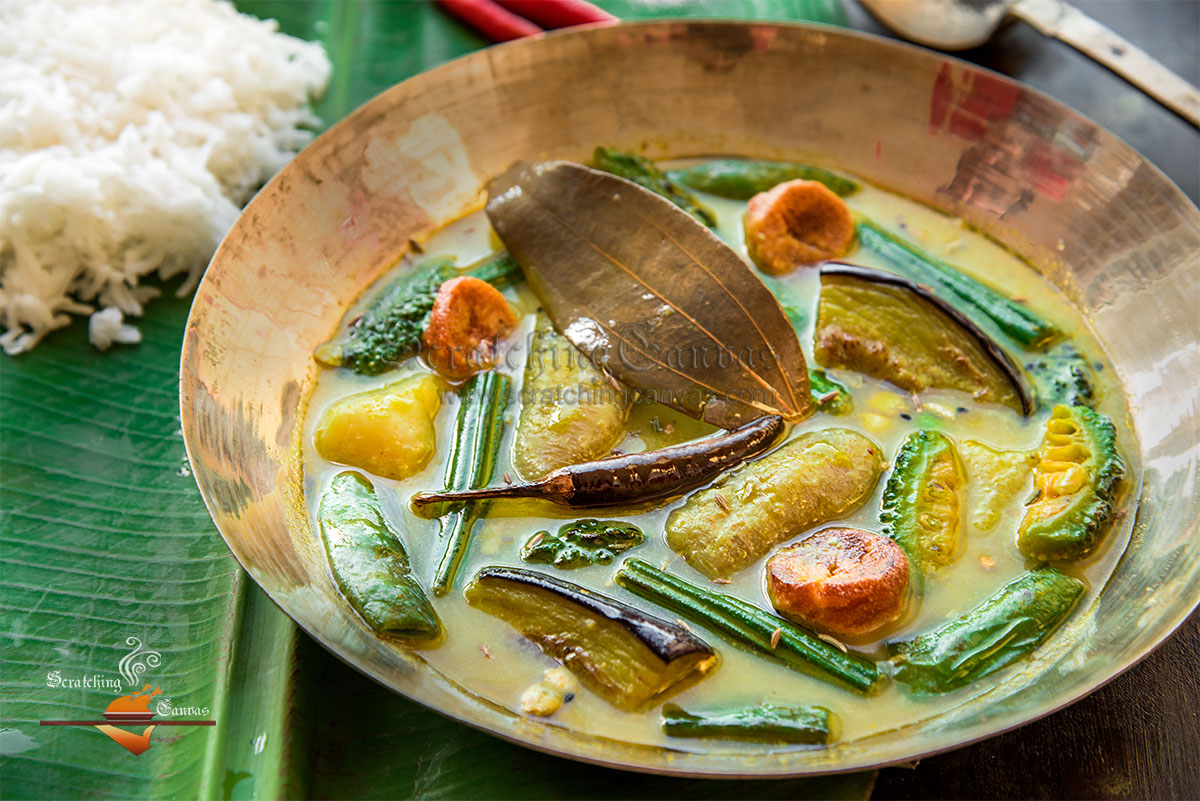 Sukto is a delectable and unique medley of various vegetables. That is why there are plenty of variations cooked in Bengali kitchen on regular basis. Most popular are Dal Sukto, Lau'er Shukto, Pepe'er Suktu, Dudh Shukto. And that's not all; there are few popular no vegetarian versions also available like  Ilish Shukto, Chingri Shukto. Whatever the vegetable list contains one thing is fixed there should be a bitter vegetable. The stew shouldn't be either spicy or salty or tangy rather it would be a combo of mild flavours.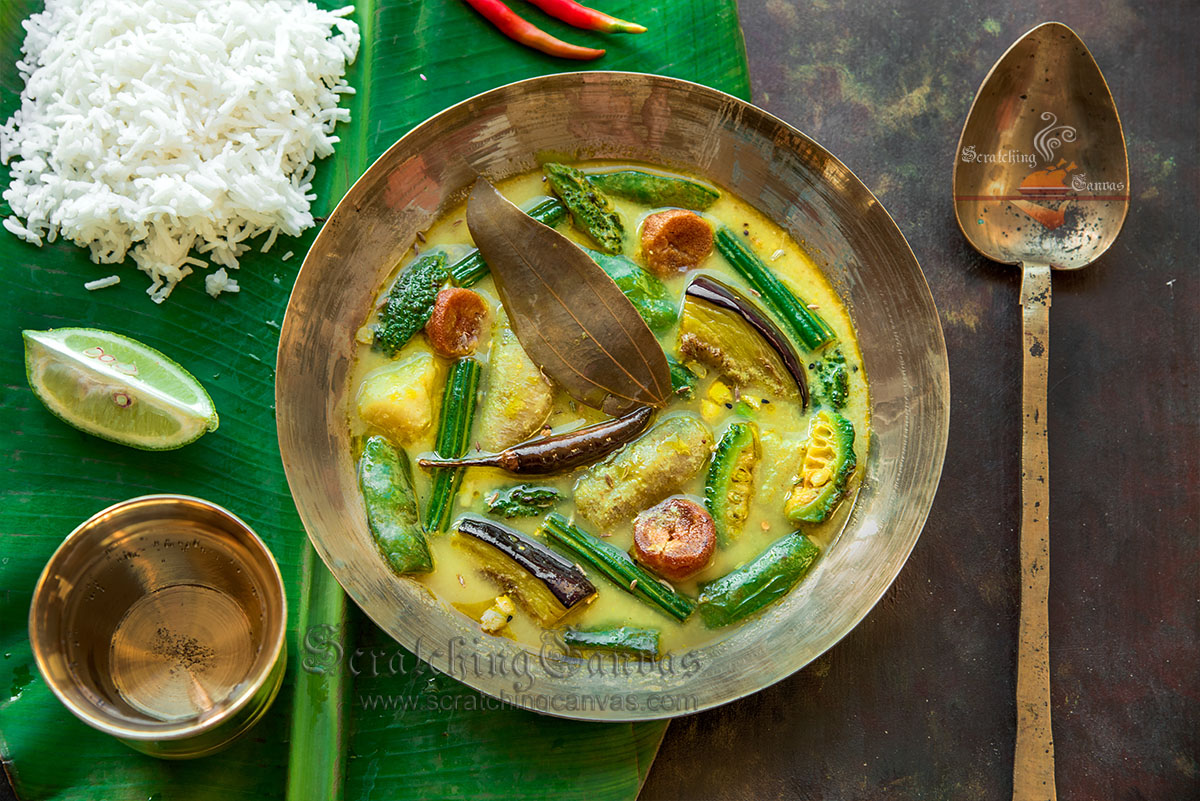 Sukto can be prepared two different procedures depending on how you want your veggies done. I fry all the veggies together if I am making Biye bari style Shukto. Because this particular recipe has more flavouring agents like coconut paste, poppy seed paste, mawa and other spices. But if I am making simple sukto for daily meals I fry all veggies separately. It gives a nice crunch in each veggie and doesn't end up tasting like panchmishali. But both processes produce equally delicious suktu. Follow whichever is suitable to you.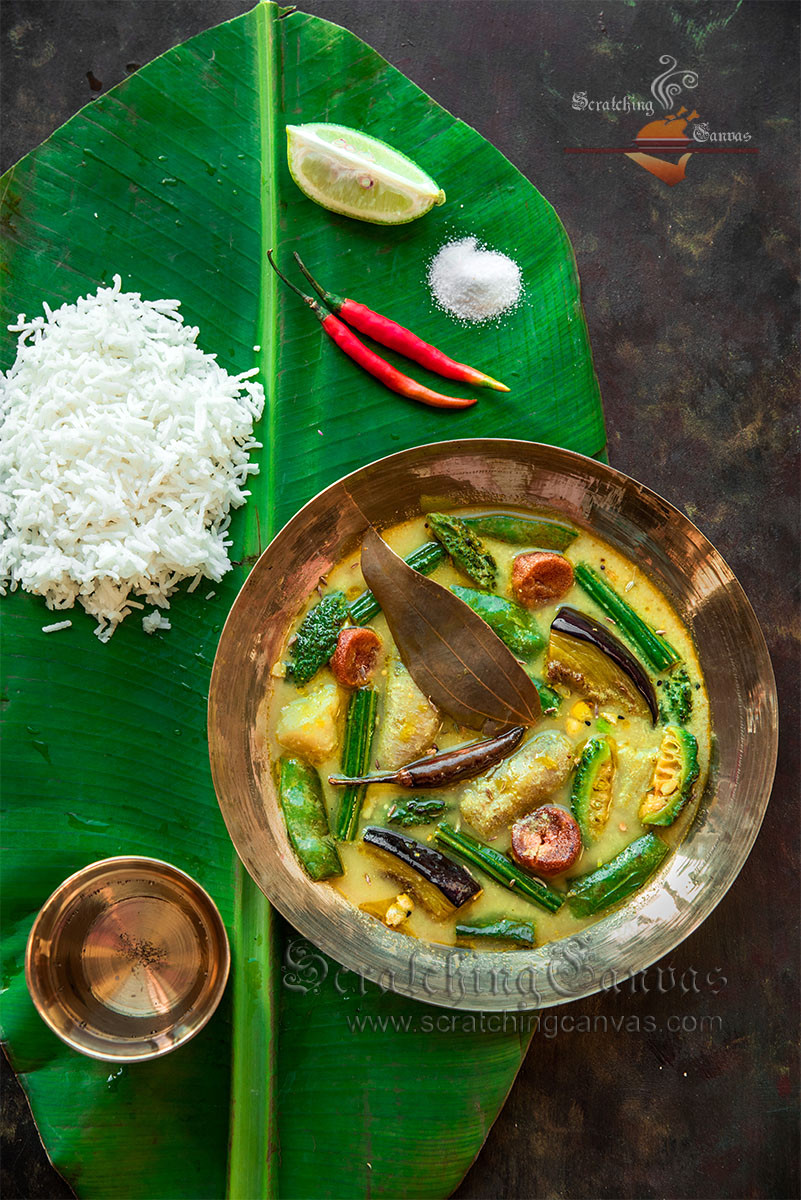 Watch detailed Video of  Shukto Recipe.
Read the entire recipe and Notes carefully before you start cooking. Do make sure all ingredients are at room temperature (unless mentioned) and weighed or measured correctly in appropriate weighing scale or measuring instruments such as cups or spoons. Remember these are not regular cups or spoons which is used in daily life.
SERVING & STORAGE:
Serve Shukto immediately with Groom Bhaat (steaming rice) followed by Begun Bhaja (fried Eggplant), Alu Posto (potato in poppy seed paste), Shorshe Murgi. And finish the meal with Kancha Aam'er Chatni and Sandesh.
Store Excess shukto in airtight container under refrigeration and consume within 2-3 days.
Shukto | Bengali Vegetable Stew |
Ingredients
Vegetables
Aloo, Potato: 1, medium
Kachkola, Raw banana or plantain: 1
Lau, Bottle gourd: 6-8 big chunks or half of 1 medium sized lau
Begun, Eggplant: 6-7 pieces or 1 small sized
Sheem, Snow Peas: handful
Danta, Drumstick: 1, cut into bite size pieces
Uchhe, Bitter gourd: 6-7, cut into quarters
Tempering Oil
Ghee, clarified butter: 1 tsp
Bay leaf: 1-2
Dry red chilli: 1
Panchforon, Bengali five spice: 1 heaped tsp
Ginger, freshly pounded/grated: 2 tsp
Others
Posto bata, Poppy seed paste: 2 tbsp
Shorshe bata, Mustard seed paste: 2 tsp
Coconut milk: ½ cup
Shukto Malsala or Bengali Garam Masala: 1 tsp
Sugar: 1 tsp
Salt: 2 tsp
Mustard oil: ½ cup
Bori, wadi, lentil dumpling: 10-12, medium sized
Instructions
Pour mustard oil in a deep bottomed pan and heat to smoking point.
Fry each vegetable separately till veggies just begin to soften. Keep the fried vegetables separately until needed. Begin frying with potato and end with bitter gourd.
Fry bori/wadi and keep aside. Add more mustard oil if required.
Heat ghee in the same pan and temper with bay leaf, dry red chilli and panchforon.
Add ginger and fry for 30 secs.
Gradually add posto bata and shorshe bata along with sugar and salt. Fry for another minute or until raw smell is gone.
Once masala leaves oil, add coconut milk little by little and mix well.
Once bubbles start forming add warm water and bring it to boil.
Add all veggies at once into the pan; cover and cook for 10 mins.
Adjust seasoning. Add bori and freshly grounded shukto masala (use Bengali garam masala in absence of shukto masala) and serve immediately with steamed rice.
EAT, LOVE & ENJOY! REPEAT!!!
You may also like these Bengali Traditional Preparations