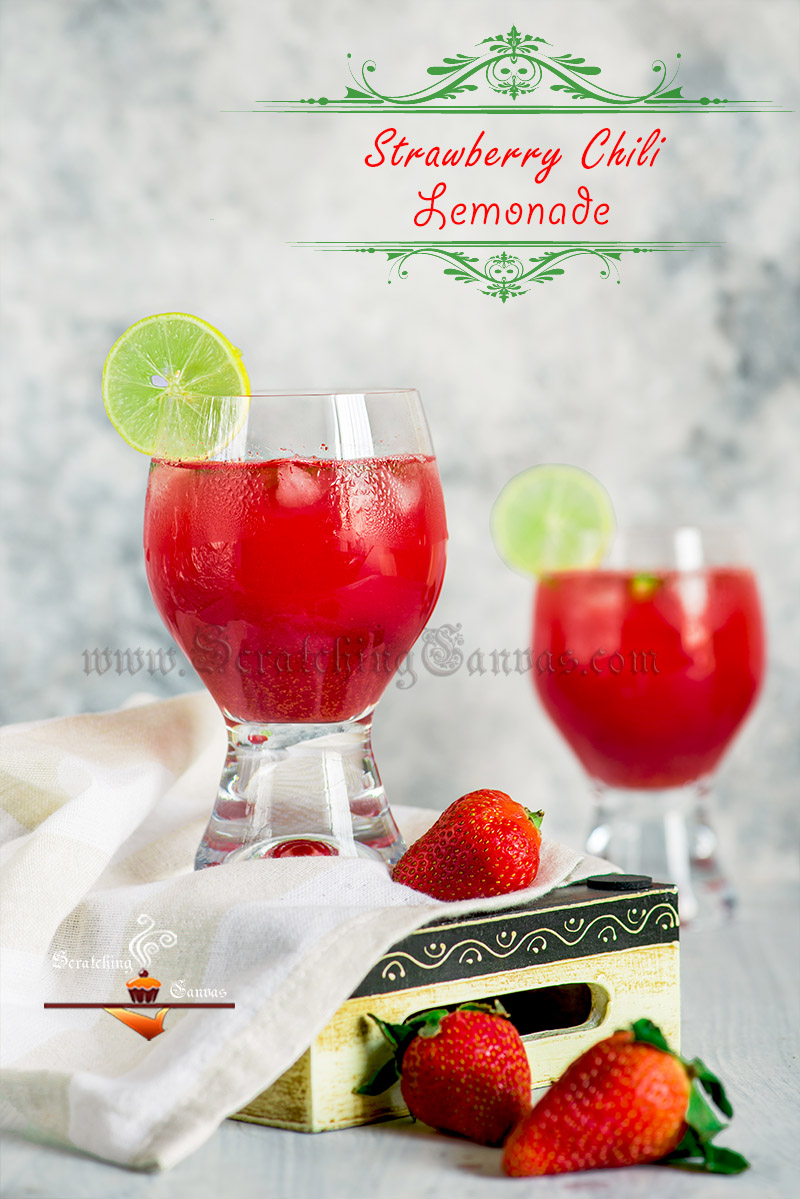 Strawberry lemonade is a delicious berry version of popular non-alcoholic beverage lemonade. It has been long time since I had shared Irish Red Lemonade, eight months precisely. So now it's time for another one; Strawberry Lemonade, but with a hot twist 😉 This is not just sweet and tangy; it is spicy as well and extremely refreshing. This bright red lemonade is loaded with fresh strawberries, flavoured with ginger and chilli (yes you read it correct my friend, it is chilli). The blend of chilli into the lemonade gives a new high to regular strawberry lemonade.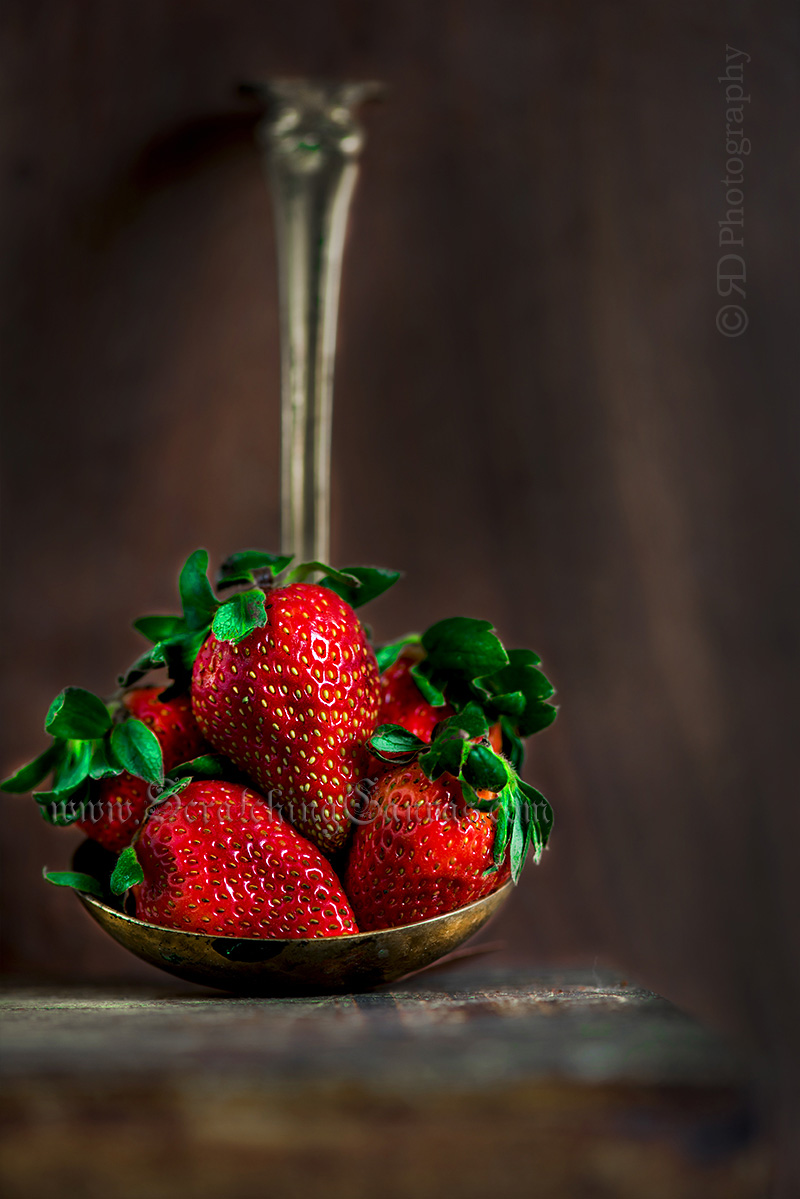 The month of February is my favourite from the 1st half of the year. This is the time when nip is still in the air; Saraswati Puja/Basant Panchami has just passed and next Indian festival, Holi is a month ahead. Hence we fill this gap with Valentine's Day 'festival'.  It is the best time to do some window shopping if not doing any actual shopping! All shops get makeover; dress shops/boutiques, jewelries and gift shops all are painted in various shades of red. It is literally fifty shades of Red in February. And most adorable thing on sight is different shapes of red hearts and balloons on everything. It's kind of pleasure for both eyes and soul to me!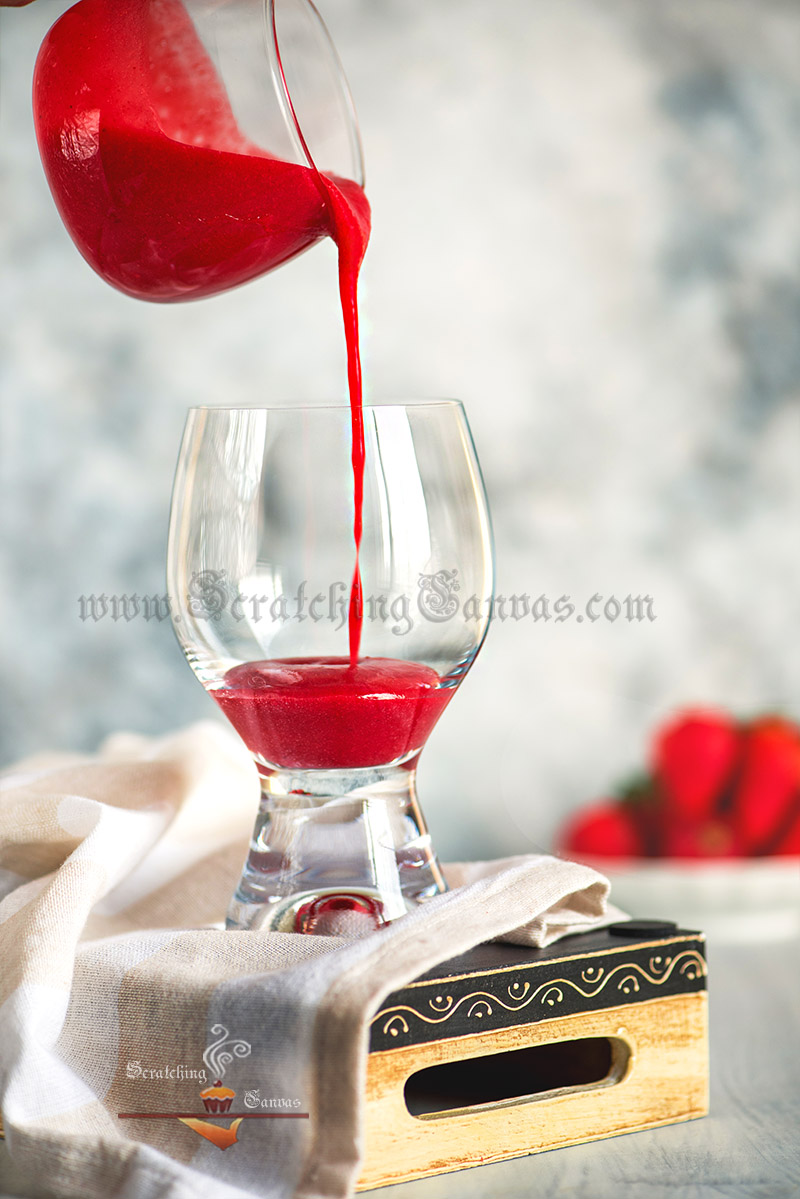 When it comes to the colour red I just can't get enough of it; it's my favourite (I'm sure by now you've already got the point). Then how come I cannot love luscious red strawberries? I adore them but from a safe distance as I'm unable to consume tart or sour food items for medical reasons. Every year when they come to the market I feel very excited and sad at the same time when I see them at fruit vendors. But before I can find of a way to involve them in my food they go away with a blink of eyes. So this year when I noticed the first batch of strawberry I just bought it (I had to) and then thought what to do with it.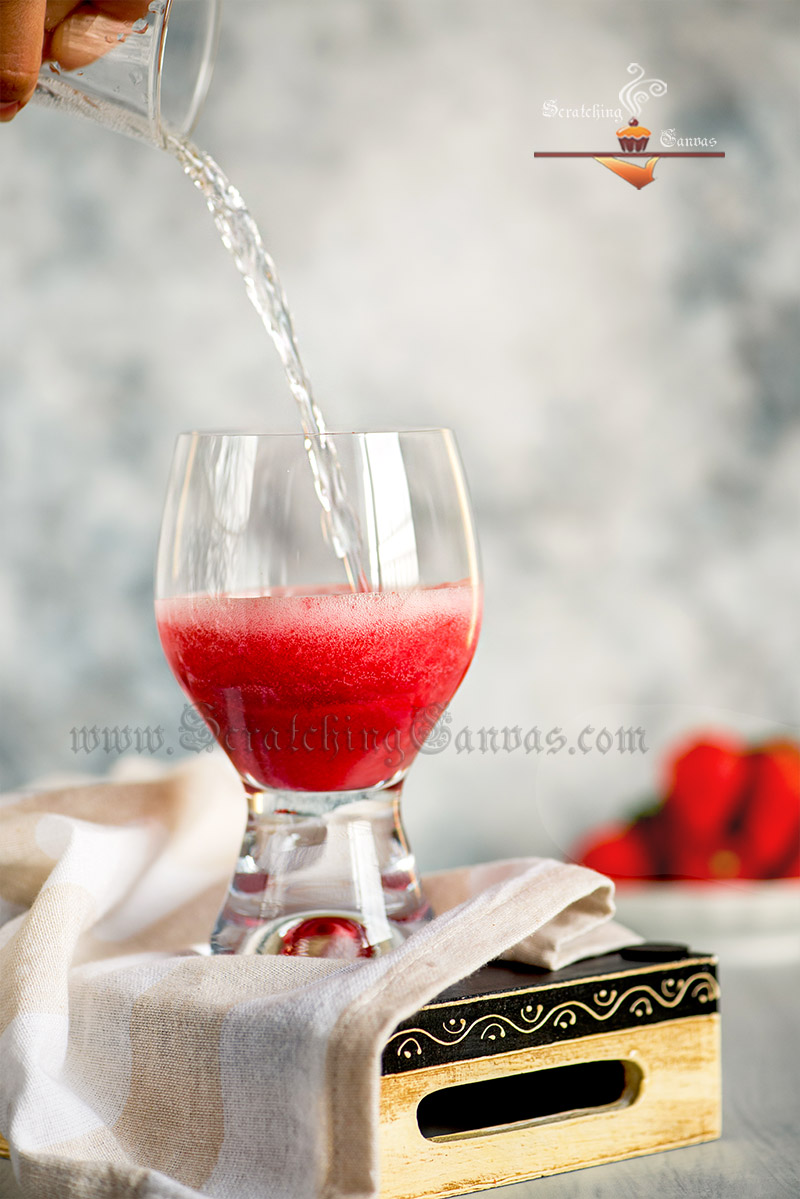 That batch was gone with my Strawberry Rose Preserve/Jam (pectin free) and next two batches were flushed into my vegan milkshakes. Then I realized I did not take a single picture of this ravishing beauty!! Hence another fresh batch just arrived and my photography-craving itchy hands got some satisfying results! Now when the primary reason of strawberry shopping was done why not make a good use of it? So I pureed strawberries with some ginger and green chilli and made Hot Strawberry Lemonade.
I'm planning to repeat my Vegan Strawberry Mousse later this week for Valentine's Day celebration. What are you planning to make?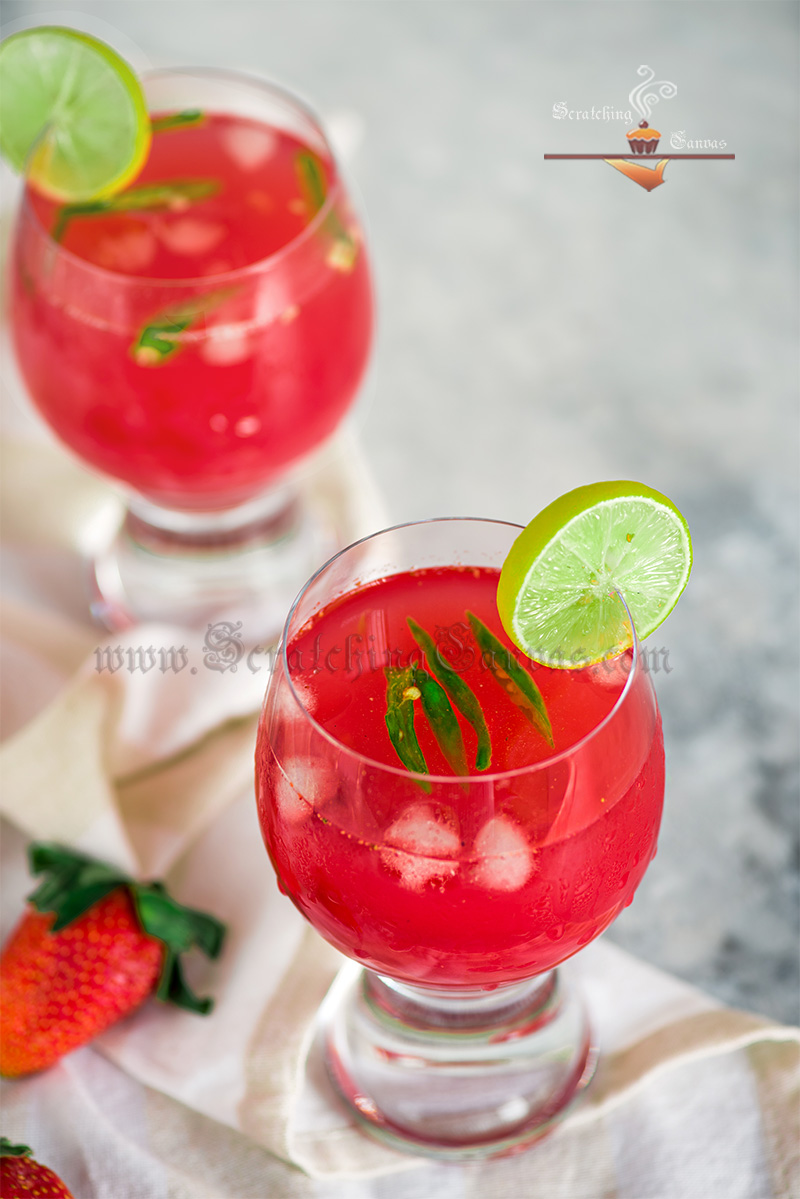 Read the entire recipe and Notes carefully before you start cooking. Do make sure all ingredients are at room temperature (unless mentioned) and weighed or measured correctly in appropriate weighing machine or measuring instruments such as cups or spoons. Remember these are not regular cups or spoons which is used in daily life.
Serving & Storage:
Garnish the drink with lemon rings and thinly sliced green chili. Serve this Hot Strawberry Lemonade chilled, loaded with ice cubes. It will balance the heat in the drink.
If the drink is to be stored for later usage, transfer the puree in airtight glass container and refrigerate.
Strawberry Lemonade with Ginger & Chili
Ingredients
Strawberry: 300g or 2 cups
Ginger: 4 tbsp
Green chilli: 2
Lemon juice: 4 tbsp
Honey: 6 tbsp
Chilled water: 4 cups
Ice cubes: handful
Instructions
Wash and roughly chop strawberries, ginger and green chilli.
Pour the chopped ingredients in a blender to make smooth puree; don't add water.
Add honey and lemon juice with water and blend again.
Arrange ice cubes in serving glasses and pour the lemonade into them. Serve chilled.
Notes
1. If using frozen strawberries, thaw them first then follow the procedures.
2. Add 30 ml vodka in each glass to make a delicious cocktail.
3. Use fresh mint leaves instead of chilli if heat quotient is too much for you.
4. Adjust seasoning according to personal preferences.
5. Substitute strawberries with any other soft fleshed fruit.
Eat, Love & Enjoy! And Repeat!!!
You may also like some other Strawberry recipes