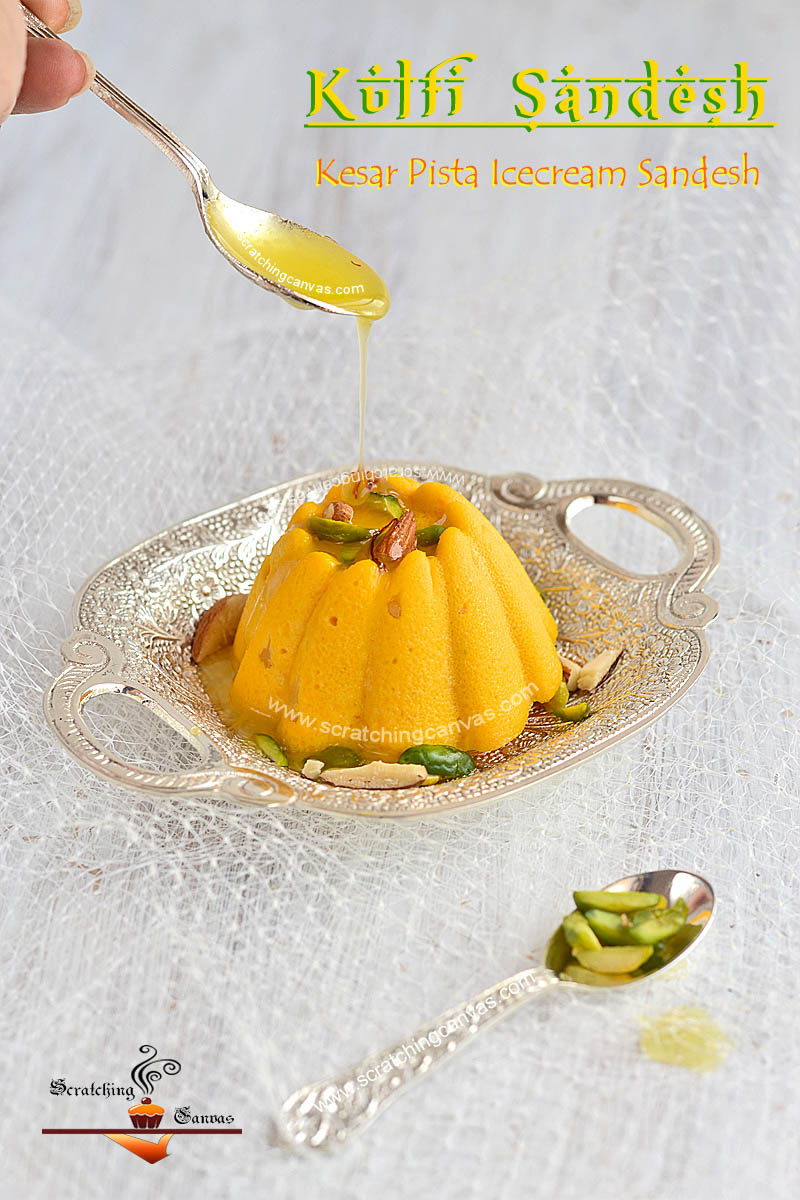 Hello guys! Here I am with Bhapa Sandesh or Ice cream Sandesh on one hand to give you all the 'gyan' (of course including a recipe) from my stock to convince every (even little) person on why you should celebrate each and every festival (be it Indian or foreign) with food and loads of food. And here comes the importance of a super foodie (like me) in your life with full-on eating agenda. Hang on! I said to eat a lot on festivals but I never said to eat junks or to spend an entire day in the kitchen! I don't want you to get sick or look tired, at any cost. Hence I'm introducing another super simple yet scrumptious dessert to you; (drumroll begins) Kulfi Ice cream Sandesh, a Bengali style Ice cream Sandesh aka 
Kesar Pista
Bhapa
(steamed)
Sandesh in microwave oven
.
(And now the entire orchestra begins)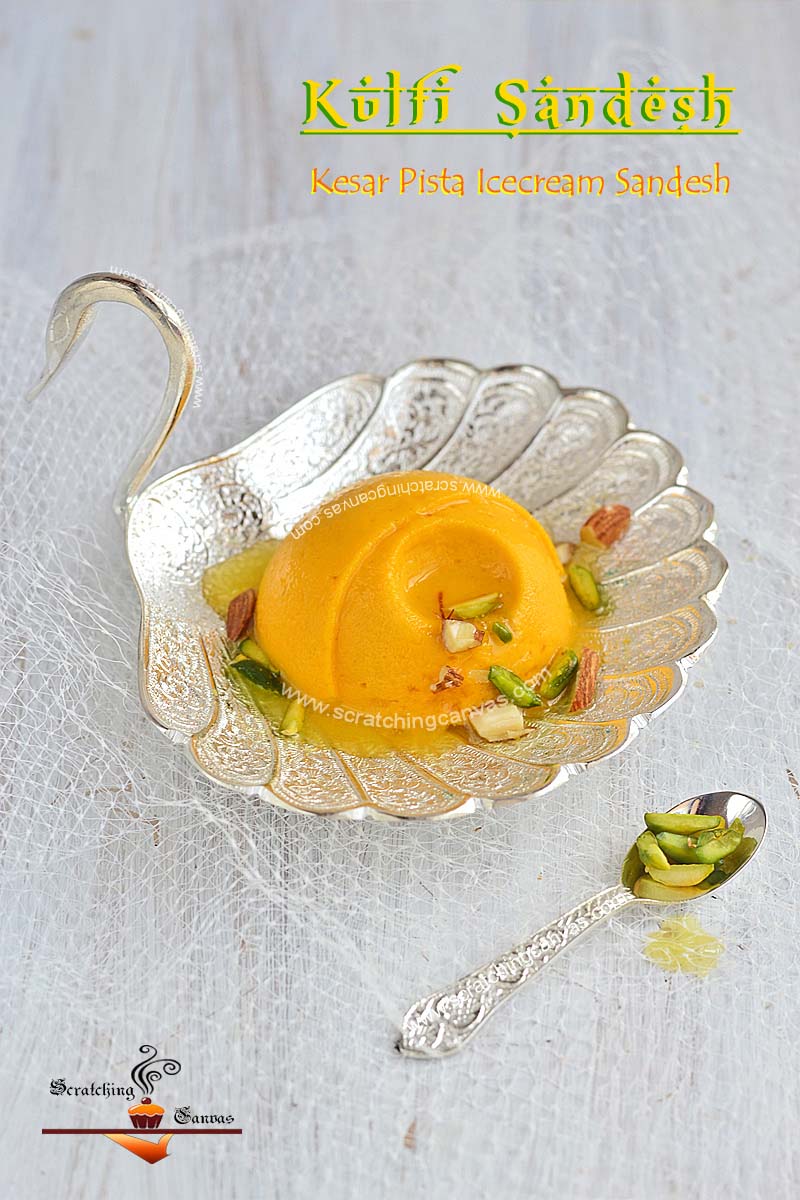 Ice cream Sandesh is a steamed dessert which is served as 
chilled (not frozen)
been. It is made of
chenna
(cottage cheese) and sugar.
Kulfi Malai Ice cream Sandesh
is an enriched ice cream
sandesh
made of cottage cheese mixed with fresh cream and flavoured with
kulfi malai
mixture meaning saffron & pistachio. It tastes like Bengali
Sandesh
but the flavour will remind you of 
kulfi malai
. Traditionally ice cream sandesh is prepared by steaming in pressure cooker or steamer. That's why it is also known as
Bhapa Sandesh
.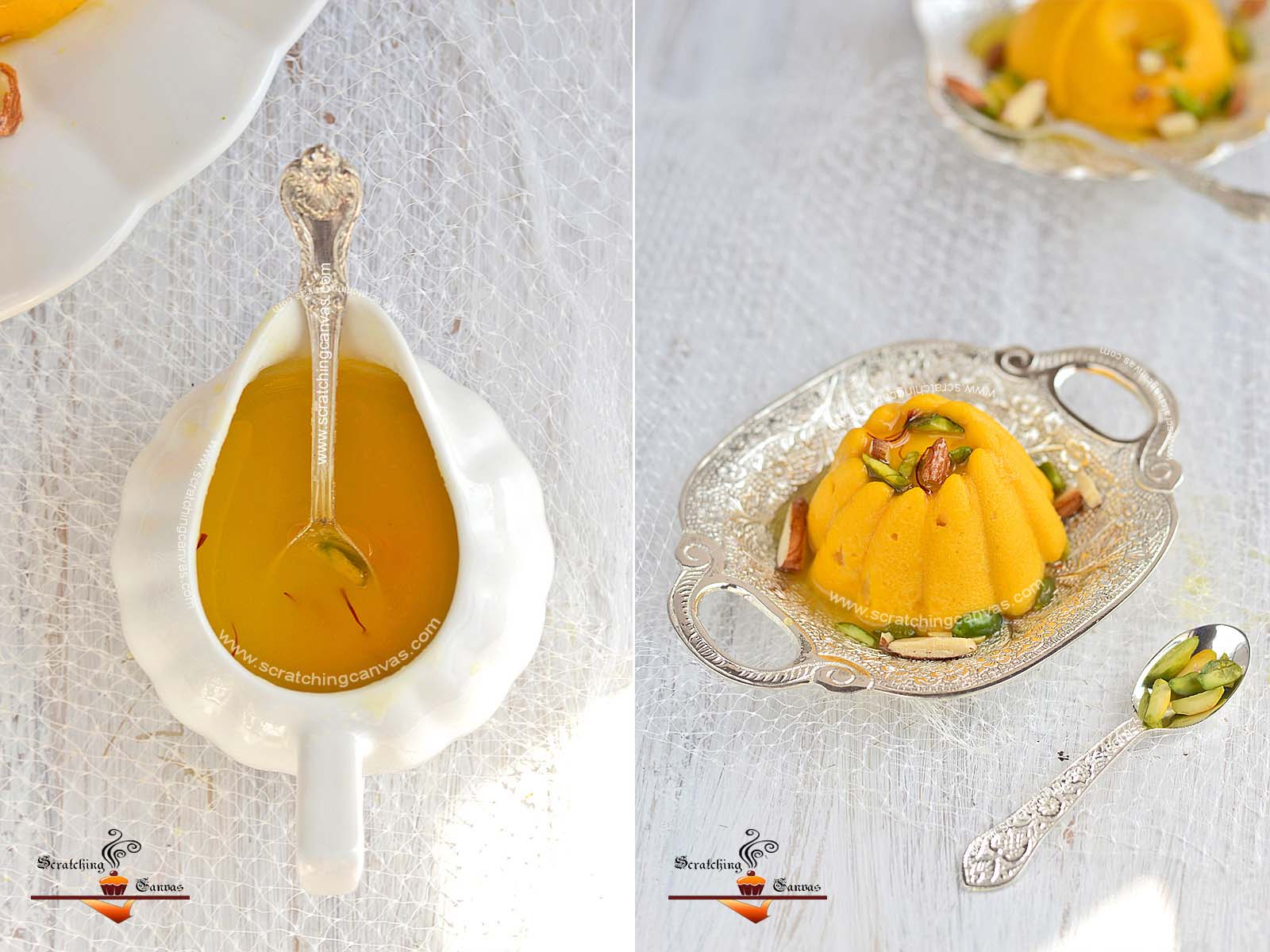 There was time when ladies of the house and neighbourhoods used to gather 2-3 days before any festival and they all together used to prepare various types of sweets and savory snacks for all families and friends to enjoy on the festival day. And they used to work hard for these 2-3 days despite of their own chores. My childhood days actually belong to these kinds of forgotten days. I grew up watching my granny, aunts and sometimes my mom too (after working hours of her business) making sweets and snacks at home before festival. We kids had the biggest job of the world during those days as food taster. Yes you've read it correct; we used to circle around those ladies to get bits of food while they were cooking; by hook or by crook. Those were real fun days, boy!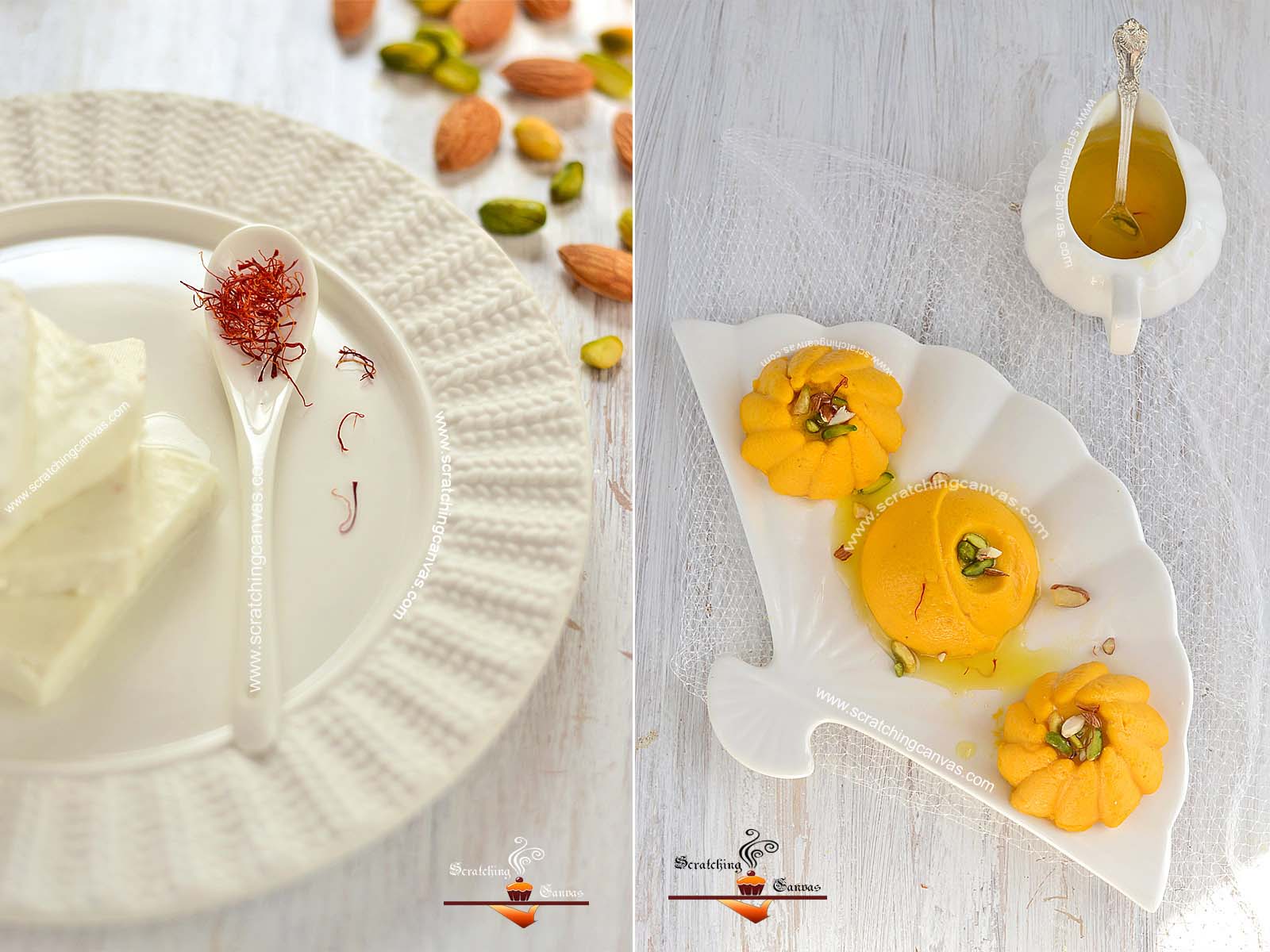 But time has changed upside down now. In today's hectic schedule it is becoming real hard to spend any extra time on a dessert or in fact on any single dish. On other hand most of us has become calorie conscious too. And gobbling down deep fried, thick sugar coated food in the name of festivals is just not a 'happening' thing to many health conscious people. Honestly to me, it's a total waste spending the entire day in the kitchen to cook such lengthy or difficult dishes for family members instead of enjoying the time with them.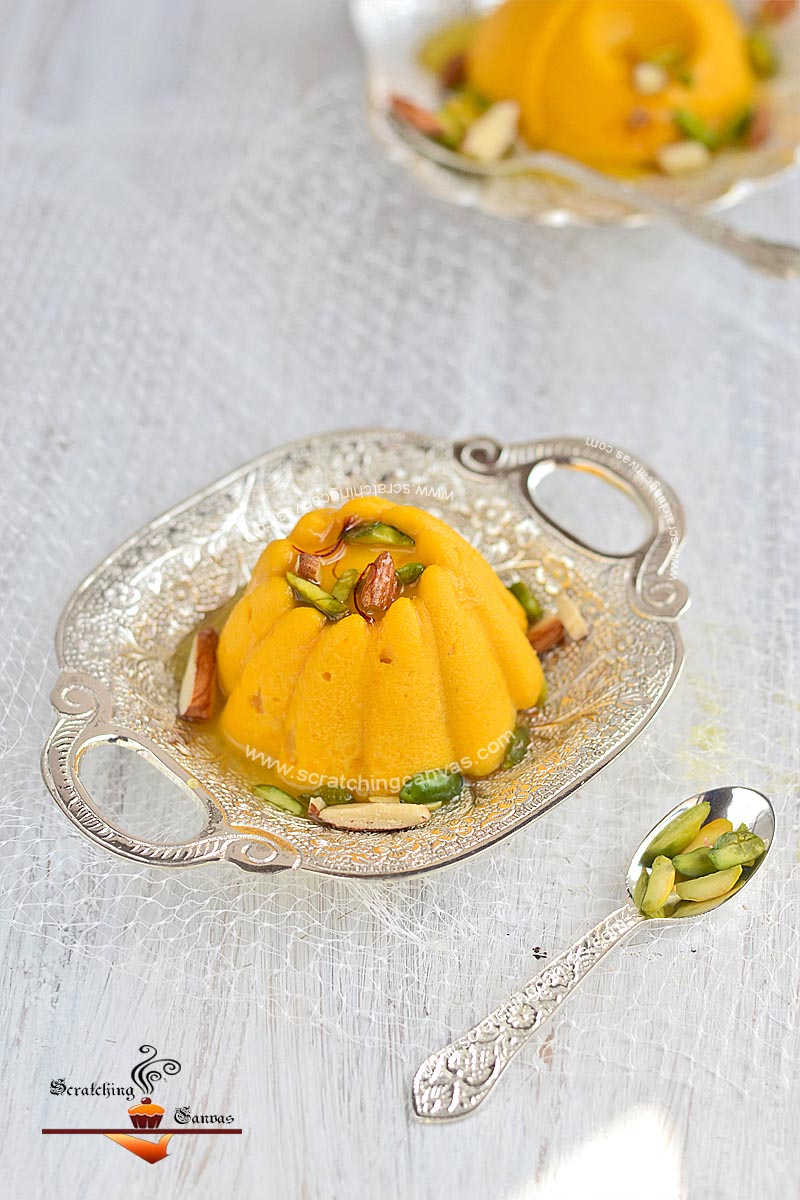 Personally I always prefer low calorie, easy to cook recipes and I try to share them here on Scratching Canvas. This particular recipe, Kulfi Sandesh or Ice-cream Sandesh aka Kesar Pista Bhapa Sandesh is not an exception. Though traditionally it is cooked by steaming in a steamer or pressure cooker it can be baked in
conventional 
oven too. But today I'm sharing an unbelievably quick version of the very same recipe, in microwave oven where the cooking time is just 2 mins. Don't rub your eyes or think that I've made a typo; it is meant to be as 02 mins only. So is it just as easy to cook as Maggi noodles? No, it's even easier than that. This super easy Bengali dessert, Ice cream
Sandesh
can be prepared for mass scale under 20-30 mins (from scratch) with handful of easily available ingredients. But you can cook it in either way you want; be traditional or quicker, whichever suits you the best.
Here is the quickest and easiest recipe of Kulfi Sandesh or Ice-cream Sandesh aka Kesar Pista Bhapa Sandesh.
Read the entire recipe and Notes carefully before you start cooking.
Do make sure all ingredients are at room temperature (unless mentioned) and weighed or measured correctly in appropriate weighing machine or measuring instruments such as cups or spoons. Remember these are not our regular cups or spoons which we use in our daily life.
Microwave safe bowls/moulds,
Dry & clean serving bowls/palates
Watch my quick step by step video recipe on how to make Instant Kulfi Sandesh or Ice-cream Sandesh aka Kesar Pista Bhapa Sandesh under 20 mins.
Begin with preparing Kulfi Mixture.
Take warm milk in a clean glass bowl.
Add saffron in it and set aside for 1-2 mins. Stir with a clean spoon. Saffron will start colouring the milk within few seconds and gradually the milk will turn into bright yellow colour. Set aside until needed.
Pour fresh cream in a clean and dry bowl. Add condensed milk into the cream. Take saffron milk (at room temperature) and whisk slightly and add to the cream mixture.

(See Notes)

Now whisk vigorously to incorporate everything. In the end mixture will be frothy and silk smooth.
Next is the Sandesh Mixture.
Take chopped or crumbled paneer aka cottage cheese in a food processor or blender and pulse for 1-2 mins.

(See Notes)

The mixture should be smooth and light. Scrape off the sides of the blender time to time. Add the saffron milk mixture into the blender little by little (say ½ cup at a time).

(See Notes)

Also add almonds and pistachios and pulse for 30 secs to 1 min each time. The puree should be super creamy and smooth.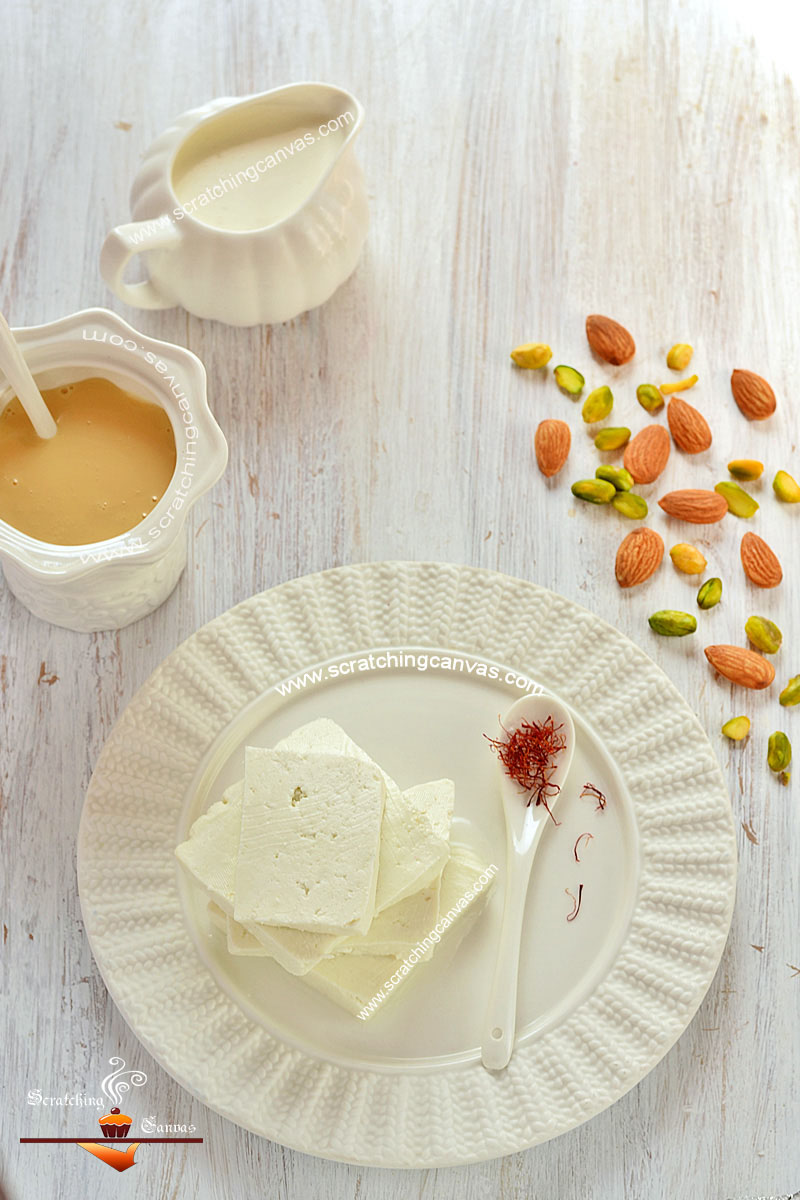 Now, prepare moulds for sandesh.
Take some microwave safe moulds preferably silicone moulds as they come in different attractive shapes and sizes and grease them with few drops of ghee(clarified butter).

(See Notes)
Finally it's time for baking Kulfi Sandesh.
Once moulds are ready, distribute the sandesh mixture into the moulds evenly. Make sure moulds are filled only upto ¾ portions; don't fill them to the rim. Or during the time of cooking they will overflow. Now bake the sandesh in microwave for 2 mins at 900W.

(See Notes)

Sandesh can be slightly jiggy in the middle but that's okay; it will be firm once chilled. Refrigerate kulfi sandesh within the moulds for 10-15 mins or until chilled.

(See Notes)

Once Kulfi sandesh is chilled demold sandesh carefully.
Always serve Kulfi Sandesh chilled. To serve, drizzle some saffron flavoured sugar syrup on top of each Kulfi Sandesh and garnish with slivered almonds and pistachios. Serve immediately before it warms up. Enjoy!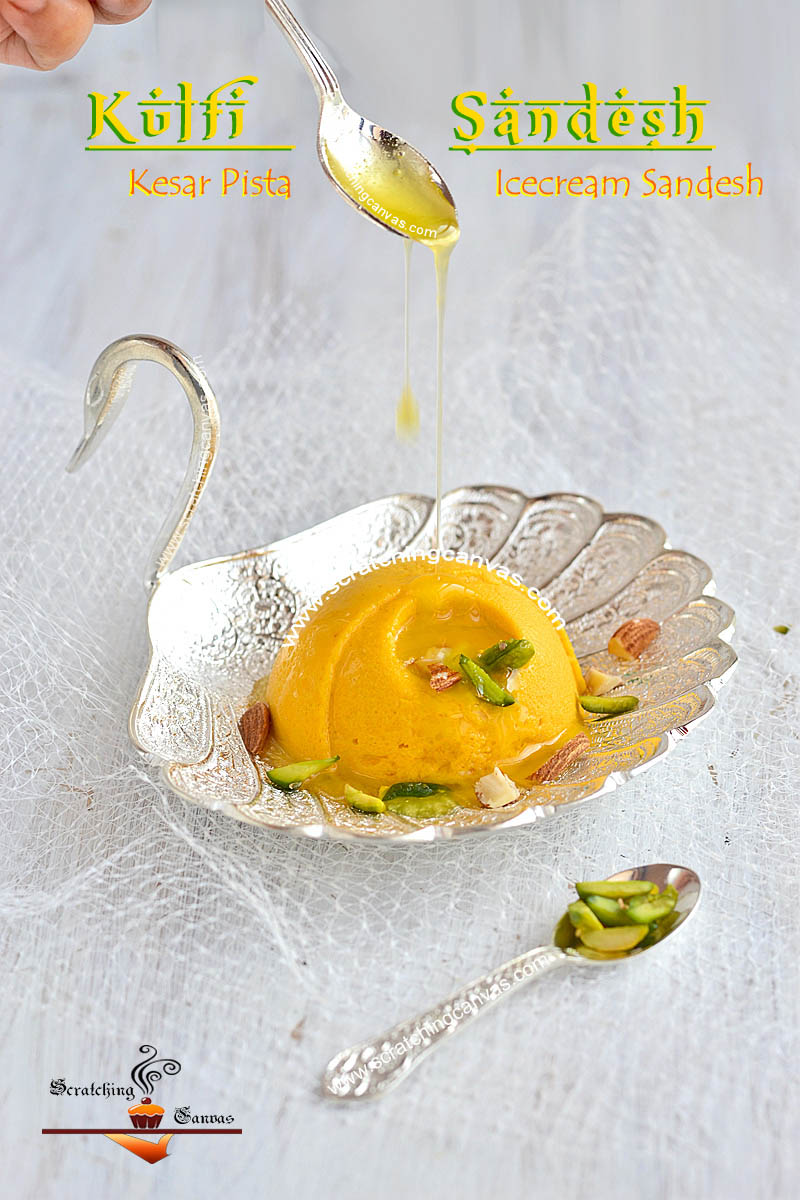 This Kulfi Malai Sandesh can be done in both versions by baking it in oven and also steaming in steamer or pressure cooker.
For baking in oven:
Preheat the oven @2000C. Fill a large oven proof baking tray with hot water. The tray should be larger than your sandesh mixture filled moulds/tray and water should be hot, not just warm, preferably boiling hot. Now Cover the sandesh mixture filled moulds with aluminium foil and arrange them in water filled tray. Bake sandesh for 15-20 mins @1800C. Baking time may vary depending on quantity and oven; it is advisable to check after 20 mins. If a skewer comes out clean when inserted in the middle, sandesh is done. Bring it to room temperature and chill in refrigerator.
For Steaming in Pressure Cooker:
If you have steamer use it according to the guideline. If you are preferring pressure cooker, boil 1 cup water in cooker without the weight. Take the sandesh mixture in a metal container (greased with ghee or butter) with tightly fitted lid, preferably stainless steel or aluminium container. Set the container (covered with lid) inside the cooker (with/without a stand), close the cooker with the weight. Heat the pressure cooker on high flame and wait until you hear the first whistle. Then turn the flame to simmer and keep the cooker on it for another 10-12 mins (depending on the quality of sandesh). Once done, release the pressure from cooker and allow the sandeshto cool down a bit or until easy to handle. Remove from cooker, bring it to room temperature and refrigerate until chilled. This way sandesh will be known as Bhapa Sandesh.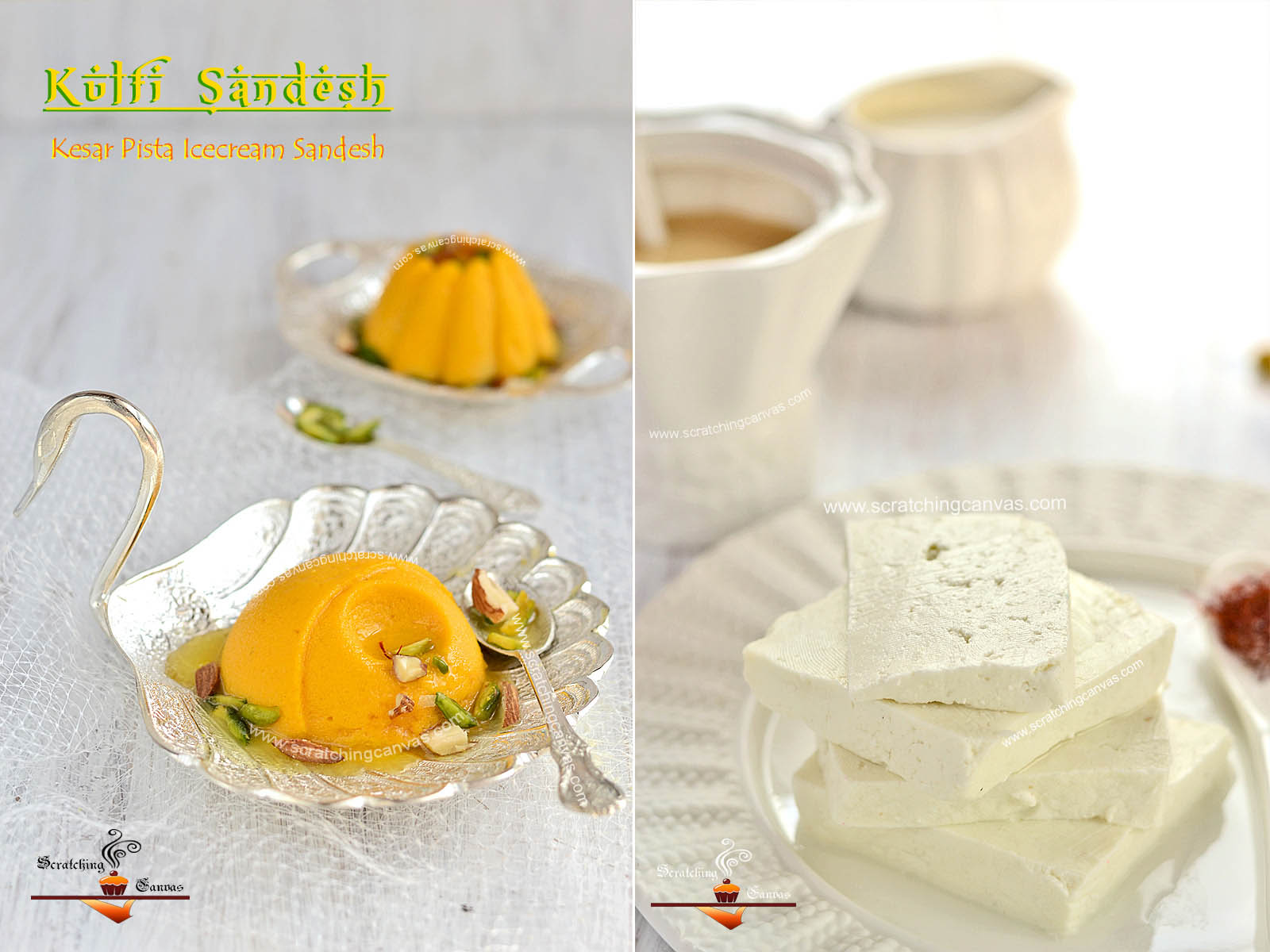 1.  Vegan version: Use any dairy free cream and milk (like almond milk or soy milk, preferably Kesar Pista flavour) instead of regular milk. Also use with tofu instead of paneer to make this as vegan sandesh.
2.  Use cashews with almonds and pistachio for creamier result.
3.  Homemade paneerwill add freshness and softness instead of store bought ones.
4.  Use ¼ tsp of rose water or 2-3 drops of rose essence or cardamom essence for variations.
5.  Use fresh fruit pulps or concentrated fruit pulps in to the mixture to make fruity sandesh.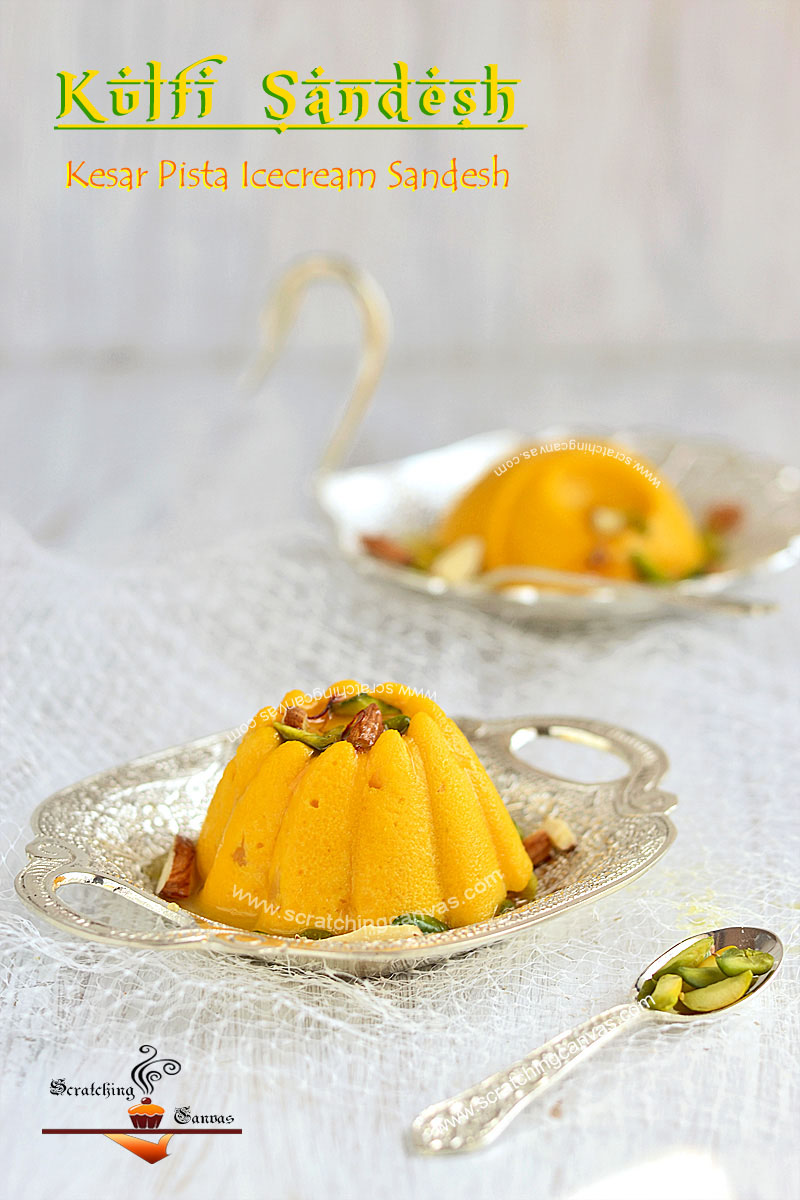 Kulfi Sandesh | Ice cream Sandesh | Bhapa Sandesh | Kesar Pista Kulfi Malai Sondesh
Serves:
8-10 medium sized sandesh
Ingredients
For Kulfi Mixture:
Milk: ¼ cup
Fresh cream: 200 ml
Condensed milk: 200 ml (See Notes)
Saffron strands: 1 pinch or ⅛ tsp
Pistachio: 2-3 tbsp (blanched)
Almond: 2-3 tbsp (blanched) (See Notes)
For Sandesh:
Fresh cottage cheese aka paneer: 500g (homemade or store bought)
For garnishing:
Pistachio: 1 tbsp, slivered
Almonds: 1 tbsp, slivered
Saffron thread: 1 pinch
Saffron flavoured sugar syrup, optional (See Notes)
Instructions
Soak saffron in warm milk & set aside.
Whisk the saffron milk with fresh cream & condensed milk until blends.
Blend rumbled paneer (cottage cheese) in food processor with milk mixture and nuts until mixture turns into smooth creamy puree.
Pour mixture in microwave safe greased moulds upto ¾ portions and microwave for 2 mins at 900W (at HIGH).
Refrigerate Bhapa sandesh within the moulds for 10-15 mins or until chilled.
Serve Ice cream Sandesh chilled with some saffron flavoured sugar syrup on top.
Enjoy!
Notes
1. You can use honey instead of condensed milk to cut down calorie. Adjust the amount of honey according to your preference of sweetness.
2. You can use cashew nuts for creamier result instead of or with almond.
3. To Make Saffron flavoured Sugar Syrup: mix ¼ cup of water with ½ cup of sugar and heat on medium flame until sugar dissolves. Once sugar is dissolved completely add saffron strands and stir continuously with a wooden spatula on high flame for 2-3 mins or until syrup becomes thick enough to coat the back of a spoon. Serve warm.
4. Do not add warm or hot milk into the cream, cream can curdle in touch of high temperature.
5. Add 1-2 tsp of milk if you find your mixture is too dry. But don't add too much liquid; it should be just enough to run the blades of the blender.
6. If you add too much milk mixture or the whole thing at a time you will miss the creamy silky texture.
7. Any regular butter can also be used instead of ghee or clarified butter. It's just ghee adds a pretty aroma to the Indian dessert which actually complements the dish.
8. As various microwave ovens work differently it is safer option to keep an eye on the oven after 1 min.
9. Do Not attempt to remove the sandesh from moulds while they are warm/hot. They will be extremely fragile them. Allow them to chill and get firm, then demold, nice and easily.
You may also like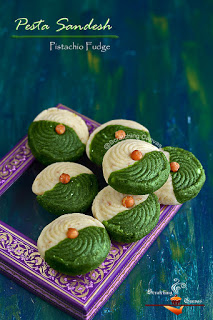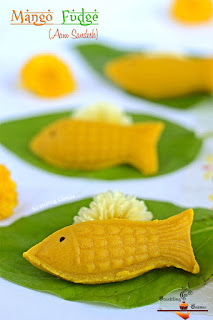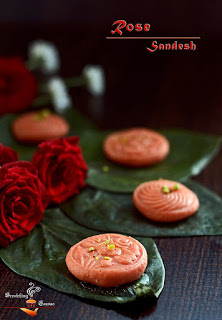 Eat, Love & Enjoy! And Repeat!!!