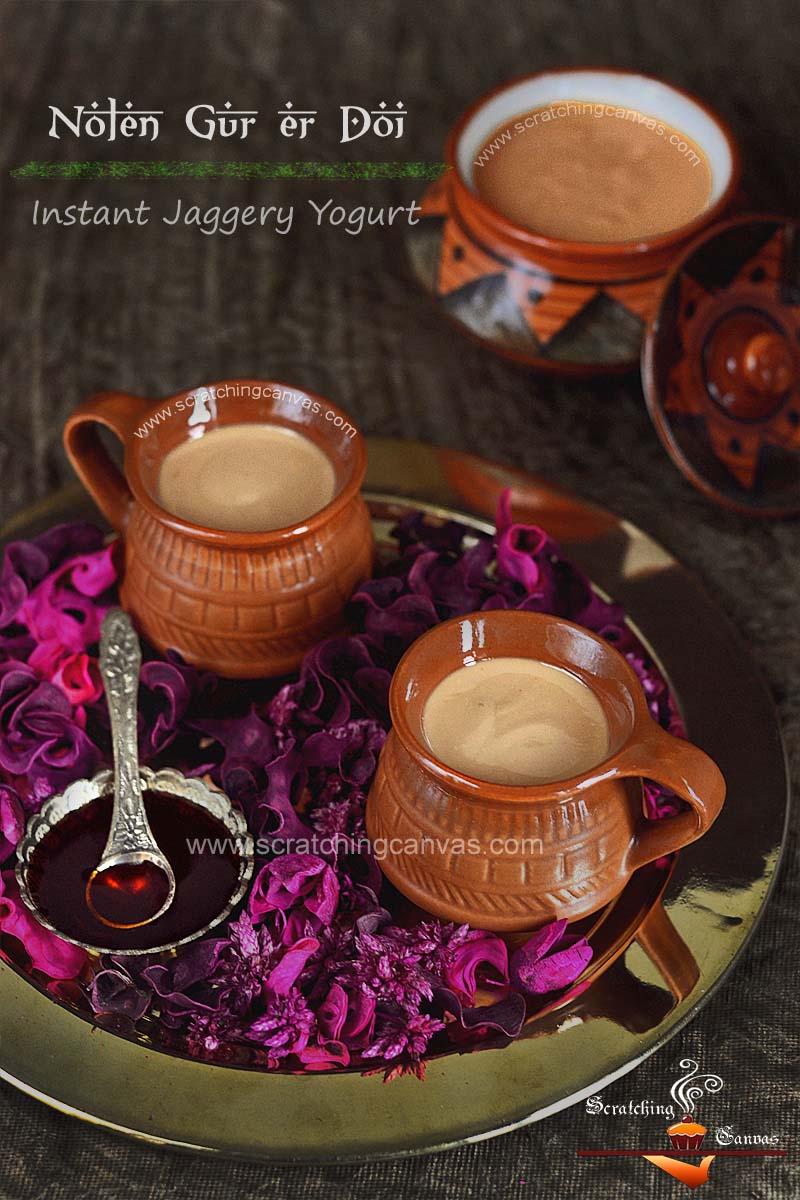 Bengali Nolen Gur er Mishti Doi
is a Bengali delicacy which is probably most widely used winter dessert, it can easily beat Rosogolla (rasgulla) during winter. The milk based dessert, Mishti Doi is nothing but fermented sweet yogurt. The core ingredients are milk, sugar and yogurt; some flavouring agents like green cardamom or saffron also can be used to enhance the richness and flavour. But can you guess what is the next best level of mishti doi? Ummm, it's Nolen Gurer Mishti Doi! Even the name is enough to make me drool, all the time! It is also known as Jaggery/Molasses Yogurt. In this nolen gur er doi or jaggery yogurt date palm jaggery is used instead of regular sugar to sweeten the yogurt. When the strong smoky aroma of nolen gur (date palm jaggery) is combined with the tangy yogurt, it's hard to ignore and pretend to continue your job. All I can do is loiter around the fridge with my greedy soul.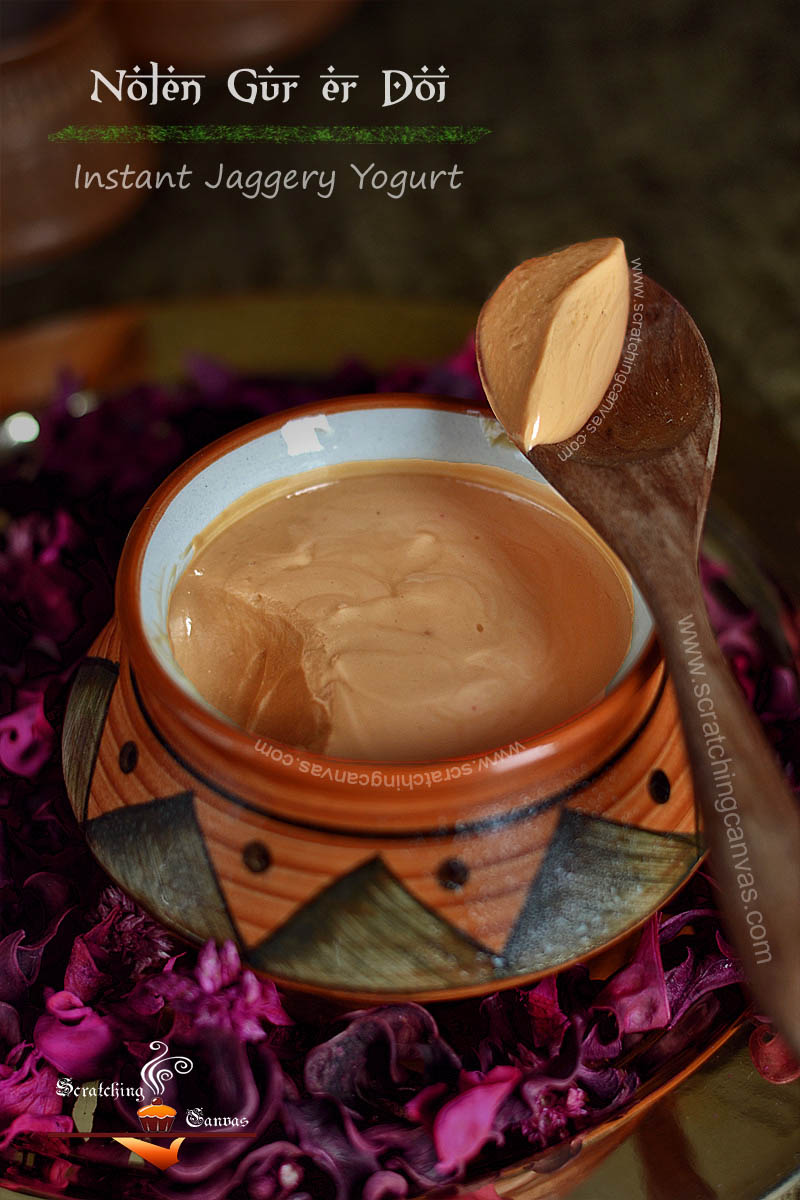 Indian festive season has begun and within couple of days it will hit the full swing. It's an open secret now that no Indian festivals are complete without ghar ka khana aur shuddh desi mithai (home cooked food including Indian desserts). On the other hand at this point of the year we all Indians girls love to doll up with new dresses, gulp down all fatty food (which we hardly touch throughout the year) without worrying about the weight. But the most importantly we look up to celebrate with our friends and family. Simply in other words loads of gathering and loads of cooking. And trust me the real struggle begins when you have to stand in front of the mirror to dress up while whisking the cooking pot on stove-top. As a result sometimes we happen to cook finger licking foods and other times we just look good. So this festive season I'm planning to prepare few quick desserts which will be ready in a jiffy without compromising the taste; a complete win-win situation! And today's pick is Instant 'Nolen Gur er Mishti Doi' or in other words Sweet Yogurt with Date Palm Jaggery, it requires no cooking or baking at all.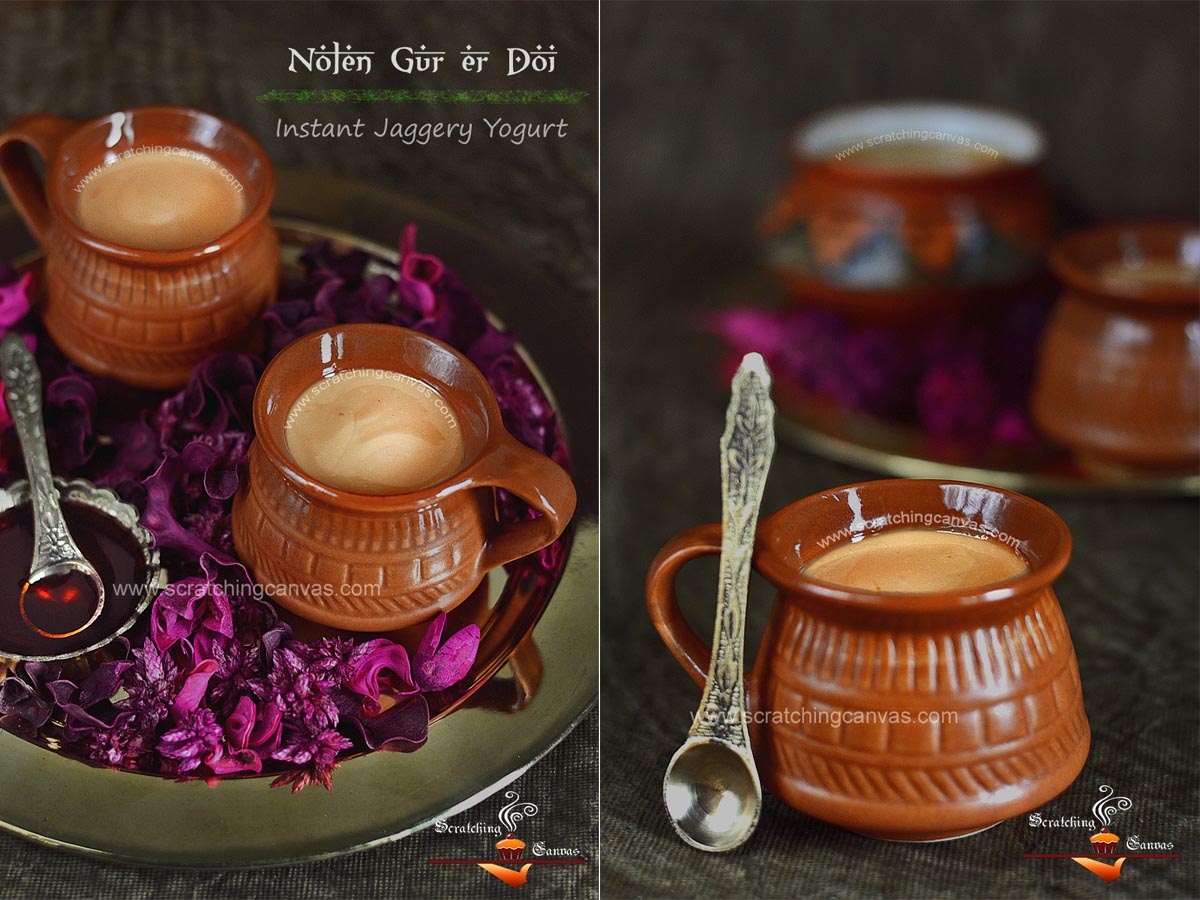 This year I've worked out really hard to be in shape though I can't see the result anywhere, I might need a new mirror I guess. Anyways, the point is I don't want to end up in the loop this year which I've been doing for past couple of years. But on the other hand I don't want my guests to be disheartened. They keep looking up on my blog posts whenever I wash away their Facebook walls with my food pictures and I know they expect to have that same damn good things on their palate while they are in my home. So I needed to find out a balancing object.
I still can't find a way to cook up piles of Luchi or Radhaballabhi in a jiffy or a large vessel of Mishti Pulao (sweet pilaf) or Mutton Kosha (mutton curry) in a quicker way but I've found the way to keep my shuddh desi dessert cart clean and simple. For example, as I said before Mishti Doi is a part of Bengali soul, so there is no way we can skip it from meal. But I can certainly minimize the cooking time by just changing the cooking process without compromising on taste. Isn't it amazing? I know it is; I'm so happy for myself (and I need a pat on my back, right now, so I'm doing it myself on your behalf)!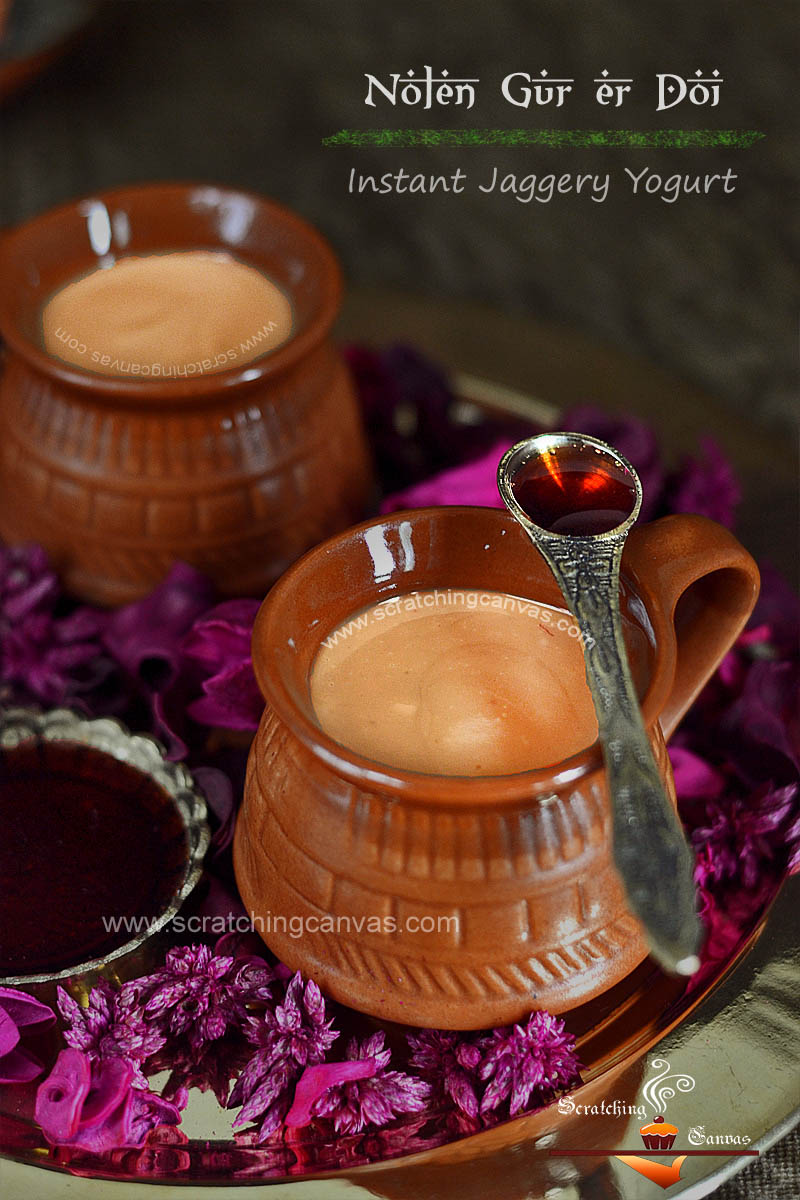 It's a tiring job to cook delicious Bengali Mishti Doi n traditional way; no it's not tough but it's time consuming and technical. Traditionally milk is boiled over low flame for a good amount of time to reduce to its original volume, then sugar or any other sweeteners are added and bring the milk to warm temperature. Then active culture of yogurt is mixed with the sweet milk and the entire mixture is kept in earthen pots for 6hrs to 12 hrs (depending on local weather) in warm & dry place like near oven/gas. Thus after fermenting the yogurt mixture for such a long time, Mishti Doiis formed. Sometimes little caramelized sugar is also added to create a reddish brown (more like earthy tone) hue in sweet yogurt. I've shared more about traditional Mishti Doi in one of my old post. So back to our today's post, Instant Nolen Gur er Mishti Doi.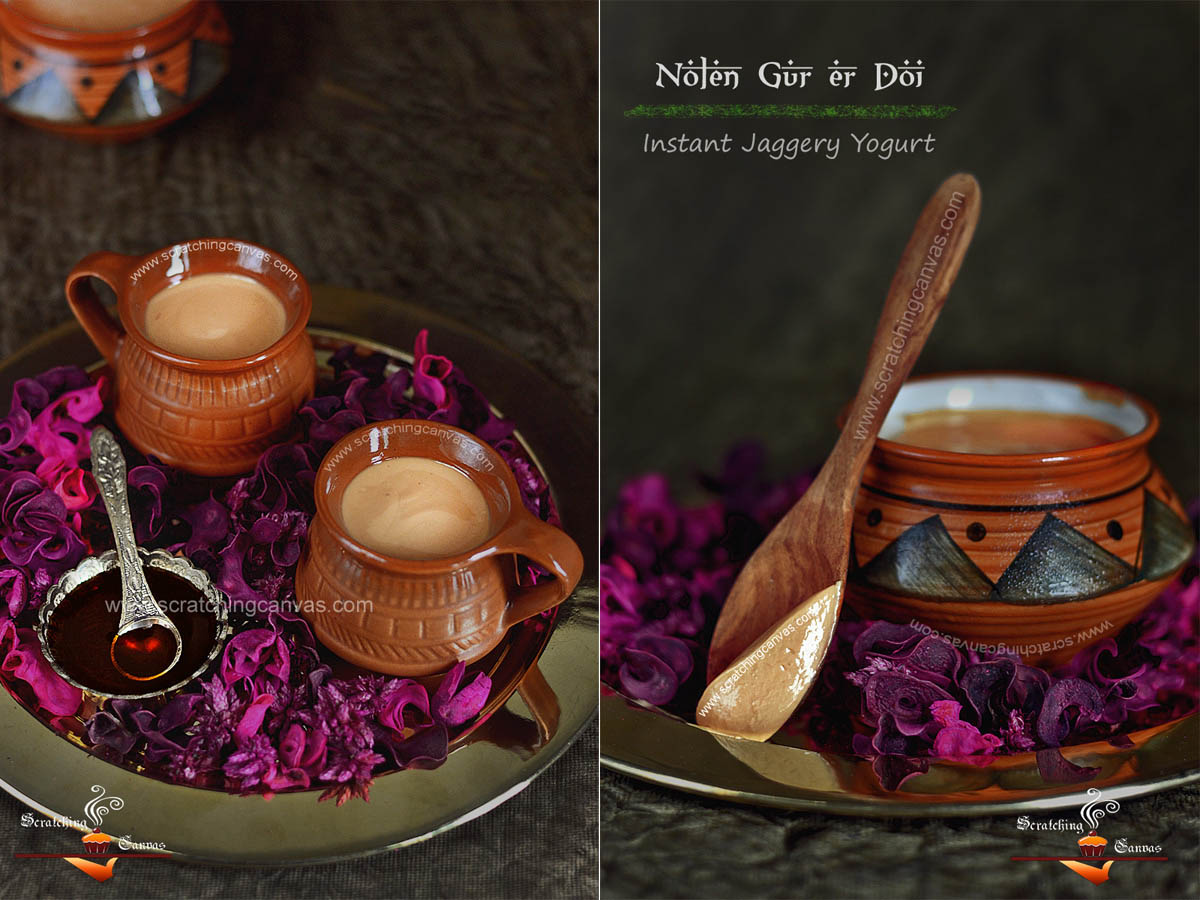 Here you go with the recipe on how to make perfect Instant Nolen Gurer Mishti Doi aka Quick Sweet Yogurt with Date Palm Jaggery in 10 mins.
Read the entire recipe and Notes carefully before you start cooking.
Do make sure all ingredients are at room temperature (unless mentioned) and weighed or measured correctly in appropriate weighing machine or measuring instruments such as cups or spoons. Remember these are not our regular cups or spoons which we use in our daily life.
Watch my quick step by step video recipe on how to make Instant Nolen Gur er Mishti Doi aka Quick Sweet Yogurt with Date Palm Jaggery in 15 mins
.
This recipe requires thick creamy yogurt, so Greek yogurt will produce best results. If you don't find any in your neighbourhoods, don't be a spoilsport, use homemade hung curd instead. Hung curd is nothing but thick dense curd without any whey or water content in it. It's quite easy to make at home but will add up little more time in the original recipe in that case.
To make hung curd
take a large sieve on a large glass bowl. You can also place a muslin cloth above the sieve. Take a jar of thick creamy full fat or regular yogurt and dump the yogurt directly on the sieve or muslin wrapped sieve. The muslin cloth will ensure to hold most of the yogurt while little amount of yogurt can be drained with the whey through only sieve. Keep the set up aside for 50-60 mins or until whey is drained completely and yogurt turns into thick cream cheese like consistency. Health conscious people can also enjoy this Nolen Gur er Doi with low fat yogurt. In that case yogurt needs to be kept on sieve (preferably muslin cloth wrapped) for longer period, about 45 mins. In fact if you are looking for almost dry yet moist thick yogurt keep the setup for 10-12 hrs without touching. Once you get desired consistency transfer yogurt to bowls from sieve. Don't throw away the discarded whey, it contains lots of protein. It can be reused in kneading flour dough for Luchior Parathaor even can be added in curries and gravies. I sometimes mix the whey in water to cook rice or Peas Pulao/Pulav or Mutton Yakhni Pilaf. The mildly tangy whey adds a different dimension even to simple rice.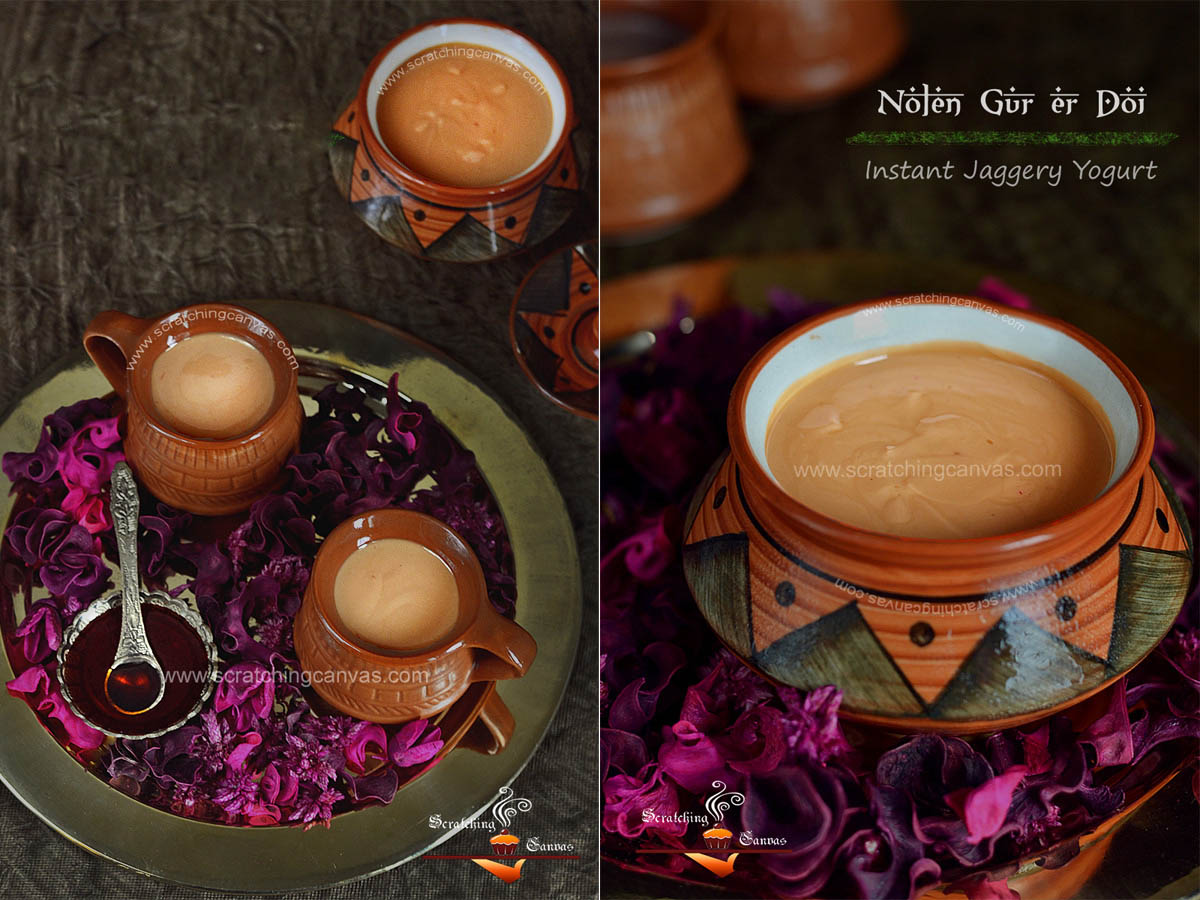 Now it's time to make the Nolen Gur er Instant Mishti Doi
Take the Greek yogurt or freshly made hung curd in a large glass bowl. For this particular recipe I've used two 400 ml jar of yogurt (meaning 800 ml regular yogurt to make hung curd). Now start whisking the yogurt with a manual whisk gently. Add half of the ground jaggery into the yogurt mixture and slowly start folding jaggery in yogurt. Once mixture becomes little easy to handle start whisking. Once jaggery is mixed colour of yogurt will turn into pale brown. At this point add rest of the jaggery and fond again. If you are keen to use flavouring agents like ground cardamom or saffron add now.

(See Notes)
Once mixed lightly, start whisking like before. Mixture should be thick and dense but won't hold any peaks. Whisk till jaggery dissolves completely, about 3-5 mins. Electric whisker can also be used for the same purpose.

(See Notes)
And that's it our Nolen Gur er Instant Mishti Doi is ready!
Lastly, just Chilling baby!
Take few earthen pots if possible as you can get best quality thick creamy mishti doi only in earthen pots and pour yogurt mixture in them carefully.

(See Notes)
If you can't find any, use ceramic pots, they work just fine. Work fast as yogurt will start thickening pretty quick. Flatten the surface with back of a spoon and tap each pot few times on kitchen counter to remove air bubbles, if presents any. When all pots are filled cover the top of each pots with small strip of metallic foil completely;
there shouldn't be any lose ends. If you are not sure tie a band or thread at the neck of the pots to ensure the stability of the foil. Just make sure all pots the sealed neatly.
Once done refrigerate the yogurt filled pots for 5 mins minimum to set.

(See Notes)
If you don't have any drooling souls around you unlike me, you can refrigerate yogurt 1-2 hrs. This way yogurt will be super dense, more life gelato. Remember the golden rule when it comes to yogurt, 'the Thicker the Yummier'!!!
Enjoy your chilled Nolen Gur er Doi with or without extra nolen gur on top! Or you can also add chopped nuts on top to add some crunch in the dessert. I simply love to dig in as it is. Just a few seconds and the bowl will be wiped, licked away clean!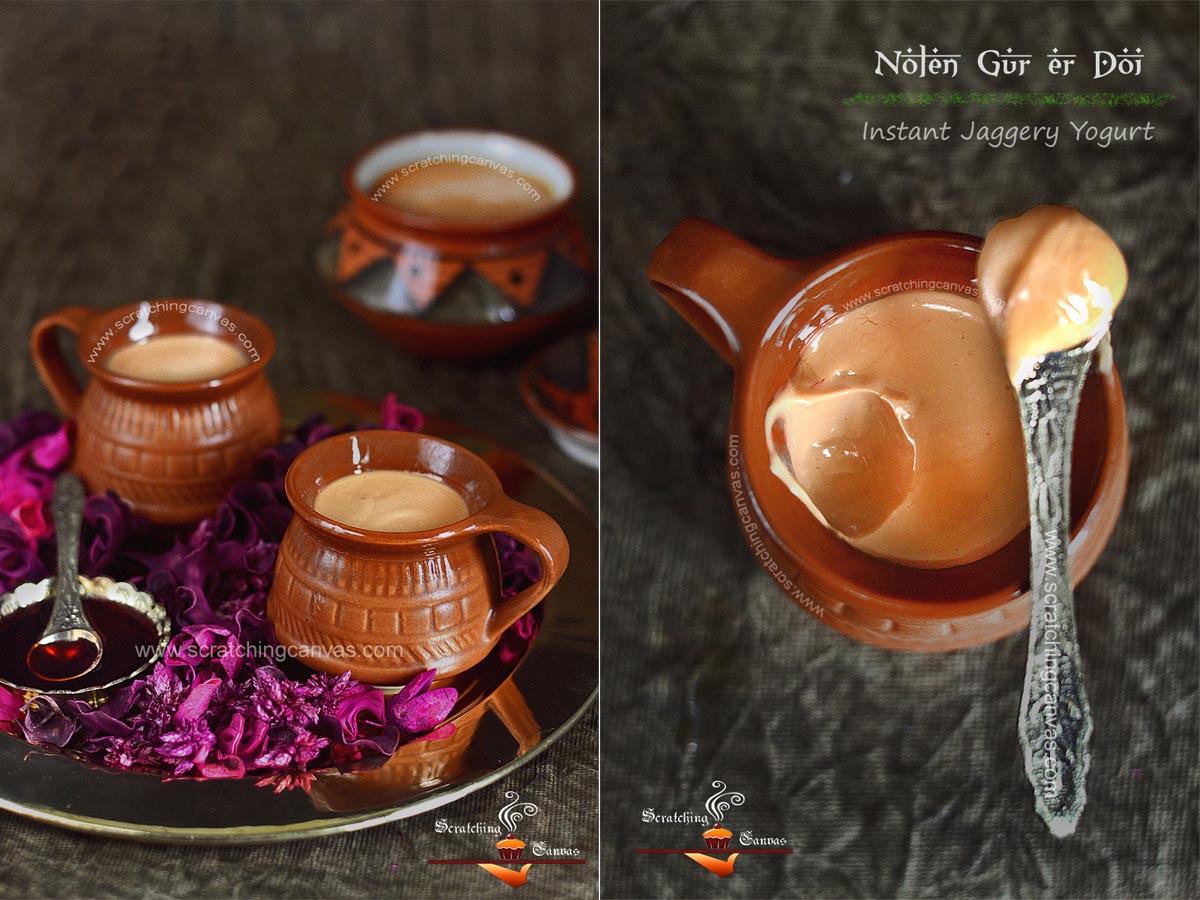 1.  Use brown sugar instead of jaggery for the same colouring effect though taste won't be as smoky as jaggery.
2.  Use thick molasses instead of jaggery but remember molasses is liquid so it can affect the consistency of Mishti Doi. So use it wisely, add little by little.
3.  Sprinkle some ground cardamom to enhance the flavour.
4.  Sprinkle some chopped pistachios or almonds on top to add some crunch.
5.  Little amount of ground jaggery or molasses can be swirled on top as garnishing.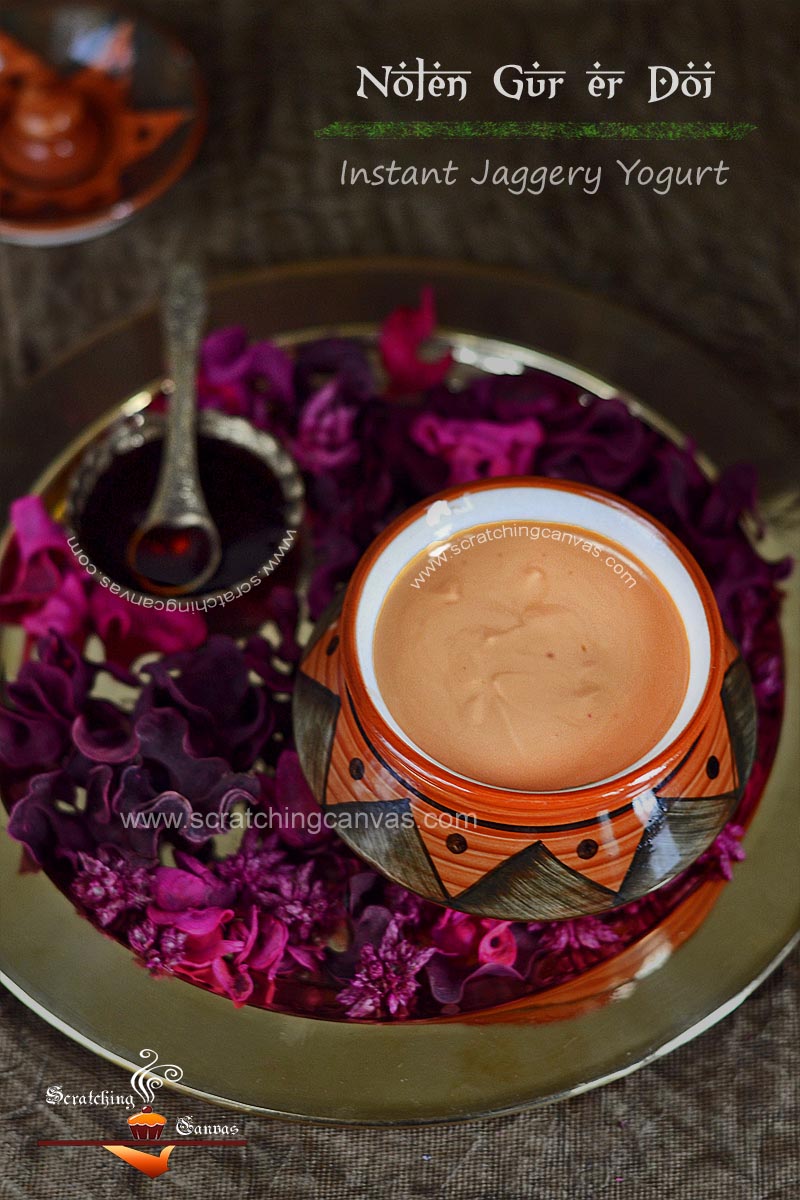 Bengali Nolen Gurer Mishti Doi in 10 mins | Instant Sweet Yogurt in Date Palm Jaggery
Ingredients
Greek yogurt: 800 ml
Or, full fat or regular yogurt: 800ml
Jaggery, powdered: ⅔ cup (adjust the amount according to personal preference)
Ground cardamom: ¼ tsp (optional), I dint use any
To Serve:
Handful of chopped almonds or pistachios
Little bit or grated jaggery or few spoons of molasses
Instructions
Make hung curd by keeping the yogurt in muslin lined colander for an hr.
Mix hung curd and jaggery in a large bowl and whisk until jaggery blends with yogurt.
Add cardamom is desired.
Distribute the mixture in individual earthen or ceramic pots and seal the pots with foil or cling film.
Refrigerate doi for 5 mins to 1 hr or until sets.
Serve chilled.
Enjoy!
Notes
1. I personally prefer to enjoy the smokiness in nolen gur er doi so I never add any other flavours in it. But if you are not so comfortable with the dominating flavour of date palm jaggery use ground green cardamom or 1-2 drop of cardamom essence. Some people use saffron too. It's your personal preference; I'm leaving that upto you.
2. Make sure you keep the speed of electric whisk on lowest possible number and don't whisk more than 2 mins at a time. Otherwise yogurt can split and it will never hold together again.
3. The aroma of wet earthen pots actually enriches the flavour of any kind of doi/dahi/ yogurt.
4. The most important step of this instant yogurt recipe is chilling the yogurt in refrigerator for 5-10 mins minimum. Otherwise yogurt won't set, it will be more like dense sweet cream. More chilling time equals to thicker mishti doi.
You may also like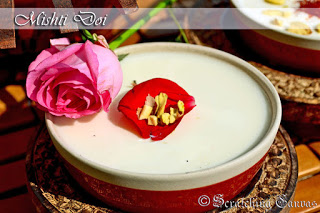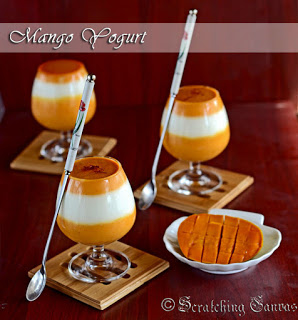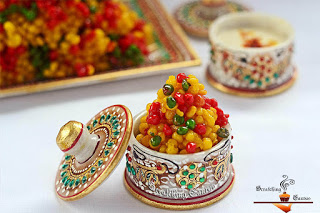 Eat, Love & Enjoy! Repeat!!!