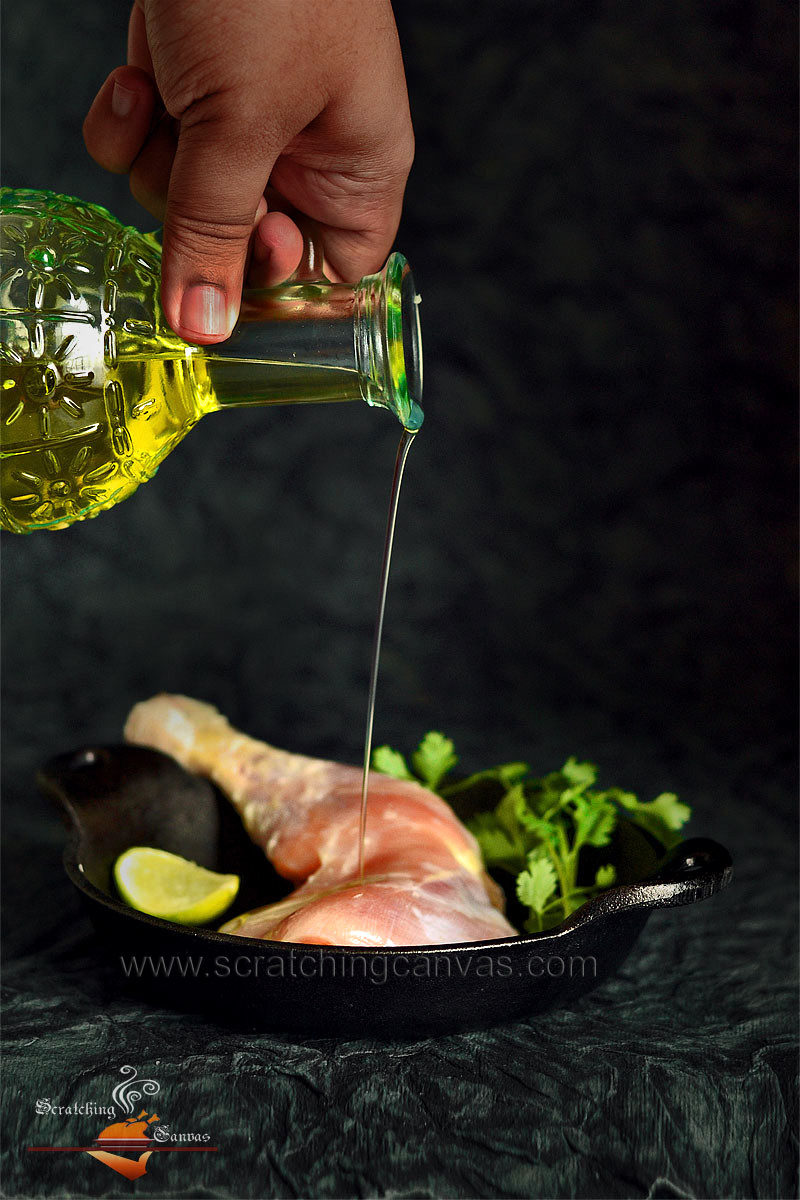 Will you believe me if I tell you that Turmeric Spice rubbed Oven Roasted Chicken is the only happiness in my life right now? Trust me, it's true; every single word of it! Turmeric Chicken is something beyond YUMM!
I've been unwell for past couple of months and over the time it has turned into chronic level. I'm spending more time at different doc's clinic than my own home. Despite of various medications and diet and heavy work out sessions my situation is turning worse and my health graph is on continuous south instead of going up. I'm still unaware of key point of all the trouble so more trial and error is going on with medicines and diet. So I'm sparing you from all painful details and turning over to the Turmeric Chicken right now which is keeping up my smile, again!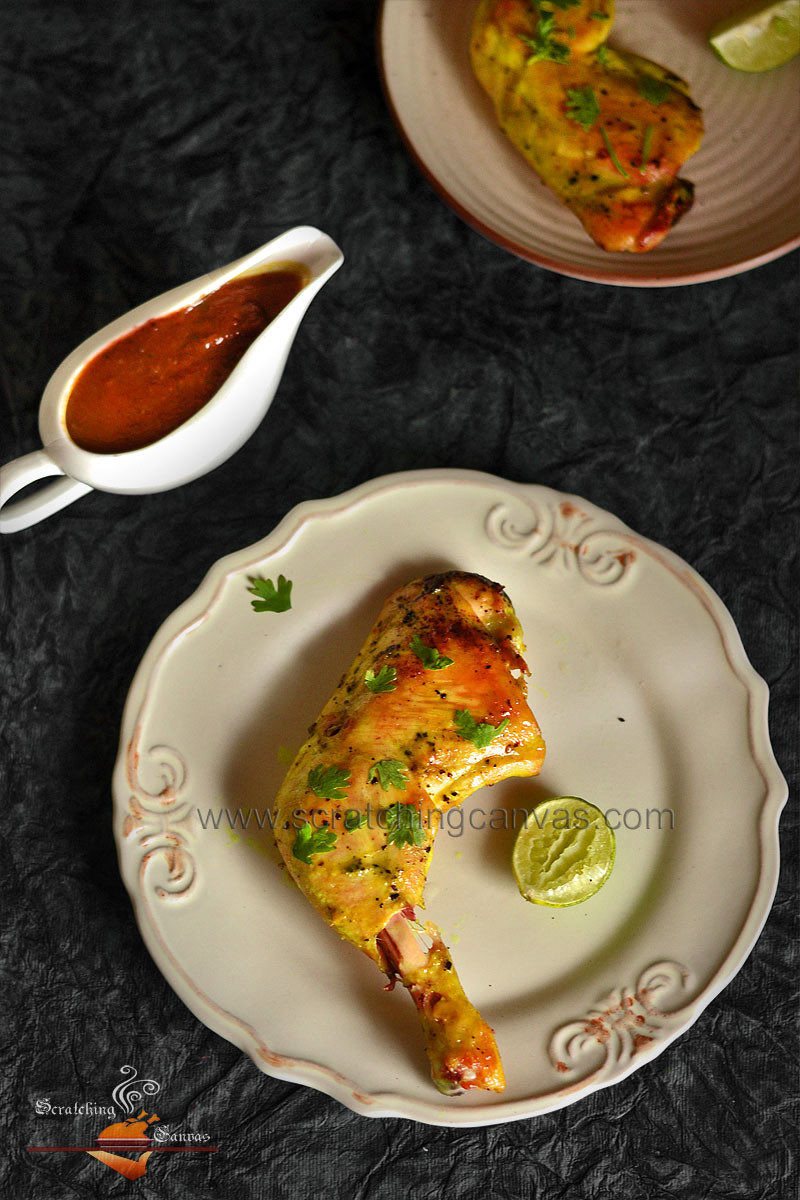 These days I'm allowed to have more protein than usual but only pure protein. Eating egg whites and mung beans have ruined my entire appetite for real food. Yes I'm having chicken but just baked or steamed. So I'm doing more experiments with flavours and spices now on my daily meals.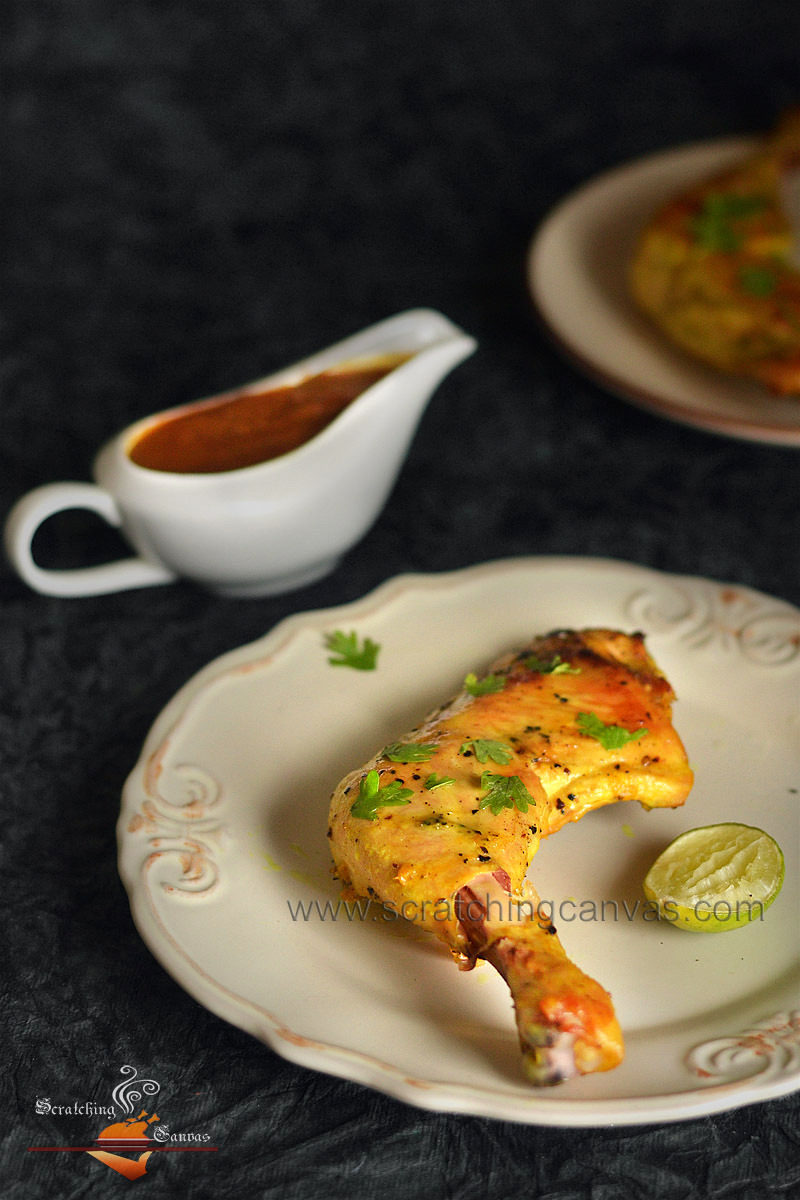 Recently I had found out my love for turmeric roasted chicken and then one day I paired it with some quick cherry sauce. Oh boy! It was finger licking delicious! I quickly noted down the things I used and tried on the next day again with measured ingredients. Now after two successful experiments I decided it needs a place on the blog.
Here you go with the recipe on how to make perfect Turmeric Spice Rubbed Oven Roasted Chicken with Homemade Cherry Sauce.
Do try out and let me know what you people think. If you have any other preferences do not forget to include.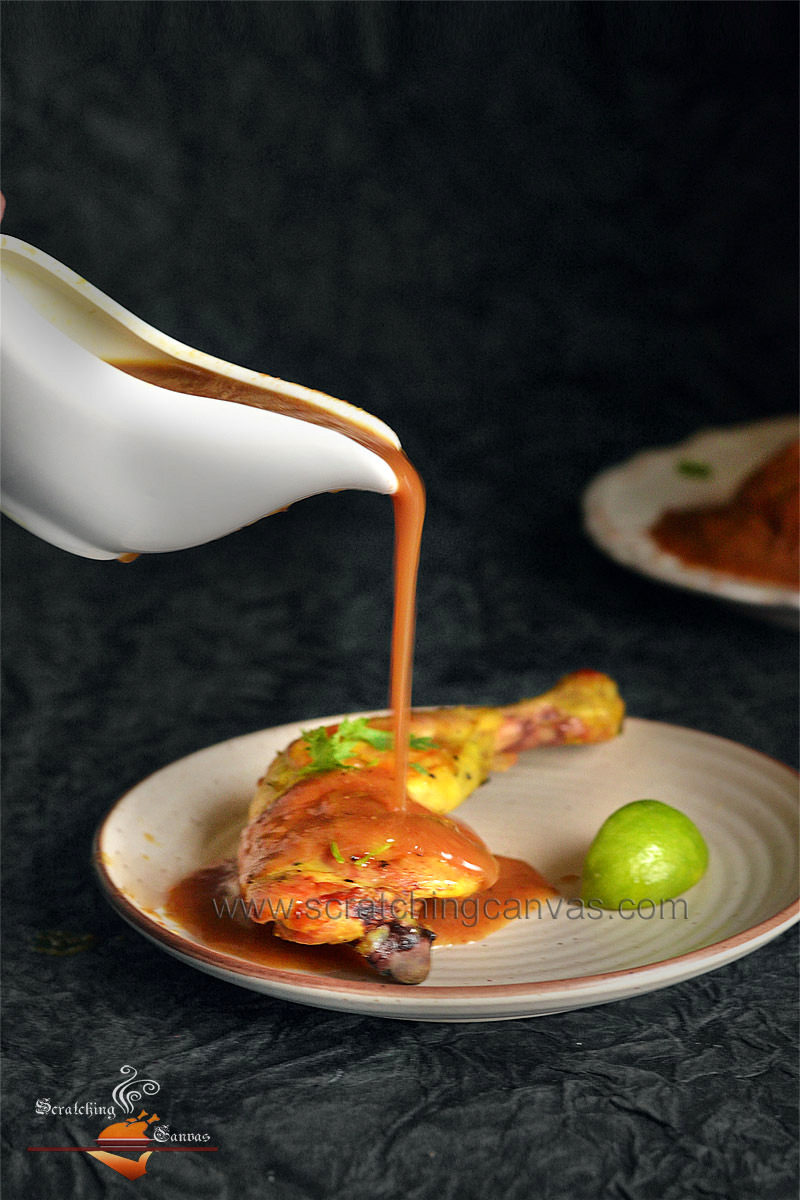 Turmeric Spice Rubbed Oven Roasted Chicken
Cuisine:
American, Continental, International
Ingredients
For Chicken:
Chicken thigh: 4
Olive oil: 1 tsp
Turmeric: ½ tsp
Ground coriander: ¼ tsp
Ground black pepper: ½ tsp
Ground Cayenne: ½ tsp
Salt: ¼ tsp
For Sauce:
Cherry, pitted & pureed: ⅓ cup
Red onion, minced: ½ cup
Garlic, minced: 1 tsp
Chicken broth or vegetable stock: ½ cup (See Notes)
If chicken broth or vegetable stock is not available, use hot water instead
Port wine: ¼ cup, optional
Turmeric: ¼ tsp
Ground black pepper: ½ tsp
Salt: ¼ tsp
Instructions
Preheat the oven at 220C.
Clean chicken thigh, trim off the fat and pat them dry with kitchen towels.
Rub the chicken things with spices mentioned under 'for chicken' and set aside for 15-30 mins.
Arrange chicken pieces in a greased baking pan in a single layer and bake for 40-45 mins at Preheat the oven at 220C.
In the mean while heat oil in a nonstick pan over medium flame and sauté onion until it becomes soft.
Once onion is translucent add garlic and fry until fragrant.
Add dry spices with salt and stir for about 30 secs.
Add pureed cherry and continue frying for 1-2 mins or until raw smell is gone.
Pour the chicken/vegetable (whichever you are using) stock and bring it to boil. Keep it covered and allow to cook for 4-5 mins.
Add port wine and keep the flame to simmer, if using any.
Adjust seasoning and remove from flame and keep it covered until chicken is done.
Once done, arrange the thighs on serving platter and pour the hot broth on them.
Serve immediately with crusty bread. Enjoy!
Eat, Love & Enjoy! Repeat!!!