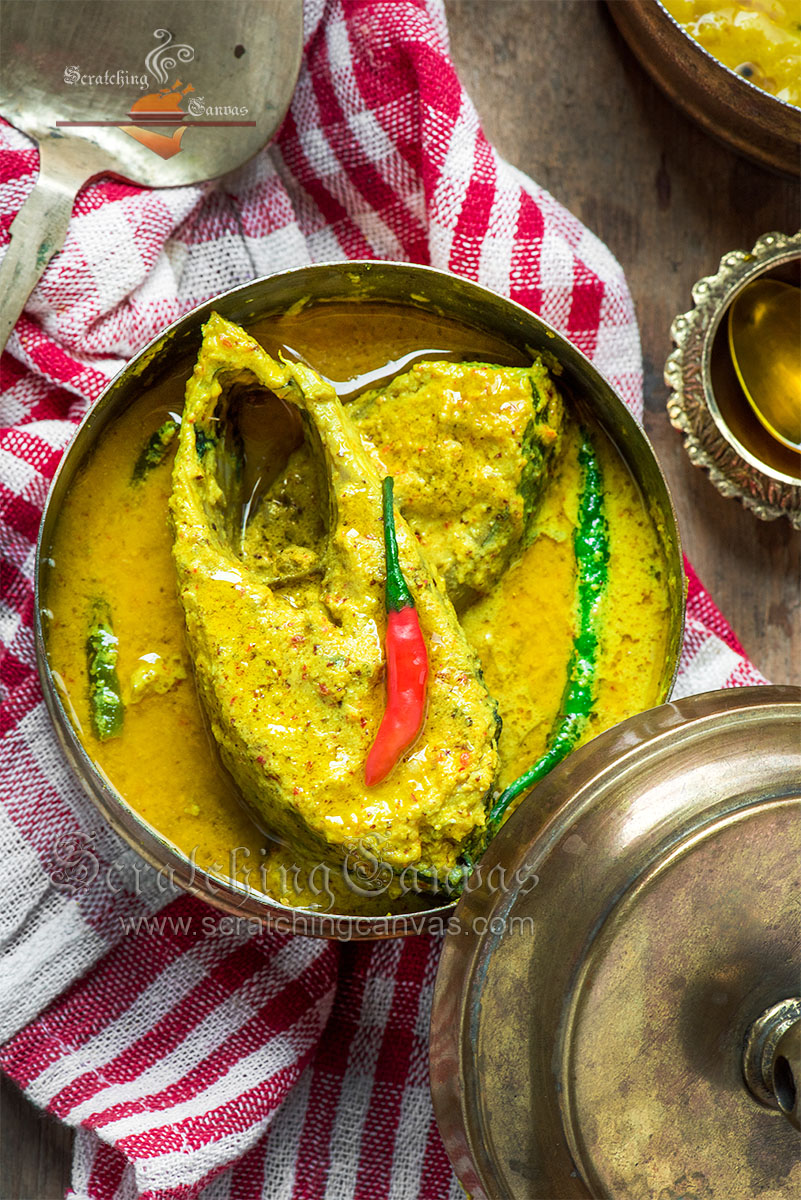 Bhapa Ilish or Shorshe Ilish Bhaape, you might be hearing these dishes a lot these days with the Ilish (hilsa) season is on full swing; it literally means steamed hilsa in mustard & spice mixture. Ilish Bhapa is a classic Ilish preparation of Bengali cuisine where fresh hilsa is marinated in special mustard-coconut-yogurt paste and steamed in good old tiffin box. The addition of pungent mustard oil and green chilli on top of freshly cooked Bhapa Ilish takes the bhaape to whole new dimension.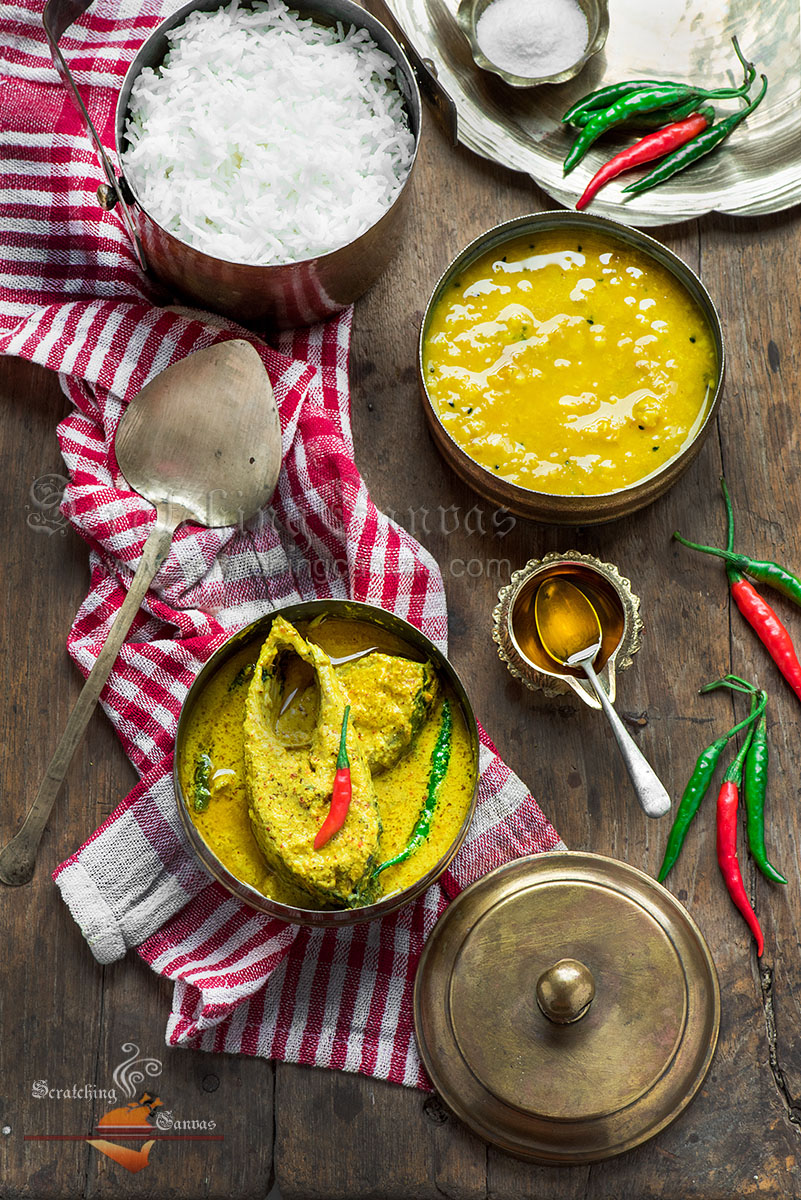 Ilish is definitely the most popular fish among Bengali people because of its rustic charm and flavours. I've heard many people complaining about flavours of hilsa these days. Some say it may cause of the sky-high price we are paying for it or may be the lack of availability in the market is forcing fish mongers to use frozen fish. But let me tell you what I think; in my opinion it's the process of handling the raw hilsa which matters most when it comes to the flavours of ilish.
I know hilsa put many people off because of the presence of 'extra' fishy smell and excessive bones. But many of you may not know that flavour (and of course the smell too) comes from the blood of ilish. Yes you read it right, it's the blood we are after (sounds crazy now when I'm reading the reviewing the post)! That is why it is said not to wash the hilsa multiple times even soaking or washing under running water is strictly No-No.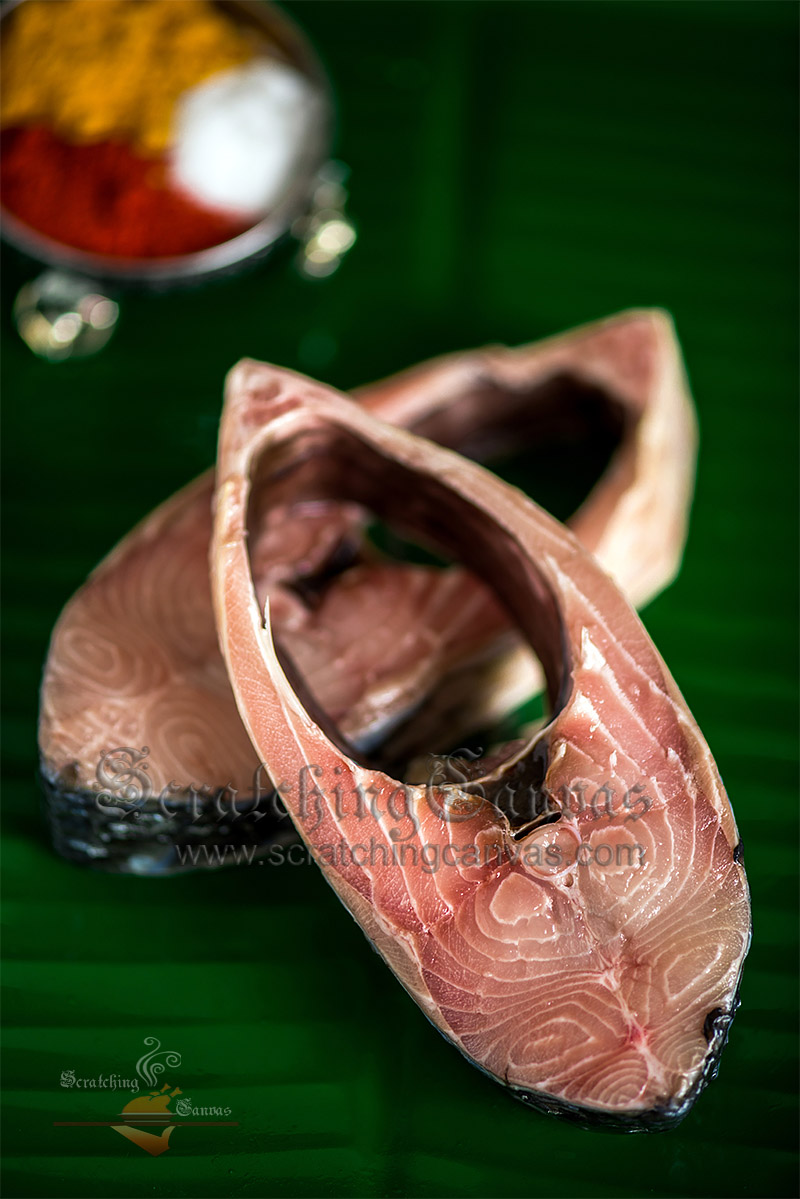 Ideally you wash the whole ilish, clean it first and the cut into slices/steaks and arrange them in a tilted bowl/plate. This will allow the blood drain without washing & then sprinkle litter water and clean the skin of the fish. That is only how you will keep the maximum flavours of ilish and to me that's totally worth the price we pay these days.
After cleaning then comes the cooking process to preserve most of the flavours from fading away. It is also said about hilsa that frying the ilish actually takes away the flavours though it enrich the oil in which it is fried. That is why Ilish Mach Bhaja ar Tel is one of the most popular hilsa preparations which is enjoyed with steamed rice & fresh green chilli.
But the BEST way to enjoy hilsa is Bhapa Ilish Shorshe bata diye or steamed hilsa is homemade mustard &other spice mixture. It is also the quickest possible hilsa preparation; it barely takes 30 mins to take the dish out, from cleaning sink to dinner table.
A special masala is prepared by grinding soaking mustard seeds, desiccated coconuts, and with spices like turmeric green chilli. The paste is further whisked with yogurt or curd and seasoned with salt & sugar. Hilsa is marinated in this freshly prepared spice mix inside an enclosed metal container and steamed for 10-15 mins.
Traditionally stainless steel tiffin box is used for the purpose and it is placed inside a 'bhater handi' (rice cooker; a vessel in which rice is cooked you can say). And each portion of ilish bhapa is served with the same steamed rice. Though these days we make bhapa ilish in any large wok on gastop or pressure cooker or even in microwaves too. You can pick your gear and whip it up the lip smacking Shorshe Ilish Bhapa.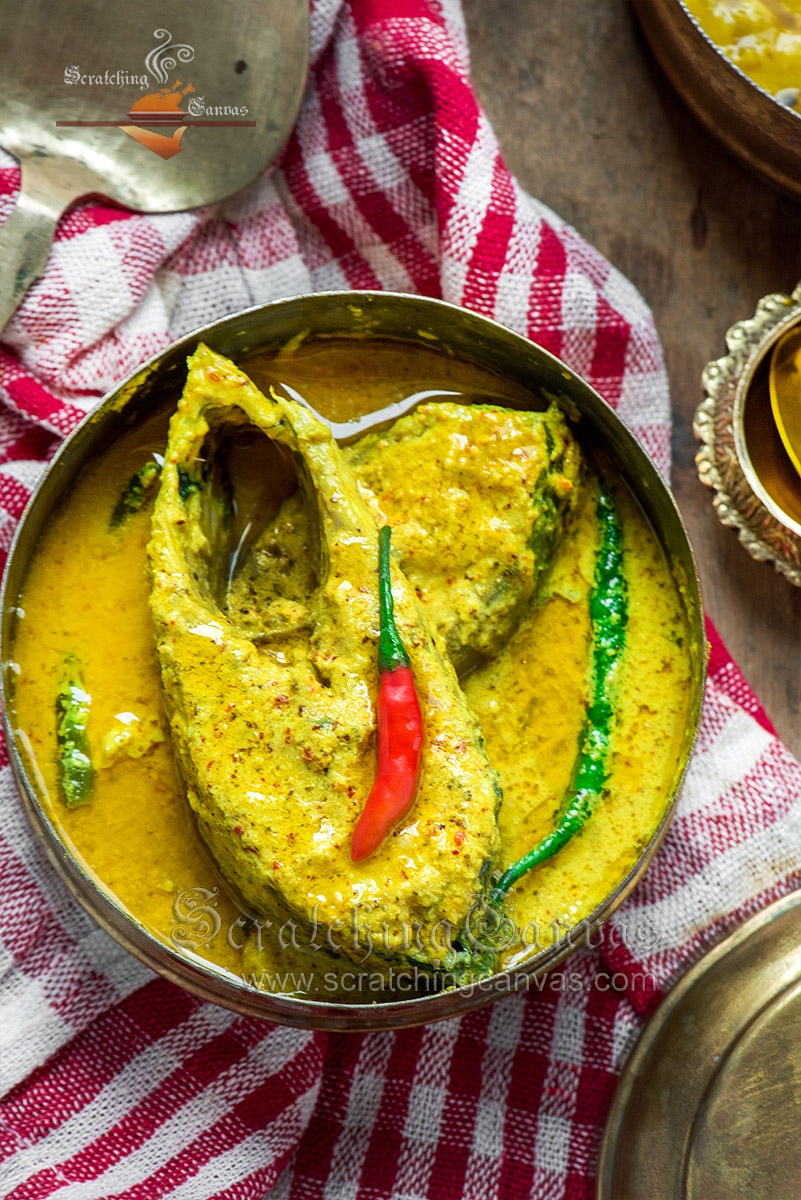 Watch detailed Video of  Bhapa Ilish Shorshe or Steamed Hilsa Recipe.
Read the entire recipe and Notes carefully before you start cooking. Do make sure all ingredients are at room temperature (unless mentioned) and weighed or measured correctly in appropriate weighing scale or measuring instruments such as cups or spoons. Remember these are not regular cups or spoons which is used in daily life.
SERVING & STORAGE:
Serve Bhapa Ilish Shorshe steaming hot; straight from pan to plate. Place one fish piece on top of piping hot steamed rice, pour few tablespoon full gravy. Now drizzle little kancha shorsher tel (virgin mustard oil) and sprinkle little salt on top. Now devour the classic in peace. And Do Not forget to the occasional bite on kancha lonka (fresh green chilli).
Ilish Bhaape is meant to be consumed immediately. Delaying in consumption or storing for later usage may affect the flavours and taste of the ilish.

Bhapa Ilish Shorshe bhata diye | Ilish Bhaape | Steamed Hilsa
Ingredients
Ilish mach/Hilsa: 4 piece, without egg
Black mustard seeds: 4 tbsp
White mustard seeds: 4 tbsp
Poppy seed: 4 tbsp
Coconut, freshly grated: ½ cup
Yogurt: 2 tbsp
Green chili: 3-5, adjust depending on your heat quotient
Turmeric powder: 1 tsp
Salt: 1 tsp
Sugar: ½ tsp, optional
Mustard oil: 3 tsp
Water: ⅓ cup
Instructions
Clean ilish mach carefully but don't wash under running water; it will wash away the flavours from fresh fish. If your hilsa is not fresh or if you are not habituated with the smell of raw fish marinate hilsa pieces with salt and turmeric powder and keep aside for 10 mins.
Take a small bowl and soak poppy seeds with both mustard seeds in ½ cup warm water for 10-15 mins. I like to add few green chilies with it. Once seeds are softened strain seeds (discard the water) and grind into a coarse paste without any additional water.
Add coconut, turmeric, salt, sugar (if using any) rest of green chilies and make a smooth paste. Mustard tends to get bitter while grinding too much so it's better use pulse (or grind) only 2-3 times all together.
To make any kind of bhaape you will require a stainless steel tiffin box with tightly fitted lid which will be kept on steam or bhaap for 15-20 mins. That is why the box should sturdy otherwise it will burst open in boiling water.
Now take 3 tbsp of this mixture in the tiffin box and mix with previously whisked yogurt. Whisk both together until a smooth paste if formed.
Add hila pieces in to tiffin box and coat well with mixture. Cover all the sides and cavity neatly.
Cover the box and allow to rest for 15 mins. This way hilsa will absorb all flavours.
If you need slightly runny gravy to go with your rice open the box after 15 mins and add ⅓ cup water. Mix thoroughly in light hand without disturbing the fish steaks.
Slit four green chilli halfway through and place each of them on each hilsa steak.
Drizzle 2 tbsp of mustard oil and cover the lid tightly.
Take a large wok or any wide open pan; place a stand in the middle. Set the hilsa filled tiffin box on the stand carefully so that the tiffin box doesn't touch the bottom of the wok/pan. Now pour hot water (not boiling) into the wok so that only bottom half of the tiffin box is covered with water. Cover the wok with a tightly fitted lid and allow to cook on medium flame for 15-20 mins.
If your hilsa steaks are thicker than 1" cook for 20 mins otherwise 15 mins will be enough to cook ilish.
Once done switch off the flame and keep on stand by for another 5-7 mins or until it is bearable to touch the wok or tiffin box.
Remove tiffin box from wok carefully; take precaution as it will be too hot to burn your skin.
Remove lid of the box gently and drizzle some mustard oil on top of hilsa pieces.
Serve with hot steamed rice and more green chilli.
Have you tried/cooked any of the recipes from my blog Scratching Canvas?
If yes I would love to know your feedback and opinion. Take a picture of your food and share on Instagram with the hashtag #scratchingcanvas. Or simply drop me a message @rimleed I will share your picture and opinion as well. See you there 🙂
EAT, LOVE & ENJOY! REPEAT!!!
You may also like these Bengali Classic Ilish (hilsa) Preparations