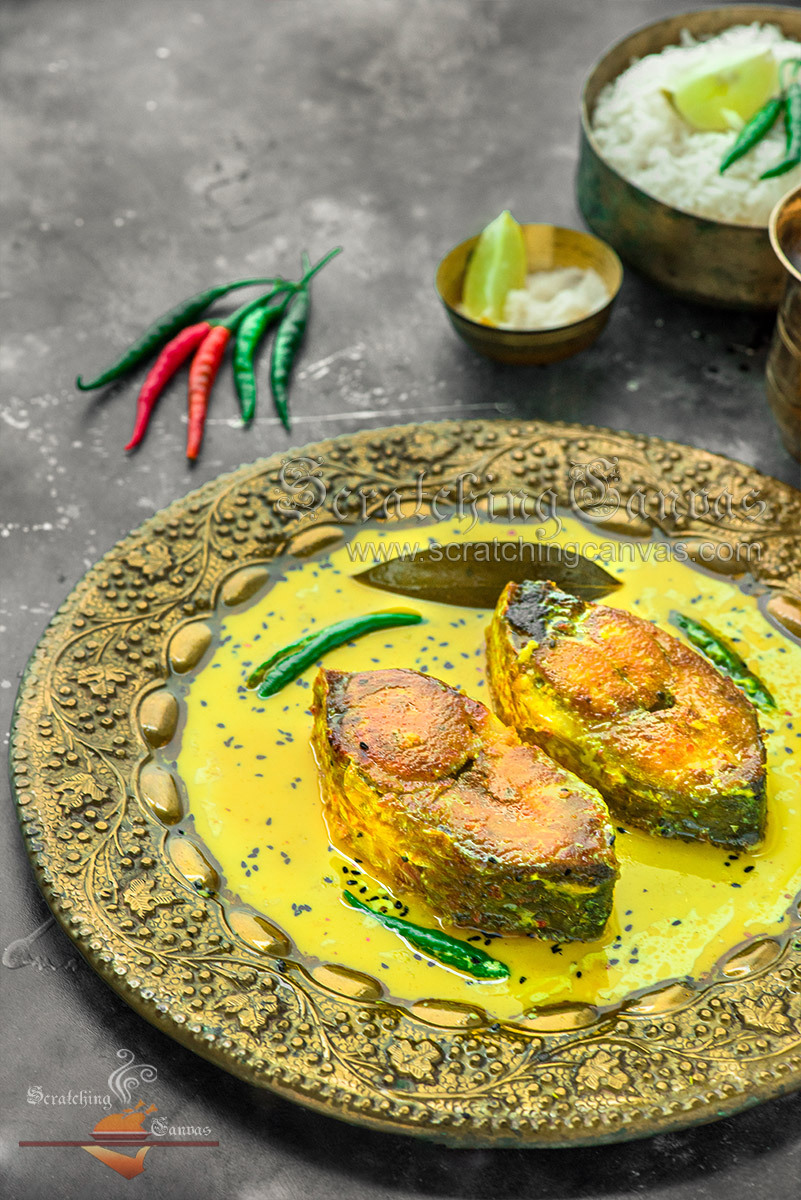 Dudh Ilish is a classic Bengali delicacy, umm no let me put my words in a different way. Doodh Ilish is a royal love affair between our majesty of water, Ilish (hilsa) and creamy thickened milk. And their golden romance is coloured with touch of turmeric and further spiced up with simple fresh green chilli and nigella seeds. Thus we are entitled to enjoy this elegant pristine delicacy of Bengal, Dudh Ilish aka Hilsa in Curried Milk.
Don't let the term 'Doodh Ilish' slip you a step back because if you do it will be a pity. It may occur weird by the name but it is the simplest yet most appealing recipe I've come across so far. You may have already enjoyed other more popular Ilish preparations like Ilish Mach Bhaja, Shorshe Ilish, Ilish Macher Paturi, Ilish Begun Jhol, Ilish Pulao.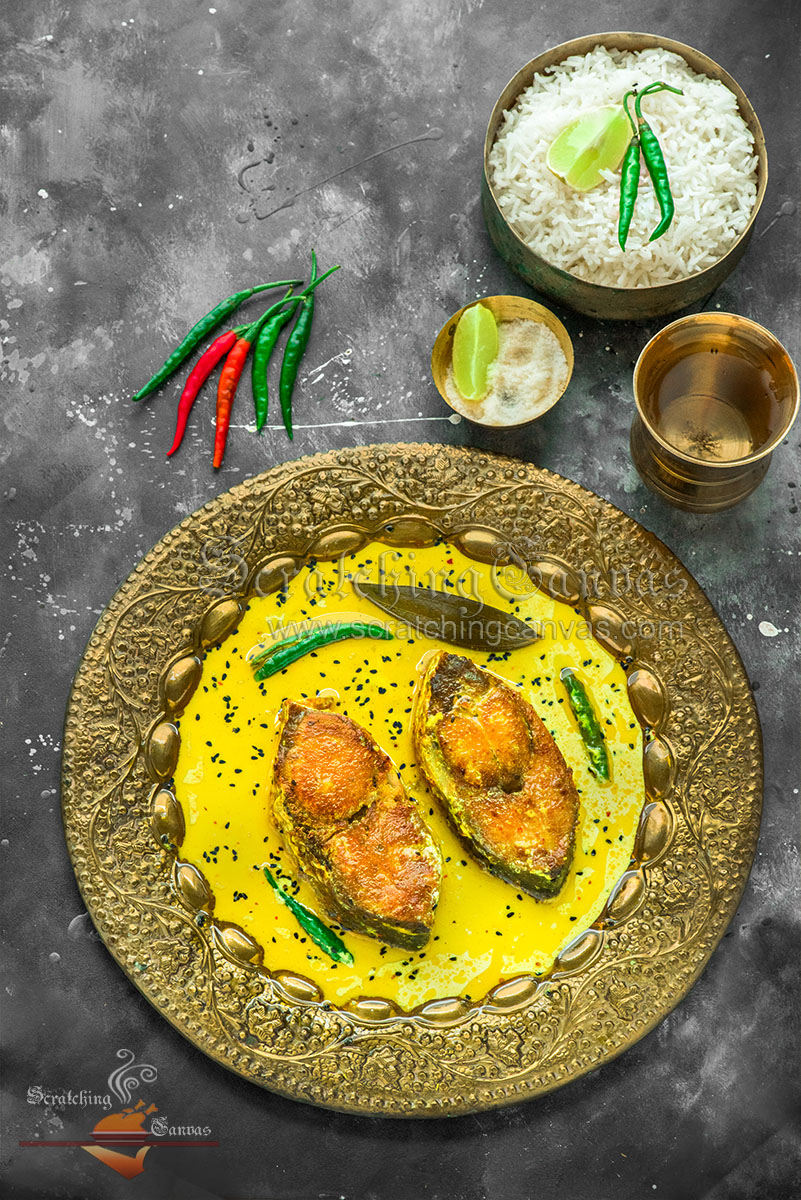 But Narkel Dudh e Ilish Mach is way above them all; rather it's a journey of heaven & back to earth. The attractive bright hue of pale golden coloured  curry will take your mind somewhere in heaven and the pungent punch of extra virgin mustard oil & rustic nigella seeds will bring back to earth to taste the delectable Ilish Mach. The coconut flavoured milky broth will keep reminding you the mustard flavour while the subtle sweetness from reduced (coconut) milk keep the balance of flavours checked in the curry.
Isn't it quite a journey which worth a try? It is to me, any day, every day!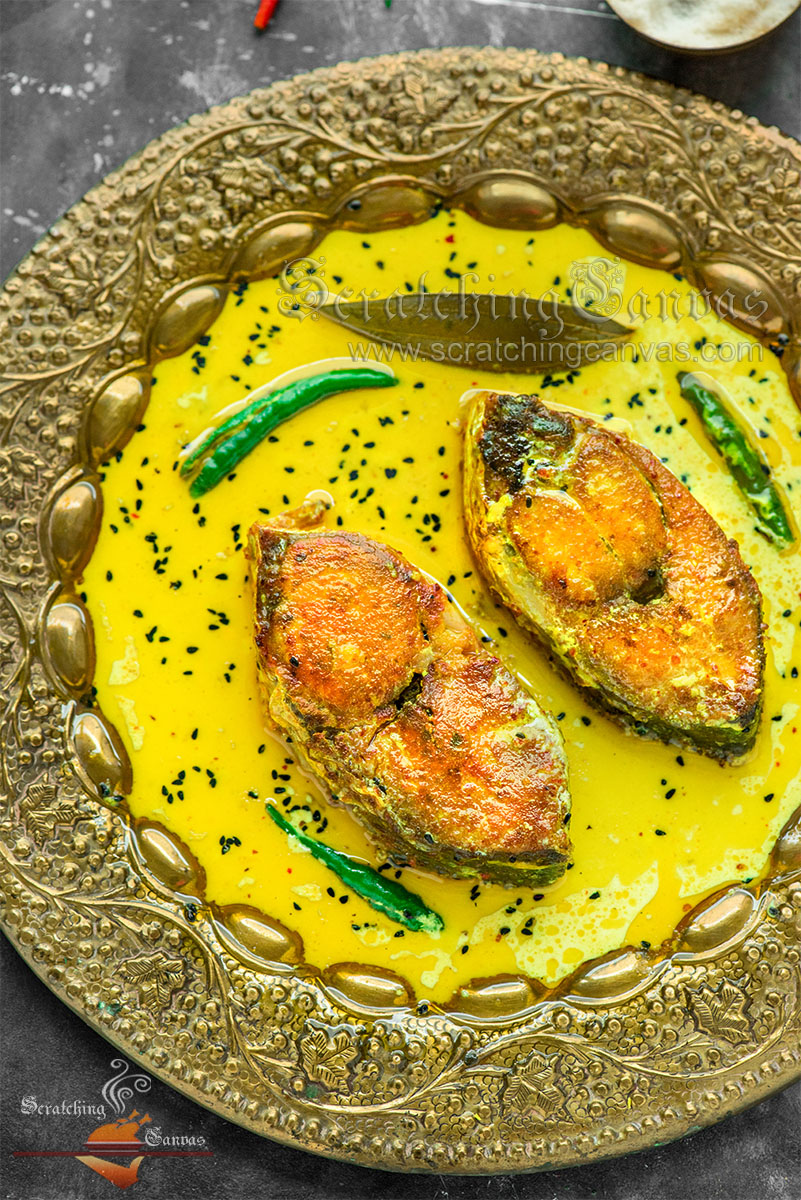 Watch detailed Video of  Doodh Ilish or Hilsa in Curried Milk Recipe.
Read the entire recipe and Notes carefully before you start cooking. Do make sure all ingredients are at room temperature (unless mentioned) and weighed or measured correctly in appropriate weighing scale or measuring instruments such as cups or spoons. Remember these are not regular cups or spoons which is used in daily life.
SERVING & STORAGE:
Doodh Ilish tastes best with steamed rice or Basanti Polau.
Store excess Malai Curry in airtight container under refrigeration and consume within 2 days.

Doodh Ilish | Narkel Dudh e Ilish Mach | Bangladeshi Delicacy Doodh Ilish | Hilsa in Coconut Milk
Ingredients
Ilish Mach: 4 pc, large pieces preferable
Green chili: 3-4
Nigella seeds: ½ tsp
Turmeric powder: 1 tsp,
Red chilli powder: ½ tsp, optional
Salt: 1 tsp
Milk: 500 ml
Bay leaf: 1 large
Sugar: ½ tsp
Mustard Oil: 4 tbsp
Instructions
Clean ilish mach carefully but don't wash under running water; it will wash away the flavours from fresh fish. Marinate hilsa pieces with salt and turmeric powder; cover all the sides and cavity neatly. Keep aside for 10 mins until needed.
Pour milk in a heavy duty saucepan and bring it to boil. Add bay leaf and keep the milk on simmer until the volume of the milk is reduced to half of original volume. Say, 2 cups milk should be reduced to 1 cup or so.
Heat mustard oil in a deep bottomed pan to the smoking point. Simmer the flame and add marinated hilsa pieces one by one carefully to the hot oil.
Cook for 2-3 mins and then flip the fish very gently without breaking into pieces.
Cook for another 2 mins and flip again to check whether fish is cooked through.
If both sides of each fish are turned into golden brown and firm, ilish mach is cooked.
Remove ilish from oil with care; they tend to break into pieces and set aside into the serving bowl.
Add nigella seeds and 1-2 green chilli to the hot oil and allow to splutter.
Add ½ tsp turmeric powder to the oil and fry for 30 secs. or unless raw smell is gone.
Simmer the flame and add thickened milk to the pan. Whisk quickly before milk curdled.
Add sugar and adjust seasoning with salt if needed and stir nicely. Keep the flame to minimum.
Add fish pieces into milk; cover and keep on simmer for 5-8 mins.
Switch off flame; add more green chilli and keep on stand by for 10 mins to infuse curry with the flavours of fish.
Transfer the serving bowl and add more green chili if desired.
Serve Doodh Ilish immediately with hot steamed rice. Enjoy!
Have you tried/cooked any of the recipes from my blog Scratching Canvas?
If yes I would love to know your feedback and opinion. Take a picture of your food and share on Instagram with the hashtag #scratchingcanvas. Or simply drop me a message @rimleed I will share your picture and opinion as well. See you there 🙂
EAT, LOVE & ENJOY! REPEAT!!!
You may also like these Bengali Classic Ilish (Hilsa) Preparations