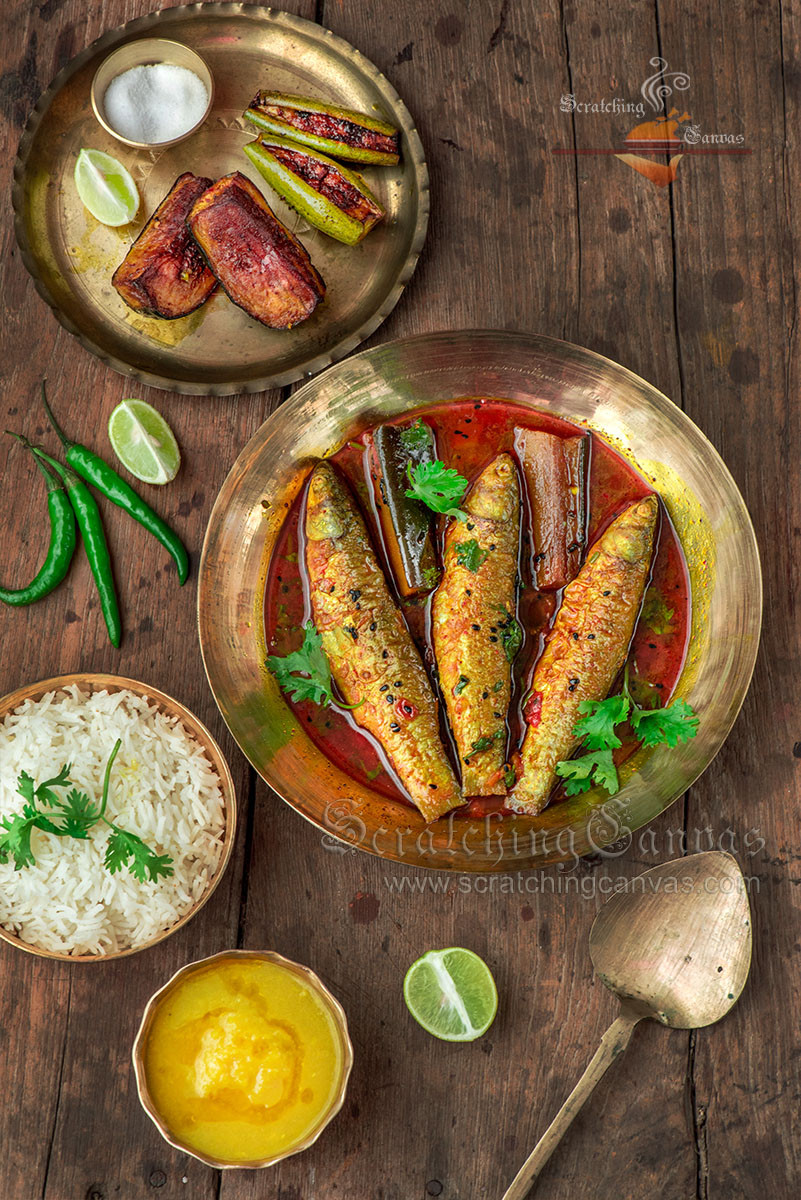 Parshe Macher Jhol or Parshe Begun Bori Jhol is a delectable macher jhol or Bengali Fish Curry with Mullet fish and eggplant. This simple fish curry is flavoured with freshest possible parshe mach (grey mullet fish), rustic charm of kalo jeere (nigella seeds), heat from kancha lonka (fresh green chilli) and freshness from coriander leaves. And of course none other than our beloved shorsher tel (mustard oil) add sharpness in the gravy. Parshe Macher Tel Jhol is an excellent everyday fish curry for summer lunch to enjoy with steamed rice.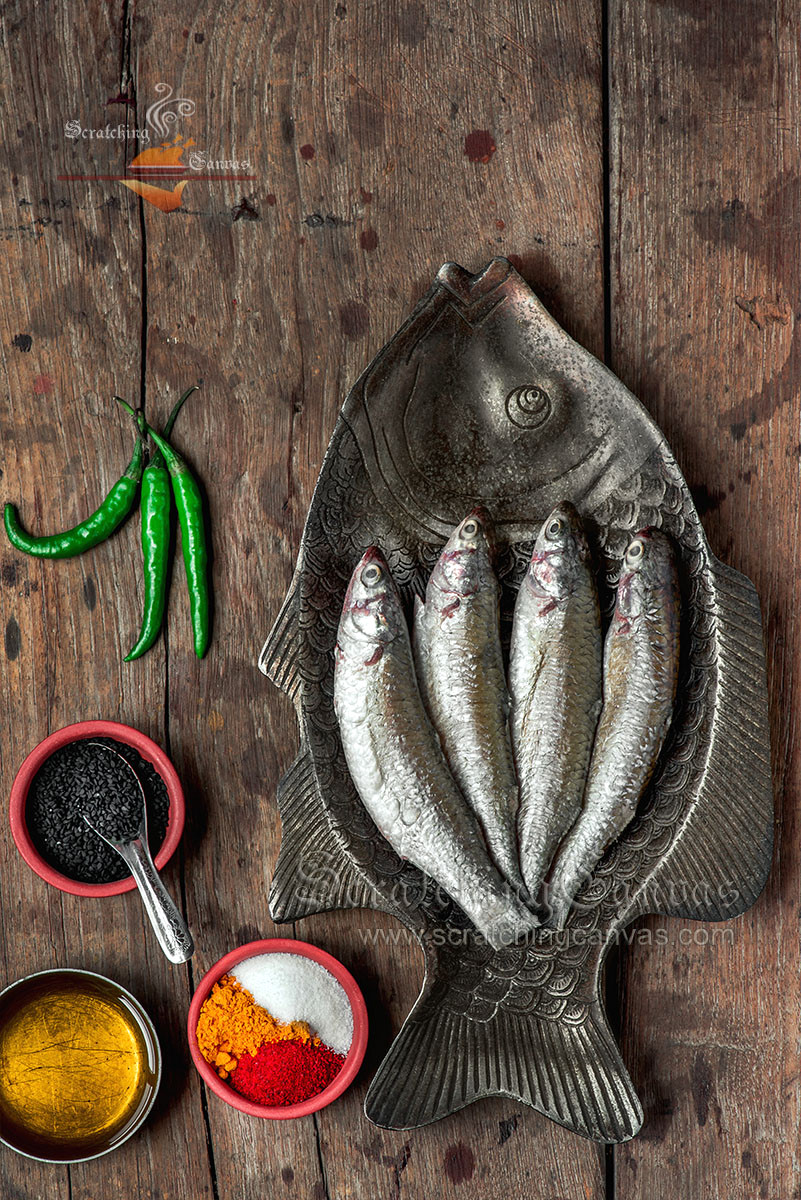 Parshe or Grey Mullet is fresh water fish which is mostly found in medium to small size. They have soft delicate flesh and slightly sweet in taste. Being a small fish Parshe is full of flavour with less fatty/oily skin. That is why it's bit tricky to cook parshey mach perfectly. Due to the thin skin fish can get easily deskinned and exposed in oil while cooking which is the least expected thing while you cook fish. Parshe should never be cooked more than 2-3 mins on both sides. Infact 1 min on each side should be enough to get cooked the flaky flesh.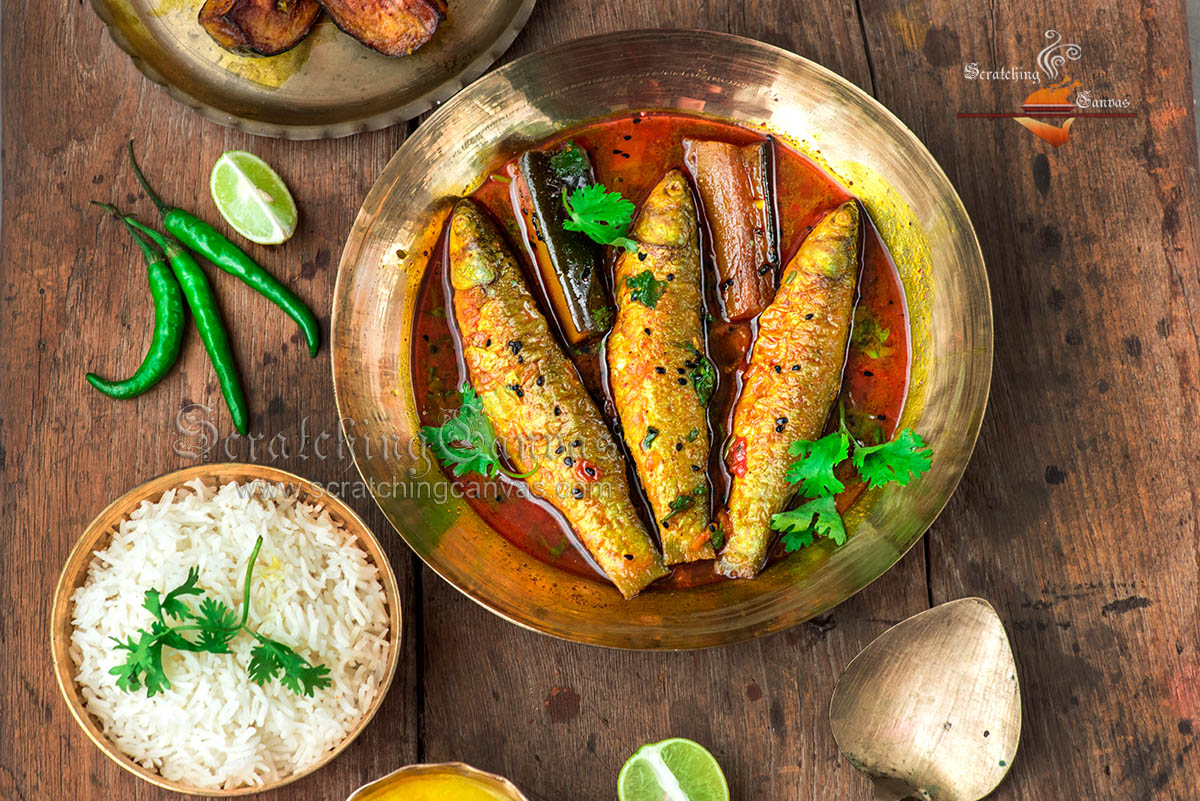 Parshe Macher Tel Jhol it tastes best while cooked in runny curry with minimum spices called jhol in Bengali. The only flavour of the curry would be undisputed flavours and taste of fresh parshe mach and nothing else. To maintain the agenda nothing but kalonji and fresh green chilli are used.
There is a very important step before serving parshe macher jhol. As  Once macher jhol is done sprinkle chopped coriander leaves and keep the curry in standby for 15-30 mins with lid on. This procedure will help fish to release flavours in the curry while the flesh will absorb more flavours from curry.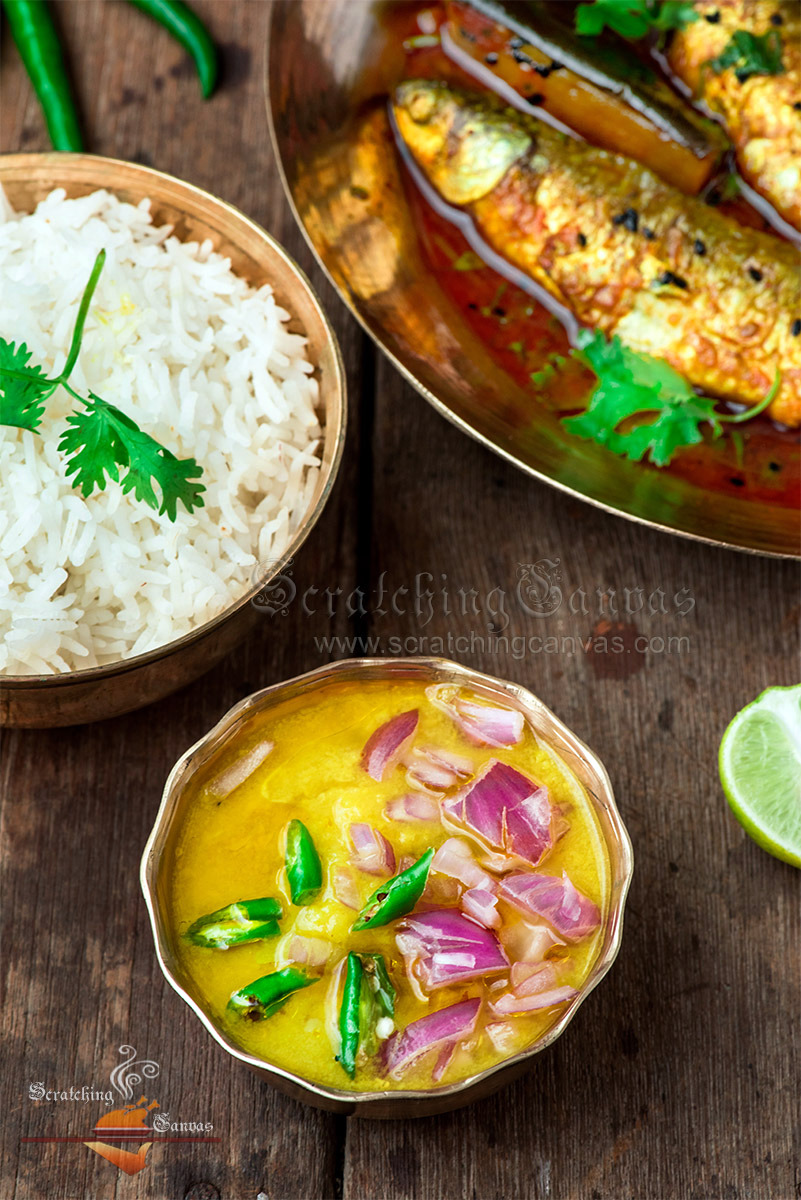 Watch detailed Video of  Parshe Macher Tel Jhol Recipe.
Read the entire recipe and Notes carefully before you start cooking. Do make sure all ingredients are at room temperature (unless mentioned) and weighed or measured correctly in appropriate weighing scale or measuring instruments such as cups or spoons. Remember these are not regular cups or spoons which is used in daily life.
SERVING & STORAGE:
Parshe Macher Tel Jhol tastes best with bhaat, dal and Jhiri Jhiri Aloo Bhaja (steamed rice, lentil and smashed potatoes). Keep Parsher Begun Jhol on standby for 15-30 mins before serving. This will allow fish release flavours into the curry and the jhol will taste best.
To store excess parsher jhol arrange fish in a single layer in any airtight container and pour the curry on top. Cover with tightly fitted lid and refrigerate. Consume within two days. Heat the fish and curry thoroughly when ready to eat.
Parshe Macher Tel Jhol Recipe | Parshe Macher Jhal
Ingredients
Parshe Mach: 4-5 pieces
Tomato, chopped: 2 tbsp or half or a large tomato
Eggplant: 4-5 pieces, cut into rectangle shape
Fresh green chilli: 2
Fresh coriander leaves, chopped: 2 tbsp
Kalo Jeere, Nigella seeds: 1 tsp
Turmeric powder: 1 ½ tsp
Red chilli powder: 1 ½ tsp
Sugar: ½ tsp
Salt: 1 tsp
Mustard Oil: ¼ cup
Warm water 2 cup
Instructions
Smear previously washed and clean fish with ½ tsp of each turmeric powder, red chilli powder and salt. Keep aside for 10-15 mins.
Heat mustard oil in a deep bottomed pan till oil is smoking hot. Turn down the flame and wait for 2-3 mins. Add pinch of salt to the oil and stir; this will help to control oil spluttering during frying fish.
Carefully add fish one by one to the hot oil and cook for 1 mins on each side on high flame. If your fish is larger in size you may cook for another minute.
Remove fried fish from oil and keep on the serving bowl. Thus the juice from fish mixed with oil will remain in the bowl which will help to turn curry tastier.
In the same oil fry eggplant pieces until cooked thoroughly. Remove eggplants and keep on the same serving bowl. Add oil to the pan if required.
Add kalonji to the remaining oil and allow to crackle. Slit one green chilli and add to the pan too.
Add chopped tomato to the along with the juice and fry for 30 sec to 1 min. on high flame. Simmer the flame and cook until tomato is softened. You may cover the pan if tomato is not fully ripe.
Add turmeric powder, red chilli powder, salt, sugar and fry for 1 min or until raw smell from spices is gone.
Once masala is mixed nicely and oil separates from masala add 2 cups of warm water and bring it to boil.
Once water starts boiling vigorously add fried eggplant and cook for 2 mins.
Simmer the flame, arrange fried fish in curry in gravy and cook for 3-5 mins.
Switch off the flame, sprinkle chopped coriander leaves, 1 green chilli. Keep the pan covered for 15-30 mins and serve with steamed rice.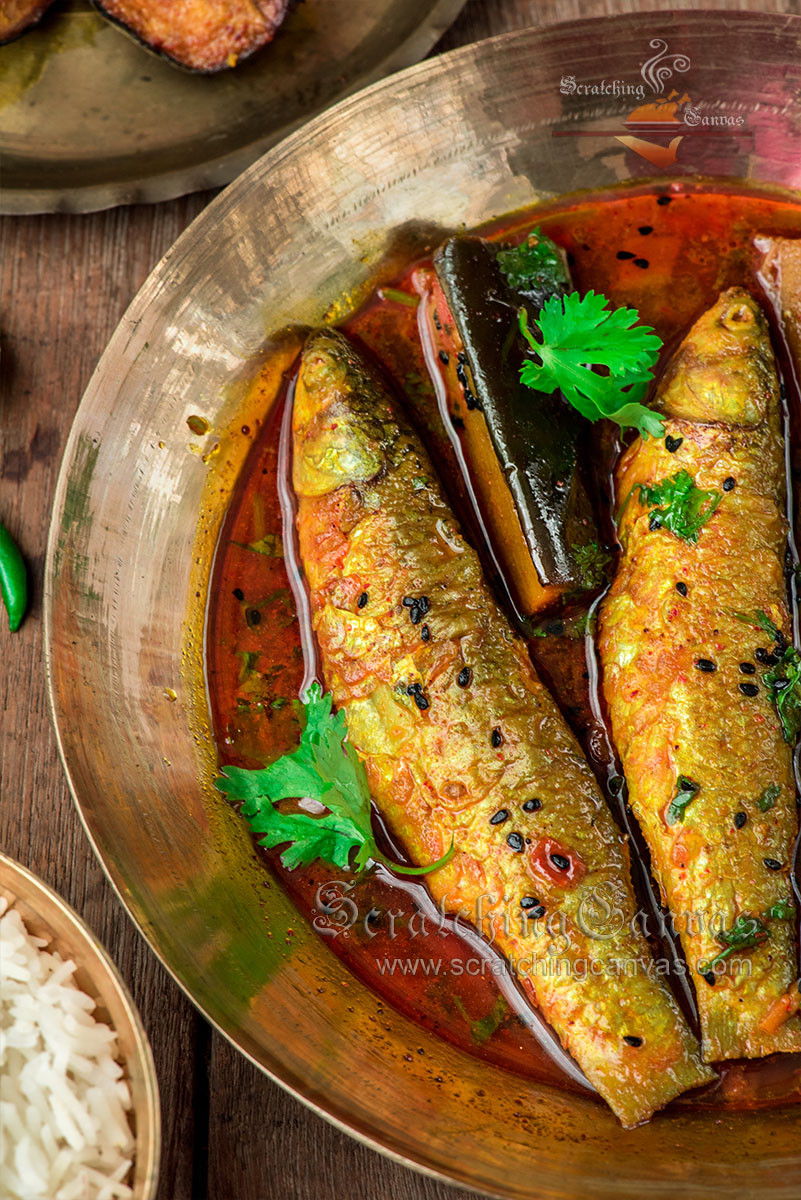 Have you tried/cooked any of the recipes from my blog Scratching Canvas? If yes I would love to know your feedback and opinion. Take a picture of your cooked food and share on Instagram with the hashtag #scratchingcanvas. I will share your picture and opinion with all. See you there 🙂
EAT, LOVE & ENJOY! REPEAT!!!
You may also like these Bengali Classic Fish Preparations