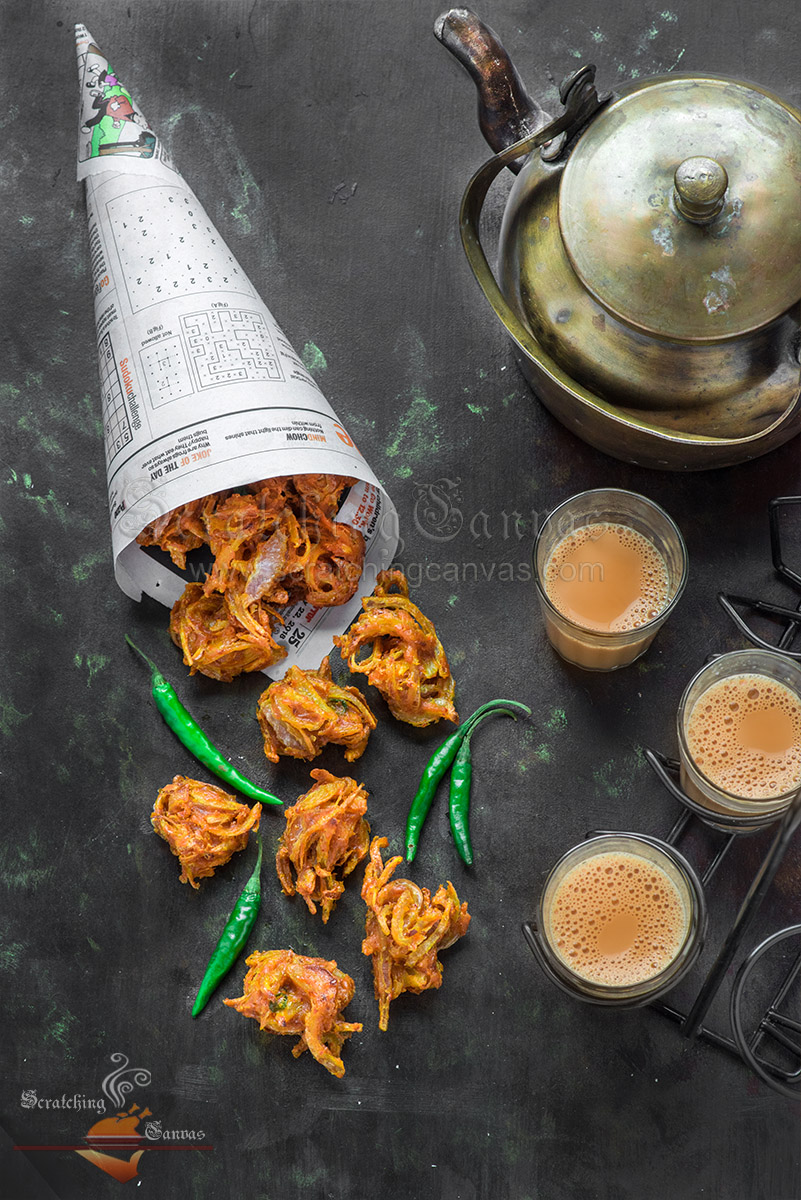 Pyazi or Peyaji in Bengali is the crispiest telebhaja or pakora among all Kolkata street foods. Almost everybody loves মুচমুচে পেঁয়াজি during monsoon and it sells like hot cake. But when it's very short lived Aam Ada deoa Peyaji you gotta (literally) jump on the shop owners/vendors to grab a fair share before it's gone with the wind. Yes it's that much popular when in season! And this delicious fritters are probably available only in lanes & by lanes of North Kolkata.
Onion Pakora is batter coated deep fried onion fritters where thinly sliced onion is seasoned with spices and folded in telebhaja batter and fried until crispy.  In Kolkata peyaji is sold in paper bangs along with rock salt and fresh green chili. Sometimes the same telebhaja vendors also offer muri-chanachur and cha to their regular customers in exchange of minimum price.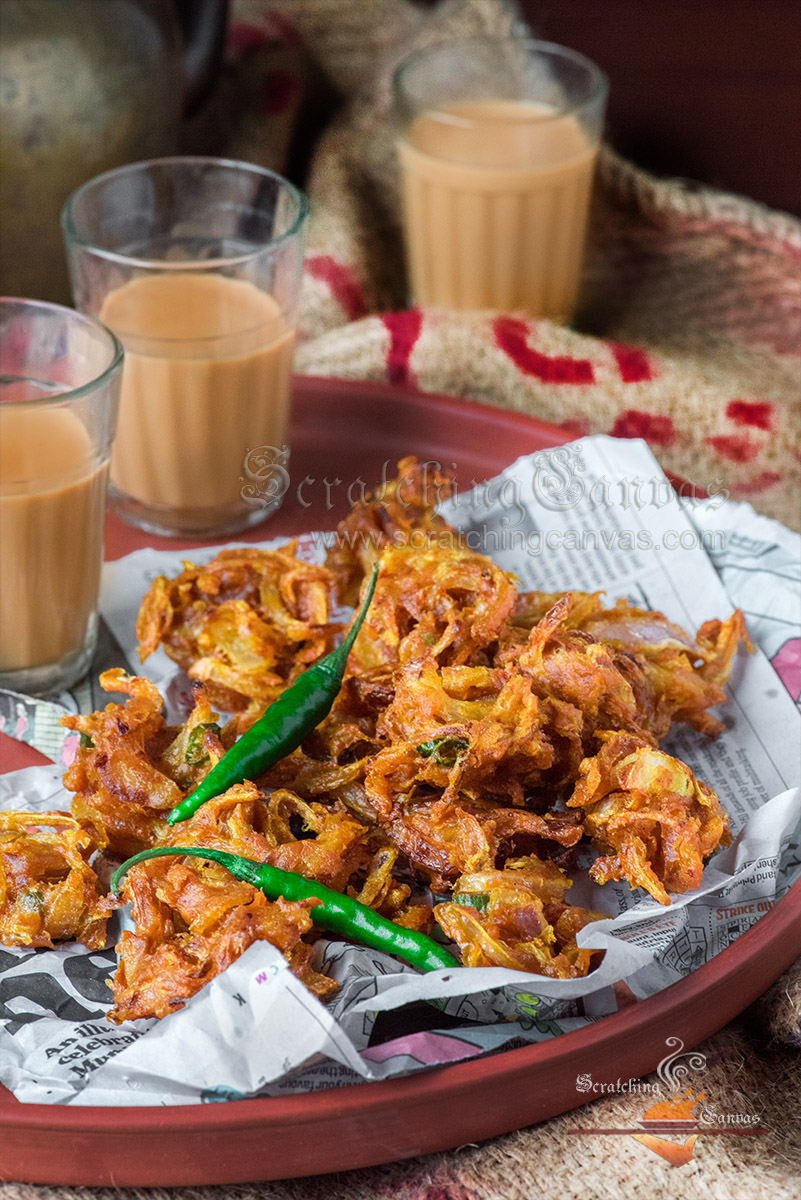 If you ever visit Kolkata telebhaja shops you will notice a clear discrimination in their products. Most sellers offer Beguni, Aloo Chop, Fuluri, Vegetable Chop but only handful of them sell peyaji. Onion is considered amish (non-vegetarian) in Bengali community and many people prefers buying telebhaja from those vendors who sell anything piyanji over pure veg items (no onion no garlic). So those vendors who have onion pakora they often sell dhoka bhaja, musur daler bora etc. and they spiked the taste of their telebhaja with ginger, garlic and aam ada mango ginger when available. Both versions of piyanji has its own charm but my personal favourite will always be Aam Ada deoa Peyaji.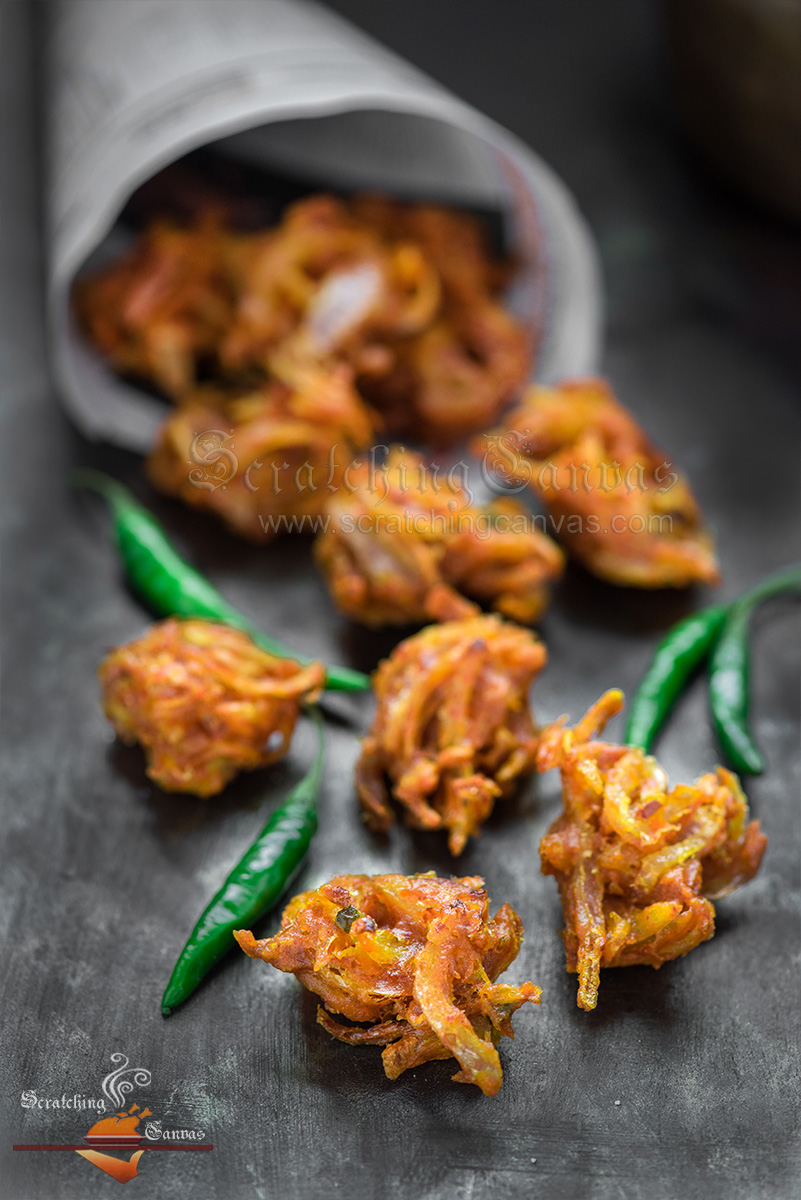 Onion Fritter is also known as Maharashtrian Kanda Bhaji or North Indian Onion Pakora and it is the most popular pakora across India. As onion pakora is cooked and enjoyed almost every region of India it has many variations though the core ingredients onion and Bengal gram flour remain constant.In northern regions onion is sliced in slightly thicker size and dipped in thick besan batter and seasoned with carom seeds & chaat masala.
In eastern side the pakora batter is made of besan, maida, baking soda and seasoned with turmeric, red chilli powder, bhaja moshla (roasted spice mix). In western and southern part of India onion is sliced as thin as possible and marinated with red chilli powder, salt for mins or so. Then it is covered with dry besan (Bengal gram flour) and the juice released from onion itself is used to make a very thick and dense mixture. And this is known as kanda bhaji which is actually the crispiest version of pyazi.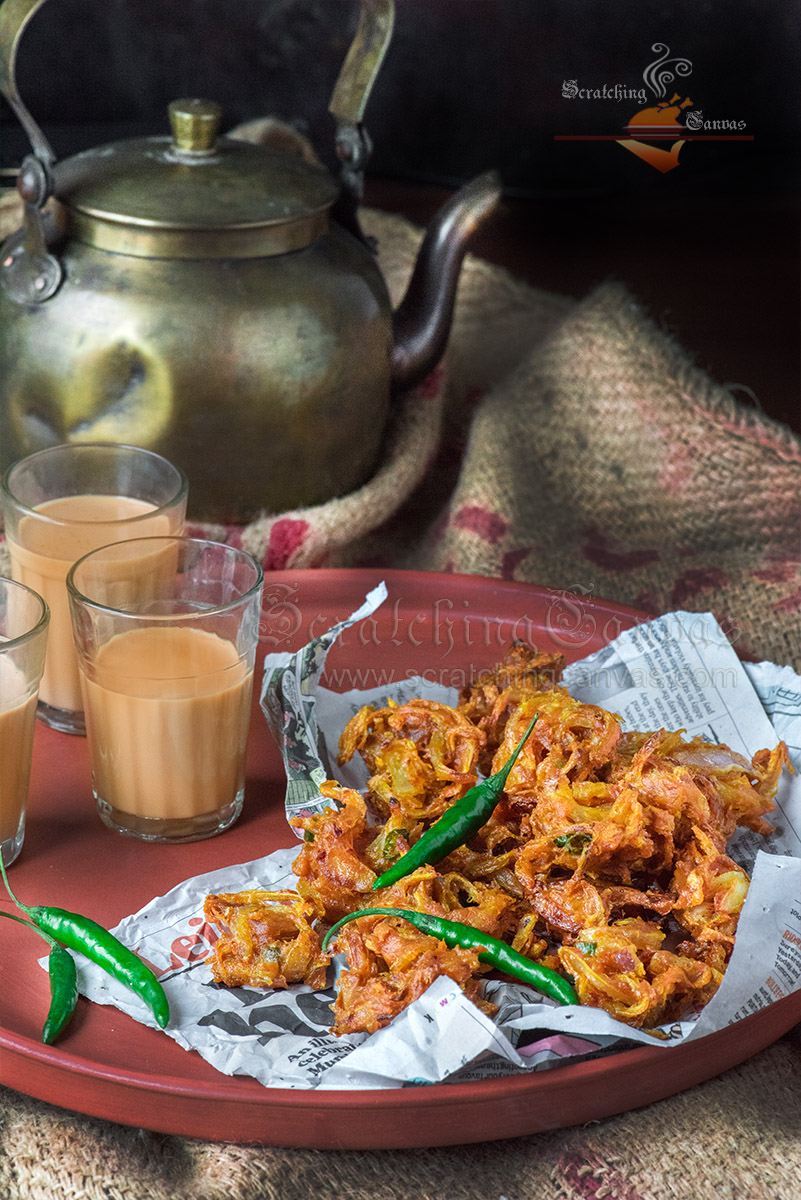 Watch detailed Video of  Peyaji or Onion Pakora Recipe.
Read the entire recipe and Notes carefully before you start cooking. Do make sure all ingredients are at room temperature (unless mentioned) and weighed or measured correctly in appropriate weighing scale or measuring instruments such as cups or spoons. Remember these are not regular cups or spoons which is used in daily life.
SERVING & STORAGE:
Pyazi or Kanda Bhaji or Onion Pakora taste best with Muri Badam Bhaja (roasted Puff Rice with peanuts) and Doodh Cha (Milk Tea) as breakfast or snack.
Onion Pakora is often enjoyed with bhaat, dal with a lemon wedge on side and Macher Jhol on a lazy-day lunch (steamed rice, lentil and Fish Curry). But during monsoon Peyaji or Piyaji is mandatory with khichuri.
Consume pakoda hot, right after frying. It does not taste good cold or after refrigeration (not even after reheating).
Pyazi Recipe| Bengali Peyaji | Best Kanda Bhaji | Onion Pakoda | মুচমুচে পেঁয়াজি চপ রেসিপি | CRISPY ONION FRITTERS
Ingredients
For Batter:
Maida, all-purpose flour: 4 tbsp
Rice flour: 2 tbsp
Bengal gram flour: 2 tbsp
Turmeric powder: ½ tsp
Red chilli powder: ½ tsp
Roasted Cumin powder: ½ tsp
Salt: ¼ tsp
Water: ½ cup
White Oil for deep frying
Others:
Onion, large: 2, thinly sliced
Green chilli: 2, finely chopped
Aam Ada, Mango Ginger: 1 tbsp, freshly pounded
Mustard oil: 2 tbsp
Instructions
Take a deep bottomed pan which is suitable for deep frying and heat oil on medium flame. The depth of the pan should be more than 2".
Mix all the dry ingredients in a large bowl. Add water gradually little by little and keep whisking. Don't add entire water together; this will make a large lump. Add little water, whisk to mix it thoroughly and then add again and so on. This will ensure lump free smooth matter.
Now add 2 tbsp of hot oil into the batter and whisk quickly. This hot oil will make the batter silky and fries crispy.
Add ginger or mango ginger (whichever you are using) and green chilli to the batter and mix well.
Finally add thinly sliced onion to the batter and toss well so that each onion slice gets coated with the batter. There shouldn't be any batter left after that; otherwise pakoda will be soft, not crispy.
Now 1 tbsp batter at a time and slide in hot oil carefully. You may use your hand for the same. Don't just drop the batter coated patty in hot oil, slowly slide it in. this way there will be no oil spluttering.
Keep the flame on medium and cook pyazi for 3-5 mins. Flip gently on other side and cook for another 3-4 mins on medium flame. If kanda bhaji is evenly coloured and puffed up, your pyaz ke pakode is done. Remove from oil with slotted spoon and keep on kitchen towels to get rid of excess oil.
Serve immediately with ketchup and hot tea.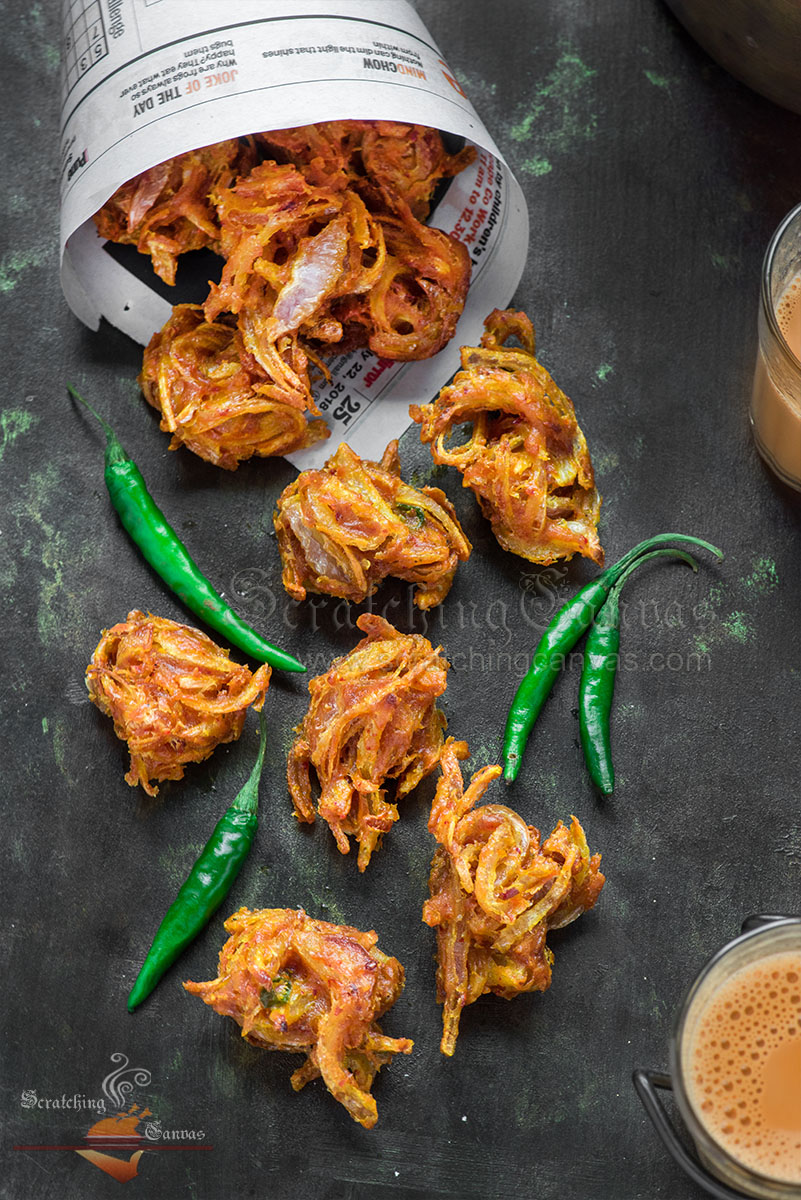 Have you tried/cooked any of the recipes from my blog Scratching Canvas?
If yes I would love to know your feedback and opinion. Take a picture of your food and share on Instagram with the hashtag #scratchingcanvas. Or simply drop me a message @rimleed I will share your picture and opinion as well. See you there 🙂
EAT, LOVE & ENJOY! REPEAT!!!
You may also like these Bengali Classic Bora/Pakora/Fritter Recipes