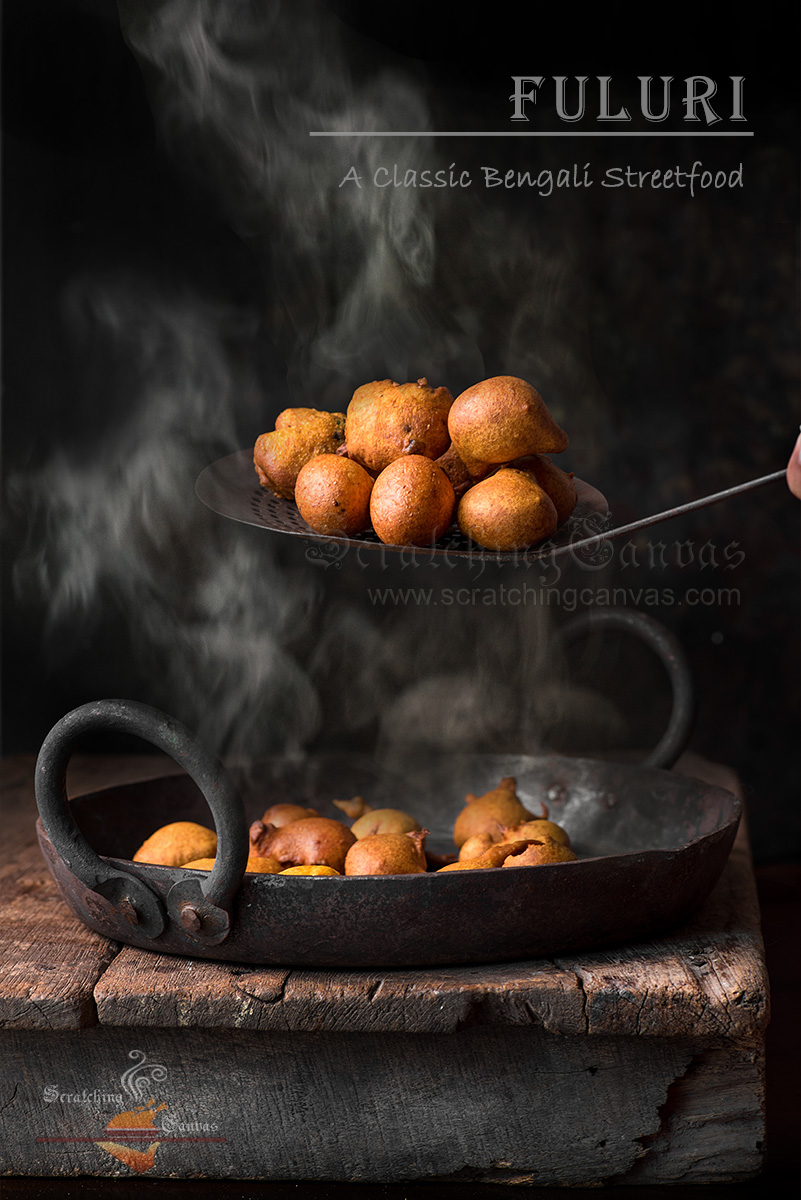 Fuluri is the most widely available Telebhaja after Beguni, Aloo Chop at unbelievably cheap rate on the streets of Kolkata. Yet it is neither as glamorous as Fish Fry nor famous as Beguni. But it has definitely bagged the most popular award on people's choice. In my opinion fuluri is the dark horse of world of chop-telebhaja. Whether you like it or not but you simply can not escape from the fact that fuluri has been feeding Bengal and keeping the spirit alive for very long period. I will tell you how.
A pair of (2 pieces) of fuluri can cost you only 3-4 Rupees to munch with your 2 Rupees cutting chai (evening tea). And if you are hungry enough (or able to spend enough) to pay another 5 rupees you will be entitled to enjoy a thonga bhorti muri badam bhaja (a paper bag full of roasted puff rice and peanuts). Yes the food in Kolkata is that cheap but it's definitely not cheap food at all!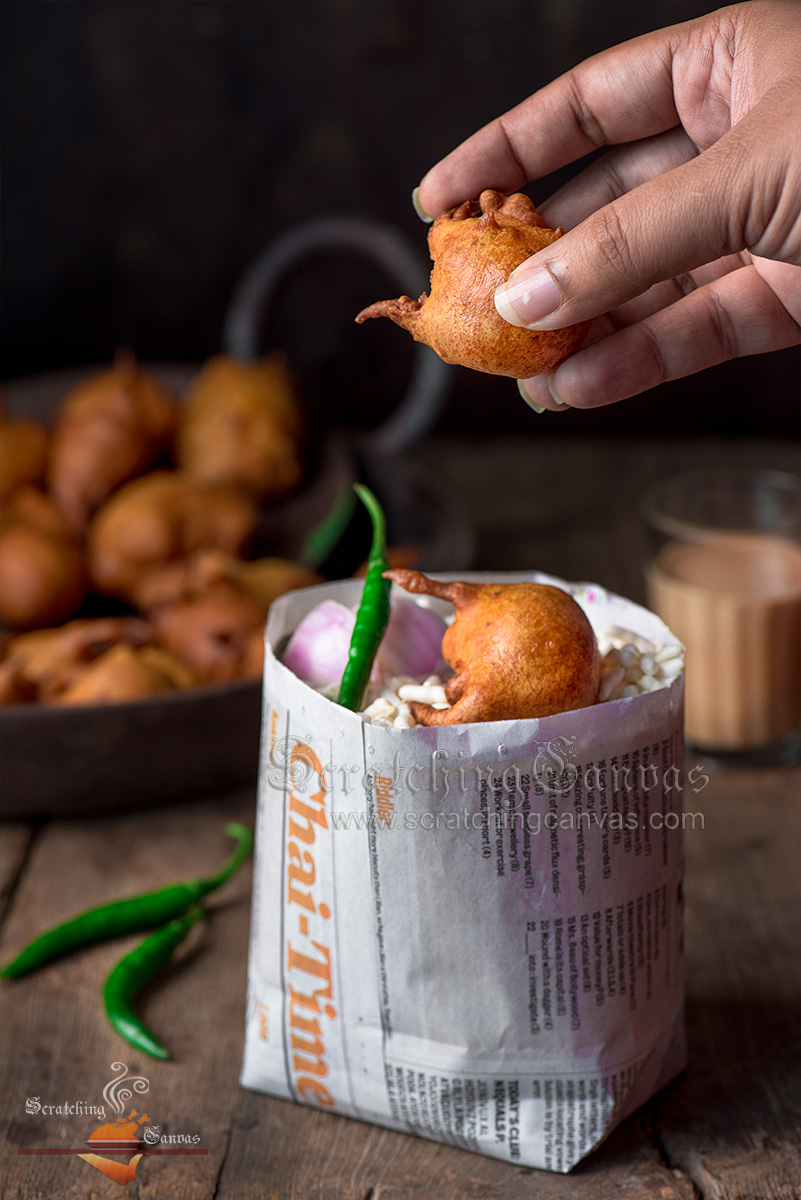 In fact this muri telebhaja is the breakfast of millions of Bengalis who come to Kolkata daily for work from across the Bengal. Majority of these people lead a life on base of their daily wedges and survival in today's word would be impossible if they are not fulfilling their hunger within that rate.
Fuluri has been integral part of bengal's life from ancient time. A bowlful of panta bhat, kancha peyanj kancha lonka ar fuluri used to be consumed by our great grandmas and great aunts for years. And certainly don't look surprise if I tell you this bong soul food is being served in five starred restaurants in the name of tradition.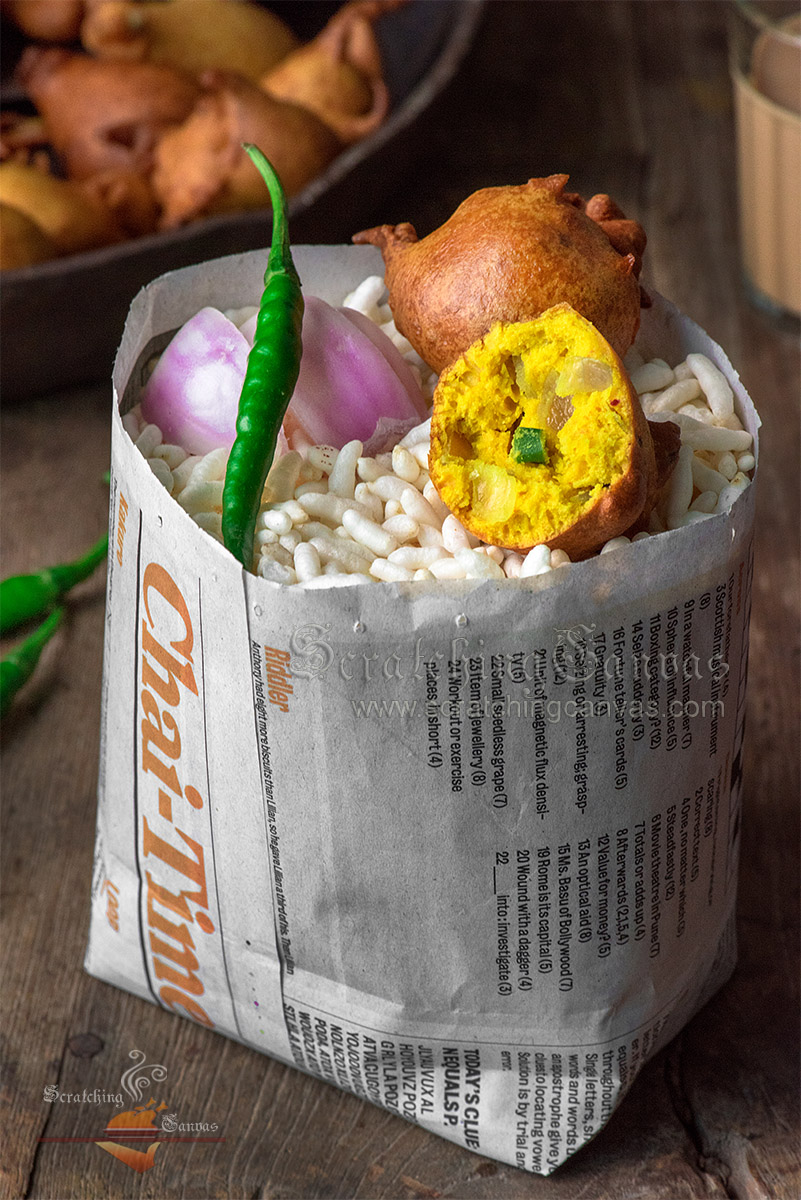 Now back to our basic, ফুলুরি, pun intended; the ফুলুরি batter is the base of any তেলেভাজা. It's just as simple as besan (gram flour) and seasoning. Sometimes onion and green chilies are thrown in to increase the volume and flavours in the batter to make crunchy yet fluffy fuluri. And if you use eggplant in the same batter it will be beguni, smashed potato pattie will turn alur chop, cauliflower will become fulkopir bora and so on so forth. But to cook soft fluffy Fuluri with hard crusty exterior one needs the right trick.
Fule otha besan er bora would be the perfect explanation of the word, fuluri. And deep fried flour fritter is the appropriate translation in English if I must tell you. Traditionally cholar dal (Bengal gram lentil) is soaked in water overnight; next morning grinded lentil is whisked with hands until turns fluffy and pale. Then seasonings like salt, turmeric, chilli powder are added along with onion and green chilli. And then small portions are added into the hot oil and fried until crispy. But these days readymade besan (gram flour) is so easily available in the market that it has taken the place of the lentil. So now besan is mixed with water and whisked until fluffy. Rest is same but it definitely has reduced he pain and time to cook. Now we can enjoy a bowlful of muri fuluri whenever we want, especially when the sky is pouring its heart down on us.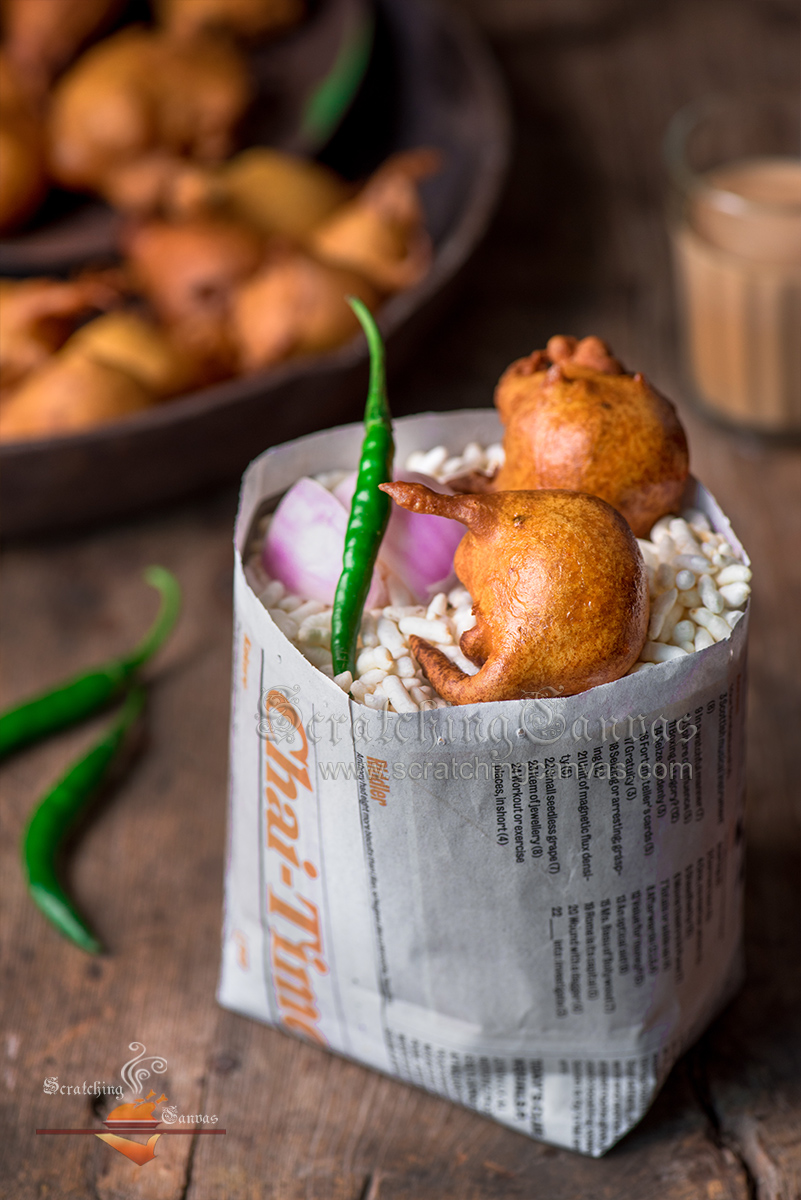 Watch detailed Video of  Fuluri or Besan Pakora Recipe.
Read the entire recipe and Notes carefully before you start cooking. Do make sure all ingredients are at room temperature (unless mentioned) and weighed or measured correctly in appropriate weighing scale or measuring instruments such as cups or spoons. Remember these are not regular cups or spoons which is used in daily life.
SERVING & STORAGE:
Fuluri or gram flour Fritters taste best with Muri Badam Bhaja (roasted Puff Rice with peanuts) and Doodh Cha (Milk Tea) as breakfast or snack.
Fuluri is often enjoyed with bhaat, dal with a lemon wedge on side and Macher Jhol on a lazy-day lunch (steamed rice, lentil and Fish Curry). But during monsoon fuluri is somehow become mandatory with khichuri.
Consume pakoda hot, right after frying. It does not taste good cold or after refrigeration (not even after reheating).
Fuluri Classic Bengali Telebhaja | Phuluri Kolkata Street food | ফুলুরি চপ রেসিপি
Ingredients
Bengal gram flour: 1 cup
Baking powder: ½ tsp
Turmeric powder: ½ tsp
Red chilli powder: ½ tsp
Salt: ¼ tsp
Water: ½
Onion: 1, finely chopped
Green chilli: 3, finely chopped
Mustard oil or White Oil for deep frying
Instructions
Mix all the dry ingredients in a large bowl except baking powder. Add water gradually little by little and keep whisking till batter becomes fluffy and lump free. Don't add entire water together; this will make a large lump. Add little water, whisk to mix it thoroughly and then add again and so on. This will ensure lump free smooth matter.
Take a small bowl full of water; add few drops of batter in it. If the droplets settle in water without mixing batter is perfect for fuluri. But if the droplets get dissolved in water batter is too thin for fuluri; add more besan and whisk again.
Now add baking powder and mix lightly.
Fold onion and chopped green chilli in the batter without disturbing the aeration.
Take any deep bottomed pan which is suitable for deep frying and heat oil on medium flame. The depth of the pan should be more than 2". Once oil is not turn down the flame to simmer.
To do a test whether the oil is ready or not dip a spoon in the batter, shake off slightly and allow to flow the droplets of batter in hot oil. If the droplets go down and float back on top sizzling oil is ready. If they float immediately cool down the oil slightly by turning it off for 2 mins. If droplets settle at the bottom for more than few seconds oil is too cold to fry fuluri.
Take 1 tbsp of batter and slide in hot oil carefully. You may take small portion of batter in your palm to do the same. Don't just drop the batter coated patty in hot oil, slowly slide it in. this way there will be no oil spluttering.
Keep the flame on low-medium and cook besan fuluri for 3-5 mins. By the time fuluri will float to surface and keep rotating themselves.
Flip gently on other side and cook for another 3-4 mins on medium flame. If fuluri is evenly coloured and puffed up, your besan er fuluri is ready. Remove from oil with slotted spoon and keep on kitchen towels to get rid of excess oil.
Serve immediately with Muri Chanachur ar Cha.
Have you tried/cooked any of the recipes from my blog Scratching Canvas?
If yes I would love to know your feedback and opinion. Take a picture of your food and share on Instagram with the hashtag #scratchingcanvas. Or simply drop me a message @rimleed I will share your picture and opinion as well. See you there 🙂
EAT, LOVE & ENJOY! REPEAT!!!
You may also like these Bengali Classic Bora/Pakora/Fritter Recipes