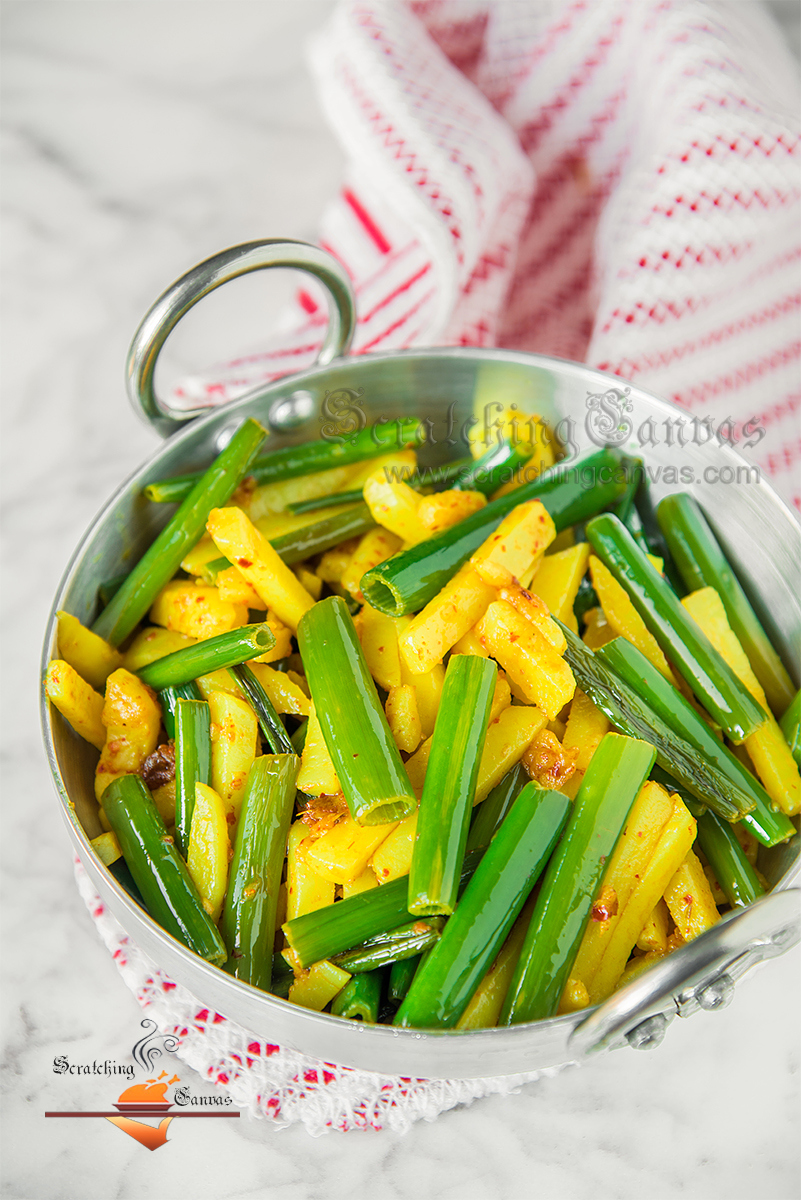 Aloo Peyajkoli Bhaja is a Bengali lunch staple during winter to serve with Bhaat ar Daal (Rice & Lentil). Sometimes this Alu Peyanjkoli Bhaji is also enjoyed on breakfast or dinner with paratha or ruti.
Peyajkoli (pronounced as Peyanjkoli) is known as Onion Flower Stalk in English and often gets confused with onion green which is known as spring onion.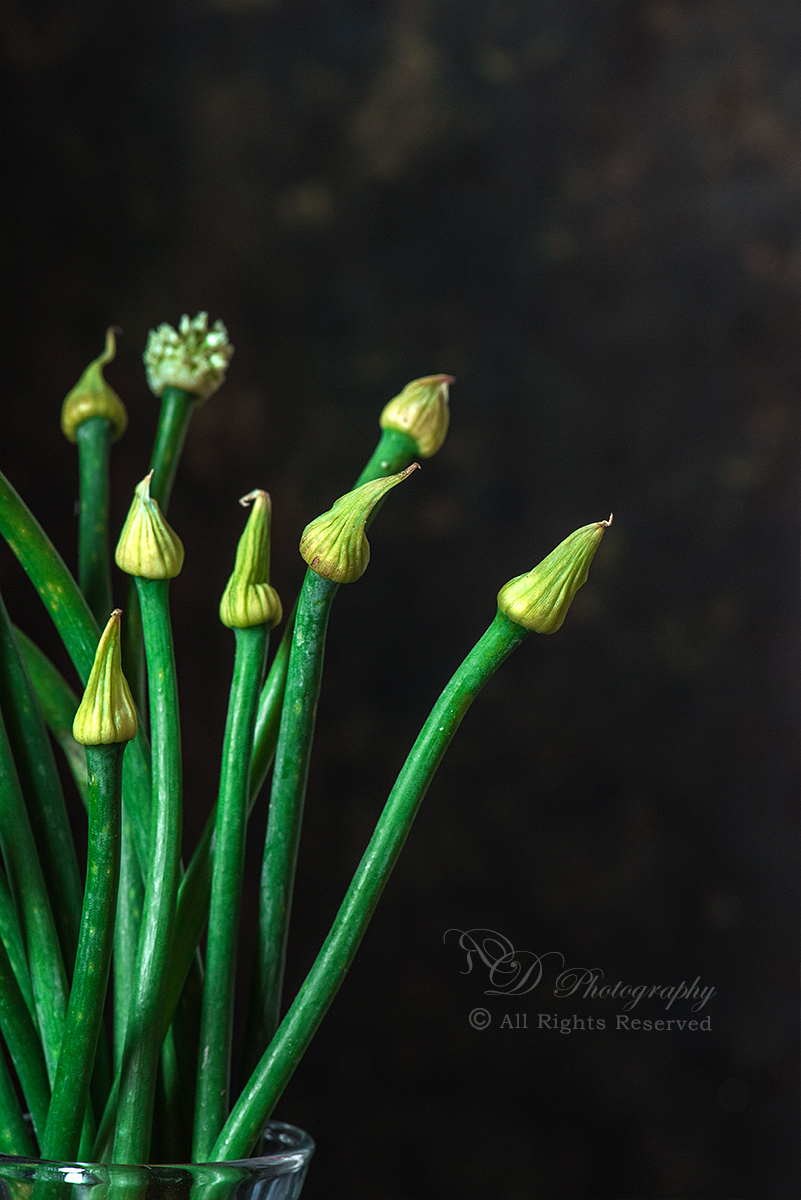 Peyajkoli is among those winter special veggies which have very short life span on their own. They are cherished more than any other veggies in Bengali kitchen during winter. The high demand might be for the juicy mildly sweet stalk or the absence round the year.
Whatever the real reason of our love is we just love our Peyanjkoli and we make most of it. Alu Peyanjkoli Bhaja is the easiest and quickest among all.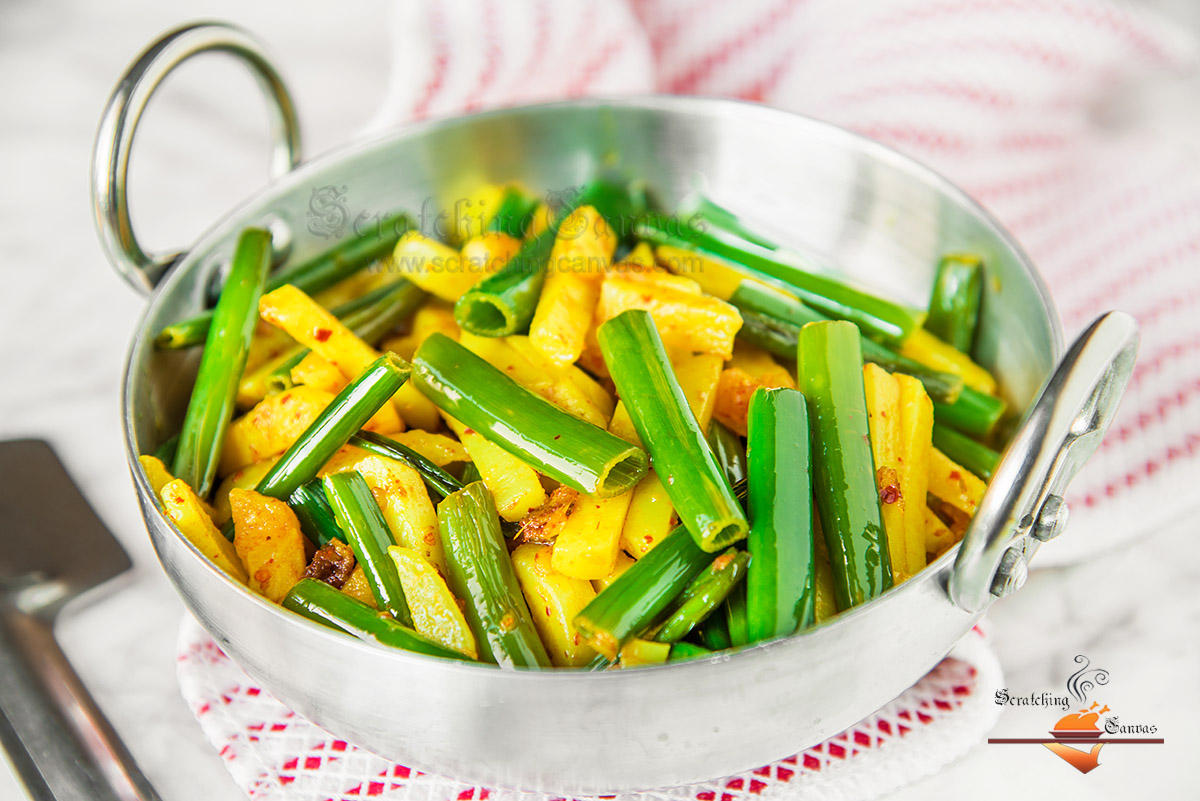 Watch detailed Video of  Aloo Peyajkoli Bhaja Recipe.
Read the entire recipe and Notes carefully before you start cooking. Do make sure all ingredients are at room temperature (unless mentioned) and weighed or measured correctly in appropriate weighing scale or measuring instruments such as cups or spoons. Remember these are not regular cups or spoons which is used in daily life.
SERVING & STORAGE:
Freshly cooked Aloo Peyajkoli Bhaja or Stir Fried Onion Flower Stalk is served with steamed Bhaat ar Dal (rice & lentils) on lunch. Or enjoy with paratha as breakfast or dinner.
Store Excess bhaji in airtight container under refrigeration and consume within 2-3 days.
Aloo Peyajkoli Bhaja | Potato Green Onion Stir Fry | Peyanjkoli Winter Veggie Recipes
Ingredients
Aloo or Potato: 2 large
Peyajkoli or Onion Flower Stalk: 1 bunch small
Turmeric powder: ½ tsp
Red chilli power: ½ tsp
Salt: 1 tsp
Mustard oil: 3 tbsp
Instructions
Wash and clean potatoes couple of times and cut lengthwise, like French fries. Soak potato sticks in cold water for 10 mins.
Wash and clean onion stalks also. Discard the flower and cut rest of the stalk into 2" length. Soak chopped stalk in a bowl of cold water for 5 mins.
Drain water and keep both veggies aside separately.
Heat mustard oil in a deep bottomed pan to smoking point.
Reduce the heat to add potato sticks into the hot oil and stir lightly to coat potato with oil.
Add spices one by one i.e. turmeric, red chili powder with salt and cook for 5 mins or until potato is nearly half done.
Add chopped peyanjkoli or onion flower to the pan and mix lightly without disturbing potato.
Stir fry for 2-3 mins to coat in oil. Then cover and cook for 10 mins. or until onion stalk is slightly soft yet crunchy. If you prefer your greens bit mushy cook for another 10 mins.
Adjust seasoning and Aloo Peyajkoli Bhaja is done.
Serve immediately with steamed Bhaat ar Dal (rice and lentils) on lunch.
EAT, LOVE & ENJOY! REPEAT!!!
You may also like these Bengali Vegetarian Side dishes