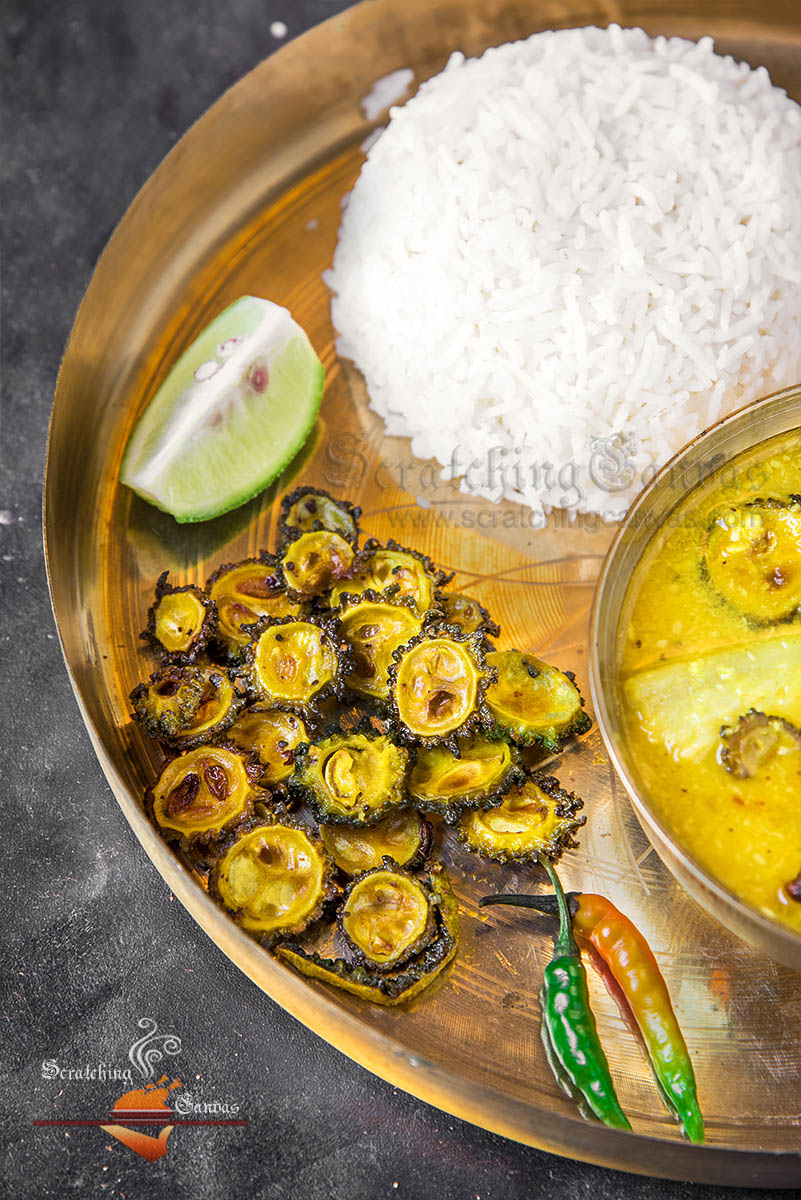 Teto Bhaja aka Uchchhe Bhaja literally means fried bitters and it's a part of traditional Bengali delicacy. I can imagine how horrified face you have now there. But it's true we Bengalis love even our bitters; rather we love to begin our looong elaborate meals with bitters! It is believed that the any bitter vegetables like ucche bhaja or neem work like a tongue cleanser and served before the actual meal. It not only cleans our taste buds but also prepare it for savoring delicious preparations later.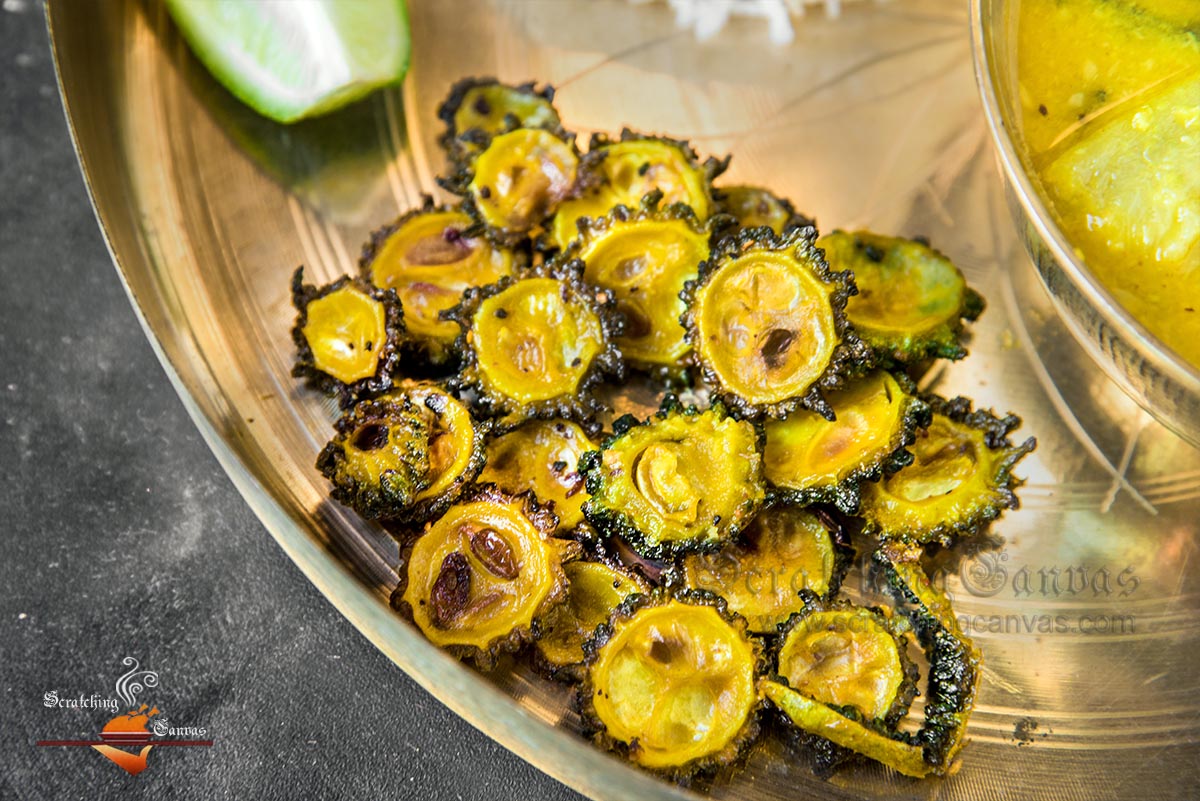 Uchchhe is known as bitter gourd in English; so is the Karela but both things are not same. They belong to similar family yet different vegetables. But both can be replaced with each other.
This simple stir fried Ucche Bhaja is a most commonly cooked bitter in bengali households. it's quite easy to cook and good in taste.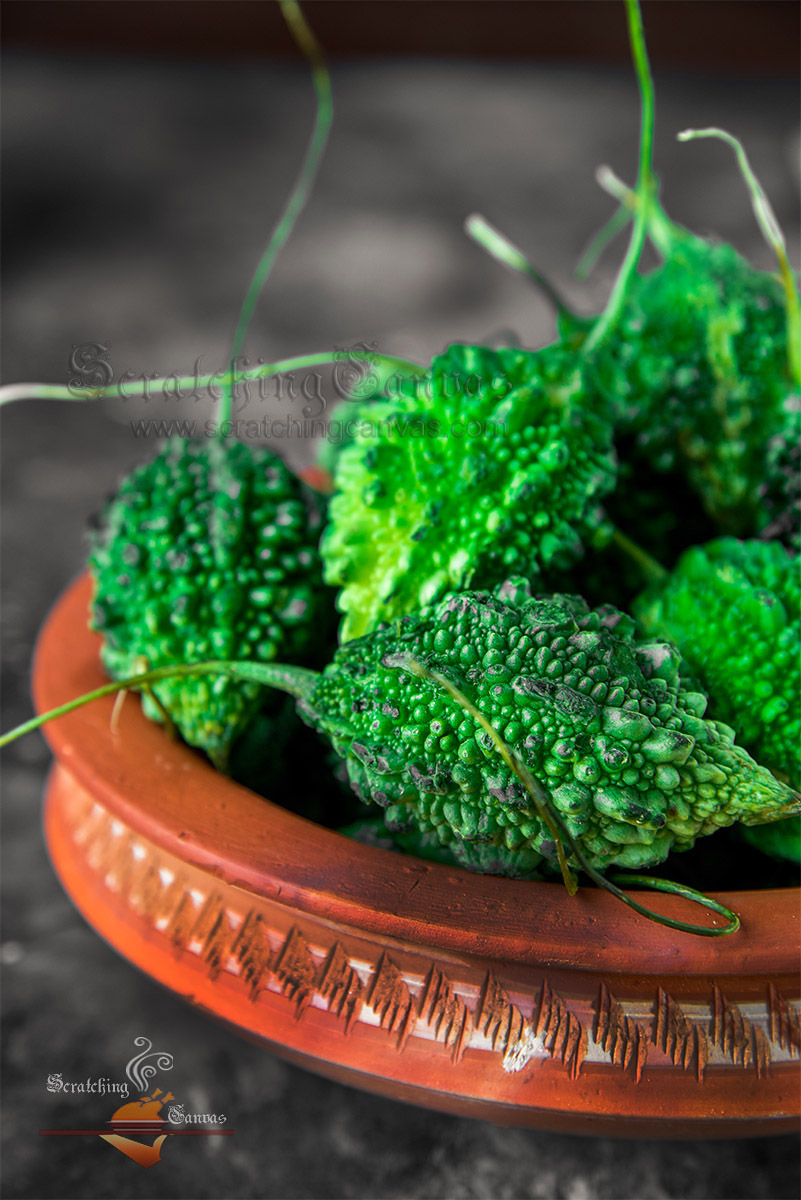 Watch detailed Video of  Ucche Bhaja Recipe.
Read the entire recipe and Notes carefully before you start cooking. Do make sure all ingredients are at room temperature (unless mentioned) and weighed or measured correctly in appropriate weighing scale or measuring instruments such as cups or spoons. Remember these are not regular cups or spoons which is used in daily life.
SERVING & STORAGE:
Freshly cooked Ucche Bhaja or Stir Fried Bitter Gourd is served with steamed Bhaat ar Dal (rice & lentils) on lunch before the meal.
Store Excess bhaji in airtight container under refrigeration and consume within 2-3 days.
Uchche Bhaja | Stir Fried Bitter Gourd
Ingredients
Uchche, Bitter Gourd: 200g
Salt: ¼ tsp
Turmeric powder: ½ tsp
Red chili powder: ½ tsp
Virgin Mustard oil: 4 tbsp
Instructions
Cut uchchhe or bitter gourd into thin roundels and soak in water for 10 mins. Drain water and keep bitter gourd aside.
Heat mustard oil to smoking point in heavy bottomed pan.
Add sliced bitter gourd and fry for 2 mins on high flame.
Turn down the flame and cook for another 5 mins on medium flame or until it changes colour to dark.
Add salt, turmeric and chili powder. Mix lightly and cook until everything is incorporated.
Uchche Bhaja aka Bitter Gourd stir-fry is done. Serve immediately with bhaat ar Dal (rice & lentil).
EAT, LOVE & ENJOY! REPEAT!!!
You may also like these Bengali Vegetarian Side dishes