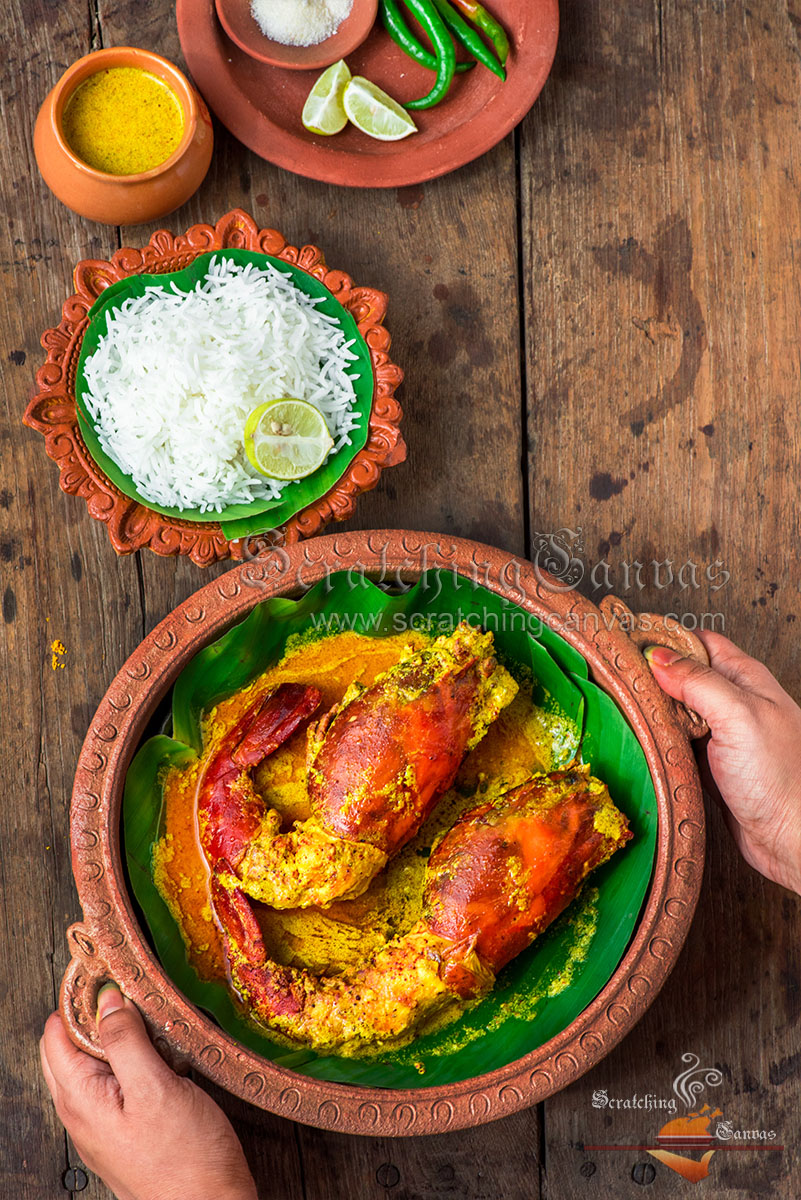 Shorshe Chingri or Golda Chingri Shorshe bata Narkel diye is a classic Bengali chingri macher recipe which is ideally served with steamed rice on lunch. This particular Shorshe Golda Chingri preparation is way different from regular Chingri Bhape.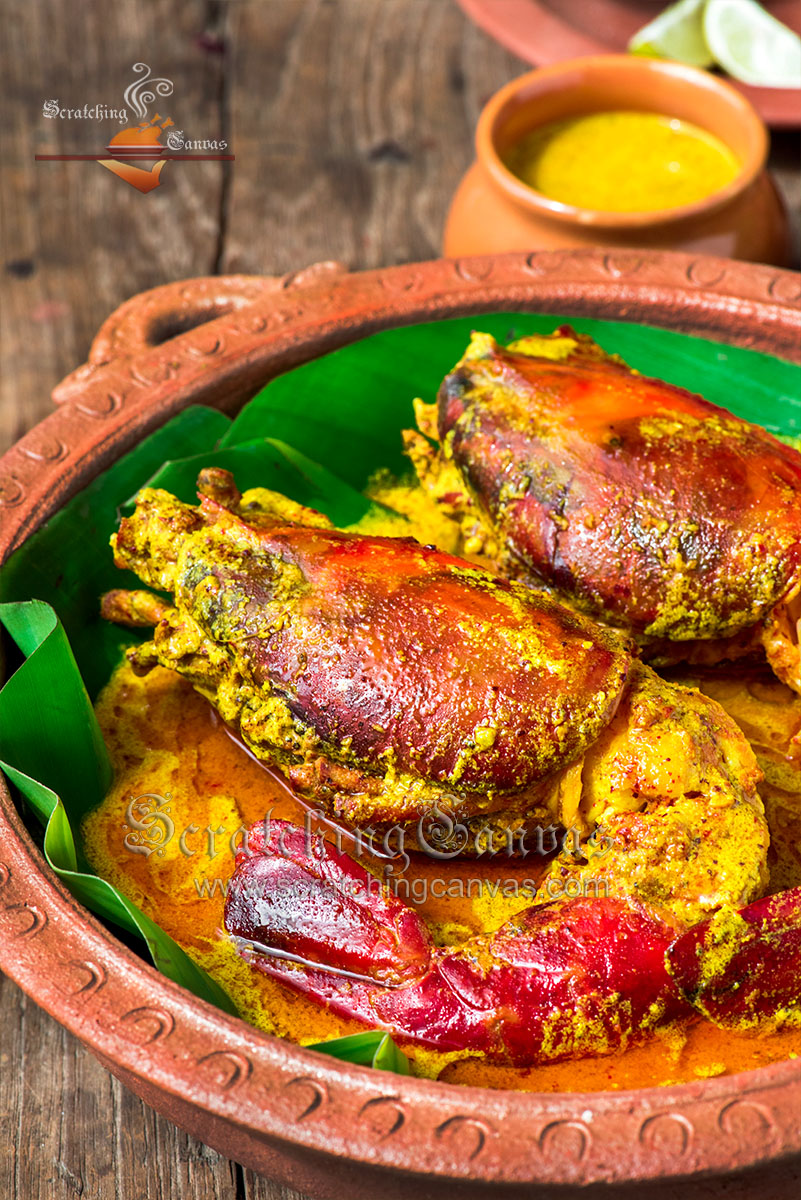 There are (hopefully) only handful of Bengali people you will find who doesn't drool in the name of Golda Chingri. They may look intimidating (I'm referring golda not those bongs) but they are most delicious edible creature (again, it's golda chingri we are talking about) one can find. The perfectly cooked golda with delicate flesh to will melt in mouth like cream and all the gooey richness from the head are everything to me when I look at these giant river prawns.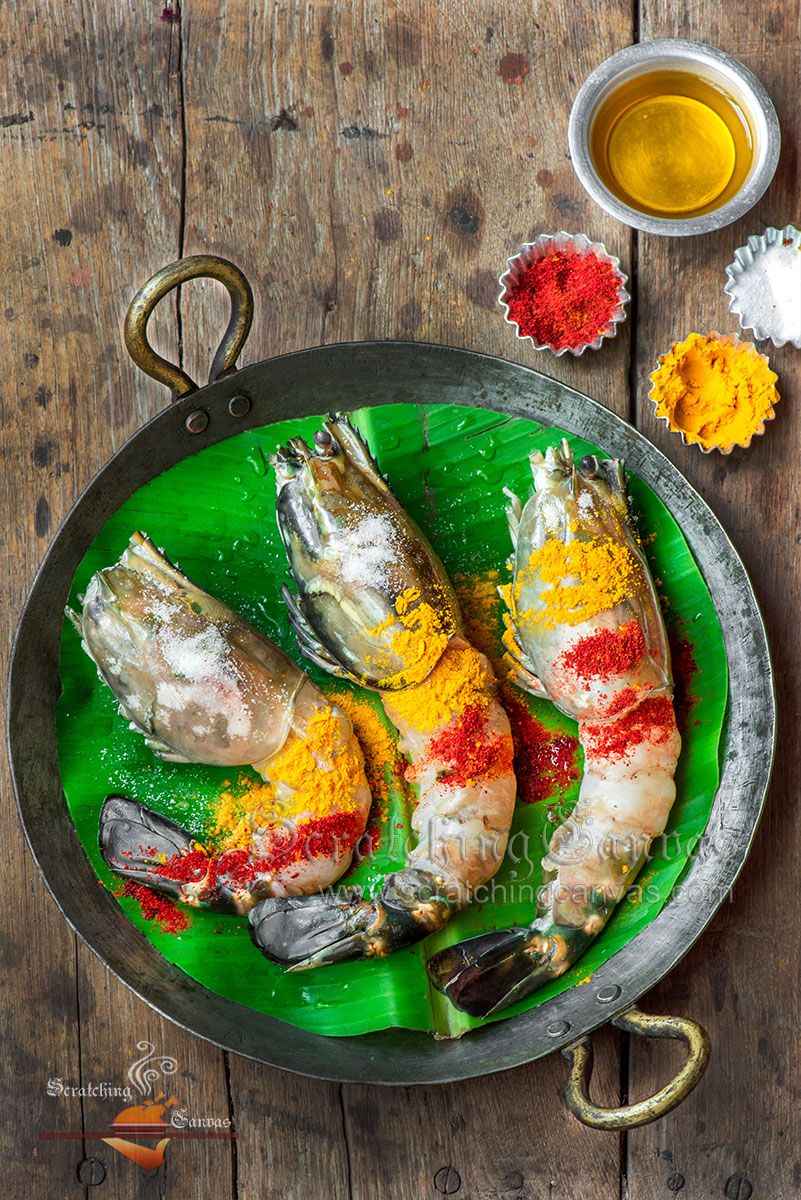 As I mentioned in the beginning there are differences between Shorshe bata Golda Chingri and Shorshe Chingri Bhapa. In the recipe of golda chingri, fish (prawn is still known as fish to bengali people, we haven't developed the courage to accept that we have been eating an insect from ancient days) is fried for 1 min on each side (2 mins in total) before cooking in shorshe bata (mustard paste). But for bhapa chingri everything is mixed including prawns in a small container and steamed together. Thus the taste of both preparations are quite unique though both share common core ingredients like mustard paste, mustard oil, coconut, green chillies.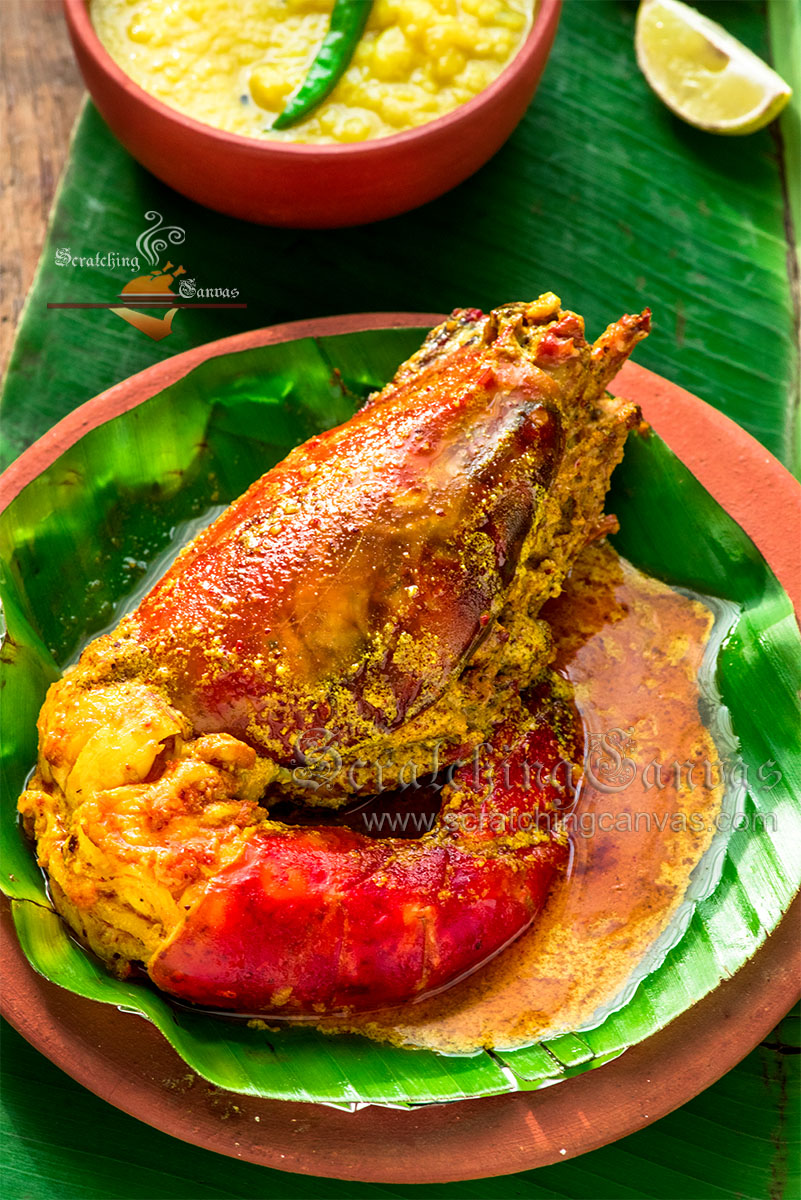 Shorshe Chingri doesn't call for golda chingri but if you can find any it's best to try this simple recipe to devour the goodness of golda. The buttery soft flesh of chingri with the pungent mustard paste, flavoured with sharp extra virgin mustard oil and subtle sweetness from right amount of coconut milk with hint of heat from fresh green chillies is the signature of this traditional Bengali delicacy. And these are all to be used to cook Shorshe Golda Chingri.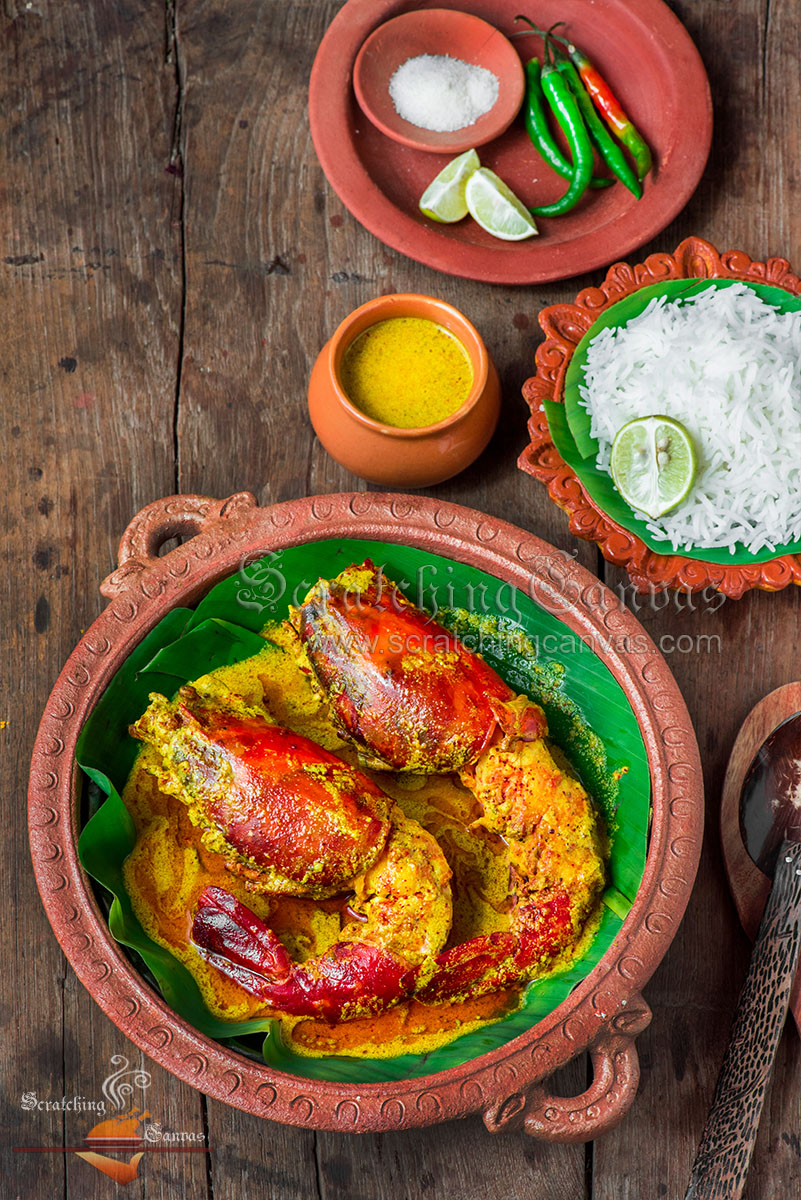 Watch detailed Video of  Golda Chingri'r Shorshe Narkel Recipe.
Read the entire recipe and Notes carefully before you start cooking. Do make sure all ingredients are at room temperature (unless mentioned) and weighed or measured correctly in appropriate weighing scale or measuring instruments such as cups or spoons. Remember these are not regular cups or spoons which is used in daily life.
SERVING & STORAGE:
Shorshe Chingri tastes best with steamed rice.
Store excess Golda Chingri Shorshe bata Narkel Bhape in airtight container under refrigeration and consume within 2 days. It is advised to consumed in on the same day of cooking. The sharpness of mustard will fade away with time after refrigeration.
Shorshe Chingri Recipe| Golda Chingri Shorshe bata Narkel diye
Ingredients
For Marinade:
Golda chingri or any jumbo sized prawn
Turmeric powder: 1 tsp
Red chilli powder: ½ tsp
Salt: ½ tsp
Mustard oil: 4 tbsp
For mustard paste:
Black Mustard seeds: 1.5 tbsp
White Mustard seeds: 1 tbsp
Fresh Green Chilli: 1
Warm water: ½ cup
For tempering Oil:
Mustard oil: 3 tbsp
Green chilli: 1, slit lengthwise
Black mustard seeds: ½ tsp
White mustard seeds: ½ tsp
For Gravy:
Ginger-Garlic, freshly pounded: 1 tbsp
Turmeric powder: 1 tsp
Red chilli powder: ½ tsp
Salt: ½ tsp
Coconut milk: ½ cup
Warm water: 1 cup
Instructions
Clean golda chingri carefully, devein and remove shell.
Smear with turmeric, red chilli powder, salt and allow to rest for 10-15 mins.
Soak all the ingredients under 'mustard paste' for 30 mins and make a smooth paste. Watch VIDEO for tips to make BEST shorshe bata (mustard paste) at home.
Pour 3 tbsp mustard oil in deep bottomed heavy pan and heat to smoking point. Once smoke is coming out switch off the flame and let it cool for 1 min.
Add marinated golda chingri and fry each side only for 1 min. Total 2 mins together. Adjust the time for prawns you are using. Remove once done and place on large serving bowl. This will add all juices of golda chingri to final curry.
In the remaining oil (add 1-2 tbsp more oil is required) add ingredients under 'tempering oil' and allow to crackle for 30 sec.
Add ginger garlic and fry for 1-2 mins. Freshly made ginger garlic paste will also work instead of pounded.
Add mustard paste along with turmeric powder, red chilli powder & salt and cook for 1 min on high flame or until oil floats on top.
Pour coconut milk and water and bring it to boil.
Add prawns carefully and cook for 1 min. Do not overcook; it will turn prawns rubbery and chewy.
Switch off flame, drizzle little mustard oil on top and serve hot with rice.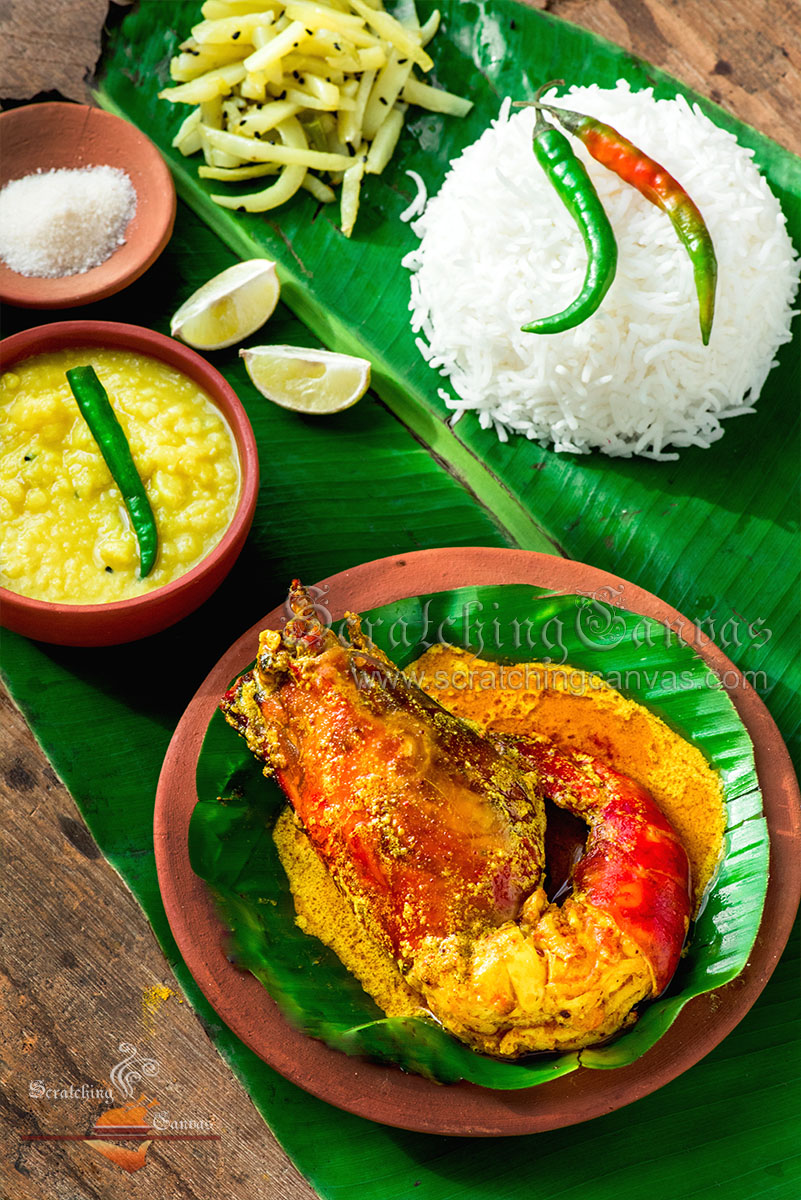 Have you tried/cooked any of the recipes from my blog Scratching Canvas?
If yes I would love to know your feedback and opinion. Take a picture of your food and share on Instagram with the hashtag #scratchingcanvas. I will share your picture and opinion as well. See you there 🙂
EAT, LOVE & ENJOY! REPEAT!!!
You may also like these Bengali Classic Fish Preparations