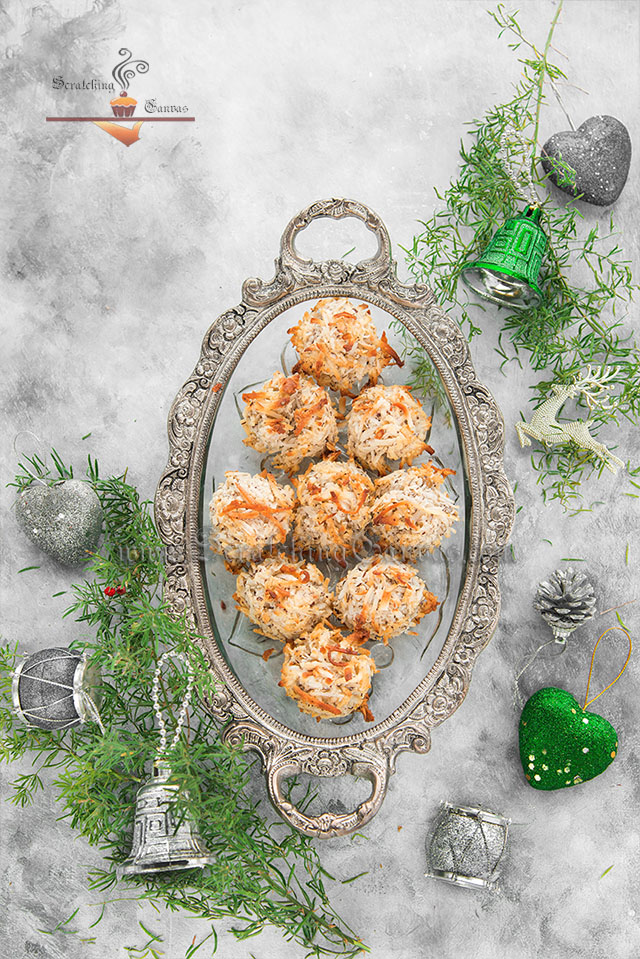 Eggless Coconut Macaroons (now don't confuse them with macarons) are the easiest thing to be done before Christmas. If you are a typical last minute person like me then you must need this in your life. It might be that one cookie which needs handful of ingredients and very little time in the oven. And it's a pro to please anyone, even an entire football team! Statutory Warning: they are addictive like hell!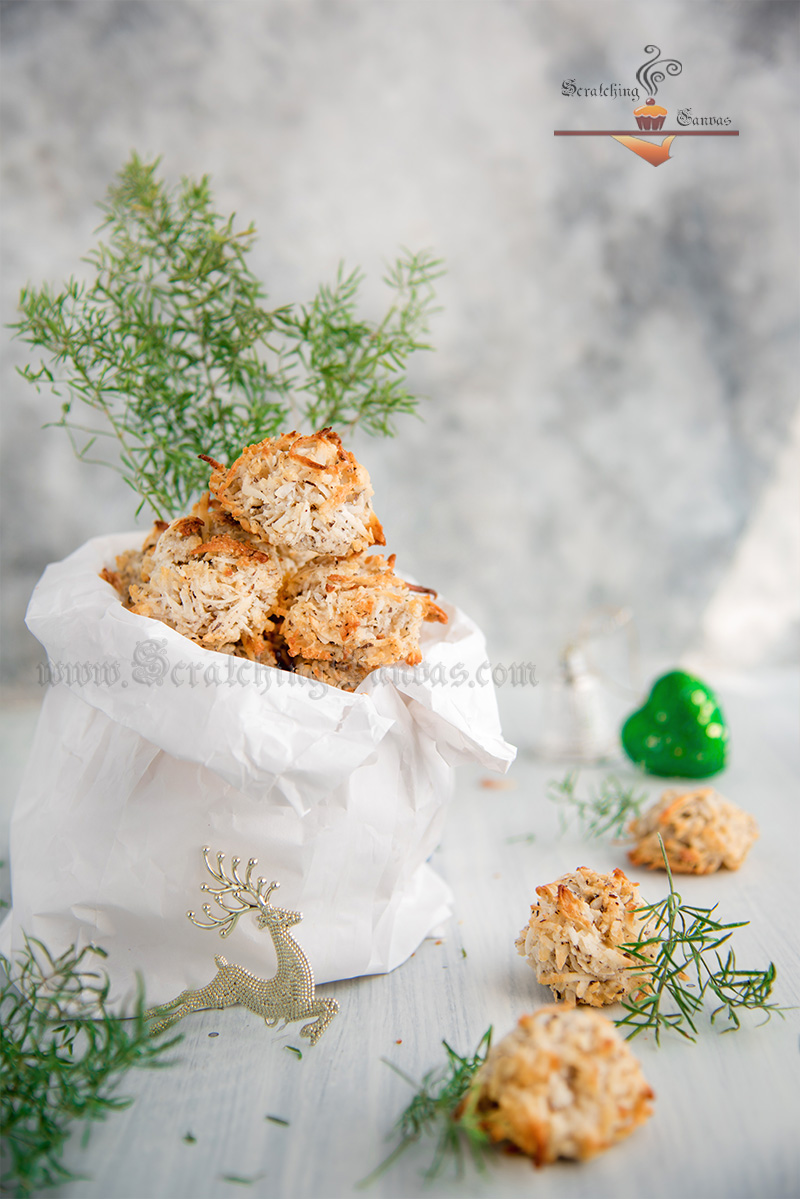 I think Macaroons are the perfect fit for the Christmas theme after Rum Balls and Christmas Fruit Cake. Why? See, It is snow white (well, almost); it is soft pillowy which reminds me only of Santa! It is a party charmer, evenly popular between kids and adults; quite easy to make at home without any help from others. This simple coconut cookie can be decorated the way you desire. I can go on and on. But this post is not about pros of coconut macaroons, right? So moving on to my Eggless Macaroons (wink).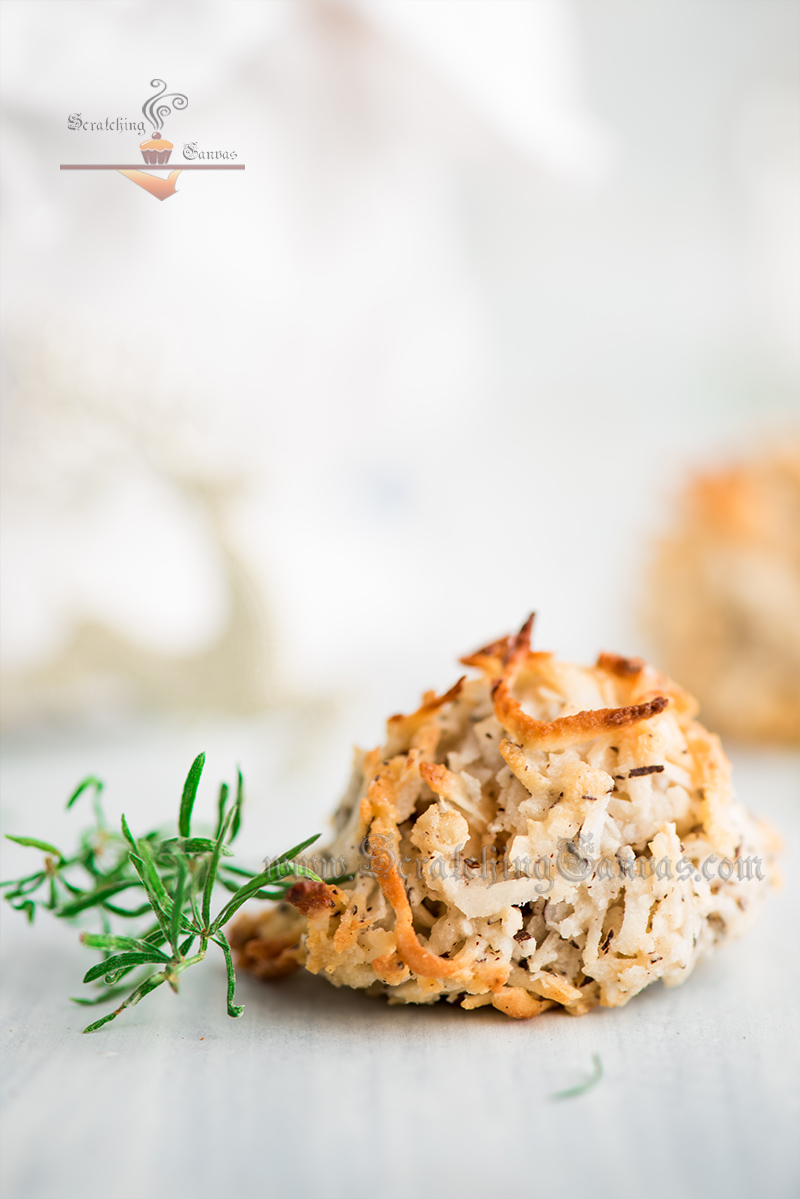 The traditional macaroons are made of whisked egg whites and coconut flakes along with other ingredients. Oh boy, whisking egg whites to the perfect soft peak is not an easy job and needs constant practice! Which means this Christmas cookie can't be made before Christmas which is approaching less than a week now! Hence I tried to make Eggless Coconut Macaroons and after few trials finally I came up with this particular recipe.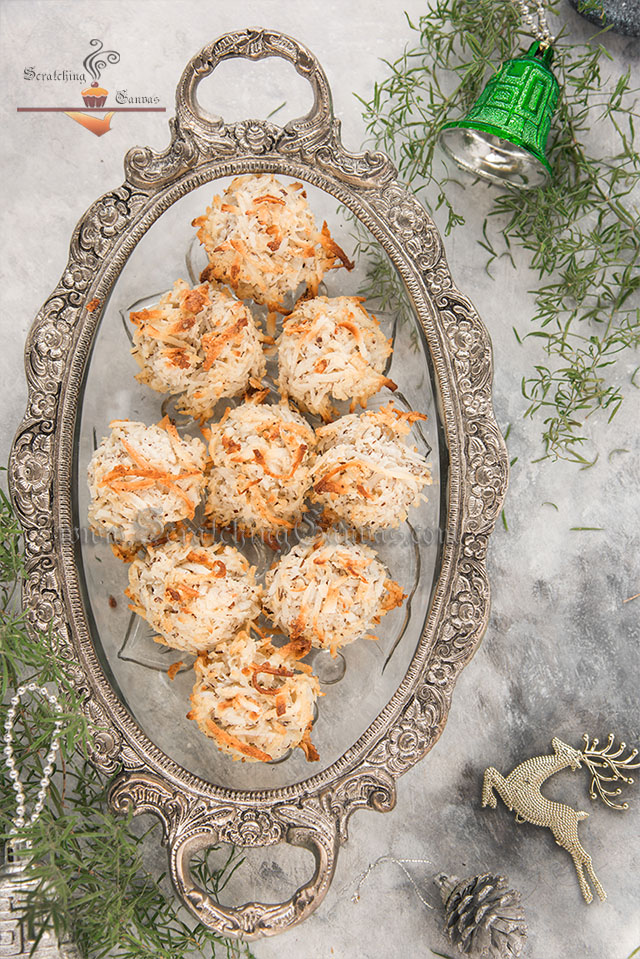 And guess what? It has no eggs, no butter, and no oil at all! As a matter of fact it requires only three basic ingredients and 10 mins in oven. That's all! These Eggless Coconut Macaroons recipe is definitely a keeper. And the best thing about this recipe is, it's so easy that you don't need to bookmark the page or keep as hand written note on refrigerator door (who does that?? Well I'm guilty as charged)!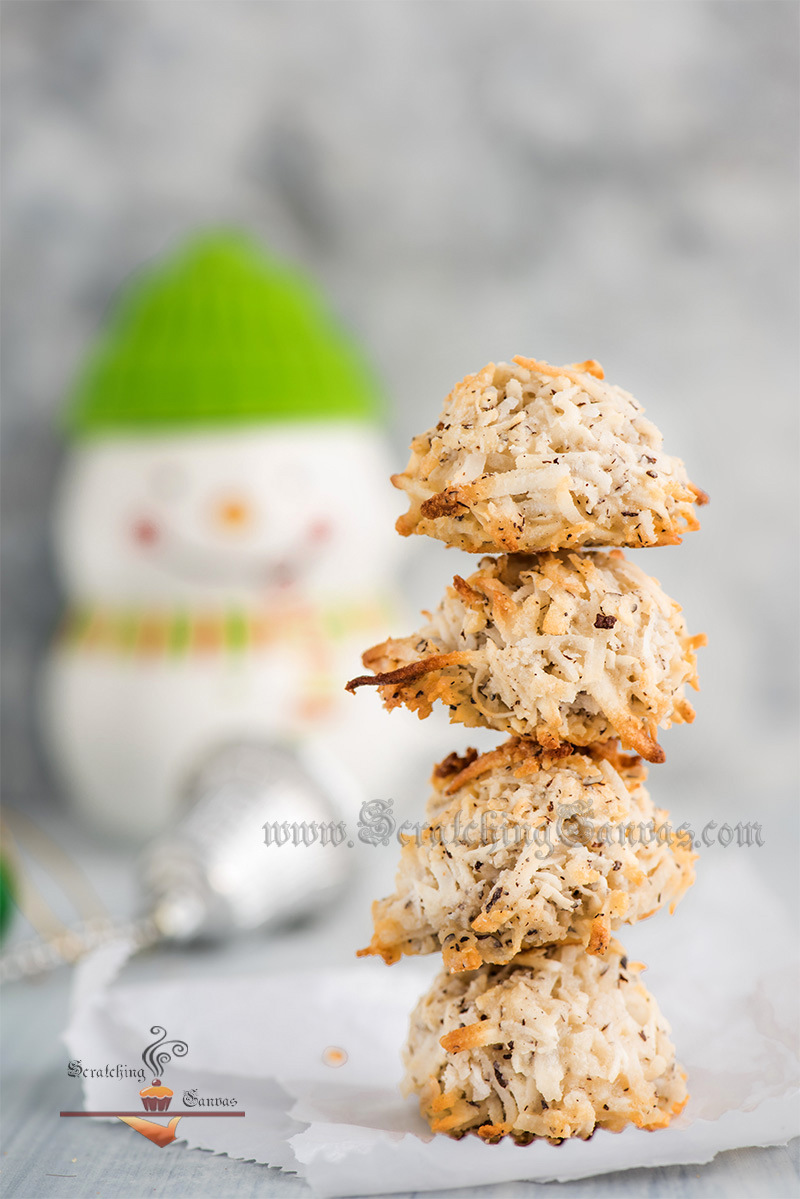 Watch my elaborated step by step video recipe of Eggless Coconut Macaroons (Coming Soon).
Read the entire recipe and Notes carefully before you start cooking. Do make sure all ingredients are at room temperature (unless mentioned) and weighed or measured correctly in appropriate weighing machine or measuring instruments such as cups or spoons. Remember these are not regular cups or spoons which is used in daily life.
Serving & Storage:
Once Coconut Macaroon cookies are cool enough to handle, store them at room temperature only. Use air-tight container to keep cookies crunchy and fresh for longer time. Consume coconut cookies within 4-5 days.
These coconut macaroons have a tendency to get softer after 4-5 days. Keep a piece of blotting paper in the cookie jar or cover the bottom (inside) of the jar with blotting paper to absorb excess moisture and to keep cookies fresh for longer time.
Easiest Coconut Macaroons | Christmas Cookies
Ingredients
Shredded coconut, unsweetened: 200g (about 3 cups)
All-purpose flour: ⅓ cup
Sweetened condensed milk: 200ml (about ½ tin)
Vanilla extract: 1 tsp, optional
Instructions
Preheat the oven @180C and line in the baking tray with non-stick baking paper.
Take shredded coconut in a large bowl.
Sieve flour on coconut and mix together until coconut flakes are coated with flour.
Pour sweetened condensed milk over the flour-coconut mixture and mix quickly with spatula. Also add & mix vanilla extract at this point if using any.
Scoop 1-2 tbsp of mixture on and arrange on paper lined baking tray with ½" apart. This cookie mixture won't spread much but they will definitely rise.
Bake cookie for 12-15 mins @180C or until cookies are puffed up and coloured a bit on top.
Remove baking tray from oven and keep on wire rack for 5 mins to bring at room temperature.
Notes
1. Don't forget the non-stick baking paper or grease the pan with cooking spray.
2. These condensed milk macaroons tends to get sticky after cooling so remove them from pan while they are still warm but not hot.
3. Do not use coconut flakes with cornstarch, see the label before you buy. The cornstarch will make your macaroons flat.
4. Use medium rack of the oven for best results while baking. Top rack will make cookies all brown & crispier while bottom rack will leave cookies all soft and chewy without any crust.
EAT, LOVE & ENJOY! REPEAT!!!