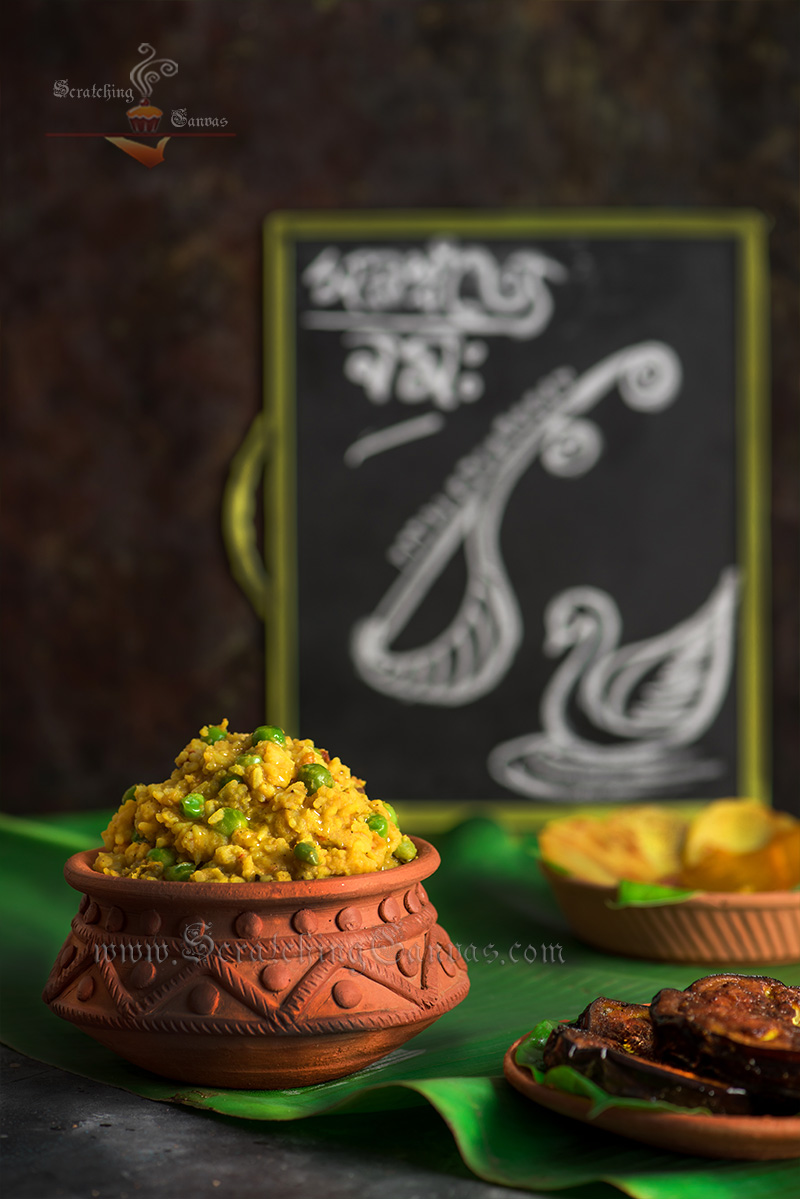 Bhoger khichuri is completely niramish Bengali Moong dal khichdi (pure vegetarian) for Bhog. It is also known as bhaja mug daler khichuri. This pure veg Bhog er khichuri has strictly no onion no garlic at all. Bhoger khichuri literally means offering cooked rice-lentils to god. In Bengali Bhog means offering food to god and khichuri/khichdi is a one pot meal of rice and lentils. After the worship the similar dish is distributed amongst devotee as Prasad.
This particular dish is known as sacred; no onion or garlic or anything which are considered as non-vegetarian (onion and garlic are considered as non-veg in hindu Shastra; and masoor dal also) are strictly not allowed to be in touch with bhog. Hence bhoger khichuri/khichdi has to be pure and perfect. Bhoger khichuri must be accompanied with labra (a medley of winter vegetables) and 5 type of fries; typically begun bhaja, alu bhaja, potol bhaja, kumro bhaja, ranga/mishti alu bhaja (fried eggplants. Potato, pointed gourd, pumpkin, sweet potato). Often it is also served with chatni (chutney), papad (cracker) and payesh (rice pudding).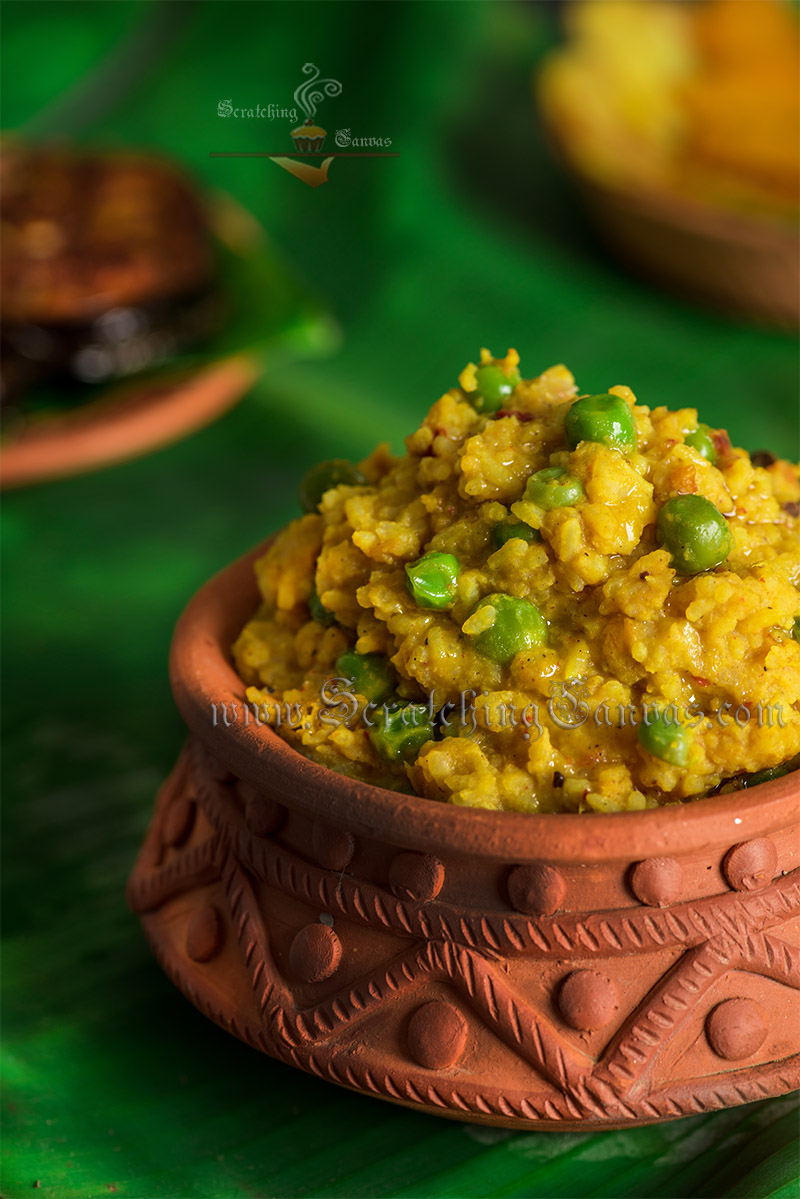 Bhoger Khichuri or Moong Dal Khichdi has a unique flavour and it is said that it can never be recreated at home. Many say it is because of the cooking of Brahmins, some agrees to the cause of newly cropped rice and lentils or may be the slow cooking for hours in clay pots. But in my opinion it's actually the feel not exactly the flavour what we experience in bhoger Moong dal khichuri at the puja pandals. The perfect bhoger niramish khichuri is cooked when the aroma of khichdi merges with the fragrance of fresh flowers and incense; the chanting gets married with the chaos in the background at dining rows. This niramish bhoger khichuri is the result of devotion and faith mixed with the anticipation of hunger cooked together! And certainly we can never achieve that emotion mixed with flavours at home!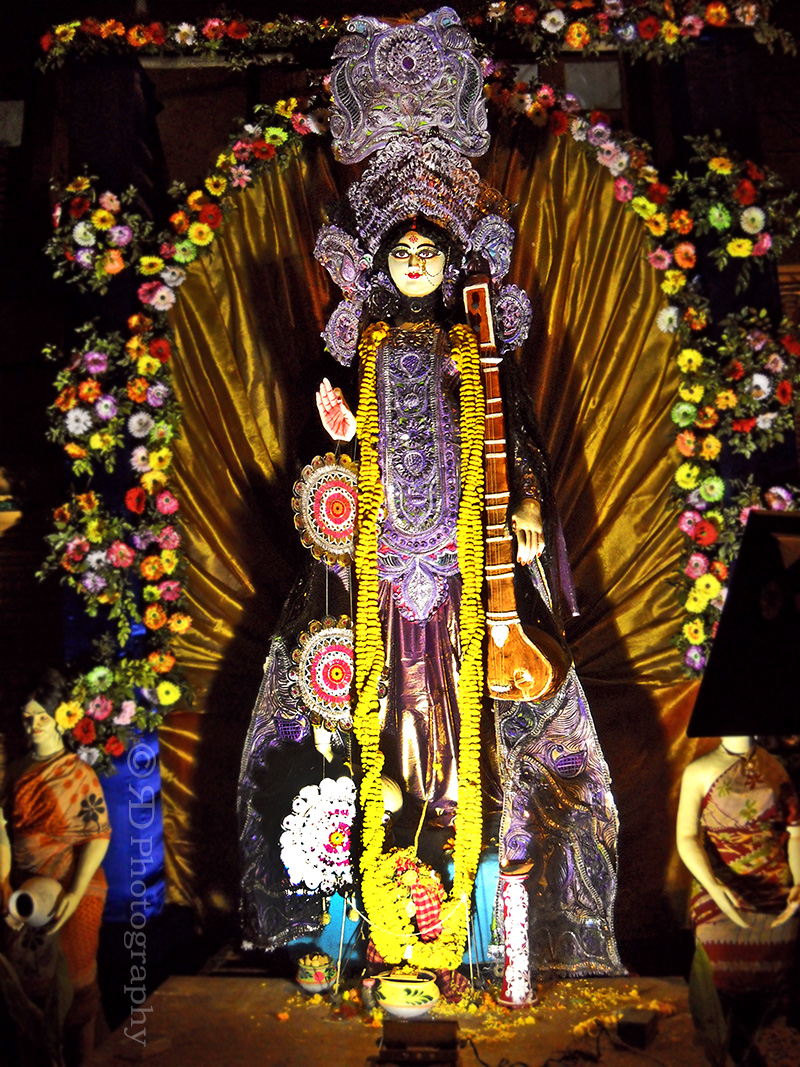 Saraswati is the Hindu goddess of knowledge, wisdom and learning of arts (any form; like music, literature). On the fifth day of spring (vasant Panchami or basant Panchami) is dedicated in her worship. As she is the source of art and knowledge she has young kids and children as her devotee. Often toddlers are taught to write for the very first time on this auspicious day. This process is known as 'hathe khori' in Bengali which means chalks in hands. All students gather their books and belongings at the feet of devi Saraswati and complete the prayers with pushpanjali.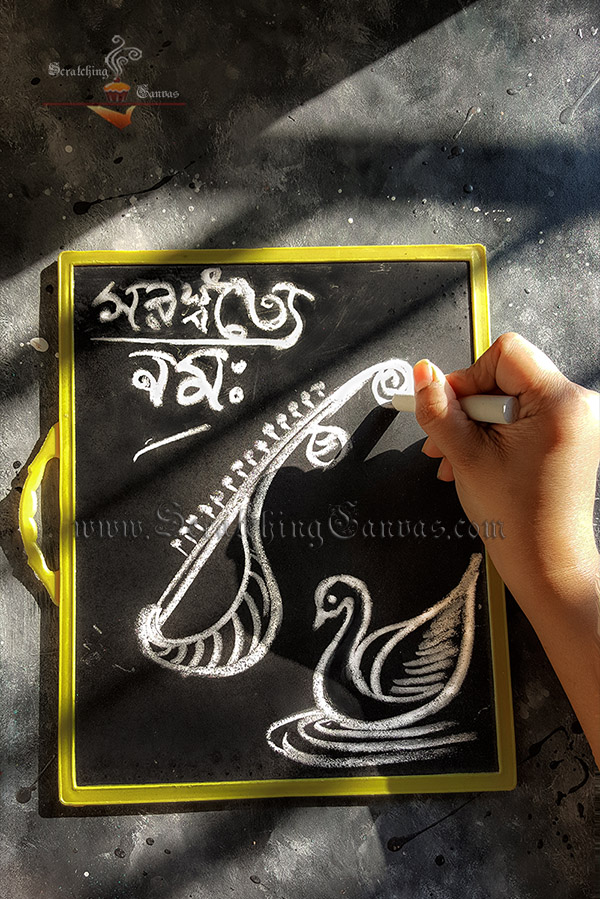 Interestingly Saraswati Puja rituals are completely different in my maternal family (where I had spent my all Saraswati puja days). We do not worship any idols of Devi Saraswati; instead Shaligram (a symbol of Vishnu) is worshipped. We used to row twelve small inkpots with individual bamboo sticks in front Shaligram and everybody used to stack their books behind it. First we worshiped with Lord Narayana (Vishnu) and then books as Goddess Saraswati. On the next day we had to write the names of all possible Hindu Gods and Goddesses on banana leaves with those bamboo sticks and had to read at least one chapter from each book!
Those had been the best days of my life because the fun part was we were free from the studies for that day! But the hardest part used to come afterwards on the next day. Anyways it was our unique and fun family tradition of Saraswati Puja. And now while writing this up I'm realizing how much I miss those days! I wish I could show you guys at least one picture of this entire thing! I will have to ask somebody from family to click and share one with me this year.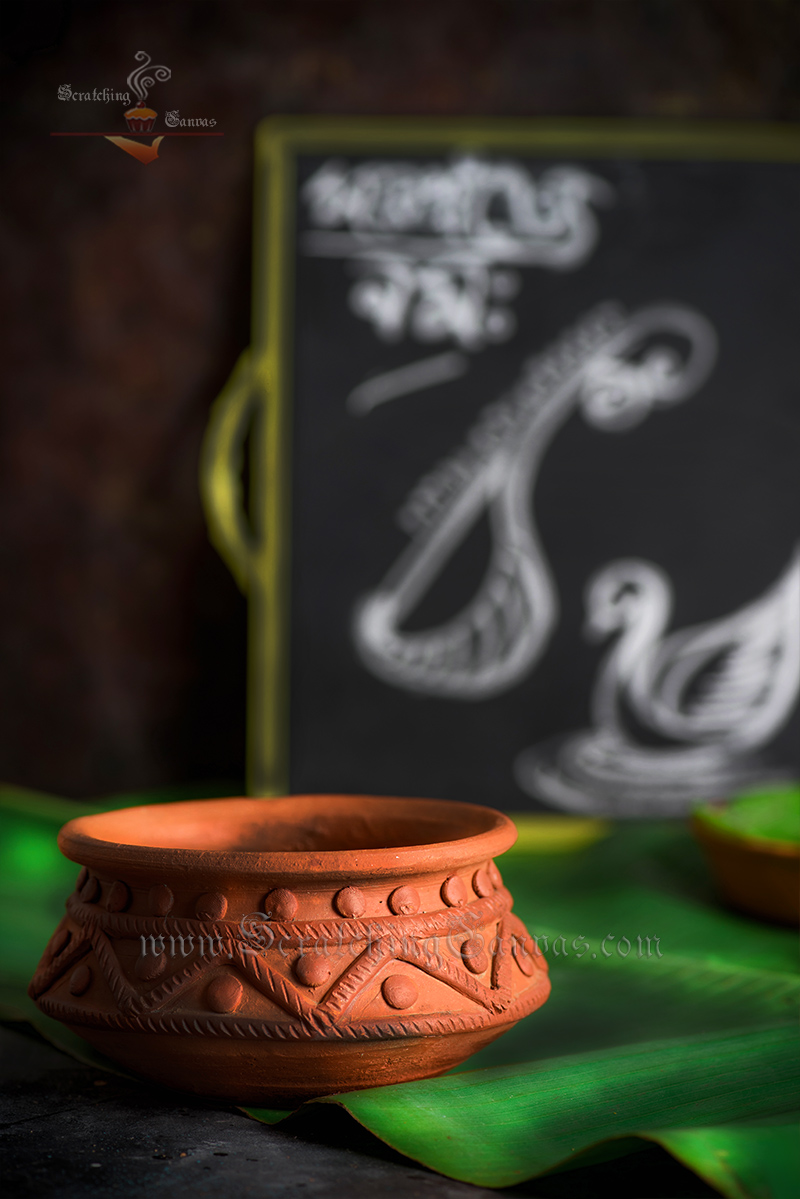 Saraswati Puja and bhoger niramish khichuri always has a serious relationship. In fact Durga Puja, Lakshmi Puja also share the similar relationship status with our lovingly moong dal khichdi. But those pujas are performed by adults only whereas Devi Saraswati is solely for children and youngsters. So the celebration mainly evolves around their educational institutes. Students decorate the houses, perform extra curriculum activities, serve Prasad and do all possible arrangements in guidance of teachers/adults. The star attraction of this Saraswati puja used to be solely meeting new friends (probably even friend's friends which was not an easy deal on those pre-Facebook/social media days) and distribution/serving of khichuri in schools. Probably because it was the first big step towards the responsibility in our small carefree student life.This niramish moong khichdi is served with beguni, labra, chatni and payesh.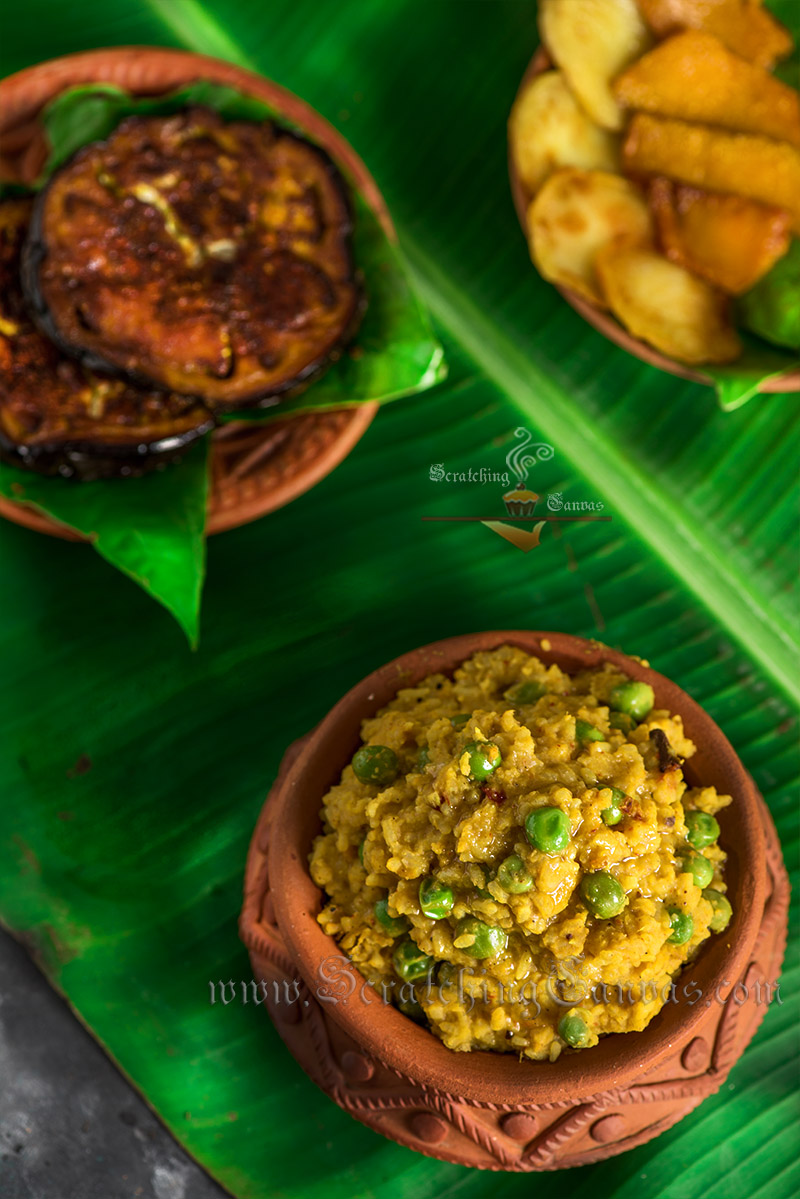 Here in my current location (far far away from soil of Bengal) life is completely void and null. In other words no celebration actually affects the monotonous daily routine here; not even Saraswati Puja or Durga Puja. No emotions are allowed here in the tiny time frame to recreate those magical days. It was a routine weekend grocery day to me when I went to local vegetable market. And to my sweet surprise I found some fresh banana leaves for the very first time here!
This banana leaves used to be a trademark of saraswati puja during our childhood during bhog. Can't say what they do these days in the pile of plastic life. But those days the aroma of freshly cooked piping hot khichuri on just washed fresh banana leaves used to allure us to seat in a row to enjoy bhog/Prasad. And if my memory is serving with accuracy we never had missed the ghee with it! Never ever!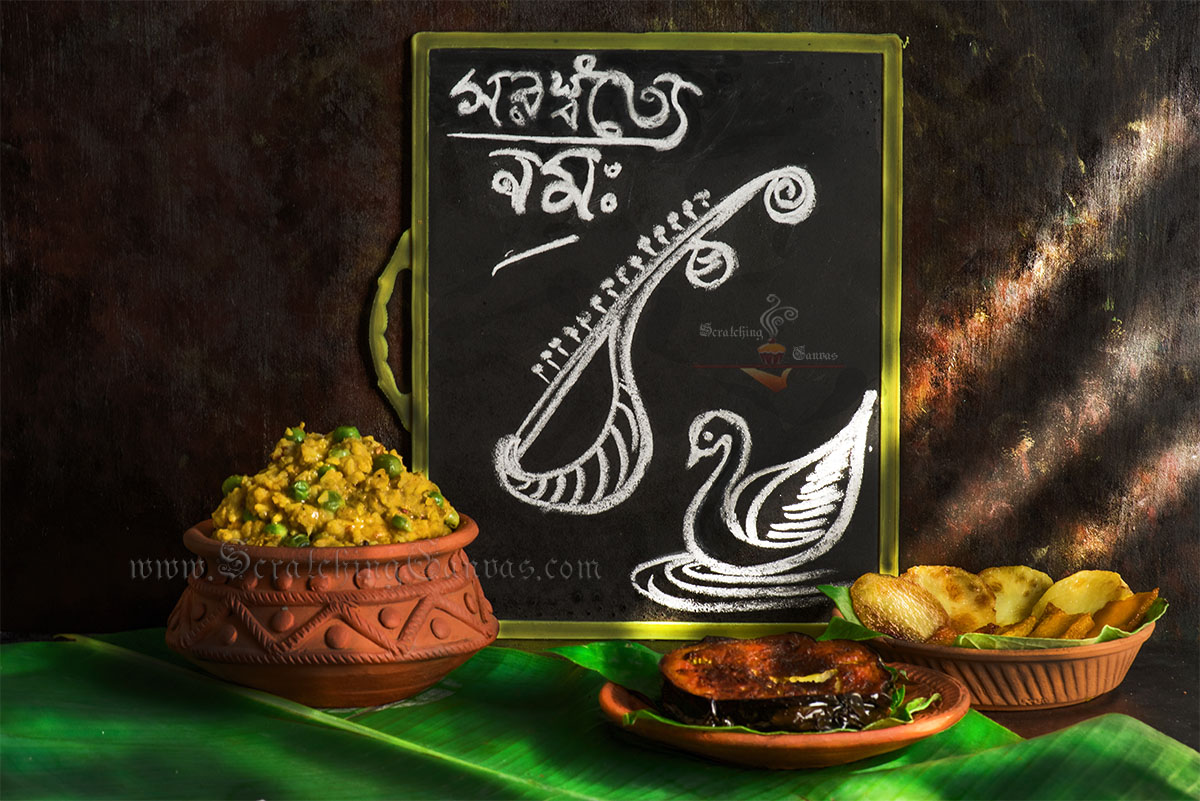 Hence cooking bhoger khichuri aka Bengali Moong Dal Khichdi at home for the first time in my life immediately turned into a necessity to me. And later planning to photograph and styling the niramish khichuri on banana leaves and earthenware forced me into kitchen to cook with lots of nostalgia and devotion; my pure devotion to food styling and photography!
If you are interested to buy the cute matki/matka (clay pot) click here.
Watch my elaborated step by step video recipe of Niramish Bhoger Khichuri or Moong Dal Khichdi.
Read the entire recipe and Notes carefully before you start cooking. Do make sure all ingredients are at room temperature (unless mentioned) and weighed or measured correctly in appropriate weighing machine or measuring instruments such as cups or spoons. Remember these are not regular cups or spoons which is used in daily life.
Serving & Storage:
Offer your bhoger khichuri or Dal Khichdi piping hot with dollop of ghee to goddess first as part of your prayer and then enjoy the prasad yourself with more ghee, some bhaja (preferably five types of bhaja as offered in Bengali Thali), labra, Nolen Gurer payesh (rice pudding) and chatni (chutney).
Excess khichuri can be to store in airtight container and refrigerate up to 3-5 days. Just warm it up right before serving, add dollops of ghee and serve with papad.

Bhoger Khichuri | Moong Dal Khichdi
Ingredients
Gobindobhog Rice or any other short grain: 1 cup
Moong dal: 1 cup
Green peas: ½ cup
Ghee (clarified butter): 2 tbsp + more for serving
Ginger, minced: 1 tbsp
Hot water: 4 cups
Salt: 1 tsp
Sugar: 1 tbsp
Whole spices:
Bay leaf: 1
Dry red chili: 1
Green cardamom, crushed: 4-5
Cinnamon stick: 1"
Clove: 4-5
Ground Spices:
Turmeric: 1 tsp
Red chili: 1 tsp
Cumin: 1 tsp
Garam masala: 1 tsp
Instructions
Dry roast moong dal on medium low flame until fragrant and wash under running cold water carefully. Soak dal for 1 hr. and then drain water. Wash rice and set aside.
Heat ghee in a large heavy bottomed pan until melted and tamper with whole spices (mentioned in the ingredients list).
Once spices start splattering add ground spices, except garam masala and ginger into the pan and mix lightly with a dash of water for 10-15 secs or until oil separates from masala. If using fresh peas add now and cook for 2-3 mins.
Add lentil and mix well; add 2 cups of hot water with salt and sugar and bring it to boil. Cover the pan with a lid and cook lentil until it's half cooked.
Once lentil is half done add rice with rest of the water and cook until rice and lentil is done completely. Adjust seasoning. It will take around 10-12 mins to be done.
Add garam masala and frozen peas (if using any) at this point of cooking, mix and cover the pan for 10 mins. Peas will be cooked by the heat of the khichuri.
Offer your bhoger khichuri piping hot with dollop of ghee to goddess first as part of your prayer and then enjoy yourself with more ghee, some bhaja (preferably five types of bhaja as offered in Bengali Thali), labra, payesh (rice pudding) and chatni (chutney).
Notes
1. Don't soak gobindobhog (if using any) it will wash away the flavour of the rice.
2. Fried coconut strips can be added instead of peas to add subtle sweetness to the khichdi.
3. Health conscious people can use ghee and oil in 1:1 ratio.
4. I cook the dal with masala to incorporate the flavours with lentil. Lentil can be pre-boiled and added to masala directly.
5. Various seasonal veggies can be added to the khichdi as per personal taste. Traditional bhoger khichuri doesn't include any veggies.
EAT, LOVE & ENJOY! REPEAT!!!