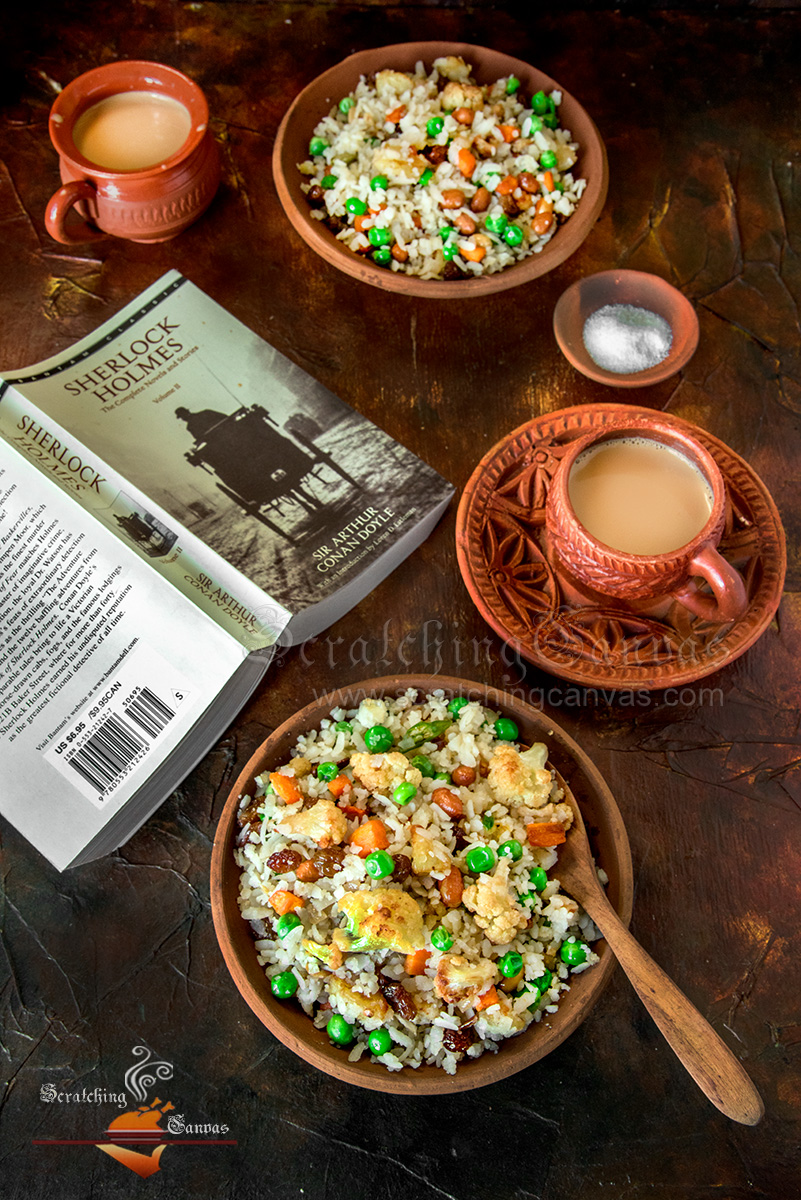 Chirer Polao or চিড়ের পোলাও ফুলকপি গাজর কড়াইশুঁটি দিয়ে (Fulkopi Koraishuti deoa Chirar Polao) is a popular winter breakfast item in Bengali households while Chire Bhaja is still the favourite snack. This quick, easy yet delectable Bengali Style Poha is loaded with winter vegetables like cauliflower, carrot, peas. It tastes mildly sweet with hint of chilli and flavoured with Bengali Garam Masala. Dollop of Ghee & freshly pounded ginger is mandetory (well, almost) in Chirer Polao to balance the sweetness and heat.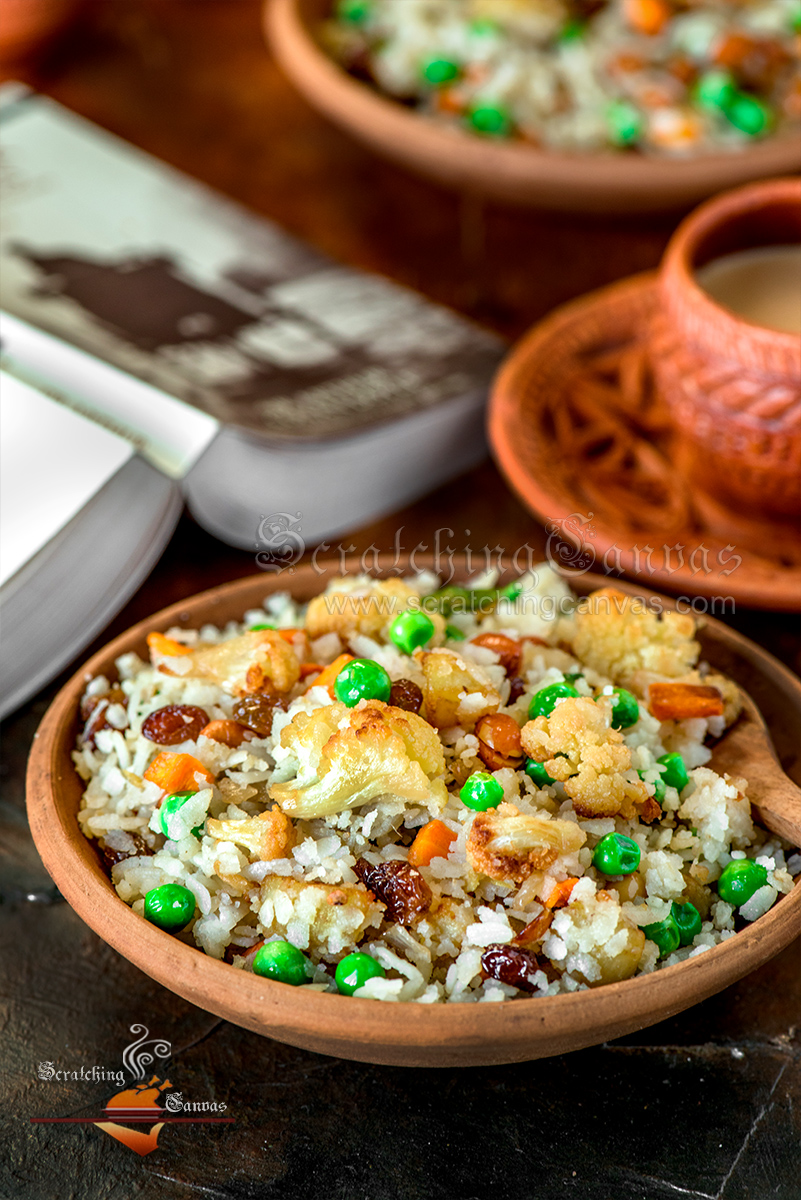 Winter has been my favourite since early days of my life. The reasons keep changing but my love for winter is eternal. Back then during my childhood I did not love winter because of weather or seasonal changes in food habits. I loved it because it was only vacation after which I never had to expect an exam in school.
But yes when I used to peep my head from soft warm blanket in the morning and the smell of frying cauliflower, peas for Chirer Pulao in the air used to wake me up before I could open my eyes it was always added bonus to my winter-love. And finally when I was allowed to spend the whole morning during my winter vacation with my first love, Sherlock Holmes and my cuppa with mum's warning to finish homework followed by her smiling nod I often declared myself living in paradise. 
Apart from all these nostalgia I'm still in love with বাঙালির খুব পছন্দের শীতকালীন জলখাবার, ফুলকপি গাজর কড়াইশুঁটি দিয়ে চিড়ের পোলাও (our beloved CHIRER PULAO).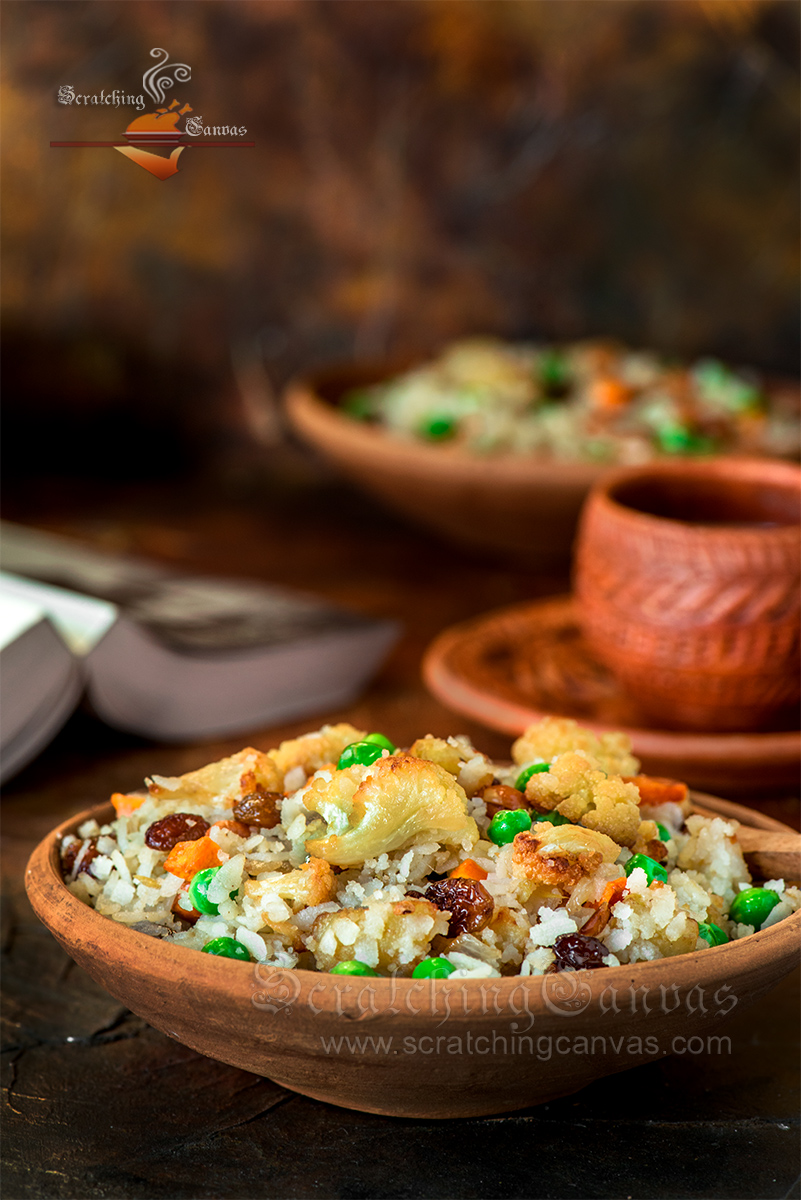 Chirer Pulao is a distant cousin of Maharashtrian staple breakfast Kanda Poha or Batata Poha. There are some fundamental differences between these almost similar looking dishes. Chirer Polao is mildly sweet with hint of chilli and the oil is tempered with Bengali whole garam masala. And Poha is salty and slightly spicy preparation in which tempering agents are whole cumin and curry leaves only. While Poha gets dressed up with freshly squeezed lemon juice Chirer Pulao decks up with generous amount of Ghee.
Instead of their differences these two share a common love life with Doodh Cha (milk tea). For a Bengali it is a ritual to sip the morning tea before finishing the breakfast and continue quenching the thirst between flipping the pages of newspaper or thrilling novels.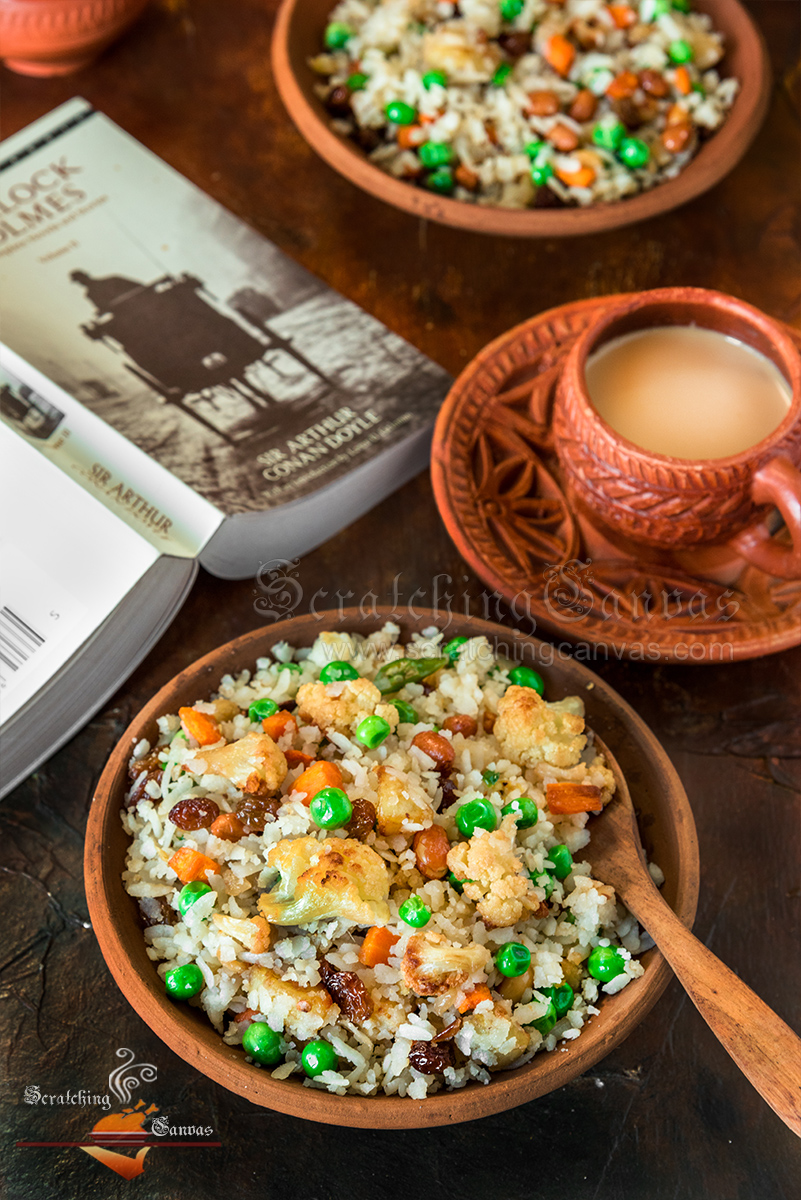 Watch detailed Video of  Chirer Pulao or Bengali Style Poha Recipe.
Read the entire recipe and Notes carefully before you start cooking. Do make sure all ingredients are at room temperature (unless mentioned) and weighed or measured correctly in appropriate weighing scale or measuring instruments such as cups or spoons. Remember these are not regular cups or spoons which is used in daily life.
SERVING & STORAGE:
Serve Chirer Pulao or Chirar Polao hot or warm along with a cup of piping hot Doodh Cha (milk tea) on a cozy winter morning.
Chirer Pulao doesn't taste good when cold. Store excess Chirar Polao in airtight container and refrigerate but consume within 3 days. Bring the Chirar Polau to room temperature once refrigerated and heat for 1 min with lid on. Otherwise chire will remain hard.

Bengali Chirer Pulao | Chirar Polao Bengali style | Bengali Poha
Ingredients
Chire: 2 cups
Cauliflower, roughly chopped: ½ cup or ½ of a small cauliflower
Potato, cut into cubes: ½ cup or 1 medium potato
Carrot, cut into cubes: ¼ cup or 1 small carrot
Green peas: ⅓ cup
Onion, finely chopped: 1
Ginger, freshly pounded: 1 heaped tsp or 1" ginger root
Green chilli: 2-3
Peanut: ¼ cup
Raisin: ¼ cup
Sugar: 1 tbsp
Salt: 2 tsp
Oil: 4 tbsp
Ghee: 1 tbsp
For Tempering Oil
Bay leaf: 1
Dry red chilli: 1
Cinnamon stick: 1"
Green Cardamom: 3-4, crushed
Clove: 3-4, crushed
Instructions
Heat 2 tbsp of oil in a large work.
Add cauliflower florets and sauté on medium flame for 2-3 mins; season with ½ tsp salt and ¼ tsp Sugar.
Fry on medium flame until cauliflower turns tender. Once cooked turn the flame high and fry for 2-3 mins to brown cauliflower. It will add nice crunch to veggie but be careful not to over fry the cauliflower. Remove with a slotted spoon and place on kitchen towels.
Add chopped potato and carrot in the same oil and fry in the same manner. Remove from pan once veggies cooked thoroughly and keep with fried cauliflower.
Add rest of the oil to the pan and heat on medium flame.
Fry peanuts raisins on low flame till peanuts are browned and crunchy and raisins are plump. Remove from oil once done and set aside.
Now add all ingredients under 'tempering oil' in hot oil and allow to sizzle.
Add onion, chopped green chilli and ginger; fry for 2-3 mins on medium flame. Season with salt & sugar.
Add green peas along with previously fried veggies, peanuts and raisins in to the onion and mix well.
Turn the flame to low, spread softened chire/chidva evenly on top of veggies. Sprinkle salt, sugar and more green chillies (if desired) on top.
Now take a big spatula and fold everything gently in circular motion. Watch the video for better understanding. This way chire will not break apart during mixing. If you keep mixing in regular way polao will turn up into a big pile of smashed chire. And your Chirer Polao is almost done.
Switch off flame pour dollop of ghee on top and serve with a cup of milk tea.
Have you tried/cooked any of the recipes from my blog Scratching Canvas?
If yes I would love to know your feedback and opinion. Take a picture of your food and share on Instagram with the hashtag #scratchingcanvas. Or simply drop me a message @rimleed I will share your picture and opinion as well. See you there 🙂
EAT, LOVE & ENJOY! REPEAT!!!
You may also like these Popular Bengali Breakfast Preparations